Flamenco is perhaps the most unique and significant of all cultural rarities in Spain. If you never went to a flamenco show, you don't know what you are missing! Flamenco is not only a form of song, but also a form of dance and music. And although Andalusia is the heartland of flamenco, this artistic expression is a symbol of Spanish culture and a national treasure! This art form, whose origins date back to the Gypsy and Moorish cultures, expresses a certain theatricality and a wide range of emotions, from joy and happiness to sadness and tragedy. Here you will learn about the origins of flamenco, the different styles that exist, how it is composed and the importance of this art form in Spain!
The origin of flamenco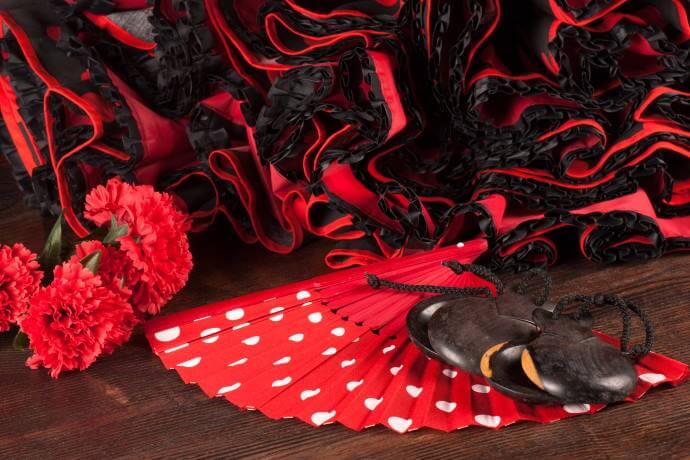 Andalusia in southern Spain is the birthplace of flamenco, although it also has roots in other regions such as Murcia and Extremadura. Flamenco historians say that this art form originated in the 18th century. In the mid-19th century, flamenco spread rapidly from southern Spain to the capital city of Madrid and other Spanish urban centers. Nowadays, you can see and hear flamenco performances all over the country. It is believed that it was mainly the gypsies who brought this art form to the Iberian Peninsula when they migrated to this region. This people had a distinct oral culture, so their music was passed down through their own performances in the community, making it difficult to pinpoint when this art form was born. Originally, flamenco consisted only of singing (cante) without accompaniment. Only later were the guitar (toque) and clapping, tapping and dancing (baile) introduced. More recently, other instruments have been introduced into this art form, such as the cajón, a wooden box used as a percussion instrument, and the castanets, a percussion instrument consisting of two pieces of wood. Determining the origins of flamenco is a challenge because it emerged during a turbulent time when Moors, Gypsies and Jews were persecuted by the Spanish Inquisition. Families, social groups and flamenco clubs played an important role in the preservation and transmission of this art form. It should be noted that flamenco did not always have the prominence it has today - at one time this art was considered something vulgar, especially among Spanish elites in the 19th and 20th centuries. Performances were associated with the Gitano (Roma) ethnic community and foreigners who lived in decaying urban areas. Today, this art is the result of centuries of development and the integration of elements from different cultures.
What is flamenco made of?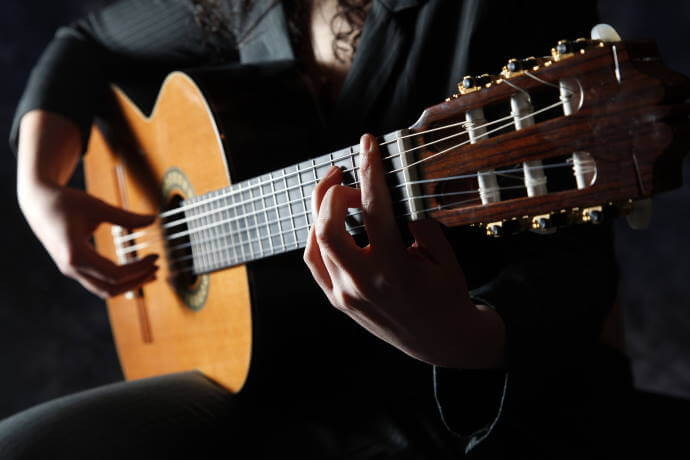 Cante is the vocal expression of flamenco. Flamenco can be sung by both women and men and the lyrics are typically sincere, passionate and meaningful. The baile, however, is a dance with a complex technique, but it varies between male and female dancers. Men usually use their feet more (they do zapateado, the tap dance style of footwork), while women are softer, with more sensual movements. Either way, the dance is passionate and courteous! It is characterized by the fluid movements of the arms, upper body and fingers. The dancer's role is to physically interpret the lyrics of the song. It is said that after dancing for some time, a dancer falls into a duende, a heightened state of intense emotion, almost like a trance. The toque, the art of playing the guitar, has already become more than a mere accompaniment and an important part of this artistic expression. Nowadays, however, there are already other instruments such as the cajon, castanets and even violins and flutes. Tap and clapping are also part of this art form and can also be considered instruments.
The different styles of flamenco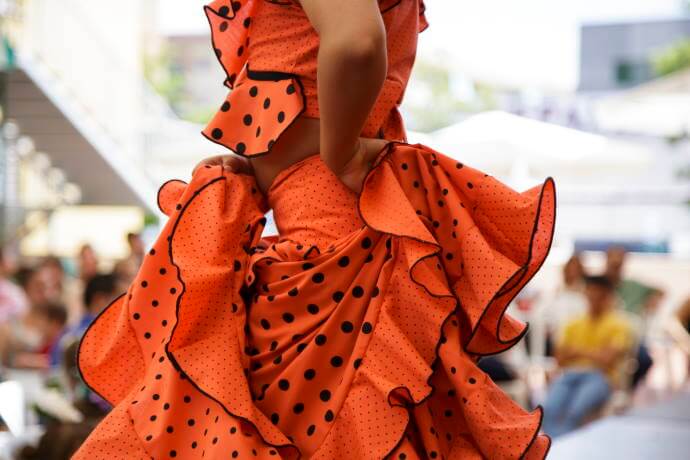 Flamenco has many different styles and it is an impossible task to describe them all. Flamenco jondo, or cante jondo, is the most traditional form of flamenco and is related to the origin of this art form. It is a more emotional and profound style of singing that addresses themes of suffering, death, and religion. It is a unique way of interpreting flamenco and expressing emotions. Intermediate cante, or intermediate flamenco, is a hybrid form that incorporates elements from different musical styles of Spain. Cante chico, or flamenco chico, has more to do with improvisation and more mundane themes such as love or happiness. Within flamenco, there are subcategories called palos, which are divided according to the characteristics of the songs, such as the rhythm, the scales, or the themes. Some examples are the alegrías, one of the most festive styles, with a lively rhythm; the bulerías, one of the fastest styles, suitable for dancing; or the siguiriyas, a more tragic genre, with lyrics that refer to tragedy, suffering and sadness.
Where to listen to flamenco?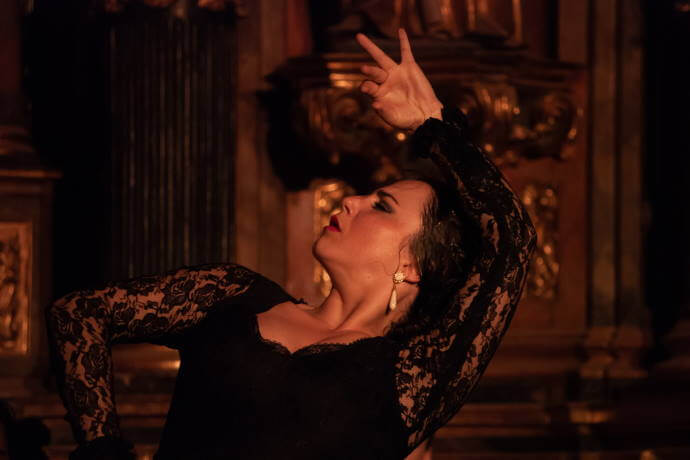 You can listen to flamenco at religious festivals, rituals, church ceremonies and private celebrations. But you can watch a flamenco show in a tablao, a place dedicated to this art form. Tablaos emerged throughout Spain in the 1960s, replacing the "cafés cantantes" that were fundamental to the popularization of flamenco. The term tablao is also used to refer to the floor that serves as the platform on which the dancer dances. In addition to tablaos, there are also flamenco bars that are also dedicated to strengthening this artistic expression. Some of the best cities to attend a flamenco show are Seville, Granada, Cordoba, Madrid and even Barcelona. In Barcelona, for example, you can go to the Casa Lola, while in Seville you can visit the famous Casa de la Memoria or the Tablao El Arenal. In Cordoba, you should visit the Tablao El Cardenal and in Madrid you can opt for the Corral de la Moreria. In Granada, for example, you can enjoy a flamenco show at the Jardines de Zoraya.
Intangible Cultural Heritage of Humanity by UNESCO – The importance of this form of art to Andalusia and Spain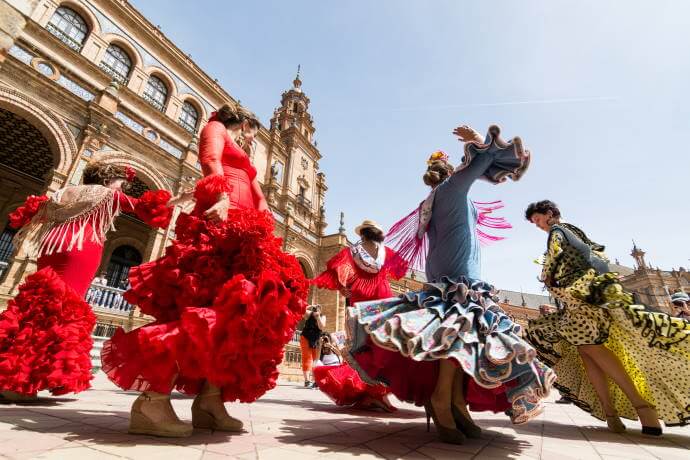 Flamenco is indeed a cultural treasure and so it is not surprising that it was declared an Intangible Cultural Heritage of Humanity by UNESCO on 16 November 2010. This designation underlines the importance that this artistic expression has not only in Andalusia, but throughout Spain and even internationally! Following this designation as a World Heritage Site, the Regional Government of Andalusia declared this date as "Flamenco Day" in Andalusia. Since then, this day has been celebrated with numerous activities related to this art, from conferences and exhibitions to concerts and shows. Although flamenco has become known throughout the world, perhaps with a less authentic character, the purest form of flamenco is found in Andalusia, especially in Seville.
Most famous artists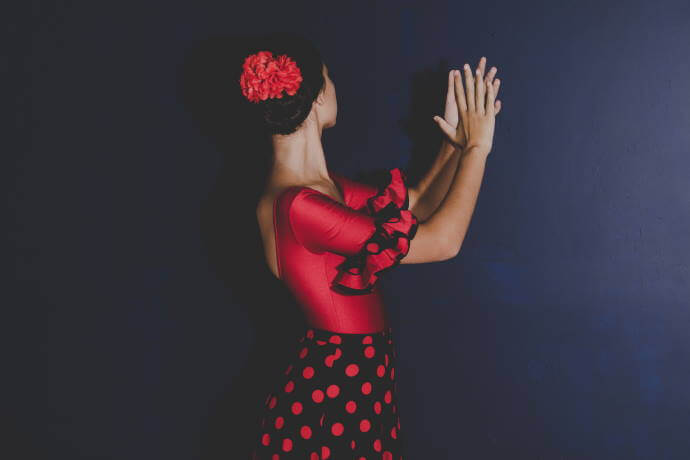 There are several well-known artists who have contributed to this art form and its internationalization. José Monje Cruz , better known as Camarón de la Isla, was a popular Spanish flamenco singer born in 1950. Among contemporary artists, María Rosa García García, better known as Niña Pastori, is a famous flamenco singer who was heavily influenced by Camarón. In 2016, she was nominated for a Latin Grammy for best flamenco album. José Mercé, born in 1955, is also a very popular flamenco singer. Miguel Poveda is also considered a treasure of contemporary flamenco and has received some prestigious awards. As for guitarists, Francisco Gustavo Sánchez Gomes, better known as Paco de Lucía, was a famous internationally recognized artist. He was not only a flamenco guitarist, but also made a career as a composer and producer. As for the baile, Antonia Mercé y Luque, better known as La Argentina, was an important flamenco dancer who contributed a lot to this style of dance, as she was the one who choreographed several pieces by classical Spanish composers. These are just a few examples of famous artists who brought this beautiful art to life!
---