50 years without Picasso
Everyone has probably heard of the Spanish artist Pablo Picasso and most likely of his most famous and disturbing work, "Guernica". It was precisely in front of "Guernica", his iconic painting depicting the horrors of the war, that the culture ministers of France and Spain attended a ceremony last month at the Reina Sofia Museum in Madrid to mark 50 years since the death of the Spanish artist who revolutionized the world of the arts.

It was decided that as a way to homage the artist, France and Spain will organize more than 40 exhibitions, conferences and other events in museums in Madrid, Paris, Barcelona, Málaga and other cities in Europe and North America over the next year.
Who was Picasso?

Pablo Picasso was born on October 25, 1881, in Malaga and died in Mougins, France, on April 8, 1973. Although born in Spain, Pablo Picasso spent most of his adult life in France.
Picasso was born in Malaga, one of Spain's hidden coastal gems. He was a painter, sculptor, and draftsman, whose work influenced and actually transformed the course of art in the 20th century. Son of a painter and Arts teacher, Picasso had already developed artistic skills by the age of 13 and painted his first work, "The First Communion", at the age of 15. Even before he turned 20, he was already living in Barcelona, where he had a studio and where he met artists such as Toulouse-Lautrec. He then moved to Paris where he perfected his skills and made new contacts.

Even though he went through some hardship, Picasso was admired by art dealers who encouraged him, and soon his name began to gain fame and, consequently, money. Restless and witty, he experimented with several styles, always seeking to innovate in his work. Together with Georges Braque, he created the avant-garde movement of Cubism, which revolutionized the world of painting and sculpture in Europe.

At the age of 90, he was the first living artist to have an exhibition in the Grand Gallery of the Louvre Museum. He passed away two years later, after living a full, creative life. In a career spanning nearly eight decades, he is said to have left tens of thousands of paintings, drawings, sculptures and ceramics in a multiplicity of styles and schools that made him arguably the most influential and celebrated artist of the last 150 years.
In the footsteps of a genius
If you are a lover of the work of Picasso or want to learn more about the artist, we suggest a few places in Spain where you will definitely feel a connection with this 20th century genius, and where you will probably understand more about his views, his motivations and his inspiration. If you combine these places in one single visit to Spain, you will end up getting a complete artistic itinerary joining culture and beautiful landscapes, all in one trip.
Málaga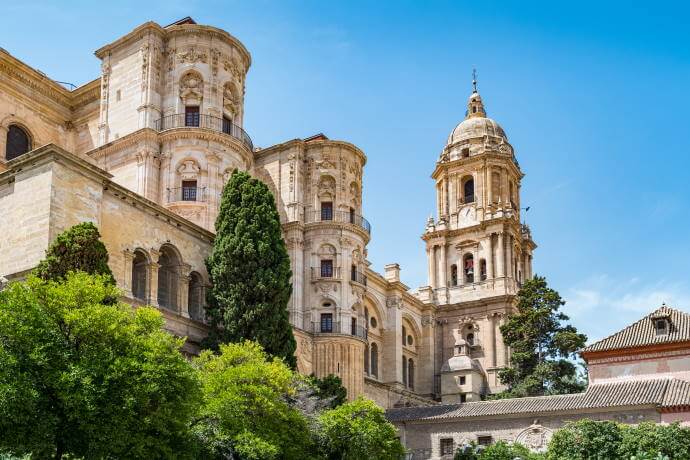 This incredible Andalusian city is the birthplace of Picasso and the perfect location to start exploring!

Málaga is a coastal town of the south of Spain, about 5 hours driving south of Madrid. Picasso was born and lived his first years here, in house number 15 in Plaza Merced, that has now been converted into a Museum and Foundation celebrating the life of the artist and with some of his paintings in exhibition. Take some time to explore the area as this is the heart of Málaga, where you will find all kinds of street artists performing next to the terraces of the local bars and restaurants and a bronze statue of Picasso sitting on a marble bench in the center of the plaza.

Walk a little further towards Calle Granada and you will find Farmacia Bustamante (formerly known as Farmacia Mamely), the oldest pharmacy in town. Its backroom was a famous meeting point for the intellectuals of the city, including José Ruiz, Picasso's father, in days gone by. Pass the Church of Santiago, where Picasso was baptized, and make your way to Calle San Agustin, where the Picasso Museum is located. Save some time for this because there is plenty to see and learn, and, if you can, book a guided tour in advance. Both the museum and its collections are well worth a few hours of exploring!

Still on the same street - and if you do want to immerse in Picassian history - head towards the old Convent and College of San Agustín. This was the municipality's archive and museum in the 19th century. Picasso's father used to work here and later was allowed to have his own workshop, where he produced the majority of the paintings featuring doves, a favorite theme of his and an inspiration for Picasso later on.

Before leaving the center of town, head to Ateneo de Málaga (or former San Telmo School of Fine Arts) where Picasso's father used to be a teacher and where the artist attended some of his father's lessons as a child; pass Colegio San Rafael in Calle Comedias and Instituto Vicente Espinel, Picasso's old schools, which he actually hated with passion as he was definitely a rebel and a better painter and sculptor than he was ever a student!

Finally, make sure you take some good photos of the Malagueta bullring, one of Picasso's favorite places in town and where he attended many bullfights as a child, something that will have a deep influence on his work in the following years.
A Coruña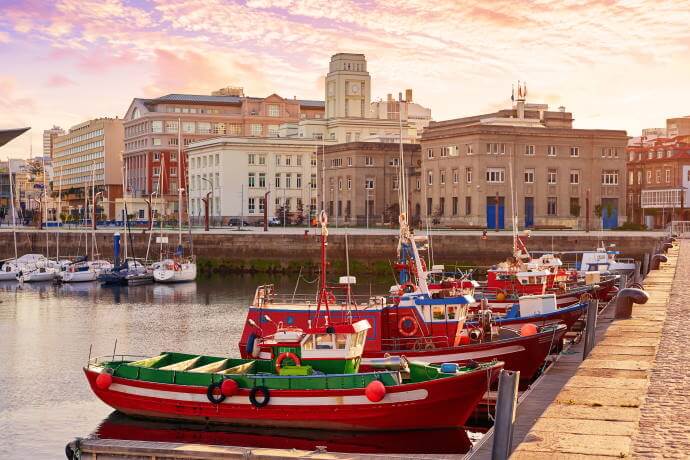 Picasso and his family moved to A Coruña in the region of Galicia in 1891, because his father was appointed professor at the school of Fine Arts. This is said to have had an immediate effect on the young man's inspiration, because Picasso himself joined the school and began to paint his first portraits there. The first time he publicly displayed his works was in this city, and many of his later recurring themes, like doves or bulls, appeared for the first time.

Once in A Coruña, we suggest you take a tour of the places the young Pablo loved and went to frequently, such as Orzán beach, with its romantic sea walk facing the city, the Torre de Hércules, a lighthouse from the Roman times and the only one still working in the world, located in an esplanade with a dramatic ocean view and considered a UNESCO heritage. Check the beautiful Teatro Rosalía de Castro, a theater built over the ruins of a former church in the 19th century that Picasso frequently attended, and visit the Casa-Museu Picasso, where the artist and his family used to live, in Calle Payo Gómez, and where you will get a glimpse of how the daily life of the Ruiz Picasso family was from 1891 until 1895.

Madrid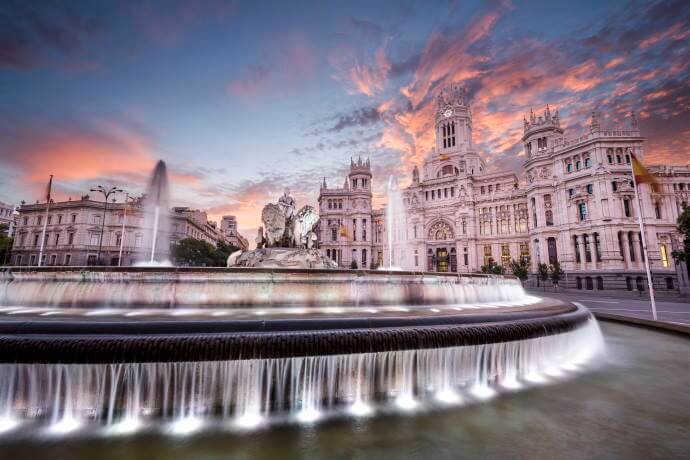 It was in the year of 1895 that Picasso visited the Museo Nacional del Prado in Madrid for the first time. Considered as one of the best museums in the world and definitely well worth visiting, the place certainly caused an impression on the young artist. So much so that it is said that this visit would mark a turning point in Picasso's career, as there he was able to appreciate and absorb the work of other great artists, such as Velázquez and El Greco. At that time, he was far from knowing that he would be appointed director of the museum in 1936.

Still in Madrid and very close to the previous museum, is the Museo Nacional Centro de Arte Reina Sofía. There you will see numerous works by the artist and his most iconic piece: the famous "Guernica", a mural almost 8 meters long that the artist painted to bear witness to the horror that was the Spanish Civil War (1936-1939) - a tragic scene that has also been interpreted as an ode to hope. The work was painted in Paris in 1937 and was installed in the Spanish pavilion at the Paris International Exposition, leaving everyone amazed at how faithfully and originally Picasso's depiction of human suffering was. Take the opportunity to discover more museums and maybe even go on a guided tour through the best cultural and historical sites in Madrid. You will find this is time well spent!

Barcelona and Horta de Sant Joan, in Catalonia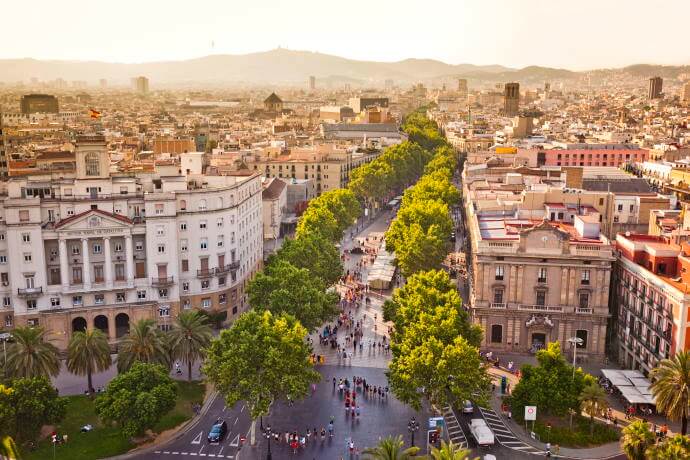 In the fall of 1895, Picasso entered the Barcelona School of Fine Arts. Later in this city he occupied his first studio and held the first personal exhibition of his works, in the mythical bar and restaurant where he and many other artists used to gather, in the Gothic Quarter: the famous Els Quatre Gats. Today, a good way to rediscover the artist is to visit the Picasso Museum in Barcelona. Be amazed at the creative genius, who has his own personal takes on famous works, such as his personal interpretation of Velazquez's "The Girls".

If you travel 200Km (or 124mi) towards the South West from Barcelona, you will end up at Horta de Sant Joan, a small countryside town that Picasso portrayed on numerous occasions, and where he said he experienced his purest emotions. Once you get there, you will understand exactly why: the narrow medieval streets covered in cobble stones, ascending towards the top of the hill from where you can see the surrounding vineyards and poppy flowers, is a sight that will certainly touch you. A visit to the Picasso Center is a must! This museum holds reproductions of the works that the artist created in Horta and in which he immortalized the village. On a casual stroll around Horta, you will be able to recognize some of the monuments that are displayed in his paintings, such as the Convent of San Salvador, the Missa plaza, and the country house of Tafetans. You might even feel tempted to lean towards your own artistic self just like Picasso did, who knows?
Picasso in a nutshell
Talking about Picasso and his work is talking about the diversity in the art world and richness of the history of the 20th century. We look at the images in his paintings and we realize that they reflect a generation of men and women marked by constant changes, sometimes at high speed. However, to be able to grow as an artist, like many others in search of their true self, Pablo Picasso held dearly to his heart his home town, the places that he had the privilege to call home, his home country, his roots. What we propose to you is to come and see for yourself how these landscapes, these people and their culture built the artist and his views of the world.
---