Meet TourTailors
In 2009, we have started Portugal Trails providing independent travelers with itineraries prepared by specialists who have designed each tour according to the needs of each client and provided local support during the travel time, allowing for the best travel experience. Following up our clients' requests, we naturally expanded to Spain with Spain Trails, in 2017, continuing to offer the same level of service throughout the Iberian Peninsula.
So 2023, marks the year of TourTailors, a new brand that encapsulates Portugal Trails and Spain Trails and that operates not only in Portugal and Spain, but also Italy, a new destination on our catalogue.
As in Portugal Trails and Spain Trails, TourTailors' mission is to provide the best service to all those who wish to discover our countries in an independent, safe, comfortable way. Our bundle of services remains the same, and our team remains local, even though expanding.
The only difference is that TourTailors now allows us to bring the same quality standards to new countries. And we have some news in this area too, as we have new Tour Ideas for Italy as well!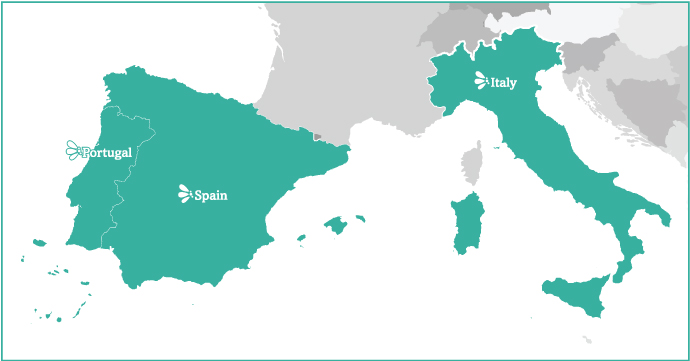 What are the main benefits of travelling with TourTailors?
You have a team of local experts at your service with the aim of creating a tailor-made tour that ticks all the boxes for you, as it were with Portugal Trails and Spain Trails. Plus, a bundle of unique services that will allow you to travel independently.
What is the main difference between Portugal Trails & Spain Trails, and the new TourTailors?
Aside from the name, only the fact that you now have access to all the destinations we cover on just one website, making it easier for you to select your next trip with us.
What will happen with the current PortugalTrails.com and SpainTrails.com websites?
Both websites will still be active, but you will be redirected to the new site tourtailors.com for an even better user experience!
I have already traveled with Portugal Trails and/or with Spain Trails. Should I address a different contact for my next travel?
Our team is the same and so are the channels to reach us and get in contact, so if you reply to an email sent by your Travel Consultant we will still receive it and reply at the earliest convenience.
Have your Portugal Trails and Spain Trails contacts changed?
Our telephone contacts and address are the same. In order to incorporate the new brand, TourTailors, our emails have changed, so you should expect to receive our communications via new "email names" thereafter. However, we will still be receiving all emails sent to our former email addresses, to ensure all communications reach their intended destination.
What will happen to the proposals I received before the rebranding?
All the proposals and values that you received previously are as valid as before. Only the brand and logo have changed, our services remain the same. Our Travel consultants will make the reservations once you approve the proposal you have on your side, despite the brand. Our team is the same, you can remain in contact with the same Travel Consultant who sent you the proposal, for the next steps.
I am currently discussing a new tour with a Travel Consultant from Portugal Trails / Spain Trails. What will happen?
The entire team remains the same. Your Travel Consultant will continue to work with you on the best custom-made Tour, designed for your needs. Aside from the new logo that you will see in the email signature and proposals, everything remains the same in our travel consultancy and booking process.
I already have a tour booked, should I do anything regarding this information?
Aside from dreaming of your upcoming trip? No, absolutely nothing!
When will I have more news regarding your Italy operation?
New year, new beginnings. Watch this space for more exciting news very soon! We have been designing an outstanding display of sample tours just to get you dreaming.
Meanwhile, have a look on our Tours Ideas!
---