Are you ready for an enchanting journey through the rolling hills and picturesque countryside of the legendary Chianti wine region in Italy? The artistry of winemaking and the allure of the Tuscan villages converge into an unforgettable experience. This remarkable region boasts a haul of captivating towns and villages, typically small and quaint, with narrow cobblestone streets, stone buildings, and terracotta roofs – each, however, with their own unique character and charm.
Meandering through the landscapes, you will uncover a tapestry of hidden gems, from ancient vineyards and sprawling olive groves to verdant hills, all working in harmony to create some of the most exquisite wines in the world.
Allow us to take you on a trip through the lovely Chianti wine region, where every turn is a moment of wonder!
Picturesque villages with a medieval charm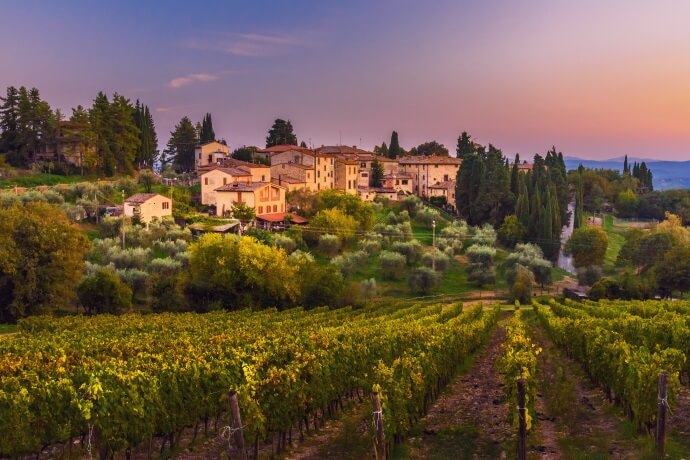 As you wind your way through the hilly countryside of the Chianti wine region, you will come across a string of graceful and quaint villages, each one more beautiful than the last. You can start your journey by visiting Greve in Chianti, a small village that exudes medieval charm, known for its piazzas, historic buildings, and, of course, its delicious wines. The narrow streets are lined with artisan shops, cozy cafes, and inviting restaurants, offering the perfect place to rest, while sipping a glass of wine and indulging in some local delights. You can also take the opportunity to make a quick detour to Montefioralle, a nearby tiny hamlet perched on a hilltop.
Further down the road, you will find the enchanting village of Panzano, nestled among the rolling hills of Chianti. The town is known for its beautiful piazzas, rustic architecture, and delightful restaurants serving locally sourced ingredients. You can stop by the famous Macelleria Cecchini, a legendary butcher shop, to sample some of the region's delicious cured meats!
Another gem of the Chianti region is the historic village of Badia a Passignano, where a beautiful abbey dating back to the 11th century reigns supreme. The village is surrounded by lush vineyards and olive groves, making it the perfect place to indulge in some of the region's renowned wines.
Moving forward along the route, you will find Radda in Chianti, a vibrant hilltop town surrounded by breathtaking views of the countryside. Here, you will discover a historic castle, winding cobblestone streets, and lovely churches. Be sure to sample some of the region's best wines at one of the many local wineries, where the rolling vineyards and olive groves create a serene and tranquil atmosphere.
As you continue your journey, you will encounter the charming villages of Gaiole in Chianti and Castellina in Chianti. Gaiole is a quiet town that exudes authentic Italian charm, with a central piazza and impressive castle. Meanwhile, Castellina is a bustling village that offers a blend of medieval and Renaissance architecture, with winding streets that lead to hidden treasures around every corner.
Other villages in the region include Barberino Val d'Elsa, Tavarnelle Val di Pesa, San Casciano in Val di Pesa, Poggibonsi, Castelnuovo Berardenga, and Certaldo, each with its unique character. With so many charming villages to explore, a drive through the Chianti wine region promises to be a memorable experience and a breathtaking journey, with endless opportunities to explore, taste, and savor the beauty and flavors of this extraordinary land.
Vineyards as far as the eye can see and stunning landscapes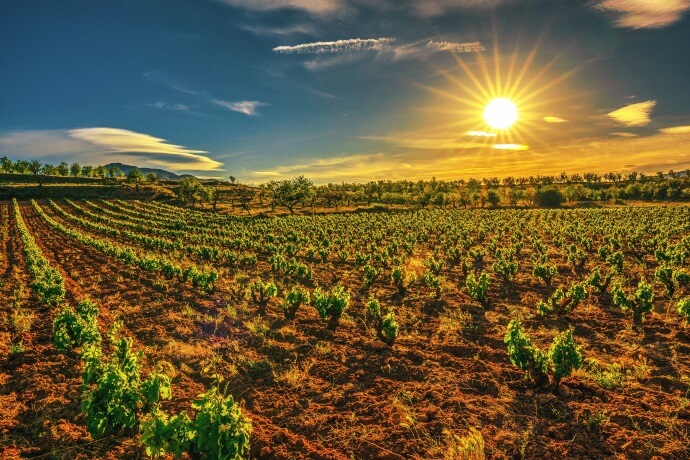 Indeed, a breathtaking sight that never grows old! The Chianti region is without a doubt a land of rolling hills, lush vineyards, and breathtaking vistas. As you journey through this enchanting region, you will most definitely be captivated by the amazing landscapes that seem to unfold before your very eyes at every turn.
Picture rows upon rows of grapevines stretching out towards the horizon, creating a patchwork quilt of greens and browns, each one perfectly tended to by skilled hands. The lush greenery is a feast for the eyes, with the vines climbing up trellises and reaching towards the sun in a beautiful display of nature's glory. The air is fragrant with the scent of ripening grapes, promising the flavors of the region's renowned wines.
As you venture further into the Chianti region, you will come across ancient stone buildings and adorable villages perched on hilltops, their terracotta roofs glowing in the warm Italian sun. The hillsides are dotted with olive groves and cypress trees, creating a peaceful atmosphere that invites you to slow down and savor the moment. As the sun sets over the rolling hills, you will find yourself mesmerized by the beauty of the Chianti region and its spectacular vineyards and landscapes. It's a place where time seems to stand still, inviting you to pause and take in the natural beauty that surrounds you!
Exquisite word-class wines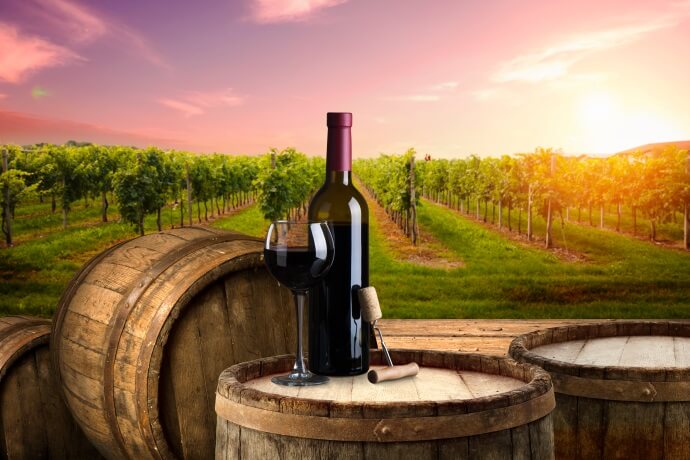 With its deep ruby color and rich aromas of cherry, plum, and violet, Chianti wines immediately capture your attention. Chianti wine is a red wine that hails from the Chianti region, renowned for its unique flavor profile and high-quality standards, making it one of the most sought-after wines in Italy and in the world.
What sets Chianti wine apart from other red wines is the grape variety used in its production. These grapes are known for their robust, full-bodied flavor and high tannin levels, which give Chianti wine its characteristic boldness and depth. In addition to these specific grapes, Chianti wine can also be blended with other grape varieties - these blends add complexity and balance to the wine, resulting in a well-rounded and harmonious flavor profile.
Another key factor that contributes to the quality of Chianti wine is the terroir of the region. The hilly terrain, clay and limestone soils, and moderate Mediterranean climate create the ideal conditions for grape cultivation and wine production. The combination of these factors results in a wine that is both complex and balanced, with a long finish that lingers on the palate and makes you beg for more!
The Chianti wine is also known for its aging potential, with some of the finest examples of the wine improving with age for decades. The wines are often aged in oak barrels, which impart a subtle smokiness and vanilla flavor to the wine. It is easy to understand why this wine is a favorite among wine connoisseurs worldwide!
As you explore the Chianti region, be sure to stop by some of the many local vineyards and wineries, where you can sample the full-bodied red wines that the region is known for. Take a guided tour to learn about the winemaking process and the history of the area, and perhaps even try your hand at grape harvesting!
Breathtaking surroundings and gorgeous neighboring cities
Picture yourself standing on a hilltop, surrounded by rolling hills covered in vineyards and olive groves, the vibrant green foliage stretching out into the skyline, as you listen to the gentle rustling of leaves in the breeze. Sounds like a little piece of heaven, right? The truth is that the Chianti region is absolutely terrific, but its surroundings are second to none when it comes to natural beauty.
Amidst the lush hills of Tuscany, also lies the captivating city of Montalcino - a place with a magnetic pull, mainly known thanks to its very popular (and delicious, we may add) Brunello wine. The Brunello di Montalcino is considered one of Italy's most prestigious wines, and is renowned for its aging potential, often improving in the bottle for decades. The production of Brunello is tightly regulated, with strict standards governing everything from the vineyard management and grape harvesting to the winemaking process, ensuring that each bottle is of the highest quality.
Montalcino sits atop a hill, its centuries-old walls encircling a labyrinth of winding streets and scenic alleyways. Towering medieval buildings loom over you, their ancient stones bearing witness to centuries of tumultuous events. Everywhere you turn, you see reminders of Montalcino's rich past, from the imposing fortress that stands guard over the town to the soaring bell tower that pierces the sky.
As you stroll through the winding streets, you will pass through vibrant cafes, bustling markets, and friendly locals. The town is renowned for its world-class wineries, which produce some of Italy's most celebrated wines. The rolling hills that surround the town are blanketed with vineyards and olive groves. A town that definitely captures the essence of Tuscany!
If you are visiting the Chianti region, be sure to take the chance to explore the surrounding cities, with plenty to offer. San Gimignano, for example, is often referred to as the "medieval Manhattan" due to its many towering towers. It is a small walled town that feels like a time capsule from another era! The town's cobbled streets, ancient walls, and impressive architecture transport visitors back to the Middle Ages, offering a glimpse of what life was like in Tuscany centuries ago. Siena, on the other hand, is a medieval city that has managed to preserve much of its historic character. The city's heart is its famous Piazza del Campo, a vast square surrounded by elegant palaces and crowned by the stunning Gothic cathedral. And, of course, Florence, known as the birthplace of the Renaissance, and as a city of incomparable beauty and artistic heritage. The city's historic center is a UNESCO World Heritage Site, and it's easy to see why - with its majestic Duomo, outstanding architecture, and world-class museums, Florence is a city that takes your breath away.
---