Portugal follows Europe's best wine tradition and has been growing steadily as a remarkable destination for wine lovers and enthusiasts. A wonderful year-long mild climate provides beautiful sunny days and the best conditions for both wine making and enjoyable travel. The prolonged coastline takes in temperate Atlantic breezes that shape the country's soil and the small territory allows for visits to different regions and their varied wine tastings in a relatively short period of time. Even before becoming a trendy and prized destination, Portugal has always been a wine country, and a truly beautiful place. This is our 10 best Portugal wine tasting and wine tour experiences, divided by regions.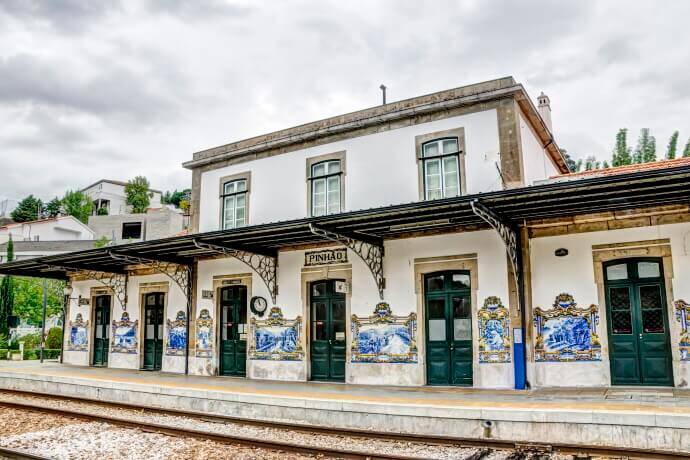 1. Porto and Douro Valley
Of the many Portugal wine tours possible, we start in Porto, the country's second biggest city and home of Port wine. It's here that the Douro River meets the Atlantic, after calmly flowing between beautiful lush green hills covered with vines. The Douro Valley is the most famous and sought-after wine region in the country and a UNESCO World Heritage site. It is considered the third oldest protected wine region in the world, currently following European guidelines as a Protected Designation of Origin (DOC). The city of Porto is where most of the Port wine warehouses are located, open to public for wine tastings. But it's the Douro Valley that provides the soil for the vineyards and a wonderful backdrop for a great wine tour. Choose from several oenological experiences like visits to wine estates, wine tastings in cellars and participating in the vineyard harvest. Some wine tours even include stomping on the grapes, the traditional wine-making way that is still used in Douro Valley. Other daytrips also include some type of cruise, where you can have a scenic and relaxing Portuguese wine tasting on-board. The river margins hold plenty of breathtaking sights and exciting possibilities, so it's good to know where you are going. A personalized itinerary for exploring the region and its wineries can be done by our travel consultants, following only your interests. Learn how we can provide the tools for your enhanced trip to Porto and the Douro Valley and other wine tours in Portugal.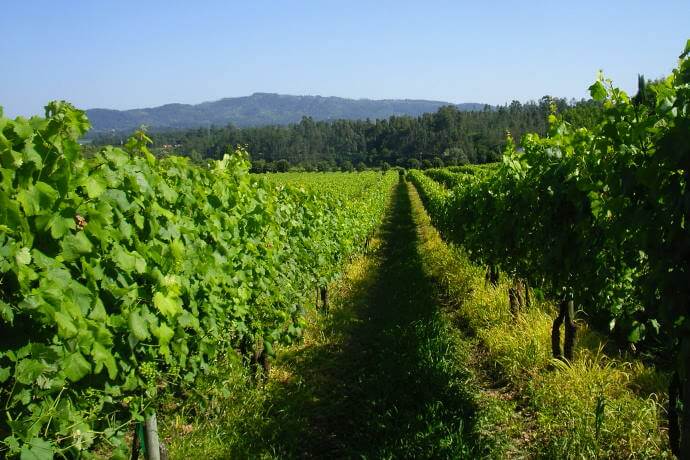 2. Vinho Verde in Minho
Welcome to Minho, located in the far north of Portugal between Spain and Porto, the region known for Vinho Verde. This verdant hilly area withstands considerable amounts of rain during winter, hot sunny summers, and northern winds all year round. Although it translates literally as Green Wine, Vinho Verde is mostly made from young white grapes harvested before maturing fully. From them we obtain this remarkable sparkling white wine that is best served chilled and goes great with fish and seafood. The Minho region's colder temperatures and high acidity granite soils are perfect elements for this light and fresh wine. The aromatic Alvarinho grape variety is the region's most influential player and can be found in a great variety of wines. The most commercially successful green wines are white, but the red is also worth a try and quite popular locally. Traditionally served in bowls, a common pairing of 'verde tinto' (green red) is with Lampreia à Bordalesa, a lamprey stew. Minho is the biggest wine producing region in Portugal, divided into nine sub-regions (DOC's) named after rivers or towns. In all of them you will find beautiful wineries and estates that provide some of the most interesting wine tastings in Portugal. Consider pairing your wine tours and activities with visits or day-tours to the area's most important towns, Braga and Guimarães. The first offers the magnificent mountain top Bom Jesus sanctuary and the latter's historical center is a World Heritage Site.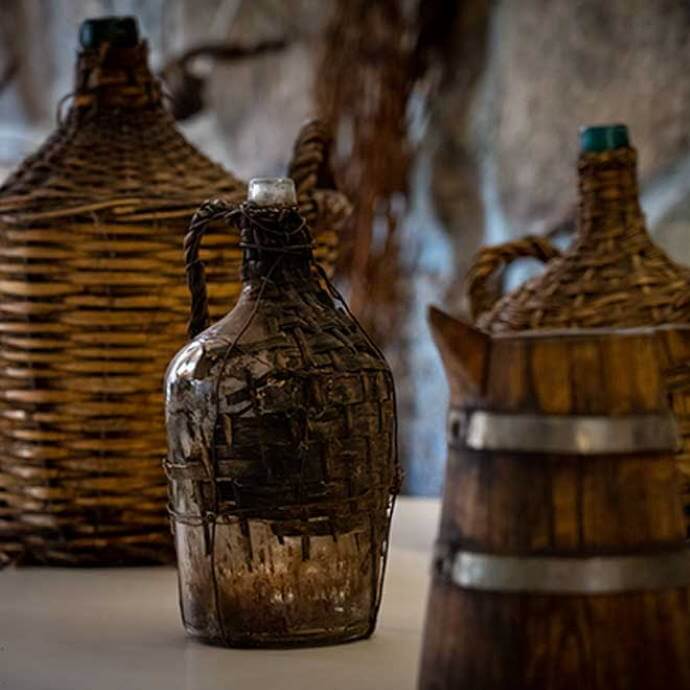 3. Trás-os-Montes and Terras de Císter (Távora-Varosa)
These two wine regions may be off the more beaten path, but both certainly offer some impressive Portuguese wine tastings. Trás-os-Montes, landlocked in the country's remote northeast, owes its unusual name to its secluded condition, translated as "Behind the Mountains". Weather is highly contrasted here, with its altitude and continental climate determining hot summers followed by cold and rainy winters. Although the soils are poorer than in neighboring regions, they still provide us with interesting wines, divided in 3 different DOC's. Even with its isolated geography and barren granite soil, archeological discoveries show that wine has been made here since Roman times. The Távora-Varosa wine region is the smallest in mainland Portugal, better known by its regional wine name, Terras de Císter. It is called Cistercian Country because the first to plant vines in the area were the orders' monks established here. Some exceptional sparkling wines are made in the region, which was the first demarcated area in Portugal for these wines. Some region wine makers compare their harvest to that of Champagne, maybe out of local pride but not entirely unfounded. The most common grape variety found here is the Portuguese Malvasia Fina, but a lot of Chardonnay and Pinot Noir is currently being planted. Trás-os-Montes and Távora-Varosa both offer beautiful landscapes and historical sights besides their Portugal wine tours, which vary considerably between them. Here lies an opportunity to discover a remote part of the country, still very connected with its roots and historical past.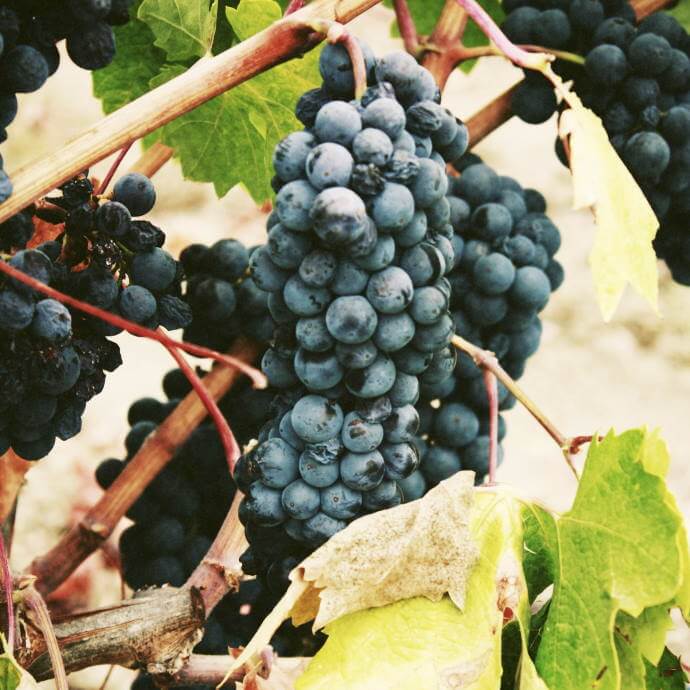 4. Wine in Central Portugal (Bairrada, Dão e Beira Interior)
Several regions are comprised in Central Portugal, so we will focus on what are arguably the three most interesting ones. Bairrada enjoys a costal location with mild climate, conditions that fully ripe its Baga grapes that are then traditionally bottle-fermented. The resulting sparkling red is a unique landmark of the country that allows for a very special Portuguese wine tasting. Bairrada wines are known to age well and to pair deliciously with the region's most famous meal, roast suckling pig. In Dão we return to a landlocked area, one that is covered on all its sides by different mountainous ranges. Dão wines are famous for being well balanced in its different parts, flavor, alcohol and acidity, both reds and whites. This DOC has a historical importance, being one that was relatively spared to the phylloxera plague in the 19th century. This plague of tiny insects destroyed most of Europe's vineyards then, eventually solved by grafting the vines with American species. Tradition is paramount in Dão, a wine region where most vineyards have belonged to the same families for several generations. The highest mountains of the area, as well as in all of Portugal, are located in the Beira Interior region. These highlands touch the Spanish border and hold traditional villages whose inhabitants have been working the granite soils for centuries. Not that many grand Portugal wine tours or tastings are found, but the region offers fruity wines and gorgeous vistas.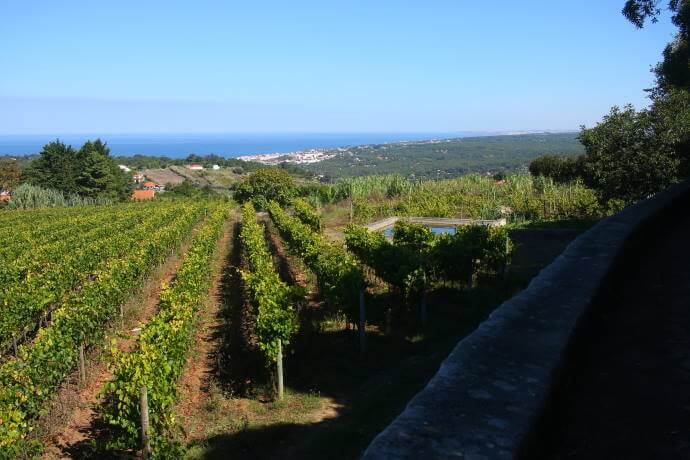 5. Lisbon, beautiful Lisbon
The capital city of Portugal offers numerous reasons to attract and welcome visitors, with wine certainly being on that list. Only recently has the Lisbon area established itself as an important player in the Portuguese wine panorama, and rightly so. The better organization of the nine DOC's has risen wine quality tremendously, much of which is managed in co-operative fashion. Lisbon's wines are influenced by the proximity of the Atlantic and the milder temperatures, contrary to other locations further inland. Colares and Carcavelos are two important DOC's in Lisbon that deserve mention, for their uniqueness and for their unfortunate decline. Colares vines are planted in sand dunes and require artisanal cane fences to help them resist the strong sea winds. The outcome is an interesting sight that produces a highly acidic red wine, made mostly with tannic Ramisco grapes. Unfortunately the Colares vineyards are only dispersed around a 10ha area, mostly because of the branching out of Lisbon's suburbs. Also afflicted by this is the sweet wine of the DOC of Carcavelos, losing grounds to the high-valued real estate in Cascais. Diversity is a certainty in Lisbon's wine tastings, where we find everything from top-notch reds and whites to quaffing wine. Besides the varied offer and the centralizing of other regions' wines, beautiful estates near the city offer great Portuguese wine tours. Enjoying a wonderful beach, a medieval castle and a Portugal wine tasting in the same day is definitely a possibility here.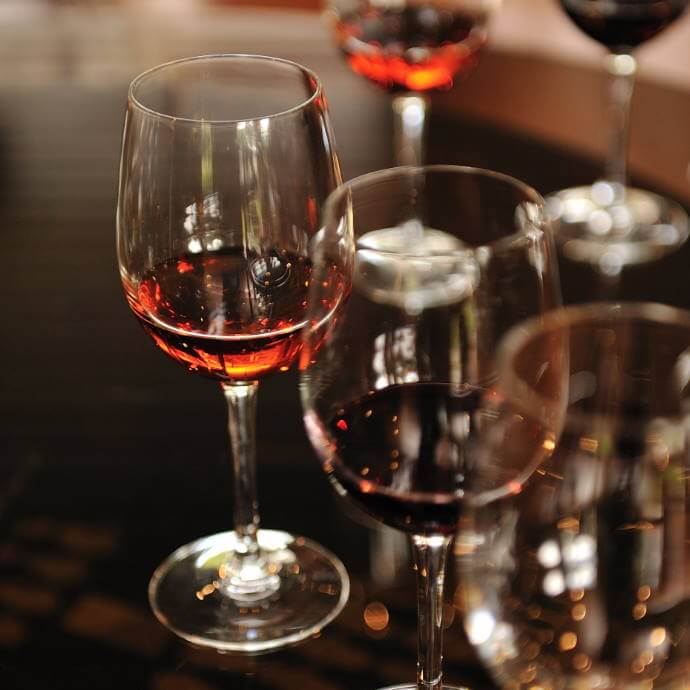 6. Setúbal Peninsula and Moscatel
From Lisbon we cross the Tejo River to discover the lands between the Arrabida Natural Park and the Atlantic Ocean. The area is famous for stunning natural beaches, delicious Azeitão cheese and another highlight of Portuguese sweet wines, the Moscatel. There are two designations of origin here, DOC Palmela and DOC Setúbal, the peninsula between the Tejo and Sado rivers. The region gained relevance partly because of the ingenious wine companies settled here, offering some of the best Portugal wine tastings and tours. Together with smaller producers they have elevated the name and quality of Setúbal and Palmela's wine in all its forms. To produce and bear the notorious name of Moscatel de Setúbal, the requirement is 85% of that Muscat grape variety. This fortified wine can be of two types, the floral and citric Moscatel de Setúbal or the darker Moscatel Roxo. Small quantities of both are kept for aging in wood barrels for up to twenty years, hopefully turning into world-class Muscats. In the 18th century large quantities of Moscatel were taken by boat to Brazil, and the wine that wasn't sold returned. This returning wine was discovered to be better after the long sea voyage, creating the legendary Torna-Viagem, the return-trip Moscatel. This practice is still done in very limited quantities, with the complex, returning wine sold for an obvious costly price. Visiting the region's wineries and trying the Moscatel is a great Portugal wine tour experience, even if it didn't return from Brazil.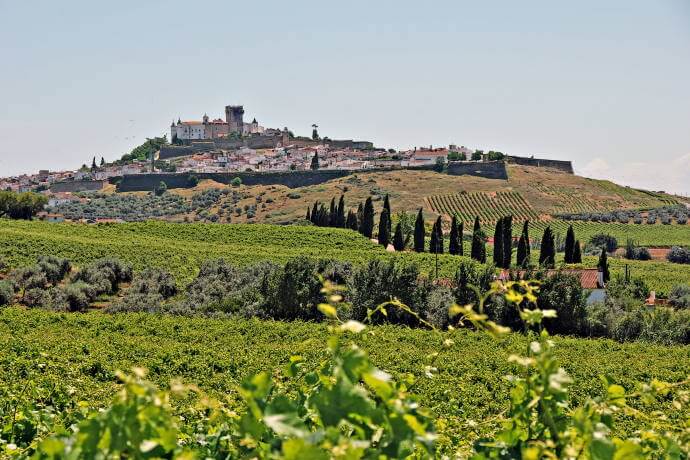 7. Wine from the plains of Alentejo
The region of Alentejo covers a third of the Portuguese territory, mostly great arid plains heated by the intense sun. Vineyards cover little land, dimmed by the vast cork and olive groves, but offer some of the best country's wine. Alentejo is on par with the Porto region in producing some of the more acclaimed and successful wines in Portugal. The heat allows for the grapes to fully mature, transforming afterwards into smooth wines with a good balance of acidity. Soils vary greatly, from schist in the slightly elevated area in the northeast to granite and chalk in the remaining flatlands. A serious investment in the wining infrastructure of Alentejo in the 80's resulted in an output standard of tremendous quality. DOC Alentejo is divided in eight sub-regions but many producers opt for a Regional Alentejo label which has leaner regulations. This allows for the use of more grape varieties, including foreign ones like Syrah, which is being used with frequency. The fruity and pleasing reds are the regions' highlights, that pair marvelously with local foods like the black pig ham. Driving through Alentejo's deserted plains is a wonderful experience, amplified by delightful Portugal wine tastings and meals in wineries and restaurants. Late spring is the best time to visit, when bright colors are still present, before torrid landscapes and temperatures arrive.
8. Sunny Algarve
Although the most famous Portuguese wine tastings don't happen here, it's worth mentioning the recent improvements in these regional wines. Algarve is home to some of the country's most beautiful beaches and mildest weather, turning it into a tourist hotspot. Wining was somewhat neglected because of this, and vineyards were turned into better earning golf courses and hotel resorts. However, recent years have seen a considerable improvement in the local wine industry, especially with investment in private wine estates. Nowadays an equilibrium seems to have been attained between wine country, tourist complexes and other local plantations such as citruses. The result has been the emergence of interesting wines of increasing quality, rounded and fruity both in whites and reds. The hills protect from northern winds and the sea in the south keeps the temperatures cooler than in neighboring Alentejo. This allows for very agreeable weather conditions that help wine makers produce diverse types of appealing and fresh wines. The region has 4 different DOC's, but it's the wine labeled as Vinho Regional do Algarve that normally stands out. Like in other regions, producers prefer this more flexible classification that allows for the use of more diverse grape varieties. If Algarve didn't need more reasons for a visit, its exciting new wines make it an even more attractive destination.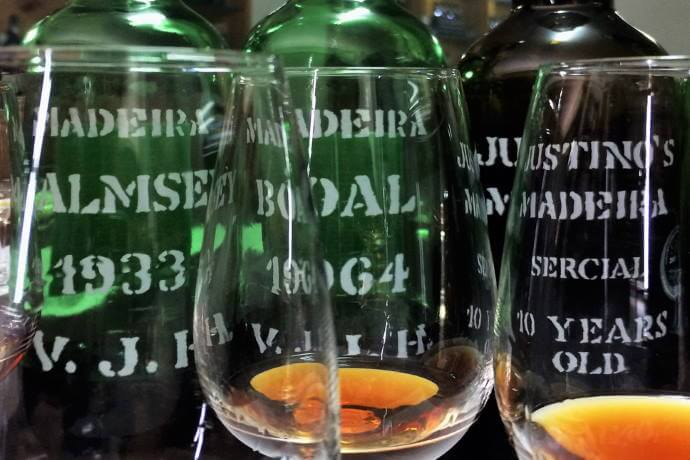 9. Madeira, the Pearl of the Atlantic
Madeira is a Portuguese island off the African coast near Morocco, a semi-tropical destination known as Pearl of the Atlantic. The island's interior is quite mountainous but near the coastline temperatures fluctuate little all year-round and air humidity is high. The famous fortified Madeira wine comes from the vines planted in the small lots of land on the islands slopes. The volcanic soils and humid climate grow ripened grapes that produce light, aromatic and distinct wines with little alcohol quantity. One of the main features of the Madeira wine is its longevity, remaining unaltered after centuries of being properly kept. This "eternal wine" has been exported since the 15th century, considered one of the finest wines by the European nobility. Merchants returning from commercial voyages with unsold wine in the boats realized the harsh maritime journeys highly improved their product. Like the Torna-Viagem Moscatel, wine that crossed the equator in a ship's bilge came back with a more intense flavor. Wine makers began to recreate that effect but in land, coming up with two distinct ageing processes, Canteiro and Estufagem. The first consists in placing wine filled wooden barrels under glass ceilings, in order to collect more sun and heat. This could take years to achieve, so the quicker yet less subtle Estufagem method appeared, consisting of controlled heating in stoves. Madeira wines are labelled according to method and duration of ageing, ranging from 5 year-old Reservas to 40 year-old Lote. Try some of these in our suggested and highly rated wine tours in the fabulous destination that is the Madeira Island.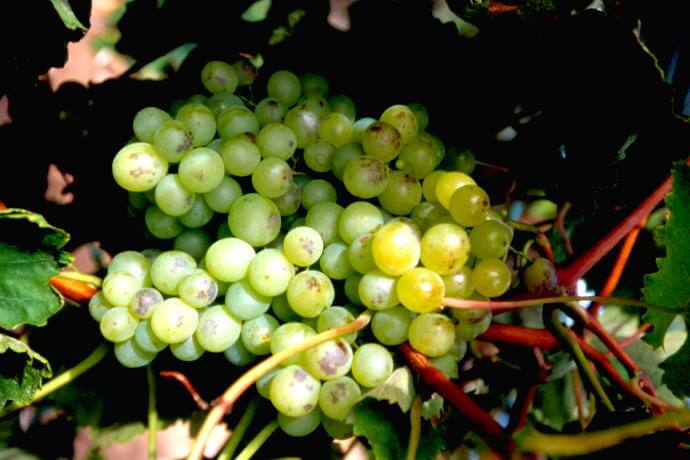 10. Natural Wonders of Azores
Located about a third of the way between Lisbon and New Jersey, this nine island archipelago is a natural wonder. Although the mid-Atlantic climate is far from optimal for planting of vineyards, the Azores have a strong tradition of wine-making. In fact, it is the dramatic natural elements that make it possible to grow vines in lots made with volcanic rock. Possibly started by Franciscan friars, wine production centered in Verdelho grapes and yielded successful fortified wines, reaching even czarist Russia. These grapes were brought by the monks from either Sicily or Cyprus, places with a similar climate to the Azores. Nowadays wine is made in three islands, Graciosa, Terceira and Pico, the vineyard area of the latter a Unesco World Heritage Site. Man-made walls using basalt rocks create a series of enclosures that protect the vines from ocean winds and salt spray. The contrast between the black walls and green leaves crossed by arid-red dirt roads extending into sea is quite the sight. Even if the fortified wines are still the islands' biggest exports, some table whites from Pico have become serious players. Small private producers are starting to reap the deserved attention for their work, and international recognition is just around the corner. The temperate weather makes these light white wines flavorful and fresh, and the volcanic soil gives them an interesting acidity. Another great experience while in Pico is to try the local "vinho de cheiro", poorly fermented red wine drunk locally. The Azores is a fantastic place to feel in touch with nature and to embark on a quaint wine tour in Portugal. Wine has become yet another great reason to visit these fantastic islands, much like the whole country of Portugal.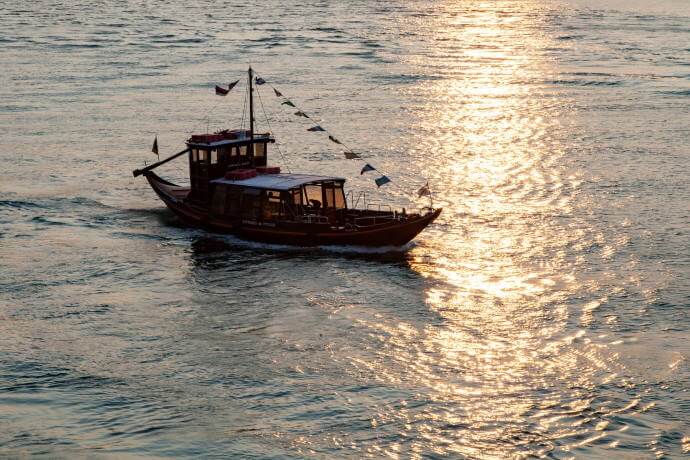 ---