In Spain, there is no shortage of destinations that will awaken the romantic in you. Besides the famous cities of Madrid, Barcelona, Seville or even Santiago de Compostela, which in themselves exude a very passionate aura, there are many other hidden gems in Spain that are perfect for a romantic getaway. Are you ready to run towards the Spanish sunset?
Albarracín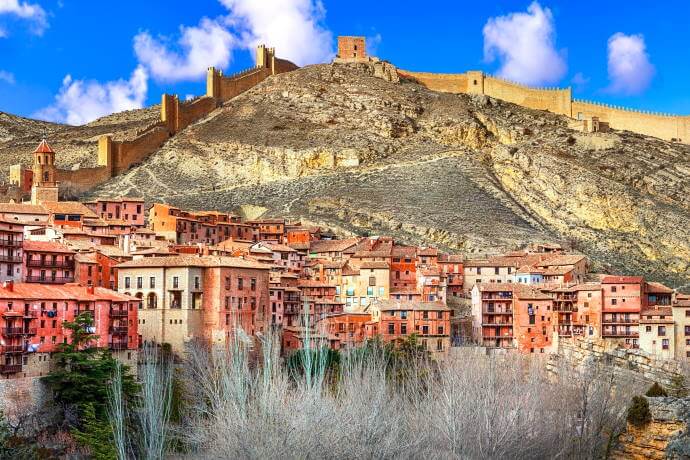 One could say that this village is one of the most charming places in the Aragon region and even in all of Spain. Albarracín still retains its medieval feel, with its steep and picturesque streets, its millenary reddish-colored houses on a high rocky promontory carved by the Guadalaviar River, and its unusual wall going up the hill. The village appears to be comfortably nestled in the green valley, exuding a sense of tranquillity and timelessness, and creating an undoubtedly romantic atmosphere. It is easy to see why the historic center was considered a cultural asset. With its impressive castle with eleven towers and its cathedral – perhaps the most unique and distinguished monument in town, mainly because of its dome, adorned with geometric patterns in blue and white – this lovely town is steeped in medieval history. Strolling through the winding and narrow streets and through the reddish houses with overhanging wooden balconies is like stepping back in time and without a doubt a very romantic experience!
Segovia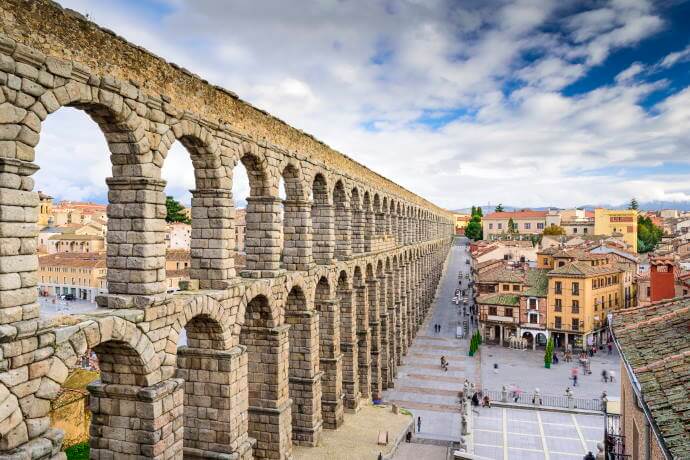 This quiet town is characterized by a pastoral atmosphere and a medieval charm; so, it is easy to see why it was declared as a World Heritage Site by UNESCO. Many myths and legends surround this jewel of a town, from the myth that the city was founded by Hercules, or the son of Noah, to the legend that the devil built the aqueduct - a colossal, impressive monument and one of Segovia's main attractions, offering absolutely spectacular views of the city - at the request of a girl who wanted an easier way to get water to her house. In this enchanting town with its warm terracotta and sandstone tones, nestled among the hills, there is nothing more romantic than admiring the green meadows, with the Sierra de Guadarrama mountains in the background, covered with snow in the winter. It gets even more romantic when you stroll through the old town and explore the streets with the orange and yellow painted houses. And, of course, a visit to the Alcázar is in order. It's a majestic famous castle in the shape of a ship's bow that seems to have come straight out of a fairy tale and is said to have inspired Walt Disney's design of Sleeping Beauty castle. Explore this ancient, small and charming town with labyrinthine streets that promise to hide the most romantic corners, especially when the sun prepares to hide between the houses.
Ronda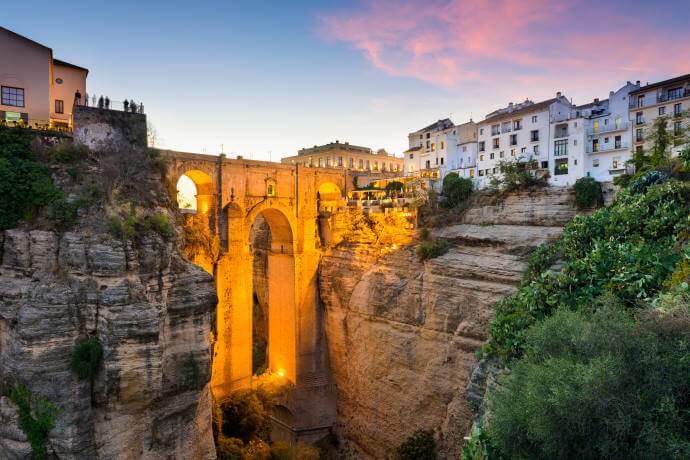 Part of the Ruta de los Pueblos Blancos tourist route, Ronda is one of the oldest towns in Spain, filled with picturesque whitewashed houses on the edge of the canyon. With a laid-back atmosphere, this hill town is a must-visit spot if you want to experience Andalusia's charm to the fullest. Its two halves lie either side of the El Tajo gorge and are connected by the impressive Puente Nuevo. The beautiful natural setting was much appreciated by Ernest Hemingway and Orson Welles, two writers who spent many summers here – which contributed to the rich cultural and literary tradition. Walking through its narrow streets and admiring the emblematic bridge is a wonderful experience for those looking for a little romance. This typical postcard city, set on an Andalusian mountain plateau, is also a great base for exploring other charming little white villages such as Setenil de las Bodegas or Zahara de la Sierra. The spectacular views, historic bridges, Roman baths and tasty tapas are the main ingredients to an amazing and romantic vacation in Ronda.
Zahara de la Sierra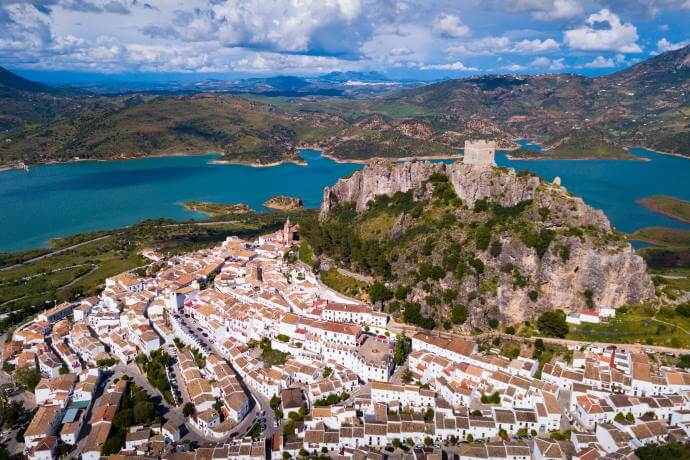 This small and charming village is located between Ronda and Seville, in the heart of the Serra de Grazalema Natural Park. Also part of the Ruta de los Pueblos Blancos, this village will take anyone's breath away, as it is certainly one of the most picturesque (and remote) places on the Pueblos Blancos Route. Located at the foot of the Sierra del Jaral, Zahara de la Sierra has a historic center that has been declared a UNESCO World Heritage Site. From the top of the hill where the ruins of the Moorish castle are located, you have an overwhelming view of the turquoise waters of the reservoir of Zahara-el Gastor, contrasting with the green of the surrounding lush vegetation - what could be more romantic than that? Although Zahara de la Sierra is not exactly full of attractions, a stroll through its winding, labyrinthine streets and alleys amidst a sea of white houses adorned with colorful vases is a treat for anyone seeking peace and quiet. Just by imagining a sunset against this backdrop, you can already feel the romance taking over!.
Toledo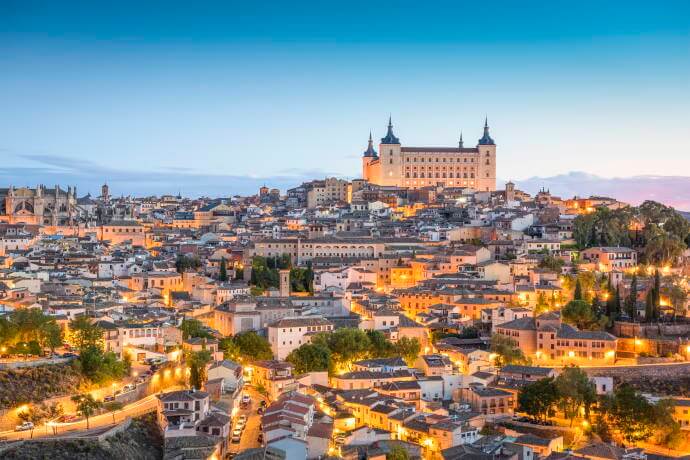 "The city of three cultures" - this is how Toledo, once an important cultural center for Muslims, Jews and Christians, is known. It is one of the oldest and most unique cities in Spain, whose historic center has unsurprisingly been declared a UNESCO World Heritage Site. Still preserving its original medieval layout and mystical feel, this noble and imposing city is characterized by its narrow, winding streets, lined with impressive buildings. The Cathedral and the Alcázar are the two main monuments in the city, so they are mandatory stops, as is the Jewish quarter. Situated on top of a hill overlooking the Tagus River, Toledo is full of great panoramic spots for watching the sunset, and when the city lights come on at dusk, you feel like you have been transported to a romantic fairy tale. Synagogues, mosques, Catholic chapels and other stunning landmarks co-inhabit this city that mixes different cultural heritages – which is especially visible in the architecture, but also in the gastronomy. There is nothing better than a romantic dinner in a good restaurant with the landscape of Toledo in the background - a haven for any romantic out there. If you also have an artistic side, you should know that Toledo is also the city where the great El Greco lived and painted.
Granada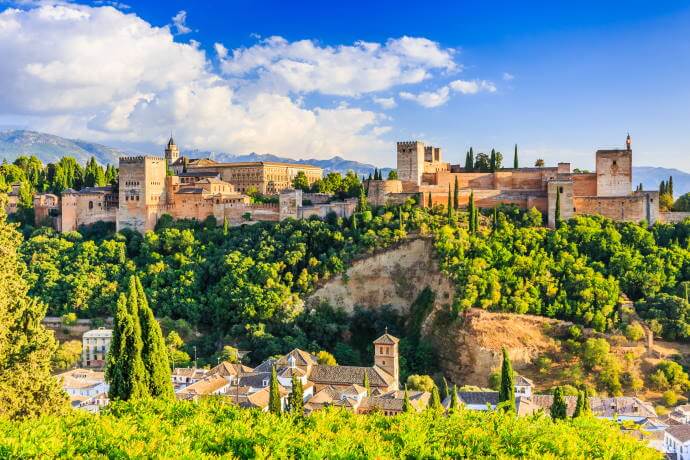 Granada is undoubtedly one of the most iconic destinations in Andalusia and perhaps one of the most beautiful in the world. Filled with UNESCO World Heritage Sites, lively flamenco and tapas scenes and history, Granada is currently a cosmopolitan and contemporary city, very modern and cultural. Nevertheless, its cobbled streets, fountains, viewpoints and cármenes, the typical houses of the city surrounded by gardens, give it a medieval aura. However, as a more modern city, Granada also has many large squares and an exciting nightlife. Many visitors are drawn to the majestic Alhambra, a famous complex of palaces and landscaped gardens, that is a great example of Moorish architecture and has been classified as a World Heritage Site by UNESCO. Watching the sunset from the Alhambra, or visiting it at night, can be a poetic experience for the most passionate. The city is dotted with monumental churches, old-fashioned tapas bars and buildings with Islamic architecture that promise an undoubtedly different and unique atmosphere. Stroll through the bohemian cafes, flamenco clubs and lively streets full of bars or wander through the cobbled streets, whitewashed houses and orange trees. Either way, a rather romantic adventure awaits you.
Hondarribia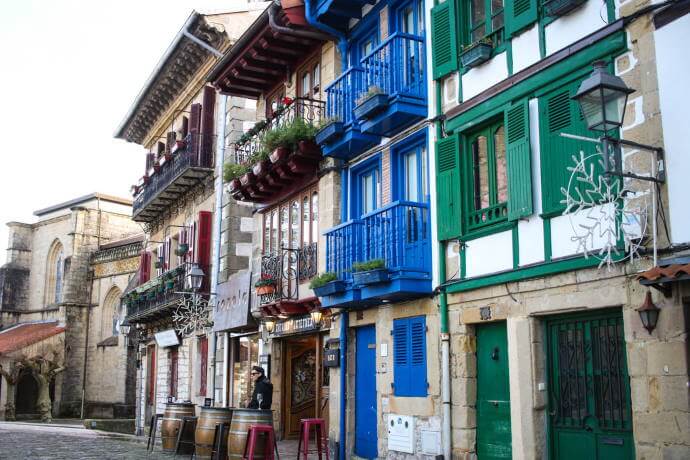 Colorful houses, amazing restaurants and bars and a maritime atmosphere characterize this old fishing town, rich in architecture and gastronomy. Perched on the mouth of the Bidasoa River, Hondarribia, known as Fuenterrabía in Spanish, has a well-preserved walled historic center - a Casco Antiguo (old town) full of typical Basque houses with colorful wooden balconies. Another great attraction of this picturesque town is the beach with clear and calm waters, flanked by bars and restaurants. The La Marina neighborhood, next to the ancient port, was home to many fishermen for many centuries and is undoubtedly the most picturesque neighborhood in town, full of colorful facades and balconies decorated with flower pots. With a definitely different and cheerfully colorful setting and highly rated restaurants, exploring this coastal land and its delights is a must-do for any couple. Hondarribia, with its harmonious combination of sea and mountains, leaves no one indifferent.
Nerja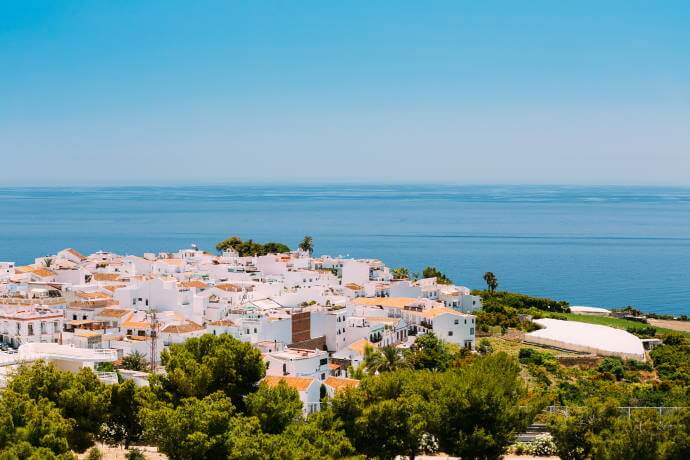 This luminous whitewashed coastal town that was a once-forgotten fishing village is characterized by its incredible maritime façade, formed by beaches, tranquil coves and picturesque cliffs. The Balcony of Europe (Balcón de Europa), a palm-lined promontory in the heart of the town, is one of the region's landmarks and a breathtaking viewpoint over the crystal-clear sea. Undoubtedly captivating, Nerja is also known for its massive underground caves, made up of magnificent rock formations (and where you'll find the largest stalactite in the world). It's easy to see why this destination is one of the most visited on the Costa del Sol. The coastal views, the fresh fish, the vibrant Spanish culture and the unique beaches are just some of the reasons why. Needless to say, strolling through the little white houses that contrast with the turquoise blue of the sea and the golden tones of the sand will awaken the romantic in you!
Cadaqués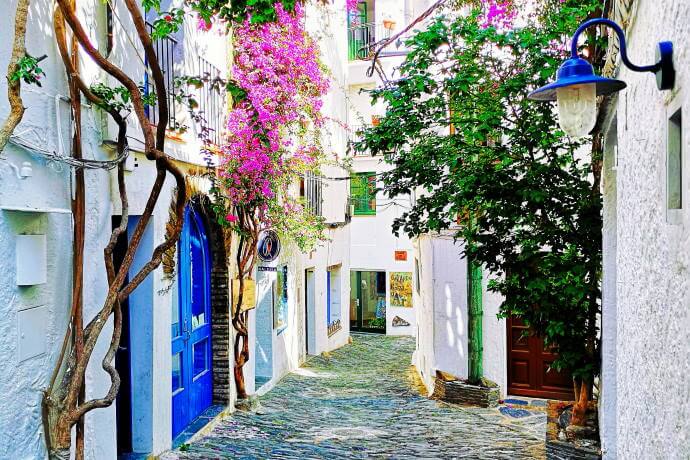 One of the most emblematic places on the Costa Brava in Girona is undoubtedly Cadaqués, with its rocky coastline, whitewashed houses with colorful doors and windows, transparent waters and natural landscape, demarcated by the steep mountains. Its historic center, with its typical maritime aroma and its cobblestoned narrow streets crisscrossing the town, served as inspiration for painters and artists, such as the famous and well-known Salvador Dalí, who put Cadaqués on the map, or even Picasso. Perhaps this is why this town has an intense cultural life. In Cadaqués, you will have the opportunity to visit several museums and art galleries (including, of course, the house-museum of Salvador Dalí). The beautiful harbor, the wild nature that surrounds it and the refreshing feel make this village a more than romantic destination, as well as charming. It is quite understandable that Salvador Dalí himself described Cadaqués as the most beautiful village in the world. Take a dip against the backdrop of the old town, go for a scenic coastal hike at sunset, get lost in the historic center, admire the great views, stroll amidst wild landscapes, dine at a renowned restaurant and sample the Costa Brava cuisine, enjoy the pleasant nightlife or just soak up the laid-back atmosphere - and do all this next to your better half on a romantic getaway. And while you're at it, be sure to admire the sunset from the Cap de Creus lighthouse.
Olite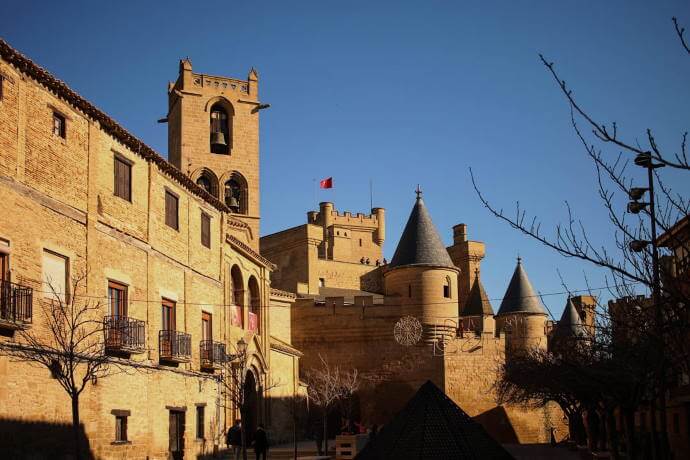 Known for its extraordinary Gothic royal palace/castle, Olite is not just another medieval village with winding streets and noble, little houses – this town is steeped in history and it is, in fact, the wine capital of Navarra. In the walled old town, traces of the Roman and Gothic presence are quickly noticeable, if not for the Roman walls and Gothic arcades. Walking among the houses and even visiting the two medieval churches is like travelling back in time to a kind of medieval fantasy. In the surrounding area, you will find the beautiful lagoon of Pitillas and many vineyards, perfect for a romantic wine tasting tour. The beautiful castle looming over the town is one of the most luxurious medieval castles in Europe. Its impressive towers, luxurious rooms and surprising gardens give it a special and unique touch. The medieval town center is a real pleasure to stroll through, especially when the sun goes down and the lights of the streets light up, creating a kind of magical atmosphere. Imposing coats of arms adorn the house's façades, while the cobbled streets preserve the memory of a bygone era.
If you want to explore the best romantic places in Portugal as well, check out our list of heart-warming experiences.
---
We are a local tour operator specialized in custom Self-Guided Tours in Portugal & Spain

Our local team will craft a tailor-made trip plan with an itinerary and a selection of hotels, activities and transportation based on your interests and budget. We offer a turnkey package and take care of all the logistics. While you are travelling, our local team is available by phone 24/7, so that we make sure you have a hassle-free vacation.

We also want to guarantee you have all you need when you are on tour. You will get a personalized roadbook with your day-to-day planning designed especially for you and an exclusive guidebook written by our team on Portugal with additional information. To ease the driving, you will receive a pre-programmed GPS with preloaded coordinates for all of the above.

We know sometimes life gets in the way, so all our tours are fully-refundable until 5 working days prior to your arrival – money back guarantee, no questions asked.

After we receive your enquiry, we will send you a free proposal, that can be changed as many times as necessary until meeting your expectations. Start planning your trip today!