Portugal has dazzling landscapes, shimmering beaches and endless romantic sceneries. The perfect backdrop for a timeless film, no matter the subject. Happy, sad, nostalgic, you name it! Portugal has all one needs to convey a powerful message. That is why Portuguese films have always taken advantage of the beautiful sights and focused on what surrounds the characters to set the pace and the mood they want to portray.
Overtime, foreign directors started to appreciate these picturesque settings more and more and Portugal is now an ideal location for many directors and film enthusiasts.
Since we have previously talked about books that portray exciting and thrilling stories that take place in Portugal, today we will tell you about famous films that were partially or fully shot in Portuguese lands, to make it all the more motivating to travel to those exact places to see and feel what the characters lived with your own eyes.
You may have even watched a few of these! But we guarantee you that now you will see them in a new light.
Porto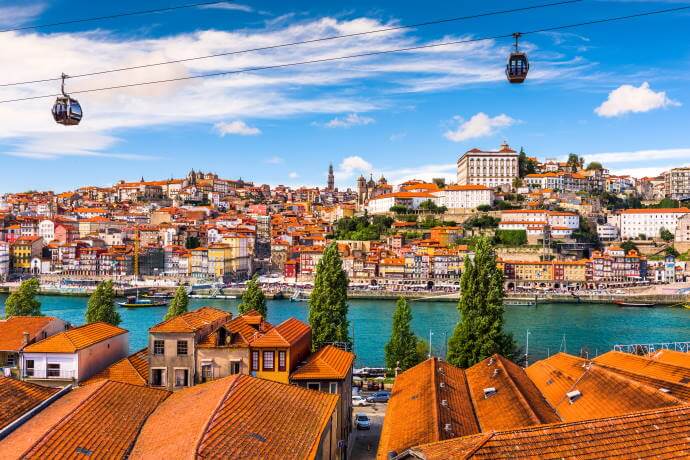 We are going to start this cinematic journey in Porto, a special city that is on everyone's bucket list right now.
Porto, also known as Oporto, is situated along the Douro River in northern Portugal. It is the second-largest city in the country and is distinguished for its historical charm, vibrant culture and worldwide famed port wine.
Porto's historic centre, a UNESCO World Heritage site, is a treasure trove of architectural wonders. Narrow, winding streets lead to ornate churches and magnificent landmarks such as the Clérigos Tower and the São Bento Train Station, notable for its exquisite tile panels. The Ribeira district, with its picturesque waterfront lined with colourful houses and bustling cafes, is a particularly enchanting area to explore.
One of the films that takes place here is an iconic Portuguese film from 1942, "Aniki Bóbó", directed by Manoel de Oliveira. This coming-of-age film follows a group of three children and their adventures in the city. The characters live in the district of Ribeira, in a poor neighbourhood, and spent most of their time outside playing freely. They cross the Luís I Bridge regularly to go to Vila Nova de Gaia, the city on the other bank of the Douro River, where you can find all the prestigious wine cellars. The Luís I Bridge, which was designed by Gustave Eiffel, is an important reference since it separates two big cities.
The side of Porto shown on this film is not exactly what you will find nowadays. The film portrays Porto with a nostalgic and slightly dark undertone, however, since then, the city has become a lot more lively, modern and mostly full of colour while maintaining its original structure and layout.
"Porto", directed by Gabe Klinger in 2016, has a completely different plot. It explores a romantic encounter between two foreigners in the city of Porto. It showcases the city's narrow streets, typical coffee shops and riverside scenery. It is refreshing because it focuses more on everyday life and not the touristic side, capturing the essence of Porto through an intense and emotional rollercoaster.
Lisbon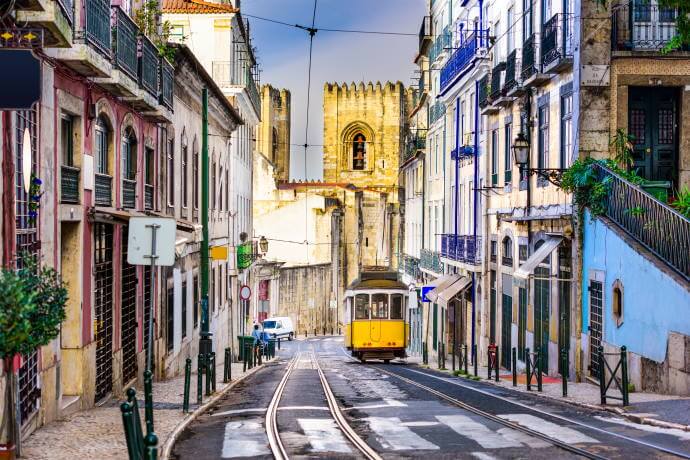 Lisbon is everything a capital should be - a vibrant and captivating destination that seamlessly blends history, culture and stunning cityscapes. Set along the Tagus River and adorned with seven hills (and a few more), Lisbon oozes charm from every corner.
Lisbon is also known for its picturesque viewpoints, or "miradouros," that offer dazzling panoramic views. From the Castle of São Jorge or the viewpoints of Miradouro da Senhora do Monte and Miradouro da Graça, you can marvel at the city's red rooftops, the shimmering river and the 25th April Bridge (the red one).
You can have a good glimpse of the city by watching "Lisbon Story" by Wim Wenders, from 1994. This film revolves around a German filmmaker who is shooting in Lisbon with the goal of capturing its cultural identity. He then invites his friend to join him and both end up falling in love with the city and with Fado, the traditional music of Portugal, which has a vital presence in the country and in this film as well.
The characters really transmit the real side of the city, which has not changed, with the same legendary yellow trams, that have been in activity since 1901, the old buildings with tiled walls, both outside and inside and the Fado concerts. The oldest neighbourhood, Alfama, plays a special part, which makes the ambience feel more intimate and genuine.
To have a more recent outlook on Lisbon, we recommend "Night Train to Lisbon" by Bille August, which follows the story of a Swiss professor who embarks on a thrilling intellectual journey of self-discovery in Lisbon after reading a book by a Portuguese author that touched him deeply. The film beautifully captures Lisbon's unique character, passing by the main neighbourhoods in search of this mysterious author of striking words. The Lisbon frames clearly show the beauty of the narrow streets and the steep stairs in Alfama, the arch of Augusta Street in Baixa, the beautiful viewpoint of São Pedro de Alcântara in Bairro Alto and even the Santa Apolónia train station (which used to be known as the blue station but has been painted red recently by the way).
Enjoy this city of contrasts and hearty food!
Sintra-Cascais area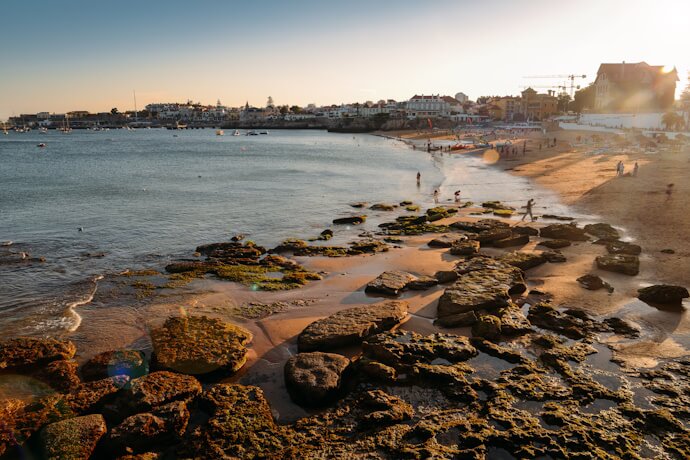 A great detour you can make from Lisbon is to explore the area of Cascais and Estoril, quaint coastal towns that boast a privileged position overlooking the Atlantic Ocean and exquisite beaches.
Beyond its natural splendour, Estoril is renowned for its glamorous history and cultural scene. In the early 20th century, it became a favoured destination for European nobility and high society, earning it the nickname "the Portuguese Riviera." The town exudes an air of elegance with its luxurious hotels, upscale villas, and refined gardens.
This can be seen in the popular film "On Her Majesty's Secret Service", from 1969. This James Bond film takes place in Switzerland and Estoril. The iconic Casino Estoril serves as the main stage for some scenes and what many people do not know is that this special casino and the triple spy Dusko Popov, a loyal customer during World War II, are the main inspiration for Ian Flemming to create the character of James Bond.
The Casino Estoril is physically the oldest and biggest casino in Europe, inaugurated in 1931, and it was the preferred place of leisure for all the spies allocated in the area during World War II. The hotel right next to the casino, the Palace Hotel, from 1930, is where most of these spies lived, especially English and German spies, and they all gathered in the bar of the hotel to decide their following moves and strategies and to try to figure out what the enemies were up to. And there is a funny detail – the employees of the hotel bar always knew which side (English or German) has won an "espionage battle" because the victorious ones always ordered a special champagne. It was known among the waiters as the "News Service Champagne".
Nowadays this elegant establishment continues to serve as a gathering place for international celebrities and dignitaries and adds an element of excitement and entertainment to the town, offering a range of gambling options, live shows, and gourmet dining experiences.
After your visit to Cascais and Estoril, there is one more destination you must go to within Lisbon's love triangle - none other than Sintra!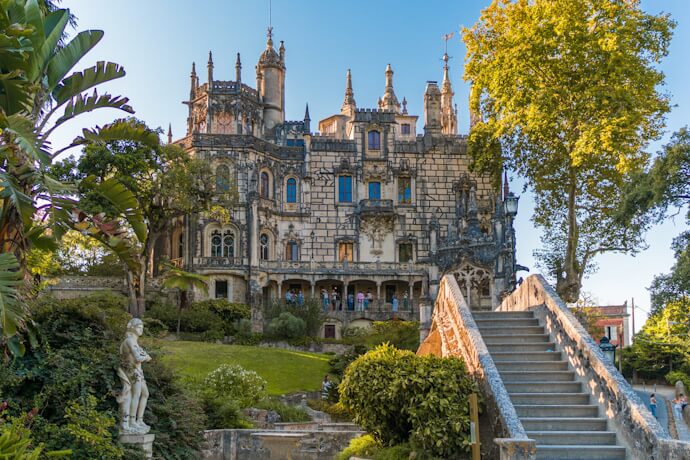 Sintra is an enchanting town celebrated for its historical palaces and fairytale-like surroundings, which have allured artists, writers and nature lovers for centuries. The most iconic of these is the Pena Palace, an eclectic masterpiece perched atop a hill with a whimsical architecture that combines Moorish, Gothic, and Renaissance influences, creating a truly magical sight.
The second most notable attraction is the Quinta da Regaleira, an exquisite estate known for its mystical elements and eerie atmosphere. Its gardens are adorned with grottoes, towers, and hidden passages, while an underground initiation well adds an air of intrigue and wonder.
You might have seen a picture of Sintra in your search for the perfect holiday destination, and you will surely like to see it in a film, with none other than Johnny Depp! In "The Ninth Gate", a supernatural thriller directed by Roman Polanski and released in 1999, perfectly captures the essence of this mysterious town.
The story follows Dean Corso, (Johnny Depp), a rare book dealer and expert in the occult. Corso is hired by a wealthy collector, Boris Balkan (Frank Langella), to authenticate a singular book called "The Nine Gates of the Kingdom of Shadows." As Dean Corso makes his way to Sintra to look for the missing book, you will get to see Johnny Depp riding his motorcycle through the town's historical centre, which looks the exact same nowadays, and then he takes you to a mysterious manor house in the mountains, called Chalet Biester. And guess what? This manor, after being an abandoned private property for so many years, is now open to the public! So, you can do the same trajectory as Johnny Depp, I mean Dean Corso, did to find the rare magical book!
Fátima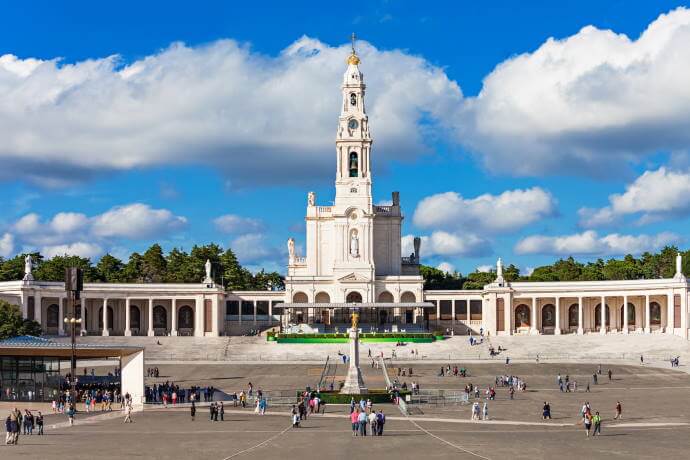 Fátima is another town with a very strong and powerful ambience. It is located in central Portugal, about an hour and a half away from Lisbon, and it is known for its profound religious significance. It gained international recognition as a pilgrimage site after three shepherd children claimed to have witnessed apparitions of the Virgin Mary on the 13th May of 1917. Today, Fátima attracts millions of visitors from around the world, seeking spiritual solace and participating in religious ceremonies.
Living up to the name is the film "Fátima", another important reference in Portuguese cinema from 2016. This film tells the story of eleven women who leave their homes in Trás-os-Montes (North of the country) on a pilgrimage to Fátima. Over nine days and four hundred and thirty kilometers, they cross half the country in effort and deep sacrifice to fulfill their promises. This is the story of the longest and most painful of all the pilgrimages that take place in Portugal.
Extreme tiredness and suffering lead to moments of rupture and their deepest identities and motivations are then revealed. Arriving at Fátima, each one will have to find their own path to redemption.
If you want to travel to this unique city, you must visit the iconic Sanctuary of Our Lady of Fátima, the Basilica of the Most Holy Trinity, the Basilica of Our Lady of the Rosary of Fatima, the Chapel of the Apparitions and the homes of the shepherds.
Beyond its religious significance, Fátima offers serene surroundings with beautiful landscapes as well. The town provides various accommodations and traditional restaurants to guarantee a true Portuguese experience.
Algarve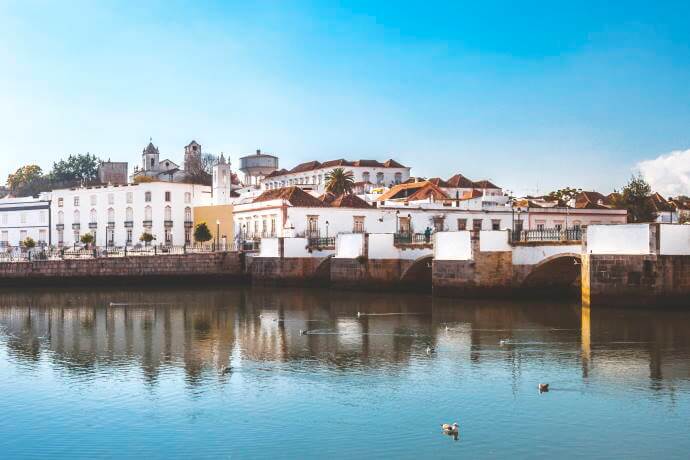 The Algarve is a very alluring region located in the southernmost part of Portugal, renowned for its stunning coastline, picturesque towns and warm Mediterranean climate. It is one of the most popular tourist destinations in the country, attracting visitors from around the world.
This region is blessed with an abundance of natural beauty. Its coastline stretches approximately 200 kilometers (125 miles) and is characterized by dramatic cliffs, golden sandy beaches and crystal-clear turquoise waters. From secluded coves to expansive stretches of shoreline, the Algarve offers a diverse range of beach experiences to suit every preference.
Loulé was the scenery chosen for the film "That Good Night", directed by Eric Styles in 2017. This film conveys the story of Ralph, a once-famous screenwriter now in his seventies and terminally ill, that revisits his moral principles and wishes to die with dignity. He wants to reconnect with his estranged son, Michael, while also not being a burden to his loving, much younger wife Anna as he goes "into that good night." But a plot twist happens and he gets a second chance to make things right before he passes.
In this film, you are able to see the historic centre of the city, characterized by narrow cobblestone streets, whitewashed buildings and decorative tiles. The town has preserved its original appeal, with very visible Moorish influences, and it is very easy to stumble upon hidden corners and small squares among the maze-like streets. But Loulé is also surrounded by rolling hills, lush countryside and picturesque villages, so you will have endless opportunities for outdoor activities such as hiking, cycling and exploring the region's scenic landscapes.
All of the regions mentioned above have a postcard-worthy aesthetic and a beauty that will leave you mesmerized, with plenty of things to see and experience. Since it is so hard to only choose one, we recommend you plan a few days (or more) to be able to unravel the secrets of all of them! Do not worry, we can help. What matters is that you have the adventure of a lifetime with the fondest memories.


---