In the Portuguese capital, Lisbon, you will stumble upon picturesque neighbourhoods, some of them very old and with a lot of history and stories to tell. To get a really good feel for this charming and ravishing city and its cozy neighbourhoods, it's perfect to explore it on foot and discover all the hidden corners. As you stroll through the cobblestone streets, corners and alleys, you will see a typical Lisbon, as charming as it's cracked up to be: Neighbours talking loudly on corners or from window to window, colorful clothes spread out on clotheslines next to flower vases, narrow streets going up and down hiding typical taverns and cafes, centuries-old houses, typical buildings that take you back in time, delicious traditional dishes and pastries, and friendly people. In this article, we will introduce you to the most important features of each part of the city, as well as the main attractions. After that, the first thing you will want to do is to book a trip that includes this captivating and mesmerizing city!
Alfama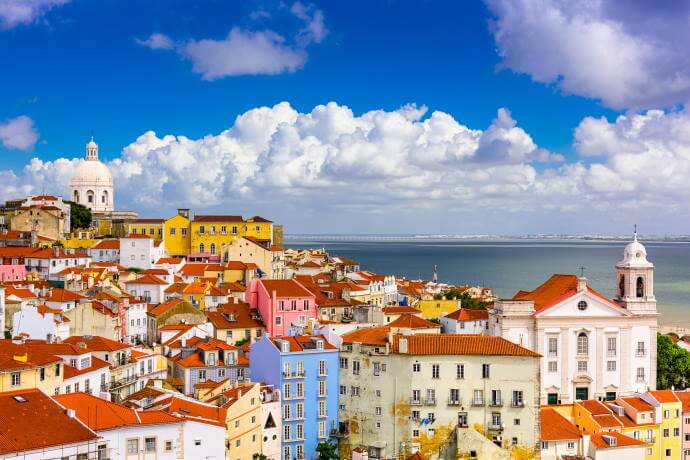 This is Lisbon's most emblematic and famous quarter and an old-fashioned residential neighbourhood, located in the upper part of the city. Alfama is dotted with medieval alleys, narrow cobblestone streets, tiny squares, pretty churches, typical taverns and ancient houses with wrought-iron balconies, adorned with colorful flowers and drying laundry.
Alfama, an authentic Portuguese neighborhood full of charisma, was settled by the Romans and Visigoths, and it was also an important Jewish quarter in the 15th century. However, it was the Moors that gave the neighborhood its name and were responsible for the web of winding streets that was created as a protective mechanism and to keep the houses cool in the summer. Thanks to the dense bedrock, the historic quarter survived the tragic earthquake of 1755.
Nowadays, Alfama is a real treat for photographers from all over the world. Be sure to carefully admire the medieval architecture and stroll through the cluttered alleys, stairs and colorful slopes to discover the most charming corners. One of the main attractions is undoubtedly the imposing São Jorge Castle, although there are many others. Several viewpoints, such as the Miradouro de Santa Luzia and the Miradouro das Portas do Sol, offer fabulous views.
In addition to these highlights, you can also admire the ancient and imposing Sé Cathedral and the lovely Church and Monastery of São Vicente de Fora, as well as visit the Roman Theater Museum or the Fado Museum (Alfama is considered the birthplace of fado). You can get to know the National Pantheon and also visit the Church of Santo António and one of the many fado houses.
There are few things better in Lisbon than getting lost exploring these magical corners of this humble neighborhood, watching the locals chatting on the street corners and admiring the clothes draped on the clotheslines. You will feel the true spirit of Lisbon's typical neighborhood culture, with its peculiar and unique traditions and features that make Lisbon the wonderful city it is.
Baixa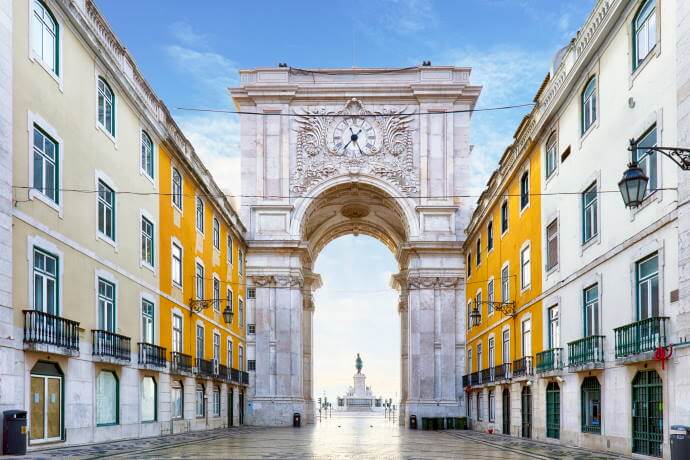 Between the Avenida da Liberdade and the Tagus River lies the Baixa neighbourhood, with its elegant and classy boutiques, numerous stores and old cafés. The lively Rua Augusta, leading to the great Triumphal Arc and the wide and beautiful Praça do Comércio (also known as Terreiro do Paço), is one of Lisbon's main pedestrian streets. Walking down this ancient street you will find mosaic pavement, charming sidewalk cafes, numerous stores and street artists exhibiting their art.
This neighbourhood is ideal for those who like to shop, while admiring the old architecture and hopping from one traditional shop to the next. In the Baixa district, you can stroll through the majestic squares connected by straight avenues. Here you can still admire architectural relics and feel the atmosphere of a neighbourhood that is more modern and remodelled, but where Lisbon's traditional culture is still alive.
After the earthquake of 1755, this area (one of the oldest neighbourhoods in Lisbon) was completely transformed. This neighbourhood was the first example of a neoclassical urban settlement in Europe, with Marquês de Pombal being the main person responsible for this reconstruction - hence the area is also known as Baixa Pombalina.
Be sure to visit Praça do Comércio, one of Lisbon's most popular squares, and relax by the river while watching the locals go about their daily business. You can also visit the interactive museum that depicts Lisbon's history, the Lisbon Story Centre. Ride the Santa Justa elevator and enjoy the magnificent view, or have a ginjinha in the grandiose Rossio Square, also known as Praça de D. Pedro IV. You can also take the Elevador da Glória at the lively Praça dos Restauradores, near the Teatro Nacional, which runs from Baixa to Bairro Alto.
Also near Praça dos Restauradores is Avenida da Liberdade, one of the city's most important avenues, with esplanades under century-old trees, prestigious brand-name stores and high-end restaurants.
Chiado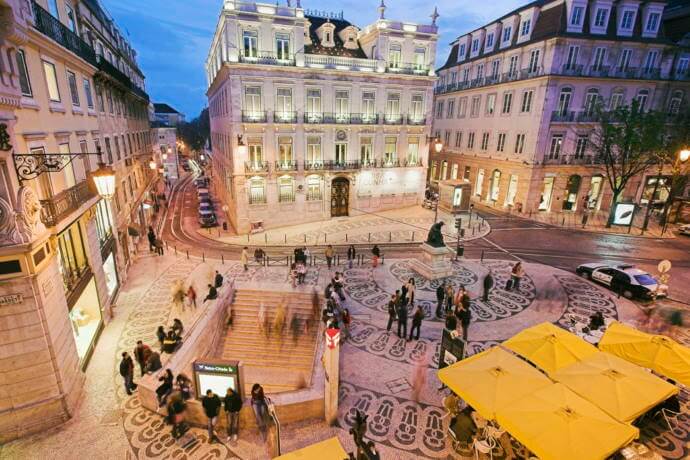 Chiado, the elegant neighborhood next to Baixa (often this entire area is referred to as Baixa-Chiado) and Bairro Alto, also has many small stores, typical cafes and refined restaurants lining the Portuguese cobblestone streets. This neighborhood takes us back in time to the 20th century, when famous Portuguese writers such as Fernando Pessoa and Eça de Queiroz frequented the neighborhood's cafes.
Today, the traditional yet modern atmosphere is a paradise for many. After the great fire that hit the city in 1988, this neighborhood was also completely rebuilt. Nevertheless, the commercial, cultural and intellectual vein is still evident today.
Admire the Art Nouveau buildings on Rua Garret, walk past the Bertrand Bookstore, considered the oldest functioning bookstore in the world, and visit the famous and historic café A Brasileira, where you'll see the popular statue of Fernando Pessoa. Take a break at the Miradouro de Santa Catarina, shop in the many stores, browse the art galleries or visit the charming Convento do Carmo. Walk up Rua do Carmo and visit Armazéns do Chiado, a beautiful commercial building. Take the opportunity to stop by Largo do Carmo, the square that was the scene of the April 25 Revolution in 1974. Also, go up to Praça Luís de Camões, where young people gather next to the statue, before heading to the many bars of Bairro Alto or Cais do Sodré. The square was named in honor of the poet and writer Luís de Camões, whose statue is located in the center of the square.
This cosmopolitan and lively neighborhood is also home to important and beautiful theaters, such as Teatro da Trindade, Teatro São Carlos or Teatro São Luiz. You can also visit the charming Church of Nossa Senhora da Encarnação in the heart of Praça do Chiado and the former convent that now houses the National Museum of Contemporary Art.
Bairro Alto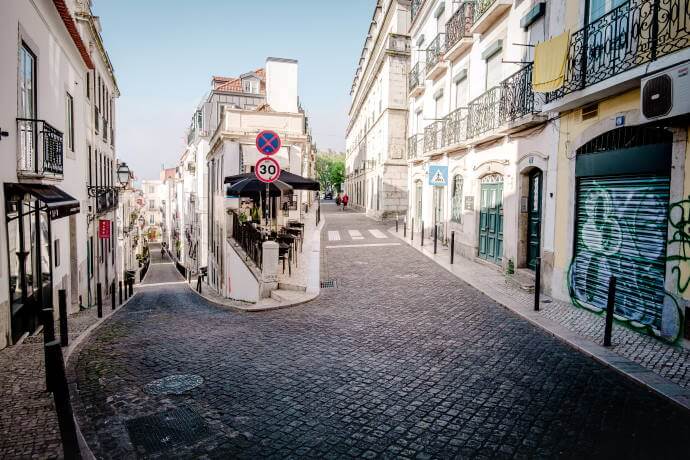 Bairro Alto, as the name suggests, is located in one of the highest parts of Lisbon, very close to the Chiado quarter. Here you will find some of the best restaurants and bars, as it is one of the most popular neighborhoods for those who like to go out at night. This bohemian and traditional neighborhood, mostly frequented by young people, is usually very lively in the evening, while during the day it is a quieter and more peaceful neighborhood, perfect for a stroll. Walking through the old, narrow, cobbled streets lined with secular houses, typical architectural buildings and small traditional stores, and hopping from bar to bar is the best way to get to know this picturesque part of Lisbon.
It was mainly from the 19th century onwards that this neighborhood became known for its lively nightlife, essentially due to the appearance of numerous restaurants, bars, Portuguese taverns and fado houses. Several press companies began to appear in the neighbourhood as well, housing the headquarters of the main newspapers. Journalists, writers, artists, sailors and fadistas gathered in these streets and celebrated the art of living.
From the Miradouro de São Pedro de Alcântara, with its garden and the monastery of the same name, or from the much-visited Miradouro de Santa Catarina, popularly known as Adamastor, you will have a magnificent view. You can also visit the fabulous Church of São Roque (which, according to legend, houses the most valuable chapel in the world), ride the much-photographed Elevador da Bica, or enjoy a pleasant evening of fado in one of the several fado houses.
At night, there are many ways to spend a nice evening - since most bars are relatively small, many people choose to grab a drink and spread out on the street to talk and drink and create a happy, lively and social atmosphere. And did you know that this neighborhood is also known as a meeting place for many foreign students? Erasmus students in Lisbon also meet here to have a good time.
Cais do Sodré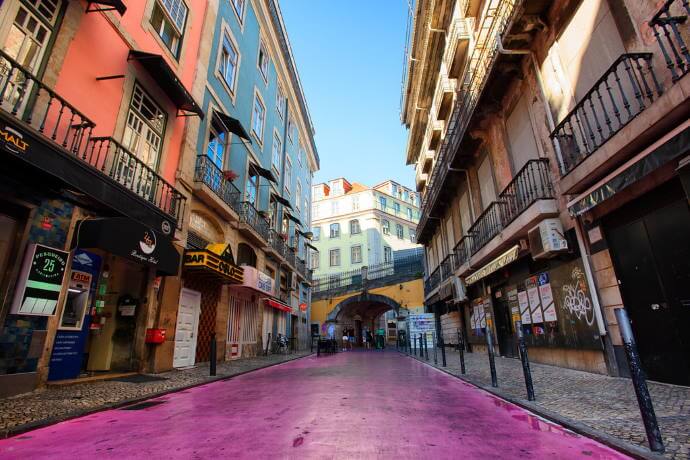 This relatively small neighborhood on the banks of the Tagus River is a real treat and has a little bit of everything to offer its visitors. Here you will find the famous Mercado da Ribeira (Time Out Market), a gastronomic market with dozens of excellent restaurants, located on the beautiful Praça da Figueira. After Bairro Alto, it's the most popular destination for night owls - in fact, for many it's the most interesting area.
Around the Cais do Sodré, there are several bars and nightclubs playing a wide variety of music. There is music for every taste, from rock, jazz, pop to reggae, and there are live music venues. In the famous Pink Street (known by its pink floor), for example, there are numerous bars and clubs, but also restaurants. Coming from Praça do Comércio, the walk is very pleasant - you will pass by Ribeira das Naus, where you can stroll along the river. It is the perfect place to watch the sunset and get ready for the night. In this neighborhood, you can also visit the charming Jardim de Roque Gameiro and the Church of São Paulo.
Cais do Sodré was once the gateway to maritime trade. Sailors from all over the world were frequently seen roaming around this quarter. For this reason, even today, many bars, especially on Pink Street, are named after important continents, countries and cities. Today, you can see people of all kinds in the streets of the neighborhood, on their way to bars and clubs, glass in hand.
Mouraria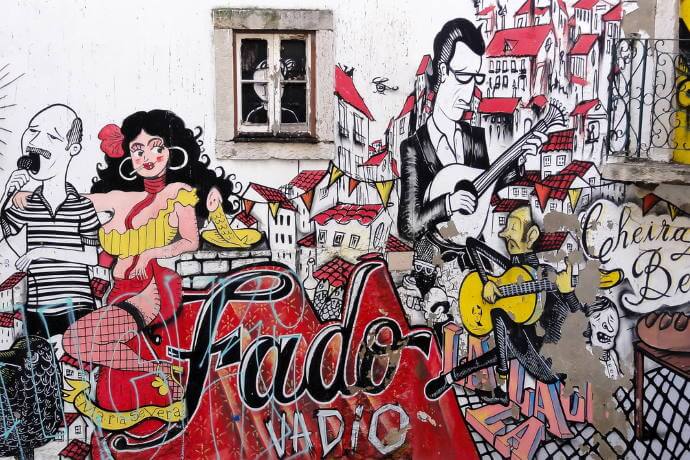 The historic neighbourhood of Mouraria, located between Martim Moniz and Castelo de São Jorge near the Alfama quarter, was named after the Moors who settled here after the conquest of the capital. Today it is a multicultural neighbourhood, one of the most traditional of Lisbon, where you can find people of different nationalities. Nevertheless, it remains a very typical neighbourhood, contesting Alfama's title as the birthplace of Fado. One of the main attractions is the inviting Largo do Intendente with its fountain, stores where you can buy traditional Portuguese products, and several iconic buildings: one of them is covered with beautiful tiles and another one was built in Art Nouveau style.
Great names of fado music are closely linked to this neighbourhood. This is the case of Severa, the first known fado singer in Portugal, and Mariza, an international fado singer, who grew up and lived in Mouraria. Here you will also find a sort of mini "Chinatown" and various kiosks, especially on Praça Martim Moniz, where there are several places serving international cuisine. You will also find many international stores, as well as fado houses and typical taverns. The Colégio dos Meninos Órfãos is another highlight of the neighbourhood, whose staircase is also decorated with beautiful tiles.
In Mouraria, you'll find one of Lisbon's oldest houses, the medieval Largo da Achada, behind the São Cristóvão church. Walk through the cobblestone streets, admire the artwork on the walls, some of which is dedicated to fado (especially near the Escadinhas de São Cristóvão), and get to know the most picturesque nooks among stairs, corners and alleys. On some corners you'll even find tributes to some of the neighbourhood's most famous residents.
Graça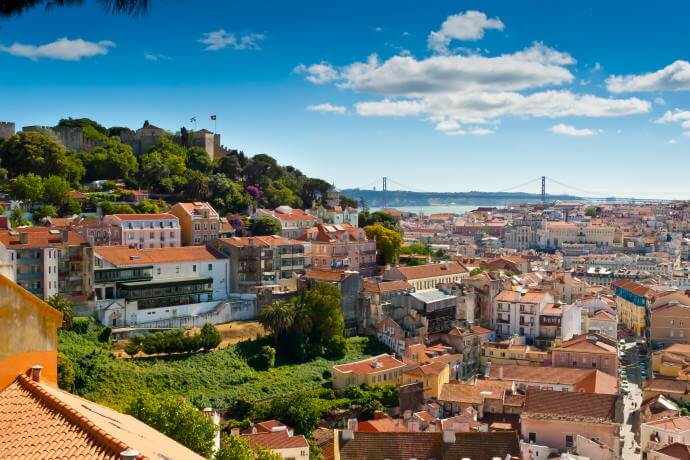 The residential Graça neighborhood is located in a high region of Lisbon, and is characterized by its old mansions, impressive viewpoints, palaces and many traditional shops that still preserve the soul of old times. Especially after the devastating earthquake, this neighborhood has gained more and more inhabitants. Many foreigners were captivated by this prestigious and diverse neighborhood, and also chose Graça as their home. It is easy to understand why this residential area once attracted the most noble.
In the streets you can observe people going about their daily lives, while the tram passes through, contrasting with the gardens, large houses and urban art that adorns some of the walls of the neighborhood. Here you can visit one of the oldest churches in the capital, the Igreja e Convento da Graça, with its beautiful tiles. It is located next to the popular Miradouro da Graça, from which you can enjoy a magnificent panoramic view of the castle and the center of Lisbon. Next to the viewpoint is a lovely garden where you can sit in the shade and perhaps have a picnic or just relax.
Since this quarter is located on a hill, this is where you will find most of the viewpoints. In addition to the Miradouro da Graça, you can also stop by the Miradouro Senhora do Monte, next to the chapel of the same name, or the viewpoint in the Santa Clara Garden. Be sure to also visit Vila Sousa, an old working-class village.
Very close to the Graça neighborhood, the famous Feira da Ladra is held weekly. At this fair, second-hand items are sold, some of which are real relics. And of course, as in all of Lisbon, there are many good restaurants and nice bars where you can have a lovely time.
Príncipe Real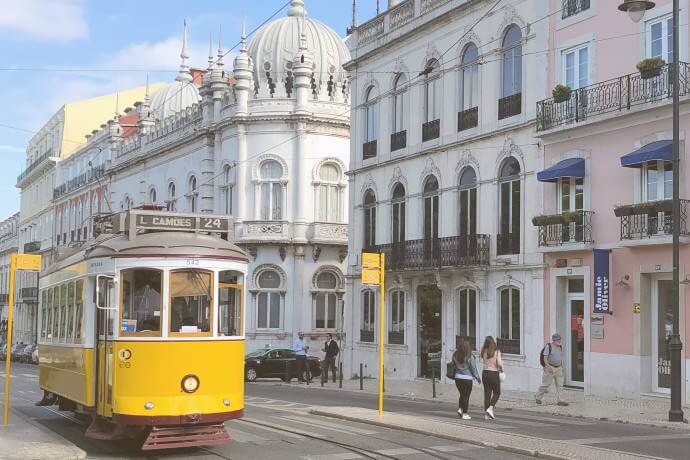 North of Bairro Alto is Príncipe Real, a trendy, more expensive residential neighborhood, dotted with designer and antique stores, ostentatious buildings with colorful facades, alternative commercial spaces, museums, famous restaurants and bars. It is considered by many to be the trendiest neighborhood in the capital and is a great place to do a little shopping. The neighborhood was named Príncipe Real in honor of Pedro V, the son of Dona Maria II.
If you explore the neighborhood, you will find a very nice garden, Jardim do Príncipe Real, in the heart of the neighborhood, with pleasant cafes and terraces, garden benches, many trees and hidden corners. The garden is famous for its huge, very old Portuguese cypress. Nearby is also the charming Praça das Flores, where you can sit at a kiosk and observe the life of the neighborhood.
You can also visit the National Museum of History and Science, the Amália Rodrigues House Museum, or the impressive Lisbon Botanical Garden, classified as a National Monument and home to several varieties of plants and flowers. If you go to Avenida da Liberdade, you will also pass by Praça da Alegria, a pleasant and beautiful square. Another attraction in this elegant and modern neighborhood is Embaixada, a small commercial gallery, housed in a mansion.
Belém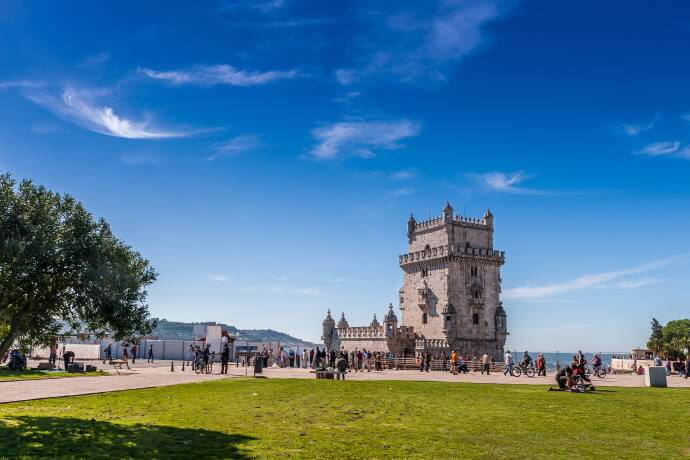 It is one of the most celebrated neighborhoods of Lisbon and you will quickly understand why. First of all, this is where the tasty and original Pastel de Belém comes from, whose original recipe is still a well-kept secret; and secondly, it houses many important and grandiose monuments that are definitely worth a visit. From this neighborhood, the Portuguese ships sailed across the ocean in search of new lands. The important monument Padrão dos Descobrimentos was built in honor of the historical figures who participated in these discoveries. In fact, it can be said that the entire neighborhood of Belém is dedicated to the Portuguese discoveries, as several monuments have been erected in honor of these navigators.
There are several impressive sights in Belém, and it is worth getting lost among them. The Jerónimos Monastery, a true masterpiece that houses the tombs of Vasco da Gama and Luís de Camões and an incredible cloister with Manueline details, is just one of them. Classified as a National Monument and a UNESCO World Heritage Site, the monastery is the pinnacle of Manueline architecture.
Exploring the neighborhood, one also comes across the imposing Torre de Belém, full of details and decorated with the coat of arms of Portugal. It is a historical symbol of Lisbon and Portugal, which has greatly influenced the history of the capital. It was built to protect the city from attacks from the Tagus River, but also served as a gateway to the capital. It was also declared a National Monument and a UNESCO World Heritage Site.
For cars lovers (especially classic cars), the Museu Nacional dos Coches is a good place to visit. For art lovers, the new and modern Museum of Art, Architecture and Technology, MAAT, is a must. The building alone is worth a visit! With the Pilar 7 Experience, you can also get to know the magnificent 25 de Abril Bridge from the inside and even climb to the top of one of the pillars. Finally, you can also visit the Belém Cultural Center, which hosts cultural events and art exhibitions. Near Belém, more precisely in Alcantara, you will find an alternative and well-known place among locals and visitors: the modern and laid-back LX Factory, full of art, bookstores, stores, crafts and good restaurants. At the end of the day, be sure to enjoy a Pastel de Belém, straight from the original pastry store.
Parque das Nações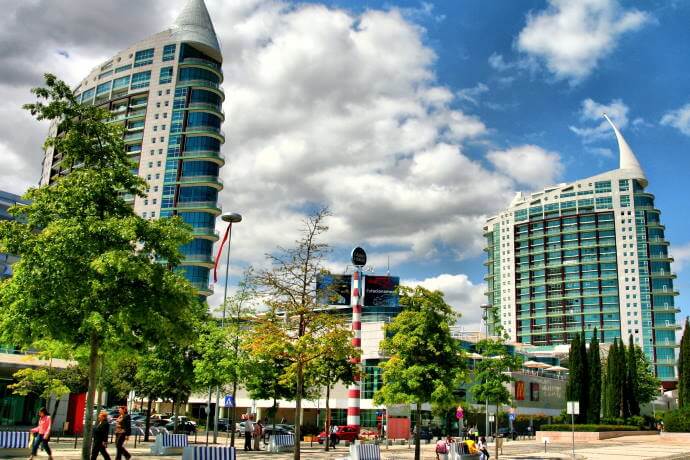 If so far we have focused on neighborhoods with a medieval aura, old buildings and historical sites, Parque das Nações offers something different. This neighborhood, once a less beautiful, somewhat forgotten and abandoned industrial area, has become one of the most modern and futuristic neighborhoods in the city. This part of the city was impressively renovated for the 1998 World Expo (Expo 98). After this renovation, Parque das Nações was unrecognizable! Today, it stretches along five kilometers of riverfront and has a much more modern atmosphere.
This bold neighborhood is home to the Oceanarium, one of the largest and most impressive oceanariums in Europe, with four marine habitats featuring temperate, tropical and cold waters. Here you will see the strangest and most beautiful sea creatures! You can also take a ride on the cable car and enjoy Lisbon from a new and unique perspective. And do you want an insider tip? When the sun goes down is the best time for such a ride.
For shopping lovers, here is one of the best shopping centers in Lisbon, Vasco da Gama Shopping Center. If you just want to relax, you can sit on one of the many terraces along the river and enjoy the breathtaking view or have a mouthwatering meal. For the intellectual or even for children, a visit to the Pavilhão do Conhecimento (Knowledge Pavilion) is a great alternative. As you can see, there are many, many ways to enjoy your day in this part of the city. There are also several examples of modern architecture, such as the Oriente train station, and numerous leisure facilities..
---
We are a local tour operator specialized in custom Self-Guided Tours in Portugal & Spain

Our local team will craft a tailor-made trip plan with an itinerary and a selection of hotels, activities and transportation based on your interests and budget. We offer a turnkey package and take care of all the logistics. While you are travelling, our local team is available by phone 24/7, so that we make sure you have a hassle-free vacation.

We also want to guarantee you have all you need when you are on tour. You will get a personalized roadbook with your day-to-day planning designed especially for you and an exclusive guidebook written by our team on Portugal with additional information. To ease the driving, you will receive a pre-programmed GPS with preloaded coordinates for all of the above.

We know sometimes life gets in the way, so all our tours are fully-refundable until 5 working days prior to your arrival – money back guarantee, no questions asked.

After we receive your enquiry, we will send you a free proposal, that can be changed as many times as necessary until meeting your expectations. Start planning your trip today!