Extremadura is a land of stunning natural beauty, vast expanses of unspoiled countryside and a wealth of historical sites. Covering an area of 41,633 square kilometers, Extremadura is one of the largest Spain's autonomous regions! In 1983, the region became autonomous from the central Spanish government as a part of a process that sought to recognize and respect the different cultures and identities, and to give Extremadura greater control over its own affairs.
The region is renowned for its rich cultural heritage, with monuments and archaeological sites dating back to the Roman, Visigoth and Moorish periods. The capital of Extremadura, Mérida, is a UNESCO World Heritage Site, with its iconic Roman amphitheater and other impressive monuments. Also renowned for its delicious cuisine, Extremadura features exquisite traditional dishes and some of the finest wines in Spain!
Follow us in a trip through the most prominent cities and villages of Extremadura to discover some of the most estimated gems in the Iberian Peninsula.
Cáceres

Welcome to Cáceres, a UNESCO World Heritage site where you'll indulge in the local delicacies and marvel at the stunning architecture and history.
First off, let's talk about the food. The city is home to some of the most delicious traditional dishes in all of Spain. Its mouth-watering cuisine materializes into a fusion of traditional Spanish dishes and local ingredients, resulting in unforgettable meals, that are sure to leave you feeling satisfied (and a few pounds heavier). For example, migas is a savory dish made with fried breadcrumbs, garlic, and chorizo. And of course, we can't forget about the famous torta del casar, a creamy cheese that is sure to make your taste buds sing.
Cáceres is steeped in history, with beautiful buildings dating back to the Roman times. Did you know that this charming city was once the stomping grounds of knights and nobles? The cobblestone streets of the old town still bear witness to their grandeur, and the ancient walls surrounding the city serve as a reminder of a time when defense was key. While in Cáceres, you can explore Plaza Mayor, the main square of the city, and take in the breathtaking architecture of Palacio de los Golfines de Abajo. If you're feeling brave, you can also visit the Torre de Bujaco, a medieval tower with a fascinating history. For the art lovers, Cáceres Museum is a must-see, featuring works of art from some of the most famous Spanish artists. Visit Monumento a los Extremeños Ilustres, a monument boasting the busts of famous figures from Extremadura, including a rather humorous bust of a famous Spanish writer, Miguel de Cervantes, who is shown wearing a hilarious hat.
Trujillo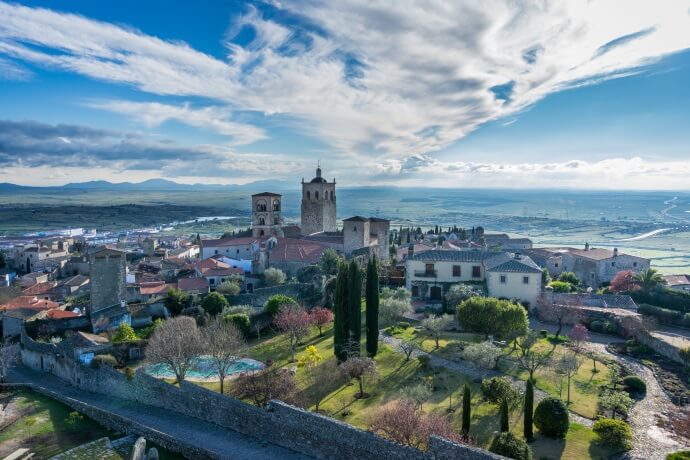 A city full of curiosities that even the locals have trouble keeping up with! Did you know that Trujillo was home to the famous conquistador, Francisco Pizarro, who brought down the mighty Inca Empire? Or that it boasts a stunning plaza with a statue of Pizarro himself, looking stern and determined? There is also the imposing castle that lords over the city, a testament to Trujillo's centuries-long history of defending itself from invaders (and visitors taking a selfie). But the real trend in Trujillo? That would have to be its obsession with cheese. From creamy tortas to sharp cabrales, they take their queso very seriously! Just try to be discrete about the secret rituals they perform to make it so darn delicious. Some things are better left unsaid!
Trujillo is known for its rich history, stunning architecture, and delicious cuisine, making it a perfect destination for anyone seeking an authentic Spanish experience. During your visit, you may have the opportunity to explore the beautiful old town, which boasts a wealth of historical landmarks such as the Plaza Mayor, the Castle, and the San Francisco Convent. Take a stroll down the narrow streets lined with whitewashed houses and discover the town's many hidden gems, including quaint cafes, artisan shops, and traditional markets. One of the top attractions in Trujillo is the castle that sits on a hill overlooking the city. The castle was built in the 13th century and is a perfect example of Gothic and Renaissance architecture. There you can learn about its history and enjoy breathtaking views of the city. Another must-see attraction is the Plaza Mayor, which is considered one of the most beautiful squares in Spain. This stunning plaza is surrounded by beautiful Renaissance-style buildings, including the Palace of the Marquis of the Conquest.
Trujillo is also a food lover's paradise, with a rich culinary heritage that spans centuries. Some of the must-try dishes include the famous Revuelto de Espárragos (scrambled eggs with asparagus), Migas Extremeñas (fried breadcrumbs with chorizo), and Cojondongo (a hearty stew made with beef tripe). You can also sample some of the region's finest wines, such as the full-bodied reds from the Ribera del Guadiana and the crisp whites from the Tierra de Barros.
Aside from its cultural and gastronomic offerings, Trujillo is also a great base for exploring the stunning countryside of Extremadura. From the rugged Sierra de Gata mountains to the rolling plains of La Serena, there are plenty of outdoor activities to suit all tastes!
Guadalupe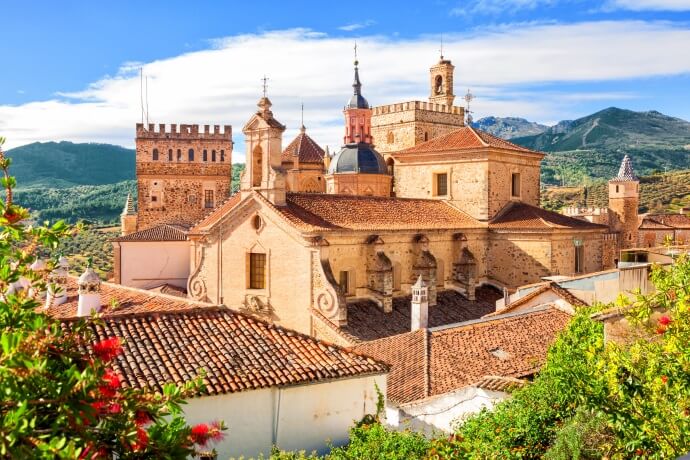 Guadalupe is a hidden gem that is steeped in history and culture, making it the perfect destination! Here, you will have the opportunity to explore the city's many historical landmarks, including the Royal Monastery of Santa María de Guadalupe, a UNESCO World Heritage Site that dates back to the 14th century. The monastery houses an impressive collection of art and artifacts, including paintings by renowned Spanish artists such as El Greco and Zurbarán. You can also take a stroll through the village's charming streets and discover its many hidden treasures, including traditional markets, artisan shops, and quaint cafes.
When it comes to food, Guadalupe has plenty to offer, with a rich culinary heritage that also features mouthwatering local cuisine. Aside from its cultural and gastronomic offerings, Guadalupe is also a great base for exploring the stunning countryside of Extremadura. From the rugged Sierra de Guadalupe mountains and beyond, there are also plenty of options regarding outdoor activities. From hiking, birdwatching, or even visiting nearby towns, for example.
Visiting Guadalupe is a unique and unforgettable experience that combines history, culture, nature, and gastronomy in one stunning package!
Jerez de los Caballeros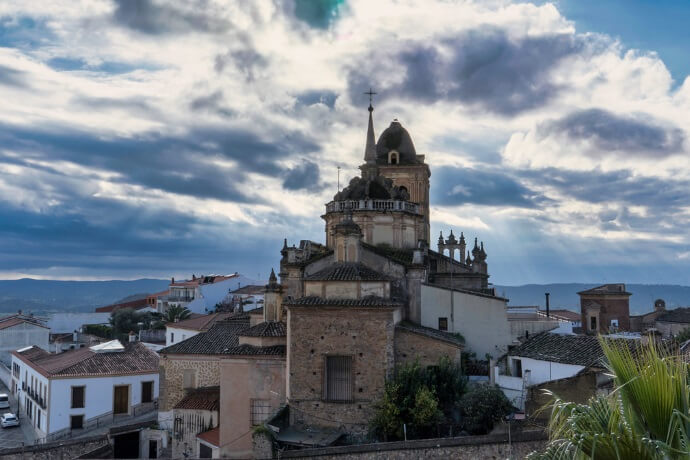 As you stroll through the cobblestone streets of Jerez de los Caballeros, it's possible to notice the rich history and culture that makes this town so special. Jerez de los Caballeros is one of the oldest cities in Spain, having been founded in 1255. It has a long history of bullfighting as well. While at Jerez de los Caballeros, visit the Castillo de Jerez, a stunning castle that has been around for centuries, and Iglesia de San Miguel, a beautiful church with a fascinating history!
The city is also known for its delectable cuisine, including the famous 'churros con chocolate' (fried dough pastry with hot chocolate) that will have you licking your fingers. Also, sample some of the finest wines from the region, and you'll feel like a king or a queen.
But wait, there's more! Jerez de los Caballeros is also home to the Fiesta de los Jarramplas, a colorful, hilarious and unmissable festival. The festival involves people dressed in devil costumes, running around the streets and hitting people with turnips. It may sound strange, but we promise you'll be laughing until your belly hurts. And furthermore, you can also visit the Museo de la Historia de la Minería de Almadén, a fascinating museum that tells the story of the mining industry in Spain.
Valle del Jerte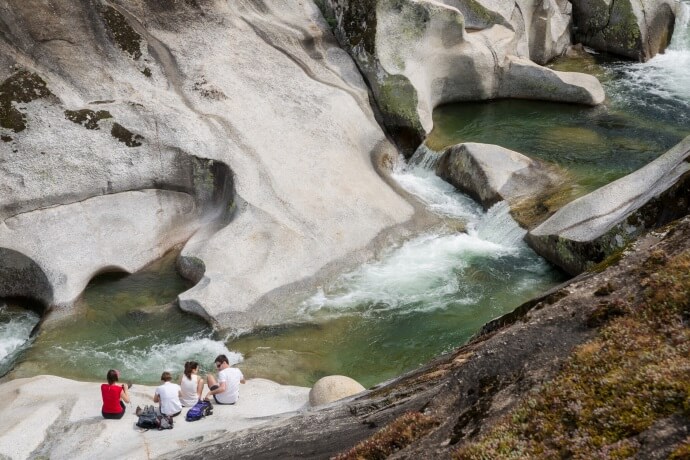 At Valle del Jerte, you'll indulge in the finest Spanish cuisine, explore the most picturesque landscapes, and immerse yourself in the rich history and traditions of the region! While exploring the valley, you'll encounter breathtaking natural wonders, like the cascading waterfalls and crystal-clear rivers that flow through the mountains. Here you'll encounter charming villages dotted throughout the valley, each with its unique cultural traditions and festivals. You can also visit Piornal, the highest town in Extremadura.
If you're a fan of savory, hearty meals, you will be delighted with traditional dishes like Cochinillo (roast suckling pig) or Caldereta de Cordero (lamb stew). And of course, the sweet, juicy cherries that the valley is famous for. You may have them in every form imaginable, from tarts to liqueurs, and even in savory dishes like Cherry Gazpacho.
In addition, it's also possible to visit La Garganta de los Infiernos, a natural park that boasts some of the most beautiful landscapes in all of Spain!


---