Bologna, as the title says, is heaven for food lovers (which includes pretty much everyone). This city is renowned worldwide as a culinary destination and is often referred to as the food capital of Italy. Located in the Emilia-Romagna region, it offers a rich gastronomic heritage that has influenced Italian cuisine for centuries.
Most locals characterize Bologna with three key adjectives: La Dotta, La Rossa, La Grassa, which literally means the Wise, the Red, the Fat. Each one of these adjectives refers to a crucial piece that makes this city what it is today.
The Wise, or the Learned, refers to its 11th century University, which is the oldest one in the world in continuous activity and the first degree-awarding institution of higher learning.
The Red symbolizes its famous red arches that spread for about 40 kilometres in the historic centre and other 50 kilometres in the periphery, giving the city a vibrant atmosphere. More recently, its leftist politics have added another meaning to the "Red" attribute.
And finally, the Fat is of course related to its culinary excellence and reputation for rich and indulgent food. Today, we are going to focus more on the gastronomic aspect of Bologna so you can start planning your meals for when you arrive in the city!


Dishes you must try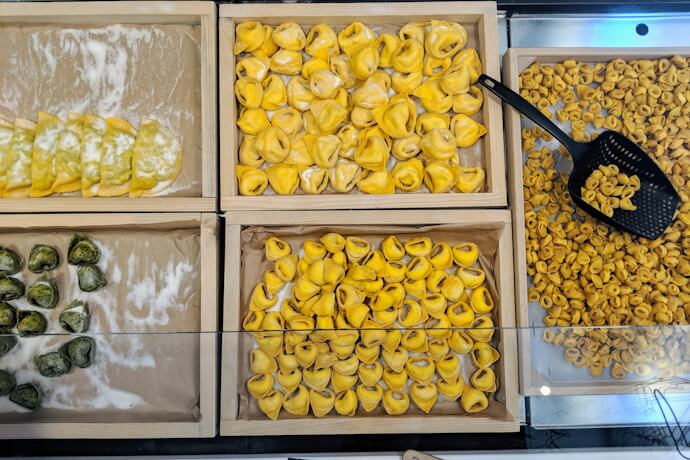 Let us start, it is time to talk about food!
Bologna is the birthplace of many worldwide famous Italian dishes, such as the iconic spaghetti Bolognese, which does not actually exist, or at least not with this name. It started with a delicious sauce called Ragù alla Bolognese created in the 16th century. This is a slow-cooked meat sauce typically served with fresh egg pasta, such as tagliatelle or lasagna. So, the correct name of the dish is Tagliatelle al Ragù. Be careful when ordering in Italy, as Italians are very particular about their pasta!
Bologna is also known for tortellini, tortelloni and many other handmade pasta varieties. We recommend you check out the following dishes:
Tortellini al Brodo, which consists of small, round-shaped pasta (the tortellini) with a filling usually made of poultry or pork and Parmigiano Reggiano, served in a broth;
Lasagna Verde (green lasagna), which is similar to regular lasagna, but includes pasta that is made with spinach to give it the signature green colour, creamy spinach béchamel, beef and veal al Ragù, fresh spinach leaves and Parmesan cheese.
Tortelloni is another popular stuffed pasta and is considered the "big brother" to tortellini, since it is bigger in size. This hat shaped pasta is traditionally filled with a combination of Ricotta cheese, Parmesan cheese and nutmeg. There are many variations of this classic dish that can include ingredients like spinach, mushrooms, prosciutto, sausage and more. It is most often served with a sauce like butter and Parmesan with sage or with mushrooms during the fall.
We hope you decide to stay for a few days to be able to try most of these delectable options!
Foods made in Emilia-Romagna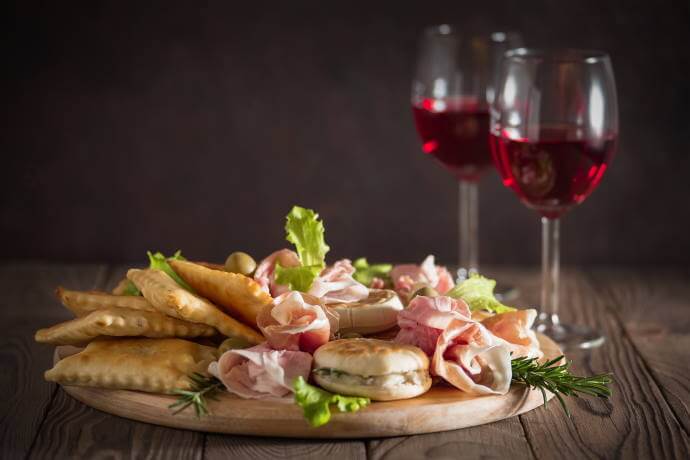 Bologna is the capital of the Emilia-Romagna region and all the marvellous local products that are original from here can be found in Bologna as well. Prepare yourself, we have made you a list with the most authentic and traditional products provided by this incredible "food valley".
The first place goes to the "King of Cheeses", Parmigiano-Reggiano cheese! Commonly known as Parmesan cheese, it is a hard, aged cheese with a rich and nutty flavour, that can be enjoyed on its own or as the perfect complement to many dishes. It was named after the two main provinces where it is produced, Parma and Reggio Emilia. You will be able to taste and purchase authentic Parmigiano-Reggiano in all Bologna's markets and cheese shops.
Another famous example of this region's high-quality food is Prosciutto di Parma, a dry-cured ham made from specially bred pigs and aged for a minimum of 12 months. It is recognized for its strong flavour and tender texture.
Right behind the Prosciutto comes the amazing Mortadella, a large, finely ground and lighter cured meat. It is often enjoyed in sandwiches or as part of a traditional appetizer.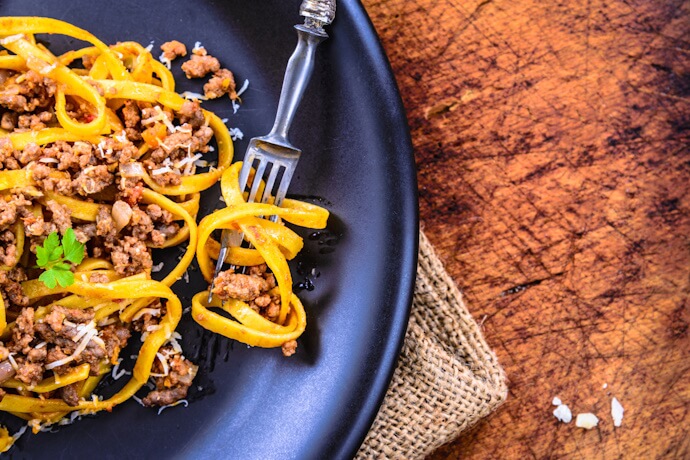 Next on the list is the traditional Balsamic Vinegar of Modena, a unique and highly prized vinegar produced in the Modena area of Emilia-Romagna. It is made from cooked grape must that is aged in wooden barrels for a minimum of 12 years, resulting in a sweet and complex flavour. It is often used as a condiment or drizzled over salads, meats or cheese.
Bologna offers an array of traditional delicacies as well. The Crescentine, also known as Tigelle, are small, round and thick bread discs that are typically filled with cured meats, cheese, or spreads. Another popular treat is Piadina, a thin and soft flatbread cooked on a griddle that can be stuffed with various ingredients, like cured meats, cheese, vegetables or spreads (what a surprise!).
Now you may be wondering if there is one traditional recipe without meat, and there is! The Friggione is a common vegetarian side dish, but not exactly a light meal. The main ingredients are: white onions, peeled tomatoes, lard, sugar and salt. Many local restaurants also serve it as an appetizer with toasted bread.
Some Lambrusco or Sangiovese wine straight from the heart of the Emilia-Romagna wine region would be perfectly paired up with any of the options on the list above.
And last but not least, there are exceptional gelaterias scattered around the city serving mouth-watering gelato in a variety of flavours. This frozen treat is a must-try, and you can savour both classic and inventive gelato creations.
Food markets to visit and events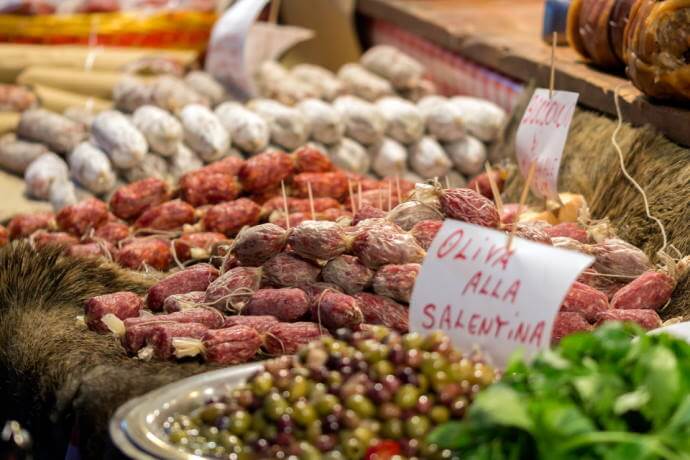 As soon as we talk about food markets in Bologna, we must mention Il Quadrilatero, a historic and very central neighbourhood. Known as the Quadrilateral, it is a charming labyrinth of narrow streets and medieval buildings that form a rectangular shape, hence its name. This energetic district has been the city's traditional market area for centuries and continues to be a bustling hub of activity today. Just a short walking distance away you will find the Mercato di Mezzo, another lively market where locals and tourists can explore a wide array of fresh produce, meats, cheeses and specialty foods, and if you are lucky you may get to sample something for free, since some vendors like to offer regional delicacies.
Another popular food market in Bologna is Mercato delle Erbe, located near the city's central train station. In this indoor market you will come across a diverse range of stalls selling fresh fruits, vegetables, meats, fish, and more. It also has a variety of food stands and eateries where you can enjoy a quick meal or snack.
In terms of street food festivals, Bologna hosts several of these throughout the year, where visitors can choose from endless options of local and international street food specialties. These events bring together food trucks, stalls and vendors with a diverse selection of dishes, from the typical Arancini and Supplì to international favourites like burgers, tacos and crepes.
Just outside Bologna, FICO Eataly World is an enormous food park dedicated to showcasing the best of Italian food and culture. It covers an area of over 100,000 square meters and features a wide range of shops, restaurants and interactive exhibits. Here you will get to explore various food-related activities, such as cheese and wine tastings, pasta-making workshops and farm tours. FICO Eataly World aims to provide an immersive and educational journey into the world of Italian gastronomy.
These street food festivals bring a vibrant atmosphere to the city, live music and a chance to try an assortment of flavours from around the world!
Ready to embark on an immersive Italian experience?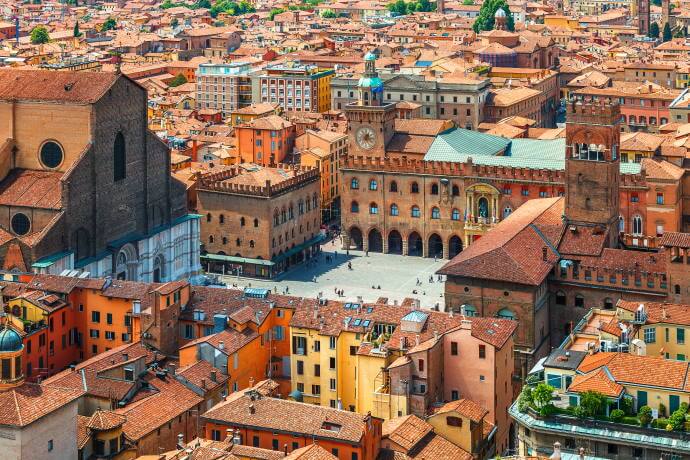 Bologna is a city with an ever-present history, lively culture and boasts an over-the-top gastronomic prowess, which are very compelling reasons for you to visit. As the food capital of Italy, Bologna tantalizes taste buds with its mouth-watering pasta dishes like Tagliatelle al Ragù, which you are now familiar with. The bustling food markets, gelaterias and street food stalls provide endless opportunities for you to indulge in the flavours mentioned above. Apart from its gastronomic delights, Bologna's architectural beauty is also captivating, with its iconic medieval towers, grand piazzas and, of course, the stunning red arcades. The prestigious University adds an intellectual and youthful energy to its atmosphere. Bologna's wisdom is also evident through its numerous museums and art galleries.
As you can see, a visit to Bologna will be a genuine Italian experience in many ways, without ever neglecting your five senses and should be accompanied by plenty delicious tastings!
---