Andalusia, that magical place in Southern Spain that captivates with its abundant sunshine, vibrant culture, and the thrilling spectacle of flamenco is also the birthplace of numerous iconic elements of culinary tradition, like the tasty tapas. Amidst this rich tapestry of culture, there is one dish that stands out as a true gem of Andalusian cuisine: gazpacho!
Also known as "Spain in a bowl", this traditional cold tomato soup is one of Spaniards' favourites during the hot summer months due to its refreshing qualities. It has gained popularity worldwide due to its versatility and delicious taste. Chances are you may have heard of gazpacho but most probably never tried it. Well, keep reading because this one is for you! Join us to discover the ultimate tantalizing taste of Spain!
The origin of this refreshing soup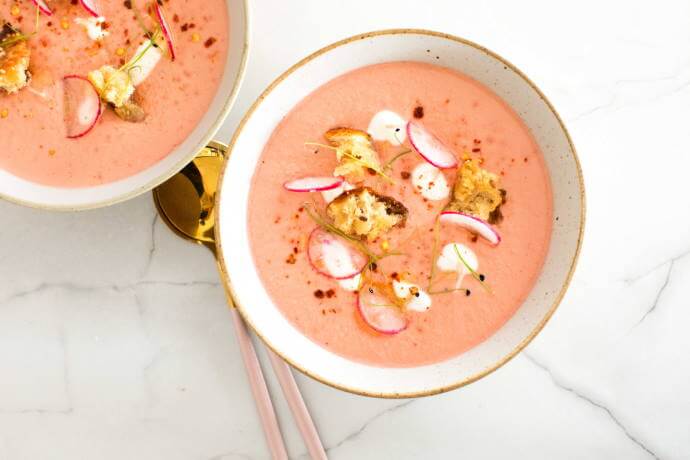 The exact story of the gazpacho's origin is a bit of a mystery. This dish has evolved over centuries, influenced by different cultures and culinary traditions, making it a true culinary chameleon.
Let us rewind to ancient Roman times, where a simple porridge called "puls" stole the show. Picture this: a delightful combo of bread, olive oil, vinegar, and water, simmered into a porridge-like perfection. It may not sound glamorous, but simplicity can be a true culinary superpower.
Now, hold your tomatoes and peppers! They were not even part of the original gazpacho recipe. Those cheeky ingredients, native to America, arrived in Spain during the 16th century. Initially, people thought tomatoes were poisonous and even in the 19th century, tomatoes had a reputation as a potentially dangerous delight. But do not worry, they eventually earned their place in gazpacho, bringing a burst of flavour and colour.
The Moors, who ruled the Al-Andalus realm in southern Spain for ages, also brought their flavourful influence to the gazpacho party. They introduced garlic, onions, and a sprinkle of exotic spices that added a delightful depth of flavour to the soup.
Originally, gazpacho was a humble dish enjoyed by hardworking farmers and labourers. It was the perfect solution to use up stale bread and embrace the bounty of garden-fresh vegetables. With the scorching heat of southern Spain, gazpacho provided both sustenance and hydration, keeping those working folks fuelled and refreshed. No wonder Sancho Panza, the ultimate food enthusiast from Cervantes "Dom Quixote", said he'd rather overdose on gazpacho than listen to an impertinent doctor!
So, gazpacho could not stay a local secret for long. It spread like wildfire, capturing the hearts and palates of Spaniards across the country. Soon enough, gazpacho earned its rightful place as a beloved staple in Spanish cuisine. Its fame did not stop there—it went on to conquer the international stage, winning hearts around the globe with its refreshing and flavourful allure.
Why is gazpacho so popular?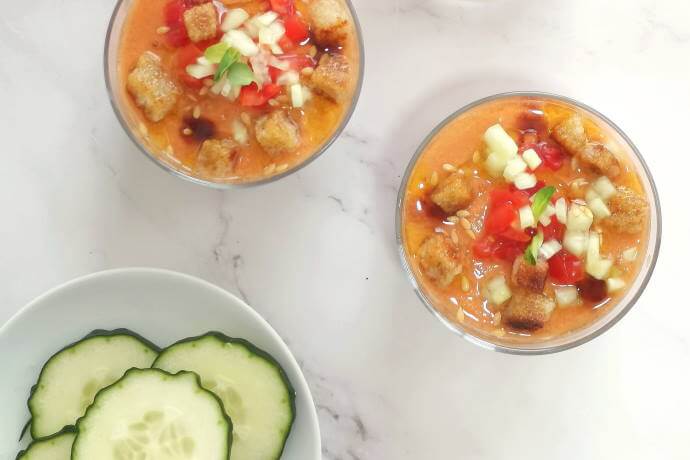 Gazpacho's icy coolness is a lifesaver, bringing instant relief and a blissful escape from the sweltering sun. It is the ultimate ally for those seeking a refreshing respite during sizzling summers, especially in sunny Spain.
But gazpacho is not just a thirst quencher; it is a health booster too! Packed with a power team of fresh and fabulous ingredients like ripe tomatoes, crisp cucumbers, zingy bell peppers, bold onions, and heroic garlic, gazpacho is a nutritional powerhouse. With all those vitamins, minerals, and antioxidants, gazpacho keeps you nourished and glowing with every slurp. And guess what? It is a low-calorie, low-fat champion, perfect for those who want a guilt-free and satisfying meal.
Wait, did someone say "easy-peasy"? Gazpacho is a breeze to whip up! No complex cooking is required. Just toss the ingredients into a blender, give it a whirl, and voila! You have got a fantastic soup ready to go. Whether you are a seasoned chef or a kitchen newbie, gazpacho welcomes you with open arms, making culinary magic accessible to all.
When and where to try it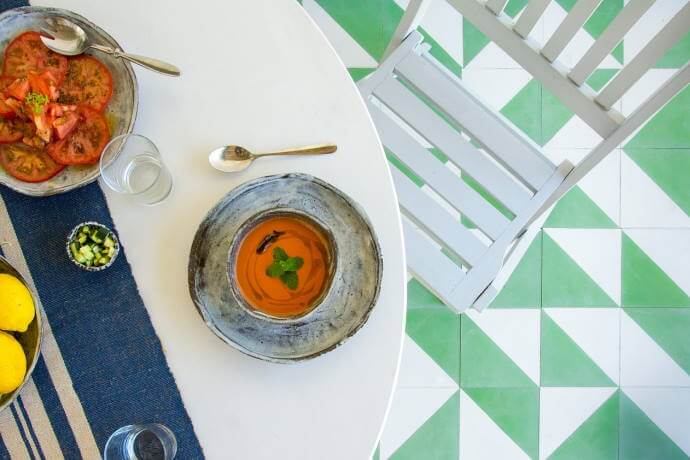 With a rich history deeply rooted in Spanish culinary heritage, gazpacho holds a special place in the hearts of Spaniards. However, in a world of ever-expanding flavours and global gastronomy, gazpacho has soared beyond borders. It is not just Spain's little secret anymore—it is a soup on a mission to conquer taste buds worldwide.
You will find it gracing menus in restaurants all over the globe and even industrially made and available in supermarkets worldwide. There are different types of gazpachos all over Spain and even in Portugal! Today, it is called Andalusian gazpacho for having transcended the rest of Spain and the world. But even in the region of Andalusia, there are different kinds of gazpachos. White gazpachos (so, without tomatoes) are made in cities like Malaga, Cordoba, and Granada, red gazpachos in Western Andalusia, and the greens in Sierra Morena and the Sierra de Huelva. Also, the salmorejo can be confused with gazpacho even though it is a lot thicker and has some different ingredients.
For the ultimate experience of savouring gazpacho, just picture yourself in a charming, sun-soaked courtyard adorned with vibrant bougainvillea, as the warm Mediterranean breeze gently caresses your skin. Take your first spoonful of this refreshing delight and let the flavours burst in your mouth. The coolness of the soup revitalizes you, providing respite from the heat, while the rich, harmonious medley of ingredients dances on your palate. This culinary masterpiece is best enjoyed amidst the enchanting ambience of Andalusia, where its essence intertwines seamlessly with the region's vibrant culture and breathtaking landscapes, creating an unforgettable gastronomic adventure.
Old and new varieties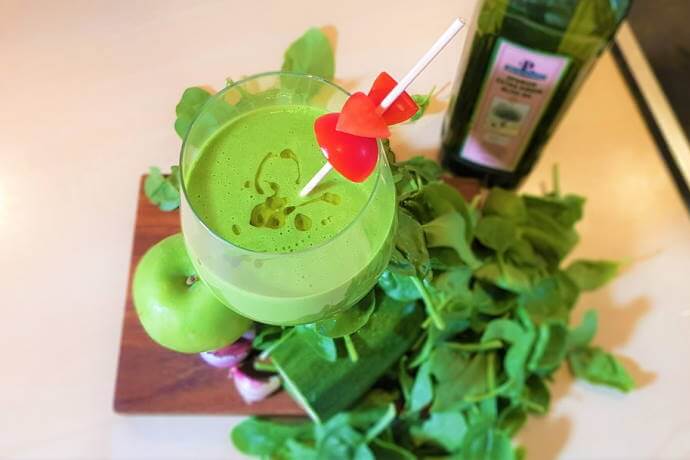 While the classic Andalusian gazpacho steals the spotlight, let us not forget the wild and wonderful variations found throughout Spain and beyond. It is a delicacy that can enhance the cook's creativity! Besides the already mentioned white or green gazpachos, there are a few contemporary options that result in incredible light meals for those hot summer days.
Watermelon gazpacho is a refreshing favourite! Far from being a recent modernity, this is a variation with a long tradition, linked to cold soups prior to the discovery of the American continent. For a modern twist, enter the realm of strawberry gazpacho, where luscious berries and apple or raspberry vinegar dance in harmony. Feeling adventurous? Swap the strawberries for cherries or dive into the melon gazpacho, which pairs perfectly with savoury chopped ham.
Returning to the veggies, enter the beet gazpacho, a close cousin to the classic with a captivating earthy flavour. It is a sneaky way to get children to devour their veggies, thanks to its exquisite taste. Avocado and cucumber gazpacho step up next, boasting a creamy texture that can be tamed with a splash of water. Adjust the flavour to your liking by playing with ingredient proportions, amplifying the ones that make your taste buds sing.
The fusion cuisine brought to light new varieties of gazpacho in more contemporary versions! Brace yourself as we venture into daring territories that some traditional Spaniards might consider heresy. Straight from the U.S. of A., the California gazpacho shakes things up with sweet late-summer corn kernels and indulgent garnishes of toasted pine nuts and sliced avocado. All the way from Seattle, a green gazpacho steals the show with succulent lumps of crab meat or shrimp, taking gazpacho to luxurious new heights. But wait, there is more! Prepare for an Asian infusion with the tantalizing Thai Gazpacho, where coconut milk and fish sauce add a burst of exotic flavours.
Curiosities and tips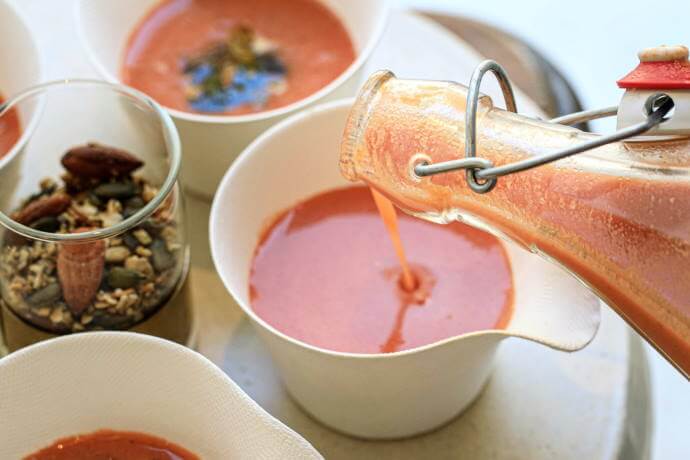 Gazpacho is not just a soup; it is a cultural icon! With a rich history deeply rooted in Spanish culinary heritage, it holds a special place in the hearts of Spaniards. It is like a delicious time machine, connecting us to the past and reminding us of the culinary traditions that have shaped Spain. And there is even a Gazpacho International Day, celebrated on July 21st!
According to any Spaniard, gazpacho is the best cure for a cold, flu, hangover, or break-up... whatever is wrong, gazpacho will fix it! The truth is someone claims that gazpacho was ahead of its time. The popular wisdom of other centuries was ahead of the scientific knowledge of current dietetics that considers gazpacho a meal very close to perfection.
Gazpacho can be enjoyed at any time of the day! Many people even start their day with a glass of cold gazpacho (especially when feeling under the weather). More typically, it is the start of lunch or dinner, served either from a glass or in a small bowl with toppings.
But for the true gazpacho connoisseur, we share some useful tips: for a very cold gazpacho, refrigerate for a day before serving. You can also add ice instead of water if you need a quick fix, but it can turn watery! Gazpacho will last 4-5 days when stored in the fridge in an airtight container. And if you want your gazpacho to be completely smooth, make sure to strain it through a fine mesh strainer.
Finally, here is the gazpacho recipe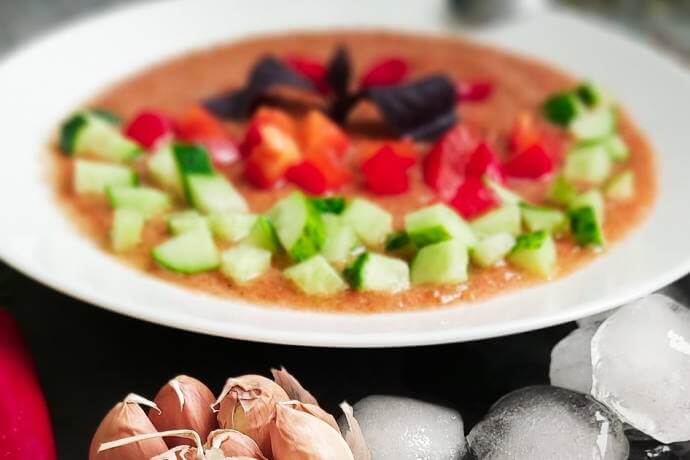 So, grab your spoons, embrace the mystery, and savour the captivating journey of gazpacho! This traditional Andalusian recipe is quite simple to make, but it is best to prepare it ahead of time – maybe even the day before it is served. The key to a good gazpacho is that it is nice and cold, so you want to make sure that it has plenty of time to chill in the fridge. It is so easy, healthy, and downright delicious that you will be wondering why this recipe has not been a staple in your kitchen all this time!
You will need the following ingredients, which are all easy to get at your local supermarket, just make sure they are fresh and good quality because it will make a difference.
- 6-7 medium tomatoes. The quality of the tomatoes is one of the most important factors in the taste, so use vine-ripened when possible, and do not use green salad tomatoes!
- 1 green Italian pepper the long type, not a bell pepper;
- 1 cucumber;
- ½ of a small white onion;
- 1 clove of garlic, not too big;
- 50 to 100 gr of soaked bread, it depends on how thick you want your gazpacho (if you want your gazpacho to be gluten-free, just skip the bread);
- ¼ cup extra virgin olive oil (60 ml) - again, quality is important;
- A splash of Jerez vinegar, although red or white wine vinegar can be substituted;
- A pinch or two of salt;
- Optional toppings, like diced green apple, diced onion, diced pepper, croutons, or hard-boiled eggs.
Instructions:
Wash and dry all of the vegetables very well. Cut the tomatoes into slices (leaving the core behind) and put them into your blender. Halve, core, and de-seed the pepper. Cut it into a few slices and add to the blender. Peel the garlic and slice it in half. Remove the core (which often results in bitterness when not cooked); cut the onion into a few slices and add them to the blender too. Peel the cucumber and cut it in half. Add half to the blender and save the other half for a topping.
Blend the vegetables at a high speed. Add the soaked bread and blend until it is completely puréed. Add the salt and vinegar and, while blending on a slow speed, slowly add the olive oil. Taste and adjust salt and vinegar. If the texture is too thick for your liking add some cold water. Strain it through a fine mesh strainer for a smoother purée.
Refrigerate for at least 2 hours and serve VERY cold! Add as many (or as few) toppings as you like – be creative!
¡Buen provecho!
---