Let's travel in time while exploring the region where the famous Spaniard knight Don Quixote de la Mancha lived his fantastic adventures! In the Spanish backcountry, we will encounter a land of culture, nature, amazing cuisine, and of course the vestiges of the Cervantes masterpiece.
After more than 400 years of publication, "The Ingenious Hidalgo Don Quixote of La Mancha" remains one of the best novels in history, considered even one of the most readable. Through this trail, we invite you to unveil the famous quixotic episodes and find centuries-old villages with legends of heroic battles and rooted traditions, in a land rich in stunning landscapes, a valuable heritage, and, of course, windmills! Of all the images of D. Quixote's story, the most universal will be his fight against windmills. It may be a symbol of lost or almost impossible causes, but it is also an inspiration for dreamers. So, if you dream about exploring Spain, hop on Rocinante, and live your own adventure!


Cervantes's masterpiece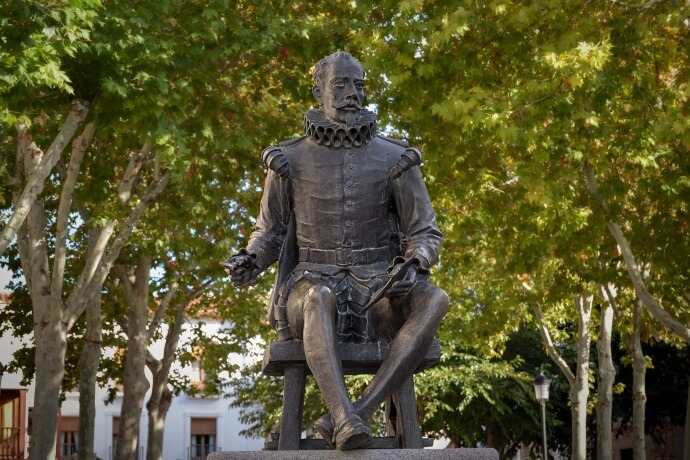 Published for the first time in 1605, Don Quixote's novel had a second part printed 10 years later and, until today, it is one of the most famous books in the world. Did you know that it is the second most translated book ever, right after the Bible? Written by Miguel de Cervantes, this literary masterpiece offers infinite possibilities of readings and maybe that's why it is timeless.
But, who was Don Quixote? Cervantes created the character Alonso Quixano, a nobleman who lost touch with reality after spending his days reading books about chivalry and adventures. Convinced that he was a knight named Don Quixote, he embarked on a mission to defend and honor the love of his life, Dulcinea. Mounted in his skinny and clumsy horse, Rocinante, Don Quixote travels through the Spanish backcountry accompanied by his squire, a peasant named Sancho Panza. This character with unusual common sense and vulgar wit serves as a foil to the idealism of his master.
Throughout the pages we follow the misadventures of this delusional knight and his sidekick, who fights all enemies that arise in his way, be they flocks of sheep or the famous windmills. Even facing many setbacks, Don Quixote keeps his courage and commitment to his ideals, and that made him a beloved character in Spain and all over the world.
What you should know about the region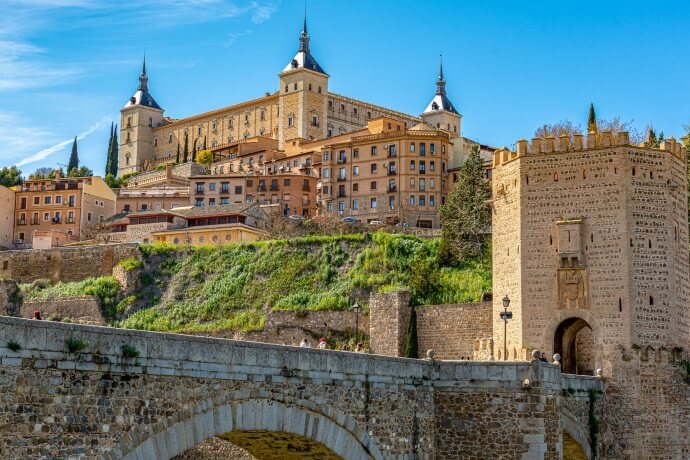 Right in the first sentence of Don Quixote's novel, there is a remarkable reference to Castile – La Mancha territory: "Somewhere in La Mancha, in a place whose name I do not care to remember…". This region is set in the heart of Spain, less than an hour away from Madrid. Toledo is its main city, but you might have already heard about other cities like Albacete, Cuidad Real, Cuenca, or Guadalajara. It was a secluded area in the 17th century when Don Quixote traveled through its plains and remains a bit isolated - but now has a great net of roads in optimal condition, which makes this journey perfect for your self-guided travel with your car, at your own pace and tranquility.
You can choose a few special places to stay overnight and enjoy your days exploring the area, as each location is between 30 minutes to 2 hours away from each other, making it possible to appreciate the best of your journey, immersing yourself in the Cervantes descriptions. We suggest your stayovers start in Toledo and then go to Almagro, Albacete, or Alarcón (Cuenca).
Looking around, it seems like a region filled with mills and wheat fields but Castile-La Mancha is also where the delicious Manchego cheese is produced, among other mouthwatering gastronomy that you must try, like Migas de Pastor (a dish made with breadcrumbs), Gachas Manchegas (a variation from porridge), Asadillo (a combination of roasted peppers with a tomato sauce), and Tiznao (grilled cod with onions, pepper, tomato, and garlic). The wines are also a must-try since this is the largest wine production area in Spain and one of the oldest.
With a continental Mediterranean climate, Castile-La Mancha lacks the rain and the influence of the Mediterranean Sea, so it is very dry and with extreme temperatures. It can be like an oven in the middle of the summer and it's unsurprising if it snows in the winter. With that being said, spring and fall have very nice temperatures with hardly any rain, so it is the perfect time to travel there.
The Don Quixote trail lacks a specific route, but it is really a perfect excuse to get to know a wonderful region of Spain and an opportunity to explore enchanting locations and stunning landscapes that otherwise could be overlooked. Let's discover some of them!
Alcalá de Henares – The birthplace of Cervantes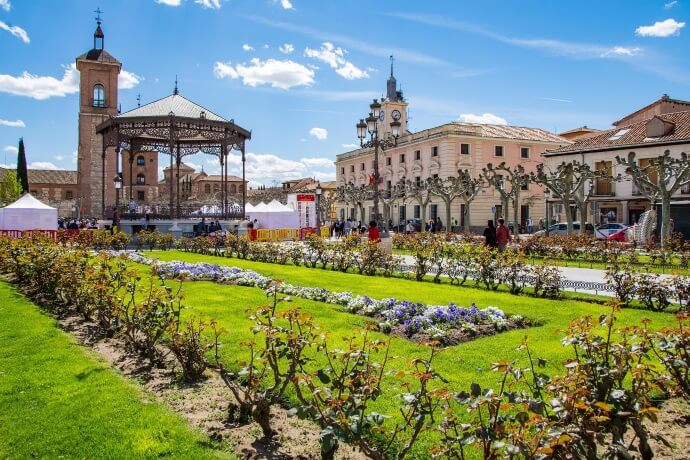 Just 35 kilometers northeast of Madrid, Alcalá de Henares is the birthplace of Don Quixote's author, Miguel de Cervantes Saavedra. The writer was born in 1547 and the city has never forgotten its famous son. The house where it is believed he was born has been reconstructed and transformed into a museum, the Museo Casa Natal de Cervantes, where visitors can time-travel into the 16th and 17th centuries, since it recreates the atmosphere of that time. In the heart of the city, an impressive statue of Cervantes pays homage to the writer in a square with his name.
However, the city has so much more to see! Founded in the early 16th century, Alcalá de Henares was the world's first planned university city and it served as a model for universities in Europe and the Americas. Originally founded as a center for the study of theology and philosophy, it includes a magnificent complex of historic buildings, such as the exceptional Colegio Mayor de San Idelfonso or the Monastery of St Bernard. The city center and the University are a UNESCO World Heritage Site, as they kept their authenticity over the centuries. Also, be sure to admire the majestic Cathedral of the Santos Niños and its stunning interior.
Around October takes place the Cervantes Week, an event that comprehends many interesting and fun activities! Besides lectures, theatrical performances, and concerts, it also includes the Cervantes Gastronomic Event, where restaurants offer menus inspired by Don Quixote, and the Quixote Market which recreates a typical market from the 16th and 17th centuries.
Esquivias and Toledo – Where Cervantes lived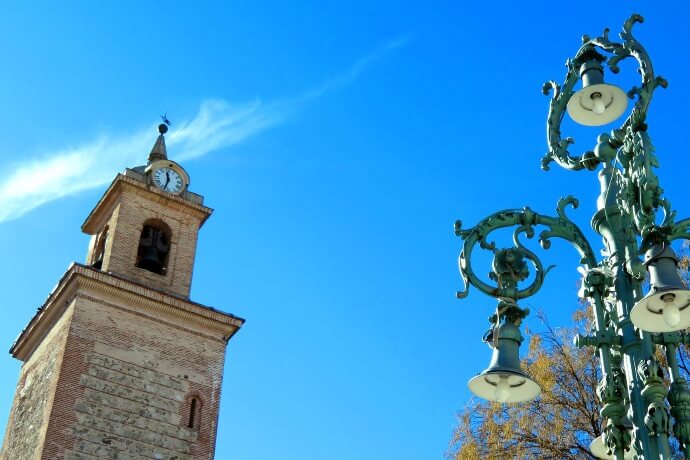 You will find another Museo Cervantes in Esquivias! The house where the author lived for several years with his wife, Catalina de Salazar, has been beautifully preserved and open to the public. This city, located about 40 kilometers from Toledo, is a place of undeniable charm and history, with narrow streets and traditional Spanish houses. It is easy to imagine Cervantes wandering through the town, gathering inspiration for his works.
And if you are in Esquivias, you must go to Toledo, Castile – La Mancha capital. This stunning ancient city is a must when visiting the heart of Spain, for its incredible beauty and rich cultural heritage. For those interested in history, Toledo is a treasure of ancient buildings and monuments. The Alcázar of Toledo is a magnificent fortress that dates back to the 16th century and, from the top, you can enjoy breathtaking views of the city and the surrounding countryside. The city's beautiful Gothic cathedral, which was built in the 13th century, is one of the finest examples of Gothic architecture in the world, and inside there are amazing works of art, including paintings by El Greco, one of the city's most famous residents. In this city, you can also find a humble statue of Cervantes.
Maybe it all started in Argamasilla de Alba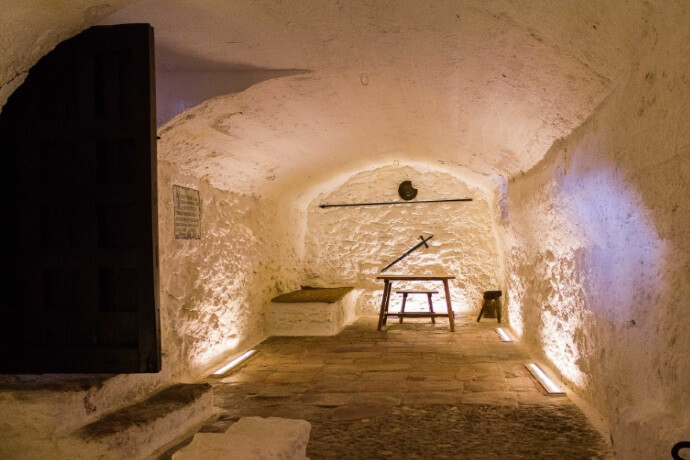 Cervantes spent some time in prison, in Argamasilla de Alba, where lies the legendary Cave of Medrano. Legend whispers that it was within the confines of this cave that the writer breathed life into his immortal creation, the indomitable Don Quixote. As you stand in the cool embrace of the cave, you can almost feel the weight of Cervantes' struggle and the fierce determination that fueled his creativity.
Around here, in Ossa de Montiel, we find two important landmarks related to Don Quixote. The magical Cave of Montesinos, where the deceptive knight descended through time itself, as he mentioned it to Sancho Panza; and the magnificent ruins of Rochafrida Castle. It is important to know that access to the cave is only permitted through authorized companies.
But our journey continues! Just a short distance away lies the charming town of Villanueva de los Infantes, home to the fabled house of Don Diego de Miranda, the Knight of Green Gaban, whose exploits were immortalized in the pages of Don Quixote. This small town is one of the best-hidden secrets in the La Mancha territory. Take the opportunity to explore the beauty of nature in the Natural Park of the Lagoons of Ruidera, located just 45 kilometers away, as it offers an awe-inspiring display of Spain's stunning wetlands.
See the mills in Consuegra, Alcázar de San Juan and Campo de Criptana

One of the most famous passages of Don Quixote is about his battle with ferocious windmills that, in his delusional head, were nonetheless dangerous giants. You will see them coming up on the horizon as you approach Consuegra. Ascending the hill, you'll be greeted with a breathtaking panorama of vibrant colors and an endless vista of the plain. It's here that you will discover 12 of the most well-preserved windmills in Spain. Each mill is affectionately nicknamed after characters from the classic novel, but none stands out quite like "Sancho". This mill boasts an impressive collection of 16th-century machinery, making it a fascinating highlight of the collection. For those seeking to venture inside and experience the mechanics of the windmills firsthand, "Bolero" is always open to visitors.
Alcazár de San Juan claims itself as the place where Cervantes was baptized, in the Church of Santa María la Mayor. In its cobbled streets, you can feel the echoes of ancient nobility. Visit the Casa Del Hidalgo to take in a glimpse into the opulent lifestyle of the town's wealthy inhabitants, and the Cervantino Interpretation Center, where the life and works of the Spanish famous writer are celebrated. But the best of Alcazár de San Juan is about 30 minutes outside of town. Here you will find an impressive collection of windmills standing stoically atop the rolling hills. As the sun sets, the windmills seem to come alive, casting a warm glow across the surrounding landscape. Maybe they'll look like giants?
The enchanting town of Campo de Criptana is also known as the "land of giants". Its magnificent windmills stand tall and proud, seemingly frozen in time, their timeless beauty an inspiration to all who behold them. It is said that these are the ones who served as a muse to create the Don Quixote giants. Guided tours are available throughout the year, offering visitors a chance to marvel at these iconic landmarks and immerse themselves in the rich cultural heritage of this remarkable place.
El Toboso, the land of Dulcinea
Don Quixote was in love with a myth he created in his delusional mind: "Dulcinea de Toboso is the most beautiful woman in the world and I am the most unhappy knight on earth, and it is not good that my weakness defrauds this truth". Well, Dulcinea didn't really exist, but Toboso does, and is just a short drive away from Campo de Criptana. As you wander through the streets, you will come across the Plaza Mayor, where a grand monument stands in tribute to Dulcinea and her eternal lover. For a step back in time explore the Casa de Dulcinea Museum, a magnificent recreation of a 16th-century Manchego mansion. Legend has it that this was the home of Ana Martínez Zarco de Morales, or "Dulce Ana", the woman who inspired Cervantes' portrayal of Dulcinea. Toboso is also home to the Cervantino Museum which holds a vast collection of editions of Cervantes's work in over 70 languages, many of them bearing the signatures of renowned figures from the world of politics and culture.
The Quixote Museum in Ciudad Real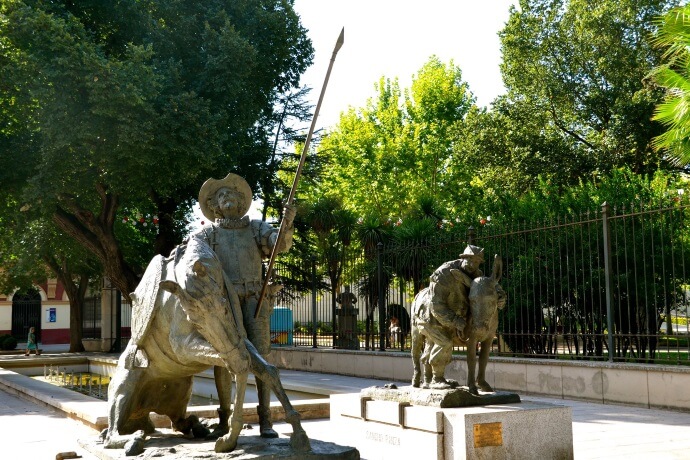 No journey of discovery through the land of Don Quixote would be complete without a visit to the Quixote Museum in Ciudad Real. Step inside and marvel at the incredible reproductions of the characters that populate the pages of this timeless masterpiece and look like engaged in spirited conversations with one another, bringing the epic tale to life in a whole new way.
Ciudad Real is a city steeped in history and architectural grandeur, with a wealth of impressive churches and cathedrals that will leave you breathless. Be sure to marvel at the imposing Puerta de Toledo, the only remaining relic of the Real Alcázar of Ciudad Real that stands as a testament to the city's rich heritage. Also visit Santa María de Prado Cathedral, originally a Romanesque shrine, the building underwent a transitional Gothic transformation and has since undergone several restorations.
Be inspired!
The story of the nobleman who went delusional from reading so many novels about chivalry has always inspired people around the world. The character created by Cervantes reminds us of the power of the human spirit and the importance of never giving up on your dreams, no matter how foolish they may seem to others. Let yourself be inspired! Come to Spain and follow in the footsteps of Don Quixote!
---