Spain is the second largest country in the European Union and covers about 85% of the Iberian Peninsula, a region it shares with Portugal. The mere mention of the name of the country may evoke a variety of mental pictures of well-known landscapes or even of memories dear to the five senses.
Spain is like a cozy feeling of déjà-vu in an exciting and always new place. This is a nation of wonderful scenery, as if straight out of a dream; mouthwatering food worthy of a whole vacation period just to be able to enjoy it fully; the finest wines in the world; solid, well-preserved heritage that will make you feel like a time traveler; warm sunsets overlooking the plains or hearing the sound of waves lashing the shores at wild beaches.
The reasons to come and visit the country once, twice and as many times as your heart desires, are many more than can actually be put into words. But we will give it a try! If you need to be convinced about Spain being the perfect destination for your next holiday, then this is your cue. Find below an incredibly difficult list of only 5 reasons to visit Spain, and when you finish going through it, we dare you to add your own reasons to it.
Attend a Flamenco show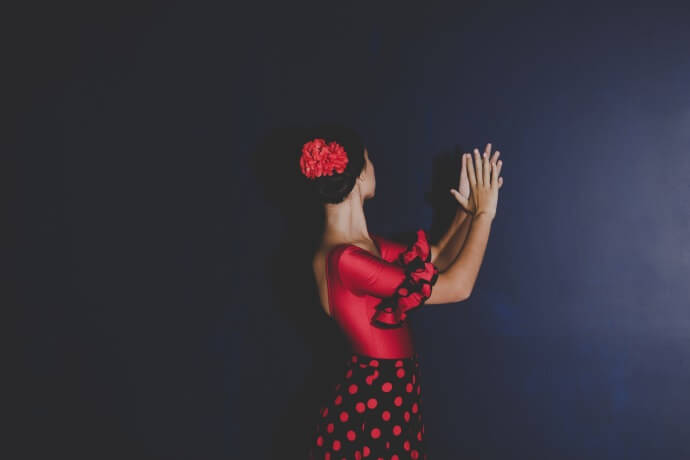 If you have ever had the chance to see a flamenco show, even if just over the internet or on television, you have probably felt that unexpected prompt to dance, that seems to emanate from the dancers, from the guitar players, from everybody involved. Can you imagine what a live show can be?
Flamenco is the word used for a certain feeling and way to live that is characterized by a unique type of music, of singing style but also of dancing, whose origins go back to the Gypsy and Moorish cultures, with Arabic and Jewish influences. Flamenco culture is deeply rooted in and usually associated with the Andalusia region of Spain, as well as Murcia and Extremadura, and has become one of the symbols of Spanish culture. The first known record of flamenco music dates back to the 18th century. In 2010, UNESCO declared flamenco as one of the Masterpieces of the Oral and Intangible Heritage of Humanity.
Flamenco singers and performers are able to express and make you, as the audience, feel a number of different emotions using vocal music (cante) and dancing (baile). Cante can be accompanied by the flamenco guitar and optionally also by castanets; "el cajón" which is a percussion; hand-clapping and heel-clicking. Each beat is broken down into diverse "palos" or varieties, based on factors such as the type of song or its origin. Baile, in turn, has a complex technique and its interpretation varies according to the individual performer who gives its own personal touch to their show.
To go to a Flamenco house to listen to the song and see the performances - which are more than heartfelt, like an expression of life itself - can be quite a game-changer for you, as you may find yourself with a much more passionate approach to life!
Eat tapas and paella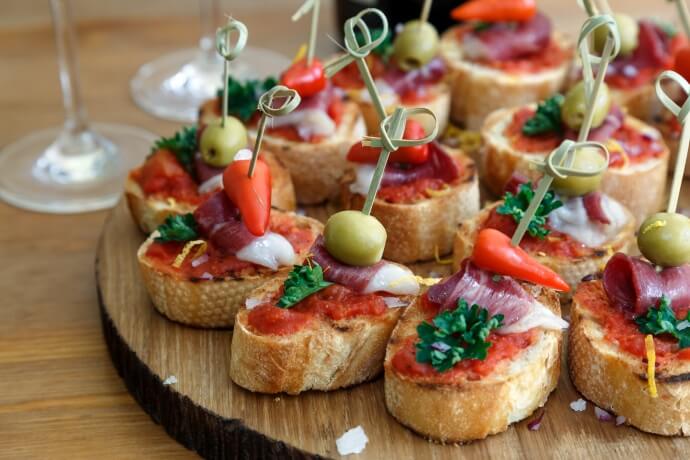 When in Rome...right? The same principle applies to Spain. And albeit it is far from fair to reduce Spanish cuisine to just two items, it is also true that the two chosen ones are unanimously considered national favorites among the Spaniards, but also the most representative of the country around the world.
Tapas are an easy and delicious way to get to know Spain. There is a large number of possible flavors and combinations widely available in small sized portions at almost every restaurant and bar in the country. They are usually accompanied by a drink, which may or may not be alcoholic. However, tapas are much more than simple appetizers or snacks - they are a secular tradition surrounded by legends about its real origin.
It is complicated to pinpoint in history the origin of this type of typical appetizer, or to understand how tapas came to be one of the staples of Spanish gastronomy. However, one of the oldest theories dates back to the reign of Alfonso X, El Sabio (The Wise), who during a period of illness, when he was prescribed a few glasses of wine, ate small pieces of food in between sips to minimize the effects of alcohol. From the royal accommodations to the taverns of the time, the custom was formed, and from then onward it was no longer possible to serve only the drink - it always came with an appetizer in order to avoid the drunkenness.
Still in this same period, another theory tells that during the reign of the Catholic Kings, due to the large number of accidents caused by drunk cart drivers leaving the taverns, the tavern keepers were forced to serve some snacks along with wine or beer. But there was a catch: the appetizers came in a small plate that was placed over the cup and the wine could only be drunk after eating it. So, these appetizers served as a lid, a tapa.
Nowadays, tapas is a synonym of exquisite food using the freshest local ingredients, served in small, finger-sized portions, in bars across Spain but also around the globe. The perfect excuse to gather some friends around a table for an informal evening out!
Paella is another symbol of the Spanish cuisine. Even though different versions and sizes can be presented, the most popular way to serve it is on a large, thin pan, which names the dish itself, and is enough for plenty of diners around the table. It is both a family dish and an icon of Spanish comfort food.
The city of Valencia is the birthplace of paella and Valencians claim that there is hardly a rival for their local recipe, on which they take so much pride! The original paella is prepared with rice, chicken, rabbit, garrofones (butter beans), judía verde (green beans), olive oil, tomatoes, saffron, paprika and sometimes snails and duck: a real palate teaser!
As with other dishes, its origin is lost in time. Some theories about the origin of the name "paella" say that the dish was created by a young man who wanted to serve something special to his bride. According to the legend, the word that names the dish is an adaption of the expression "para ella", which means "for her". This would help explain why in times gone by, the preparation of paella was left to men. Another theory claims that the word paella means "leftovers" in a direct translation from the Arabic word baqiyah, giving it an obvious Moorish influence.
Theories aside, the fact is that paella has become internationally known and deserving of all the fair praise that it gets. If you still doubt this, we dare you to go to Valencia and fall in love with the authentic paella!
Go back in time in villages inside medieval walls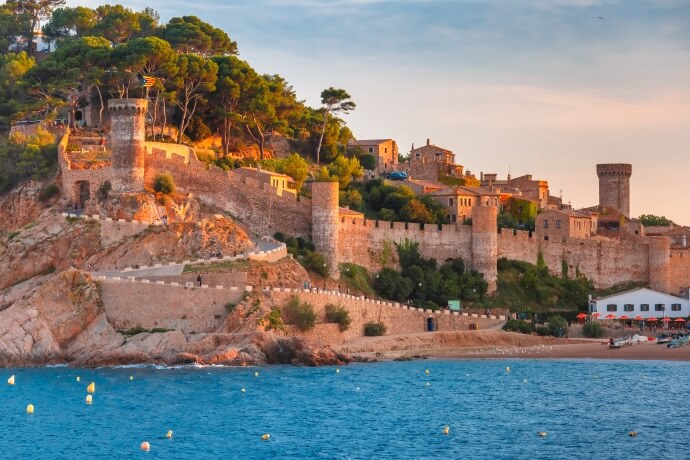 Living a medieval adventure in Spain can be as easy as to take a secondary road, off the beaten path, and discover the less touristy, walled towns that are abundant in the country (if you care to explore a little).
Spain has unexpected places that may surprise you. Many of them could have been taken out of a fairy tale: castles, walls and streets full of character that transport us through time to when the long history of the country was still being written.
Places like Siguenza, in Guadalajara, or Buitrago de Lozoya, both at a short distance from Madrid, hold their Moorish stronghold characteristics perfectly well-preserved, and are the true real-life scenarios of what we only see in period movies. The towns of Pals and Tossa de Mar in Girona, very close to Barcelona, are quaint medieval towns with flowery streets and amazing views over the calm, blue sea waters. And while old houses seem to sprout directly from the boulders in smaller towns like Frías in Burgos, or larger ones like Sepúlveda near Segovia, the mind suffers quite a blow when facing the imposing and geometrically perfect castles of such locations, as Olite in Navarra or Ainsa-Sobrarbe in Aragon.
The medieval social and economic order resulted in a type of towns and villages that today we take for charming. They were compact and walled, centrally built around the church, the market square and the castle, if there was one. The streets were cobbled and narrow, just enough for carts to pass, and the guilds of artisans made up the neighborhoods.
We are unsure about what is it that Spanish medieval cities have that grab our interest so much. Maybe a legacy of legends, aromas, traditions that still remain unchanged today or a promise of order and of long lasting heritage, in a world where things tend to change so fast. And although we know that those were also probably hard times, the medieval charm still traps us during our travels and makes us want that absolute peace and stunning landscapes only possible in walled villages and towns across Spain.
Vineyards that test limits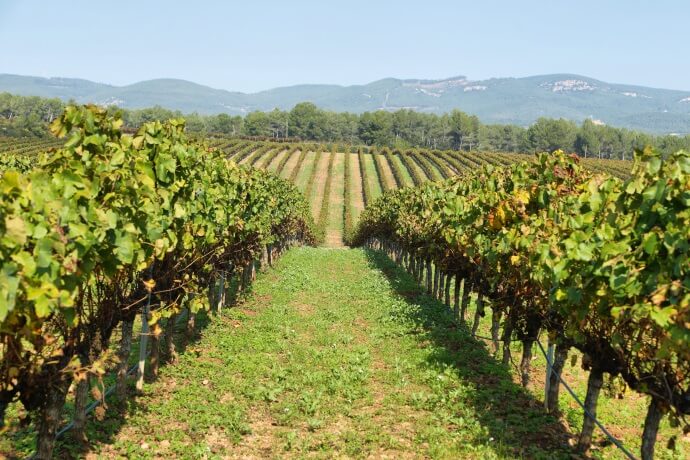 Spain is known for its impressive wine production throughout the country. The country boasts some incredible 2.4 million acres of vineyards, which is the world's highest! Even though it was only recently that people from around the world started to pay real attention to Spanish wine, the last two decades have seen an exponential growth of both exports and enthusiasm for the country's wine.
The demand for high-quality wines walks hand in hand with the consumer's desire to go and see first-hand where this precious drink is produced. We can safely say that wine tourism in Spain is gaining more and more fans, and represents nowadays one of Spain's major investments in the tourism sector.
There is an increased interest in the wine culture and in learning more about its history, methods of production, grape varieties, types of wine and other aspects that surround it. Moreover, the beauty of some of the wineries in Spain make them incredibly interesting tourist destinations. Some vineyards are definitely mind-blowing, and a wine tour of Spain can end up to be an unforgettable life experience!
In places like La Rioja, or Jerez in the region of Andalusia, or Ribera del Duero in the region of Castilla and León, which rank among the best wine regions of the world, vineyards have been planted millennia ago and are still using, in many cases, the ancient production methods, profiting from the unique characteristics of the soils and the climate of each location, in a way that brings out the best from every grape, and later from every bottle of wine. The surrounding landscapes are breathtaking, and while walking through the fields, surrounded by vines, you might find yourself thinking about how wonderful it is when man-made work and nature are so aligned and so harmonious, as if they are one.
Catalunya, Murcia or even the Canary Islands' vineyards are equally stunning and have the added advantage of being surrounded by pristine beaches, where you can enjoy the Spanish sun between sips of wine. Wineries usually offer fantastic programs that may include Spa treatments, hikes through vineyards or even grape picking activities during certain times of the year. You can hardly find a better combo than this!
If you are both a nature and history lover, and you are looking for a Spanish adventure among vineyards that can really test your limits, you must head to the Ribeira Sacra in Galicia, in Northern Spain. Declared a Biosphere Reserve and surrounded by the Serras do Oribio and Courel, Ribera Sacra presents a scenario that is out of this world, combining dazzling mountain views from cliffs descending towards long rivers; multiple interesting medieval monasteries and one of the oldest wine productions in Spain.
The production of wine in Spain has been so deeply rooted in the history of Spain that it can be traced as far back as 3000 years, and is still much present in the agricultural life of the country. Some say that wine making is as natural as breathing the pure air of the mountains in La Rioja or the fresh sea breeze in any beach in Catalonya!
Spanish culture and traditions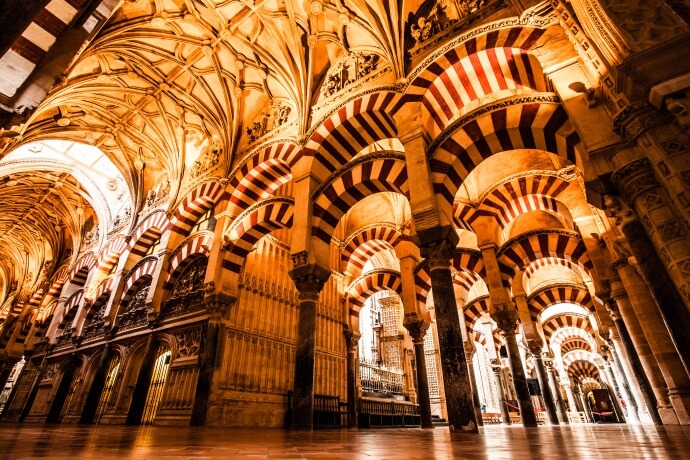 In a country with such a long history there is obviously a variety of cultures and traditions that still remain very much alive today. Going to Spain means opening up to a world of possibilities of celebration, of communication and essentially, of life.
Traditions like the Semana Santa during Easter, or Dia de los Reyes Magos (Day of the Three Wise Men) after Christmas have deep religious roots and are guided by a profound feeling of faith. These might be colorful and lively, but still respectful and marked by numerous religious events. They are also the perfect excuse for a communal celebration that takes many shapes, depending on each province, but that has always presented that joy and urge to live life to the fullest that is so characteristic of Spaniards.
However, there are other types of celebration, much more secular, taking place constantly across Spain. So yes, Spain is synonym of fiesta (party)! Whenever possible, a big festivity is thrown to celebrate one event or another. It can be a national event like "Carnival" or a local one like the Tomatina or the Falllas, that are traditional from Valencia, or maybe the San Fermín fest and the running of the bulls in Pamplona. When planning your tour of Spain, make sure to check out for any events occurring along the way during those dates. You might just end up having an even better time than you anticipated!
Only 5 reasons?
With 17 autonomous communities and 2 autonomous cities, subdivided in many regions, it is easy to guess that there are more reasons to visit Spain than the ones that can be counted realistically. With such varied landscapes, cuisine, traditions, cultures and even dialects, the fact is that Spain is worthy of a prolonged visit or of multiple trips, because the fact is that everywhere you go there is always, (really, always!) something new to see, to experience, to live. Join in the fan club of Spain and start making your very own list of reasons!
---