If we had to choose one remarkable experience to live with your family or your better half while in Portugal, we would definitely have to say: go for a boat ride! With hundreds of rivers and around 1860 Km (or 1155 miles) of coast, including the archipelagos of the Azores and Madeira, this moderately small country displays a richness of landscape with little comparison in Europe. These are much better appreciated while seen from a gently rocking boat with stunning views all around. In some cases, it is even possible to have a glass of the best wine in hand or maybe an on-board delicious meal of local products!
Now that we got you dreaming, let us give you more ideas on some of the most amazing scenic and unforgettable boat trips in Portugal.

Douro Valley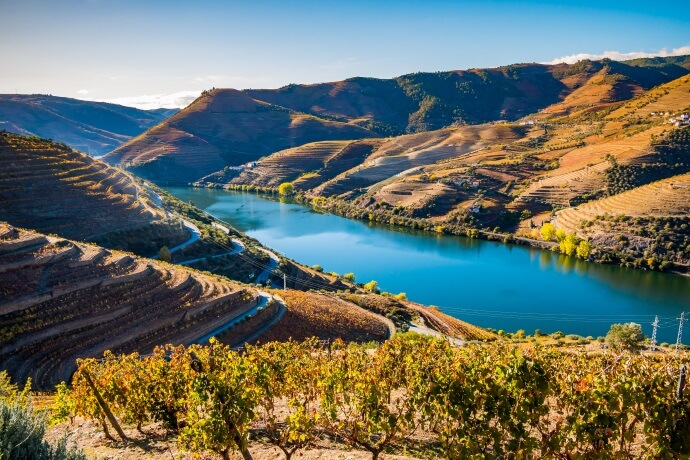 This is a classic in Portugal! Every romantic couple in the country has probably been on, or has plans to go on a boat tour along the Douro River waters. The tours can last from under an hour to a few days, but we definitely suggest going for one for a couple of hours, so that you can get the best of everything without actually having to compromise your holiday program and itinerary.

Some of the best boat trips start or end in the small town of Pinhão or in the larger town of Régua, both right at the heart of the Douro Valley, about 1h30 driving from Porto. The area is known for its impressive landscapes of vineyards planted on slopes, descending towards the river. The wines are of course of top quality and we can safely say the same about the food. The restaurants multiply in the bigger towns! However, the most incredible of experiences is to be able to actually stay overnight in one of the many farm estates converted, or partially converted, into charming small hotels, and enjoy your homely meals and carefully selected wines with the locals.

A regular boat tour of the Douro Valley will frequently include a sample of the best wine or port wine made in the region, and is the best way to get to know the "real Douro" - the one behind the scenes and beyond the roads. Like a contemplative meditation, a blissful stop in a frantically changing world.
Lisbon at sunset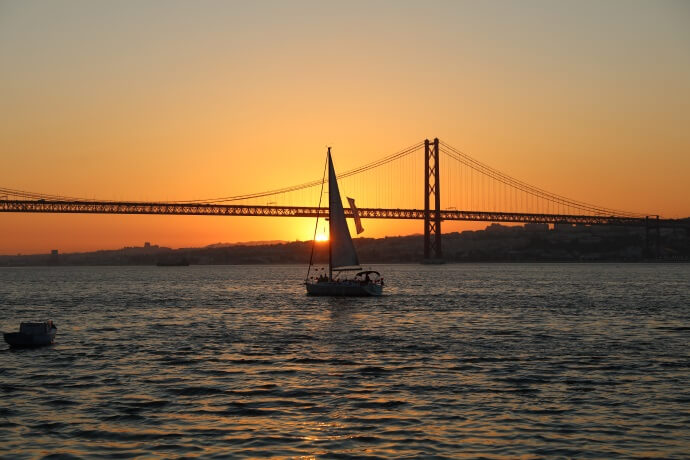 Lisbon is, of course, always quite a sight for sore eyes! However, the sunset light and its reflections on the Tejo River (Tagus River) have a particular magical effect over the city's colorful buildings and cobbled avenues. The ones who have visited know that this is very accurate and that we are telling the truth when we say that the Tejo River is the best location to be at, at sunset, watching as Lisbon hustle and bustle calms down and starts settling, ready for the upcoming dusk.
Sunset boat rides of the Tejo River usually include a drink of some of the best locally produced wine and provide for amazing views of Lisbon, but also of nearby towns, such as Montijo and Almada just across the river; of the Ponte 25 de Abril, the Portuguese San Francisco's Golden Gate version, and Cascais, a lovely sea town to the West that bears an incredible summery atmosphere all-year-round. If you are one of the lucky ones, you might have the added perk of seeing the magnificently shiny bottle-nose dolphins that are often seen swimming and diving gracefully in the Tagus' waters. The famous 16th-century Portuguese poet Luís Vaz de Camões even suggested that the Tejo has its own variety of mermaids or muses, the Tágides, who provide inspiration for artists. Who knows what adventures await you and what wonders you may find between the ripples of the Tejo River in Lisbon?
Cascais and the coast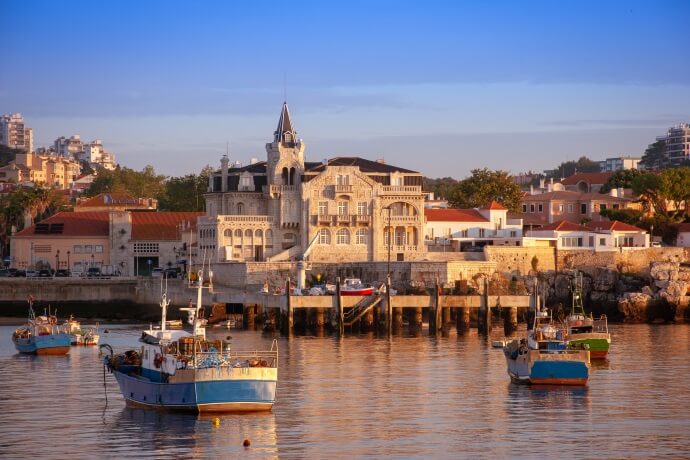 Cascais is a beautiful seaside town, a former fisherman's hub turned into a holiday destination for the royalty in the 19th century. Conveniently located just less than half an hour driving from the capital city, the town is much sought-after for its proximity to the ocean and for having the best seafood on the coast of Lisbon! Cascais has also become one of the most famous locations for nautical activities. Actually, leisure boat trips have been taking place off the coast of Cascais since King Luís, a skilled sailor, decided to elect Cascais as his second home for the summer season, back in the late 1800's. Since then, the destination has become incredibly popular among water sports lovers.
A boat ride in Cascais will allow you to have privileged views of the Guincho beach, a stretch of sand lined by irregular cliffs and known for its dunes and perfect conditions for surf, as well as of the many 17th-century fortresses lining the shoreline and the pretty town center, displaying a picturesque bay dotted with traditional fishing boats.
Cascais has a charm to it, so irresistible that you might feel it is hard to move your gaze away from its coast, or even feel that, instead of just one boat ride, you could as easily spend your life here!

Lagos' Grottoes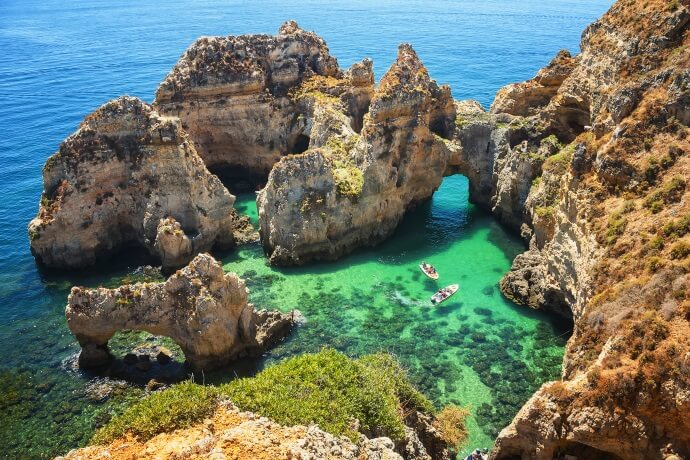 Yes, that is right: grottoes! Lagos is a southern city, about 3 hours away from Lisbon, in the western Algarve. The region is known for its beautiful whitewashed fisherman's houses, traditional fishing techniques and an overall feeling of authenticity. Visiting Lagos must include a boat ride to the grottoes, as it is one of the best ways to experience the real life of the Algarve people, who made of the sea their second home. These grottoes are caves only accessible by boat and usually hide beautiful small beaches within or nearby.
Go for a boat tour departing from Lagos for a few hours, and marvel at the imposing natural arches of Ponta da Piedade. Sail through turquoise waters and discover treasures, such as D. Ana or Camilo beach, if you like smaller beaches, or Meia Praia if what you are looking for is a long stretch of pure white sand, gently caressed by ocean waves. Lagos is an all-time favorite, and a boat ride along its stunning grottoes is a unique experience!

Benagil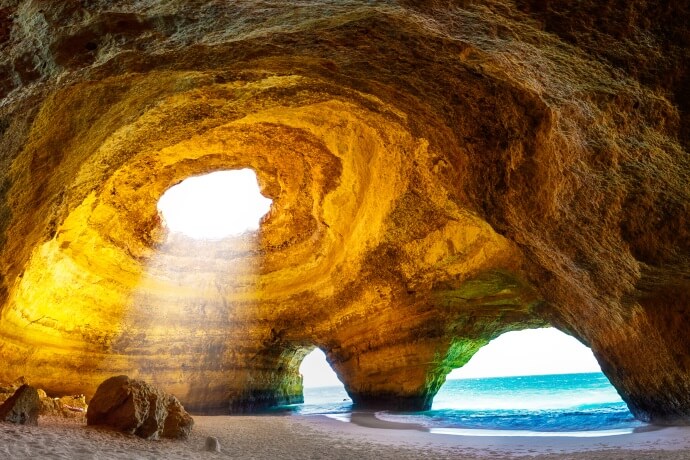 Going for a boat trip in Benagil, close to Portimão and to Carvoeiro, in the southern region of the Algarve, is like going on a tour through an alternative, magical world of blue, crystal waters, pristine beaches and rock formations that are almost otherworldly. Science fiction has nothing on Benagil! The Algar de Benagil is one of Portugal's most impressive and famous natural landmarks.
This is a massive cave with an opening at the top known as "the eye", that illuminates the golden sands and turquoise waters underneath. If you follow the direction of the sunlight, you can catch a glimpse of the clear blue sky above. Many people quite simply swim the distance from the beach to the cave, but we say that the best and safest way of doing it is with a guided boat tour, so that you can get to know all the nooks and crannies of this site and also learn some facts about it.
Choose a sunny day, whether or not in the summer, and make sure to take your camera and your swimming suit along with you: you will want to create and record lots of memories from this incredible place!

To boat or not to boat?
When you are in a country that is so deeply connected to its rivers that they define history itself, and then on top of that you find yourself surrounded by a Peninsula, facing the great Atlantic Ocean, then it seems pretty obvious that at least one boat trip is in order! Portugal has a long-lasting tradition as a nation of navigators or simple sailors, and we have always known that sometimes, to fully appreciate the full picture, you need to distance yourself a bit. You need to give yourself space and time and go for the unexpected. Portugal's rivers and coastline are definitely a great opportunity to see the same sites from a completely different perspective, finding treasures and being surprised, while others just stick to walking the common grounds. Dare to see Portugal from its most important element: the water!
---