What do you think of spending a week in a sunny place, where you can go for long walks on the beach, try mouth-watering and healthy foods and learn more about history through grandiose and ancient monuments? It must sound appealing! Well, you can have all of this and much more by visiting Portugal, a captivating country located on the western coast of the Iberian Peninsula, where you will be constantly surrounded by remarkable landscapes, lively culture, and warm hospitality.
And what better time than Summer to embark on a life-changing week? We already have everything planned out, you just have to hop on the adventure!
Lisbon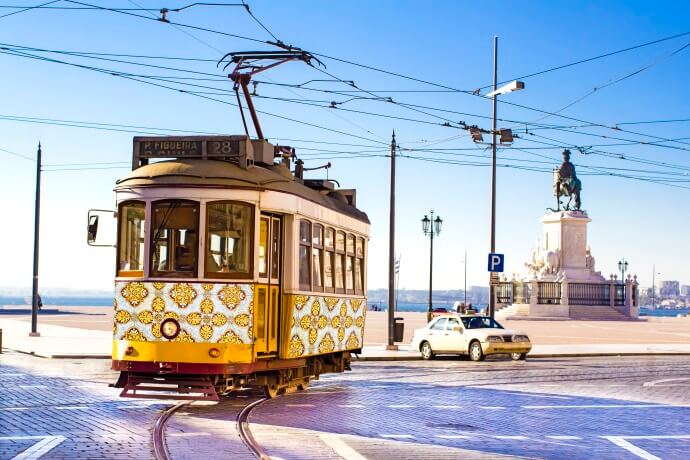 Lisbon is usually the starting point of many adventures, since it is the capital, has a big airport, and most importantly, is a very high-spirited city with fun things happening all the time.
In Lisbon, ancient history intertwines with modern innovation and you can witness the contrasts as you walk from one neighborhood to the other. Its architecture is a mesmerizing tapestry of styles, from the grandeur of Manueline masterpieces to the unique tiles that adorn the façades of colorful buildings. Lisbon also nurtures creativity and its striking street art scene adds an extra splash of color and vitality to its already vibrant streets.
You can start your day in the heart of the historical centre, the neighborhood of Chiado, with numerous museums, stores, restaurants, and theatres. Here you will also find the oldest bookshop still in activity, Bertrand, since 1732! Definitely a very commercial and cultural district.
If you walk up from Chiado you will enter a new world, Bairro Alto, (literally High Neighborhood) but it has its full appeal during nighttime, when every small door you see mysteriously becomes a bar.
If you walk down you will get to Baixa, the area that was rebuilt after the earthquake, which makes it slightly more recent than the rest. It is full of elegant squares and boulevards with a neoclassical charm, such as the Praça do Comércio, that invites you to stroll and immerse yourself in the rhythm of the city.
Very close to Baixa is the oldest district of Lisbon and the most picturesque and old-fashioned, Alfama. Wandering aimlessly through the narrow cobblestone streets of Alfama will truly make you feel the medieval ambiance and the essence of Lisbon. It is also the place where you will hear the most authentic and genuine Fado, the Portuguese kind of music. Fado is deeply rooted in our culture, with nostalgic notes that can be heard through the narrow alleys, conveying stories of longing and passion. The melancholic yet soul-stirring melodies will certainly captivate your heart and transport you to another moment in time.
Alfama is also a great place to take a sip of the famous Ginjinha liqueur, a cherry liqueur that is sold everywhere in the city. But in Alfama, you will see many old ladies selling it at their windows or on a small table outside. You should definitely buy a small cup! It will help to support the locals and gain strength for what comes next!
Now it is time to walk up one more time (or a few more), to reach some beautiful viewpoints where you can take a deep breath and admire how the rooftops blend harmoniously with the shimmering Tagus River and the 25th April bridge. The most popular are: Miradouro de Santa Luzia, Portas do Sol, Miradouro da Graça, and Senhora do Monte. Remember: the higher you go, the better the view!
Even though we are certain you will absolutely love your first day in Lisbon, be prepared to have sore legs the next morning!
That is why we recommend your second day be spent in Belém, the neighborhood dedicated to the Era of the Discoveries, which happens to be flat. Here you can visit the monumental Jerónimos Monastery, the Tower of Belém and the Monument to the Discoveries, the big three dedicated to the Portuguese maritime explorations in the 16th century. Remember to take a break from history and indulge in some freshly baked Pastéis de Belém, in the place they were originally created.
Lisbon really is a feast for the senses, filled with breathtaking scenery and a delightful surprise in every corner. And during Summer it is mandatory to have dinner on a terrace to appreciate how the sunset paints the sky with warm hues of orange and pink, reflecting on the calm waters below.
Óbidos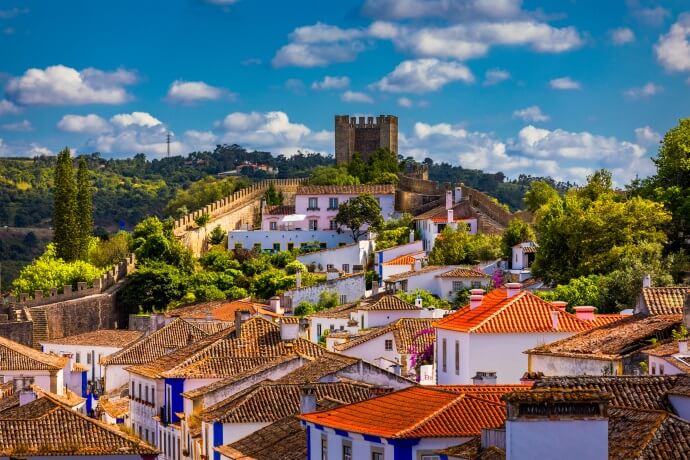 Let us set our compass to the north and head to a new adventure!
About an hour after leaving Lisbon, Óbidos should be your first stop. It is an enchanting medieval town located in the central part of Portugal. With its well-preserved historic center surrounded by ancient walls, entering Óbidos feels like being transported back in time to a previous era. The town is enclosed within sturdy fortified walls that date back to the 14th century. As you walk through the main gate, you will be greeted by narrow cobblestone streets lined with whitewashed houses adorned with bright flowers.
While strolling through the irregular streets of Óbidos, you will encounter plenty of artisan shops and charming cafés. This town is known for its traditional handicrafts, particularly its beautiful ceramics and lacework. Take your time to check out the shops and perhaps buy a unique souvenir to remind you of this special day!
The highlight of Óbidos is undoubtedly the medieval castle, perched on top of the hill providing panoramic views of the surrounding countryside. The castle, which has been transformed into a luxury hotel, offers a glimpse into the town's historical past. Climb the walls and walk along the ramparts for a truly immersive experience, taking in the wonderful views of the town and the lush green landscape beyond.
This escape from the modern world will be unforgettable for sure!
Nazaré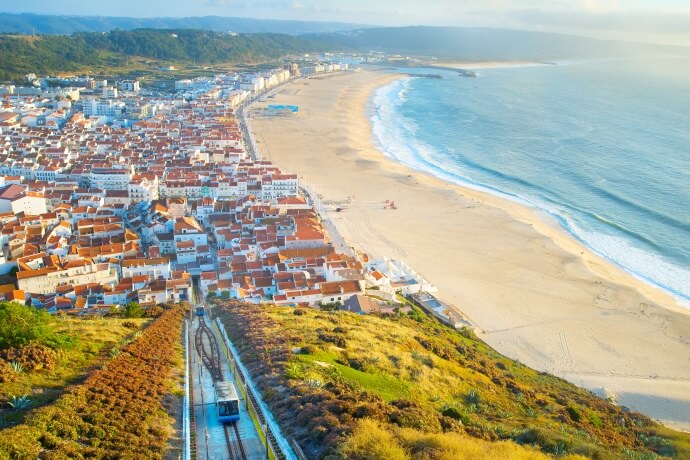 Your next stop is a very famous surfing spot for its colossal waves. Have you guessed it already?
Nazaré is a quaint coastal town in Portugal, nestled along the stunning Atlantic coastline, approximately 120 kilometers north of Lisbon. This town has become more popular in recent years thanks to its jaw-dropping natural beauty, rich fishing heritage and, of course, the worldwide famous waves.
Beyond its thrilling surf culture, Nazaré embraces its past as a traditional fishing village. You can visit the harbor where fishing boats float on the water and fishermen mend their nets, providing an authentic insight into their way of life. If you are lucky, you might witness the daily auction at the fish market, where the freshest catches are sold to local restaurants and eager customers.
If you can, have lunch in Nazaré and invest in some good grilled fish, it will be worth it! Grilled sardines and succulent shellfish are amazing options as well.
For a marvelous panoramic view, take a ride on the funicular that connects the upper town with the beachfront. You will feel like you are touching the hills and the vastness of the ocean that stretches beyond the horizon.
Alcobaça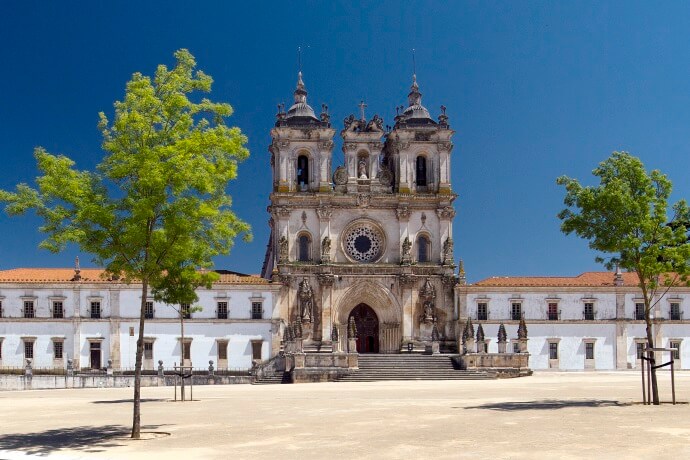 You have now reached Alcobaça, a historic town renowned for its magnificent architecture, significant historical sites, and exceptional wines!
The focal point of Alcobaça is the stunning Alcobaça Monastery, a UNESCO World Heritage site and one of the most significant examples of Cistercian architecture in Europe. This majestic monastery was founded in 1153 and is a testament to the grandeur of the medieval period. The intricate details of the Gothic-style architecture, including the ornate rose window and the elegant cloisters will leave you mindblown.
The monastery is also home to the tombs of King Pedro I of Portugal and his beloved Inês de Castro, a tragic love story that has become part of Portuguese folklore. The elaborate tombs are considered masterpieces of Portuguese sculpture and will fascinate you for sure.
Alcobaça is also a gateway to the stunning and peaceful countryside that surrounds it. Take the opportunity to venture into the nearby villages and experience the Portuguese rural charm.
Porto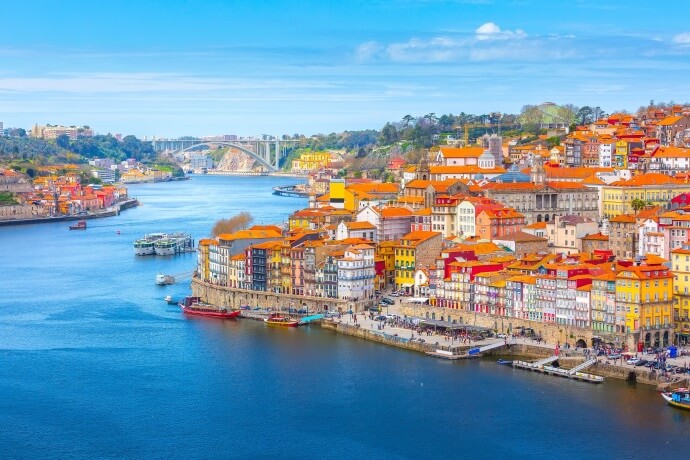 You have at last reached your final destination for today!
Welcome to Porto! The city is bathed by the Douro River, with its historic center designated as a UNESCO World Heritage site. Porto's architectural beauty is evident in its mix of medieval, Baroque, and contemporary styles. The Ribeira district, with its colorful buildings and narrow winding streets, is a very popular sight, depicted in almost every postcard. The iconic Dom Luís I Bridge, designed by Gustave Eiffel, spans the river and provides jaw-dropping views of the city.
Porto boasts many more landmarks and attractions. The Porto Cathedral, from the 12th century, is a significant religious monument with a mix of Romanesque, Gothic and Baroque styles. The Livraria Lello, a beautifully designed bookstore, is known for its stunning Art Nouveau interior and served as an inspiration for J.K. Rowling when she was writing the Harry Potter series. And last but not least, one of the main symbols of the city, the Clérigos Church and Tower, a Baroque church with a 75-meter-tall bell tower, it is impossible to miss it!
But monuments are not the only thing Porto is famous for. There is something even better: Port wine! A fortified wine produced in the Douro Valley that earned its fame in Porto and around. In the wine cellars, you can participate in different tours and tastings, to make sure you leave as a total expert in this fantastic drink! Something curious: Even though Port wine cellars are located just on the other side of the river at walking distance, they are not in Porto anymore, but in Vila Nova de Gaia.
And since we are talking about drinks, we must talk about food! The city is known for its hearty and flavorful cuisine and the main specialty is for sure the francesinha, a kind of sandwich that combines wet-cured ham, linguiça (a Portuguese sausage) and steak or roast beef inside two slices of thick bread, and everything is covered with melted cheese and a special tomato and beer sauce. Definitely a heavy meal. For something lighter, you can choose Bacalhau à Gomes de Sá (a delicious codfish dish). The Mercado do Bolhão, a traditional market, is a great place to sample local produce and traditional snacks.
Porto has a very friendly and welcoming atmosphere and offers a wealth of experiences, history and delicious cuisine, which is what will make you love it!
Coimbra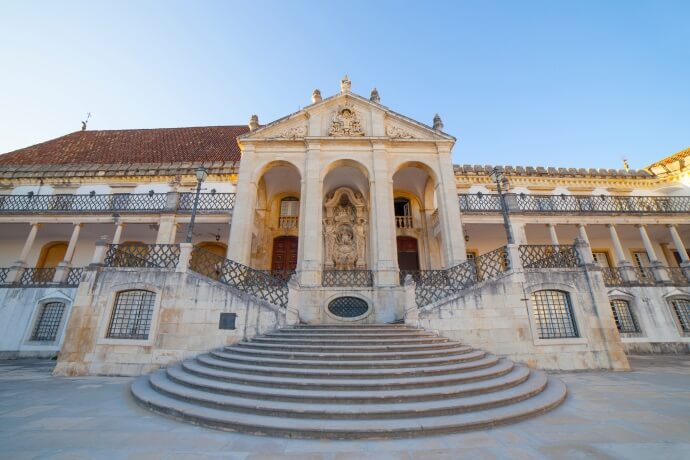 Your daytrip will start in Coimbra, a treasure trove of history, culture and academic excellence. Renowned for its prestigious university, Coimbra offers a unique blend of tradition and youthful energy.
This city is best known as the home of one of the oldest universities in Europe, the University of Coimbra. Perched on a hill overlooking the city, this institution dates back to 1290 and is a symbol of intellectual prowess. The university's stunning buildings, including the Joanina Library with its intricate baroque design, boast the city's rich cultural heritage.
But Coimbra's architectural wonders go beyond the university. The magnificent Cathedral (Sé Velha) stands as an impressive example of Romanesque architecture and offers panoramic views of the city from its bell tower. The Santa Cruz Monastery, a symbol of the Portuguese Renaissance, houses the tombs of the first two kings of Portugal and showcases stunning Manueline and Gothic features.
You should also take a moment to relax and enjoy nature in the beautiful botanical garden of the University or in Quinta das Lágrimas, the place where the tragic love story we mentioned before took place.
The soul of Coimbra is deeply rooted in Fado as well and Fado de Coimbra is considered a unique variation of this kind of music. When sung by black-cloaked students, it evokes a sense of nostalgia and longing.
Évora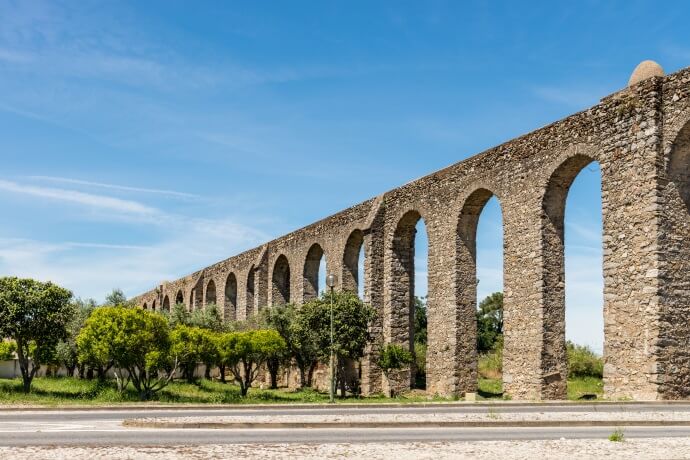 After a drive towards the south of the country, you will find Évora, a historic city located in the Alentejo region of Portugal. It is known for its well-preserved medieval architecture and rich cultural heritage, which earned it a place on the UNESCO World Heritage List in 1986.
Évora's historic center is surrounded by well-preserved medieval walls that form a labyrinth of narrow streets and charming squares. The city's architecture reflects a blend of Roman, Moorish, Gothic, Renaissance and Baroque styles. The Cathedral of Évora is a notable example of this mix, featuring mainly Gothic and Baroque architecture.
The most iconic landmark though is the Roman Temple of Évora, also known as the Temple of Diana. It is an impressive Corinthian-style temple that dates back to the 1st century AD and is one of the best-preserved Roman structures on the Iberian Peninsula.
Another significant attraction is the Chapel of Bones. Located within the Church of St. Francis, this macabre chapel is adorned with the bones of thousands of human skeletons. It was built in the 16th century as a reminder of the transient nature of human life.
The region surrounding Évora is an expert on wine production, particularly famous for its red wines, so you are more than welcome to explore the local wineries and vineyards.
Évora's well-preserved heritage and striking surroundings make it a distinctive and authentic destination.
Arrábida Nature Park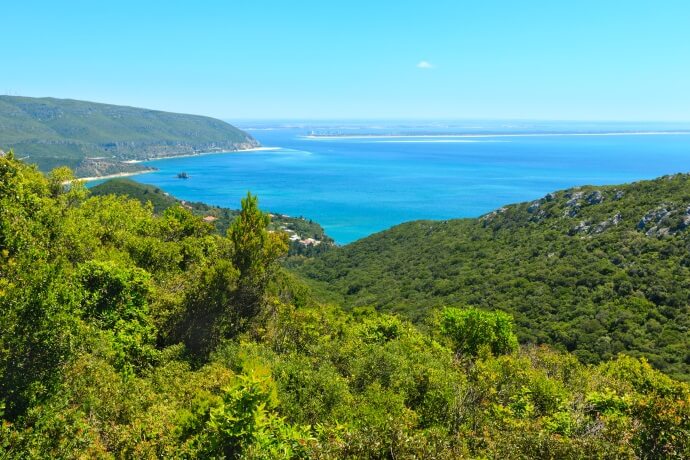 On your way back to Lisbon, we recommend you stop by the Arrábida Natural Park to get some fresh air and appreciate the beautiful scenery. It is located in Setúbal, about 50 kilometers south of Lisbon. It covers an area of approximately 108 square kilometers and is recognized for its exceptional beauty and diverse ecosystems.
The park's landscape is characterized by rugged limestone hills, dense Mediterranean vegetation, and sandy beaches. The Serra da Arrábida mountain range dominates the scenery, reaching its highest point at 501 meters (1,644 feet) with the peak known as Serra do Risco.
Arrábida Nature Park is home to a rich and diverse range of fauna and flora. This is the home of many aromatic herbs, shrubs, and huge cork oak forests, where you might see the Iberian lynx, wild boar, foxes, and badgers passing by. This park is also a paradise for birdwatching, as it is a popular spot for observing birds of prey, such as Bonelli's eagle and peregrine falcon.
Let us not forget the park's enchanting coastline. It provides a peaceful and unspoiled escape from the bustling cities, with beaches that offer excellent conditions for swimming, snorkeling, diving, and, of course, sunbathing.
And now you are back in Lisbon! Make sure you go see or do whatever you left undone from the first days of your magical week, we are sure there is one last hill left to climb!
A week in Portugal promises a whole array of experiences, from the historic and cultural treasures to its natural wonders and culinary delights. You will certainly leave with extraordinary memories and a burning desire to return.
---