If you're looking for a sun-soaked getaway, now that the days are getting longer and the weather is milder, the Spanish coasts are an excellent option. Truth is: there are no wrong choices here – all stretches of Spain's coastline are ideal places to spread out your towel and enjoy the gorgeous landscapes while cooling off in the crystal-clear waters. Plus, there are many old and idyllic fishing villages where you can take a stroll at sunset. The seafood and fresh fish-based cuisine, the culture and the lively and exciting nightlife in some of the sea washed towns are just some of the reasons why so many visitors come to the Spanish coasts. Here we show you how each coast stands out and present you with a top 15 of the most beautiful beaches - some more obvious, others more out of the box!
Costa Verde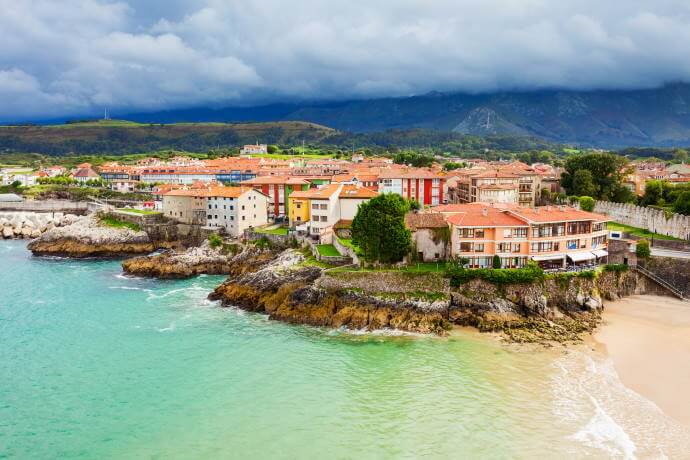 In northern Spain, you will find the dramatic Costa Verde, or the Asturian Coast - a stunning coastline region bathed by the Cantabrian Sea for over 350 kilometers. The meadows and cliffs merge with the sea in harmony – a perfect blend between nature and water. Charming and picturesque fishing towns, such as Gijon or Aviles, dot the coast, which is equally popular for its tasty cuisine, based mainly on grilled fish and seafood. The golden virgin sand beaches, surrounded by green hills, the hidden caves, romantic bays, the many trails on top of the cliffs and the paths that exist in the villages form an idyllic setting that attracts tourists from all over. Llanes, where you will find the famous "bufones", Cudillero, Santander and Luarca are other of the many villages you will come across along the Costa Verde, which is also the ideal destination for water sports enthusiasts. Further inland, a true natural paradise awaits you – Picos de Europa, for example, is a perfect destination for nature lovers, and Oviedo is full of architectural gems. If what you really want is to spread out your towel and enjoy the Spanish sun, here's some of the many great options: the longest beach in the Asturian region, La Vega Beach, in Ribadesella; the Silence Beach, in Cudillero, which is a wonderful cove backed by a natural, incredible rock amphitheatre; Rodiles Beach, in Villaviciosa, which is one of the most beautiful beaches in Asturias, with an extensive wooded area; Torimbia Beach, Antilles Beach and Cobijeru Beach, in Llanes, where you can also admire the "bufones"; the idyllic Puntal Beach, in Santander; and the Oyambre Beach, in Comillas, which is a sandy paradise protected by the Parque Natural Oyambre.
Costa Brava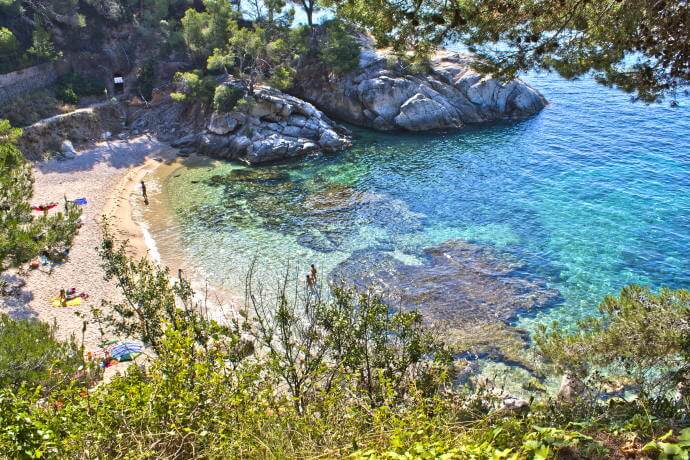 The stretch of coastline in northeastern Spain, known as the Costa Brava, runs all the way from the French border to the province of Barcelona. It is characterized by rugged and wild cliffs – there's a reason why the name translates to "Wild Coast" -, hidden mesmerizing coves, several unspoilt and intimate beaches and ancient fishing villages. This region was once home to several important artists such as Salvador Dalí, so the Costa Brava also exudes art and culture in every corner! It's a fantastic combination, perfect for those who want to enjoy some of the best blue flag beaches in Europe, but also explore medieval towns and the cultural scene. Begur, Figueres (the hometown of the eccentric artist Salvador Dalí), Palafrugell, Cadaqués and Girona, which also has a fantastic Jewish heritage, are some of the most popular towns in the region, where you will also have the opportunity to taste the mouthwatering local gastronomy and enjoy an exciting nightlight. If you want to explore the interior as well, get ready to be amazed by the mountains and natural parks, valleys and ancient volcanoes. Platja Fonda, near Begur, Cala El Crit, in Mont-Ras, Tamariu Beach and Calella de Palafrugell, in Palafrugell, are some of the most beautiful beaches you will find in the Costa Brava. But these are just a few of the many options you'll have – there is no shortage of hidden gems in the Wild Coast.
Costa del Sol
At Costa del Sol, that stretches over more than 160 kilometers, there's plenty to do for everyone. If you're a golf enthusiast, you will find in this coast your personal paradise – around the city of Málaga, for example, you will find several great golf courses. Costal del Sol is even sometimes known as Costal del Golf. In this region, you can also go horse riding in the mountains, do wine tastings, shop at great stores, visit the white villages, explore the amazing culture or simply enjoy the beautiful costal area. Marbella, Estepona, Nerja, Mijas, Frigiliana and Benalmádena are some of the most popular towns in Costal del Sol, which is also known for its extraordinary gastronomy scene and for its interesting customs and traditions. Regardless of what you're looking for on your holiday, there are activities for all tastes and there are miles of fine beaches for the sun seekers - it is easy to understand why Costal del Sol translates to Sunshine Coast. You can visit monuments, such as the Alcazaba of Málaga, explore Marbella's old town, discover the Caves of Nerja, visit the Picasso Museum in Málaga - as this city is the homeland of this well-known artist -, take some Spanish cooking classes or just drink some cocktails and enjoy the nightlife. If you want to explore the coastal wonders, Burriana Beach and the Maro Beach in Nerja, Bil-Bil Beach in Benalmádena, El Cristo Beach in Estepona and the Artola-Cabopino Beach in Marbella are some of the most pristine beaches.
Costa Blanca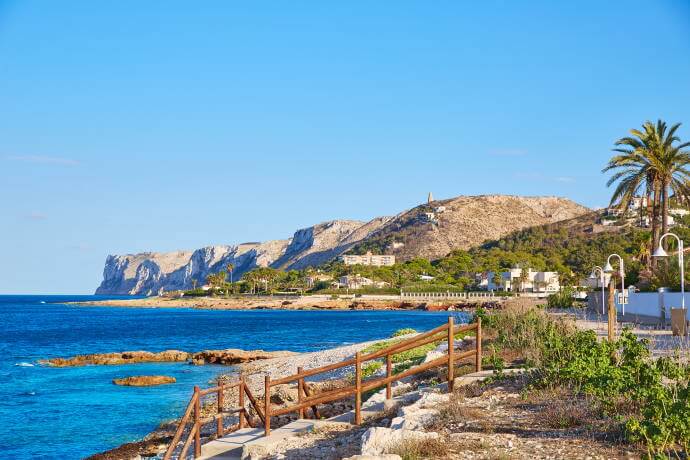 The Costa Blanca stretches from the municipality of Denia to that of Pilar de la Horadada, and is the name given to the Mediterranean coast in the province of Alicante, with more than 240 kilometers of beaches. Some call this coast the California of Europe and it's easy to see why! Popular with locals and foreigners, it is a busy region in the summer, made up of ancient fishing villages, which have been modernized and given rise to resorts. Alicante, the main city on the coast, is known for its legendary and exciting nightlife and beautiful quayside walk, but there's no shortage of other destinations worth visiting, such as Benidorm, the famous holiday resort. This stretch of coast is characterized by elegant resorts and fruit orchards, and is the ideal place for those looking to enjoy the pleasure of living at a slow pace. Even if you are not the biggest fan of going to the beach, on the Costa Blanca you can take pleasant walks through small fishing villages with lovely historic centers, take a sailboat ride on the Mediterranean, enjoy the wonderful views of the sea at sunset, or simply relax at a spa or resort center. In addition, you will be surprised by the flavourful gastronomy, based on grilled seafood and traditional paella dishes, which you can try in award-winning restaurants. Denia, Altea, Calpe and Torrevieja are other destinations you will come across, where there is no shortage of crystal-clear waters to take a dip in. Some of the best-known beaches are Playa de Levante, in Benidorm, Playa de San Juan and Playa de Tabarca, in Alicante, Playa La Granadella, in Jávea, Playa La Caleta, in Villajoyosa, and Playa de La Fossa, in Calpe.
Costa da Morte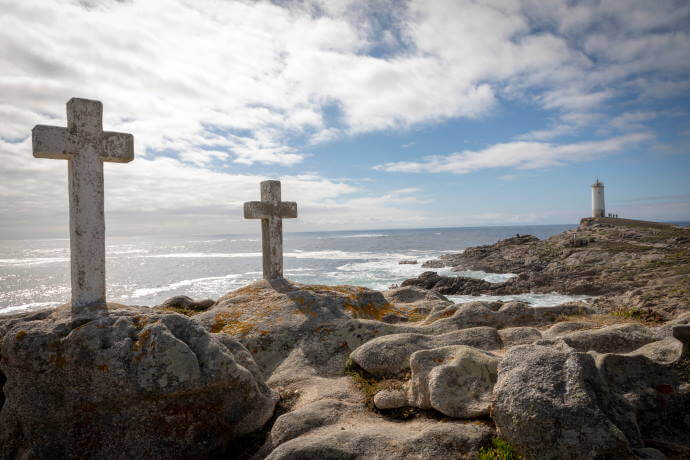 Secluded beaches, winding coves, charming fishing villages with stone houses and narrow alleys, dramatic cliffs and a calming natural beauty characterize the Costa da Morte, the westernmost point of Spain, shrouded in interesting mysteries, myths and legends and rich in viewpoints. The name of the coast, which translates to Death Coast, is due to the fact that hundreds of ships sank in this area. This coastline stretches from Muros to Caión and is a sparsely populated but certainly attractive place. The lifestyle of locals is closely linked to the sea, so the economy survives mainly on fishing activities. For a long time, this area was thought to be the literal end of the world. Ancient sailors believed that this was the westernmost point on earth and that, therefore, at Cape Fisterra, a granite promontory, the world ended. This cape, as well as others that you will find in Costa da Morte, are the ideal places to watch the spectacle offered by the sun, at the end of a day. This coast is also the final destination for many pilgrims who travel the Camino de Santiago. The landscape is idyllic, the Galician wines are unique and the gastronomy is something to cry for more. As for the best beaches, Carnota Beach, in Carnota, O Rostro Beach, in Fisterra, Baldaio Beach, in Carballo, or Laxe Beach, in Laxe, are among the most popular.
Costa Tropical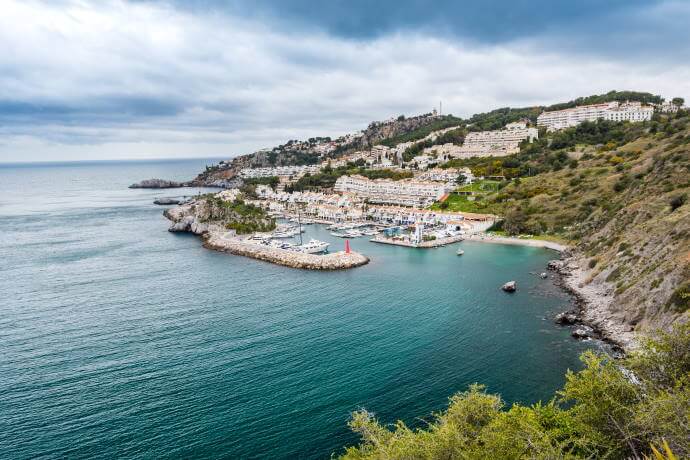 The Costa Tropical, also known as the Costa de Granada, is the stretch of coast that lies in the Granada region, close to North Africa and the Sierra Nevada. Less busy than its neighbour Costa del Sol, it is a great destination for those who like to practice water sports, thanks to the variety of marine life and the clarity of the water, and enjoy the sun on extensive and pristine beaches. The name of the coast derives from the fact that the region has a kind of microclimate that gives it a subtropical atmosphere. Motril, Almuñécar, La Herradura, Salobreña, Castell de Ferro and La Rábita are some of the most popular towns. But the landscape wins the prize – you can get lost among the tropical vegetation, rich in palm trees, flowers and fruit trees, with the high mountains of the Sierra Nevada as a backdrop. For those looking to enjoy the Spanish sun, there are also beaches for all tastes, from equipped beaches like La Herradura in Almuñécar or Poniente in Motril, or more natural, picturesque beaches like El Caletón or El Pargo in Salobreña. Other popular beaches include La Rijana Beach in Castell de Ferro and the La Mamola Beach in La Mamola. Enjoy some of the most attractive scenery in southern Spain on this stretch of Andalusian coast that remains authentic. Thanks to the mountainous backdrop, this coast is very popular among climbers and hikers as well – if you're an adventurous and nature lover, Costa Tropical is a great destination for you.uñécar
Costa Daurada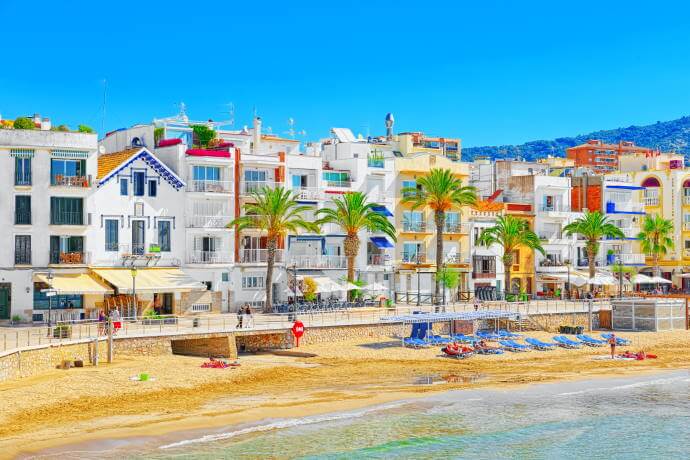 The name of this coastline translates to Golden Coast and lives up to what you will find here – the golden sands of the beaches shine in the sun and contrast with the turquoise waters. The Costa Daurada stretches southwest from Barcelona to the border with the Valencia region. The coast of Catalonia is dotted with pleasant beaches and seaside resorts that beckon you to visit. Tarragona is the main city in the region and is famous for its Roman ruins, such as the amphitheater, and delicious cuisine. Sitges, with a lively nightlife, is also a popular city. In the Penedès area, or even in Priorat, a little further inland, you will find a wine region, full of vineyards and olive groves, which produces world-renowned wines - so this piece of coast is the ideal place to relax and drink a wine in the late afternoon. Maybe you can even do it on one of the long beaches you'll find here. This is also where you will come across the PortAventura World, a ten-minute drive from the center of Tarragona. This is a leisure complex - one of Europe's premier theme parks - featuring the PortAventura and Ferrariland theme parks, the water park Caribe Aquatic Park and more. Explore the rocky shores, indulge in some water activities, discover the Roman legacy in Tarragona, have a fun day at the theme park or go for a meal in a Michelin-star restaurant. There's no shortage of things to do! You can find some of the best beaches in this coast at Tarragona - Cunit Beach, Calafell Beach, Coma-Ruga Beach, Cala de Canyadell Cove and Platja de Tamarit Beach are great options.
Costa de la Luz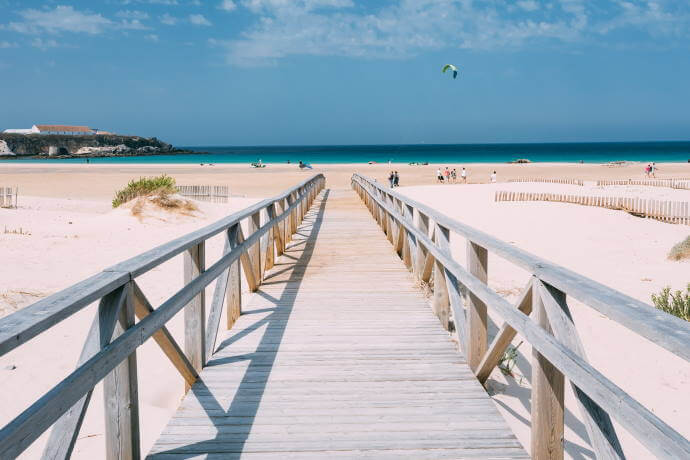 Mountains with whitewashed villages and picturesque fishing towns await you on the Costa de la Luz, a coastline in the Andalusia region that stretches from Tarifa to Huelva. It is the southernmost of the Spanish Costas and is very close to North Africa. Long white-sand beaches with dunes and pine forests, cork oak forests in the Donana National Park - one of the most important biological reserves in Spain -, an exciting nightlife and fishing villages characterize the Costa de la Luz. It is a perfect combination of beaches, nature, culture and history (and, of course, good food!). Cadiz and Huelva are probably the most important cities that combine summer atmosphere, history and modernity. The name of this coast (Coast of Light) probably refers to the warm sunlight that reflects on the whitewashed houses and the transparent sea. This coast has the ability to delight anyone, as it is full of Roman remains, ancient Moorish settlements, jaw-dropping scenery and pristine beaches. Some of the best beaches are Bolonia beach in Tarifa, El Palmar beach in Conil de la Frontera, Victoria beach and Zaraha de los Atunes in Cadiz or Matalascañas beach in Donana National Park. Be prepared to see a little bit of everything during your visit to the Coast of Light!
Top 15 of the most beautiful beaches
Silence Beach, in Cudillero – Costa Verde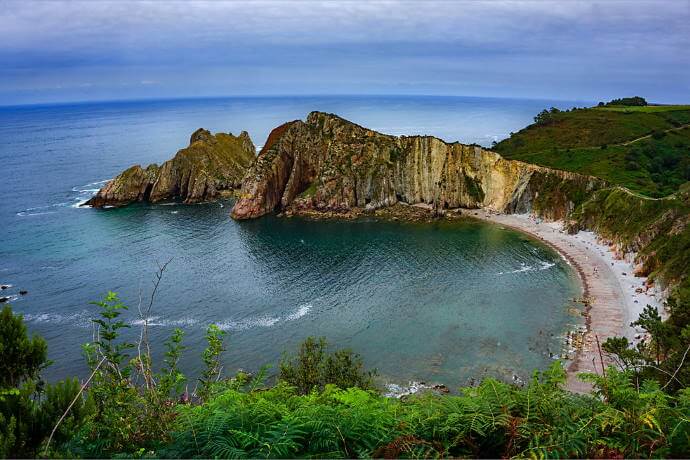 A lovely cove backed by a natural rock amphitheater. The sea forms a half moon, surrounded by nature.
Torimbia Beach in Llanes – Costa Verde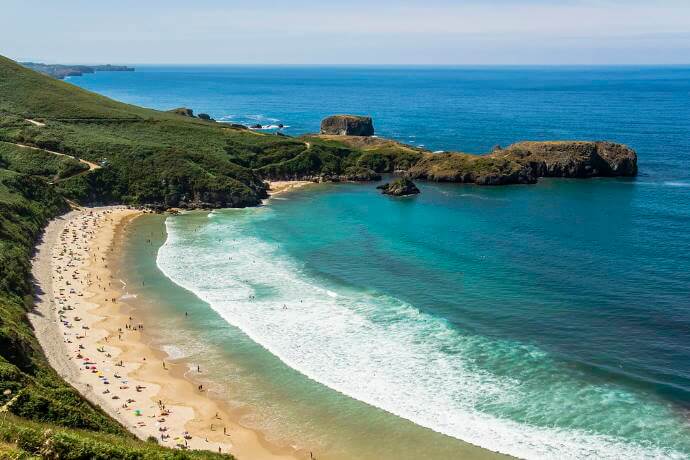 One of the most beautiful and spectacular beaches in Llanes. It is shell-shaped, quiet and suitable for nudists. Access is via the top of a hill that offers incredible views over the beach.
Antilles / Cué Beach in Llanes – Costa Verde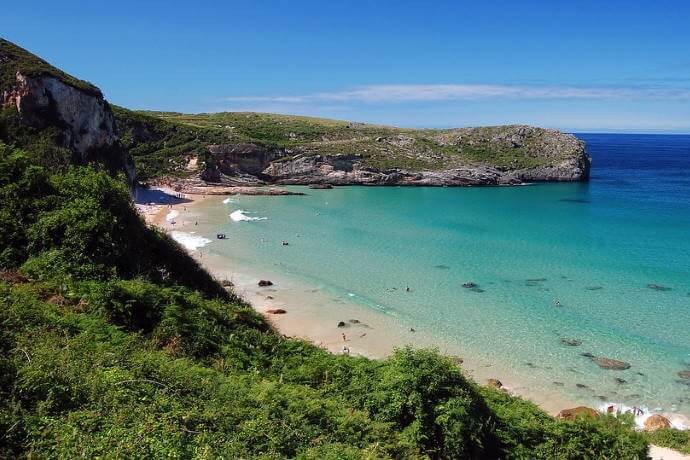 A shell-shaped, small beach with fine, white sand, located in a semi-rural area, at the foot of the mountain range, surrounded by nature.
Platja Fonda, near Begur – Costa Brava
A wild, unspoilt, hidden spot. It is a quiet beach, located right at the foot of the beautiful Begur Cave.
Tamariu Beach in Palafrugell – Costa Brava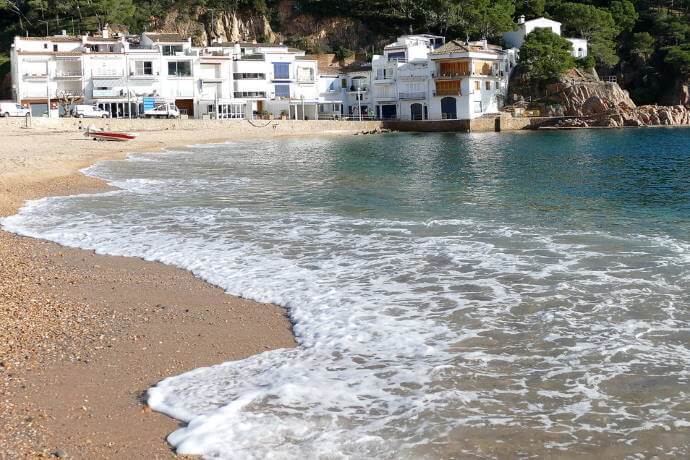 This is an urban beach, but the whitewashed buildings give it a pleasant atmosphere. There's also a beautiful boardwalk.
Maro Beach in Nerja – Costa del Sol
A small beach under the Nerja cliffs, with thick sand and clear waters, surrounded by nature.
El Cristo Beach in Estepona – Costa del Sol
Near the city center, this beach is a small bay next to the marina, located in a lovely sheltered cove. It has dark sand and calm waters.
La Granadella Beach, in Jávea – Costa Blanca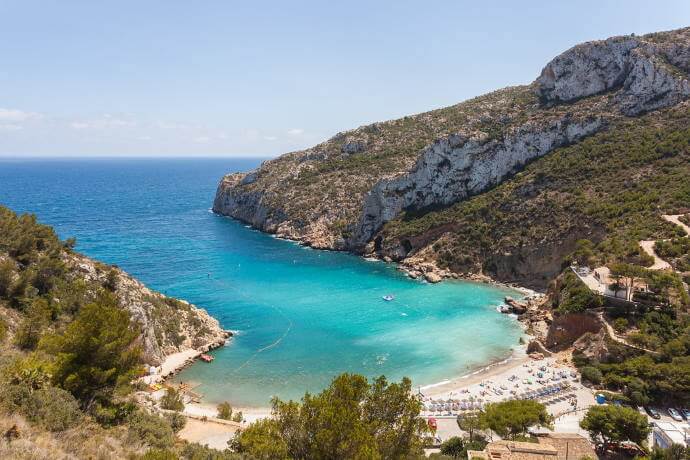 This is an incredible cove, south of Jávea, near the Cape Nao. It is a small beach with clean, crystal-clear waters. The sand is thicker and made up of stones.
Tabarca Beach, in Alicante – Costa Blanca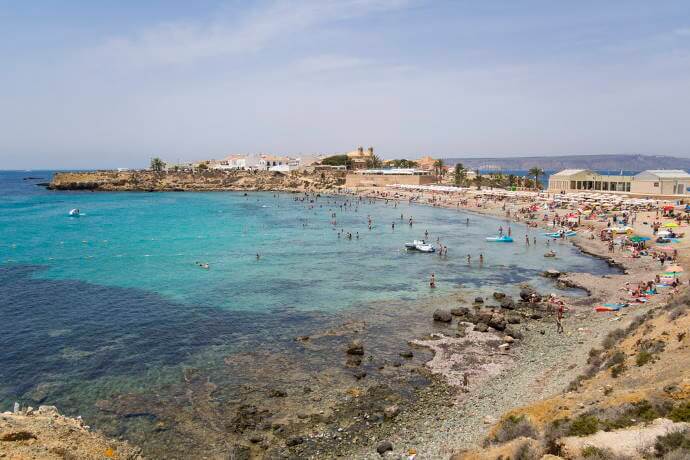 A very pleasant semi-urban beach with thick sand, located in the small island of Tabarca, which is accessible by boat. It forms a half-moon and has crystalline waters.
Laxe Beach, in Laxe – Costa da Morte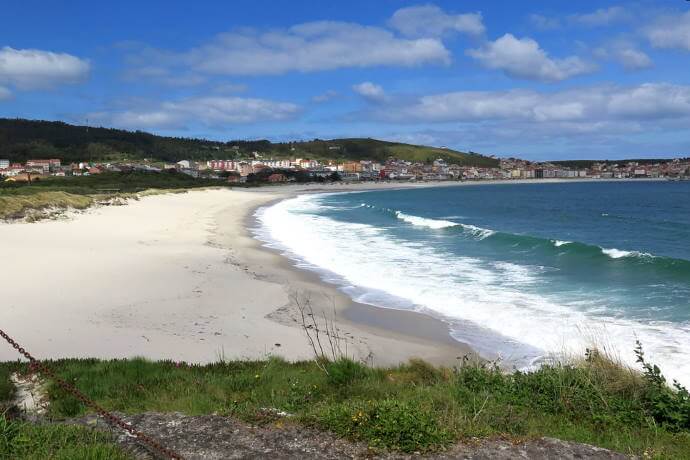 This large beach stretches along the whole length of the town. It has golden sand, turquoise waters and dunes all around.
Carnota Beach, in Carnota – Costa da Morte
This is the most extensive beach in Galicia. It is crescent-moon shaped, has white sands and is located in a beautiful natural area.
La Rijana Beach in Castell de Ferro – Costa Tropical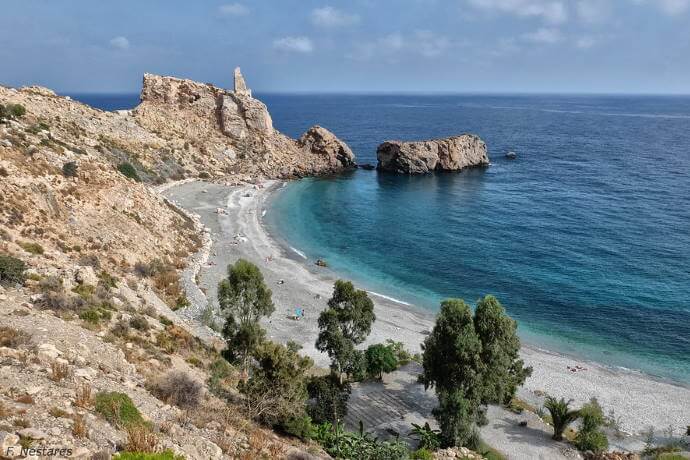 A tranquil beach, with a beautiful steep mountainous backdrop and dark sand. Situated in a little cove, it's the ideal place for water sports.
Cala Canyadell, in Tarragona – Costa Daurada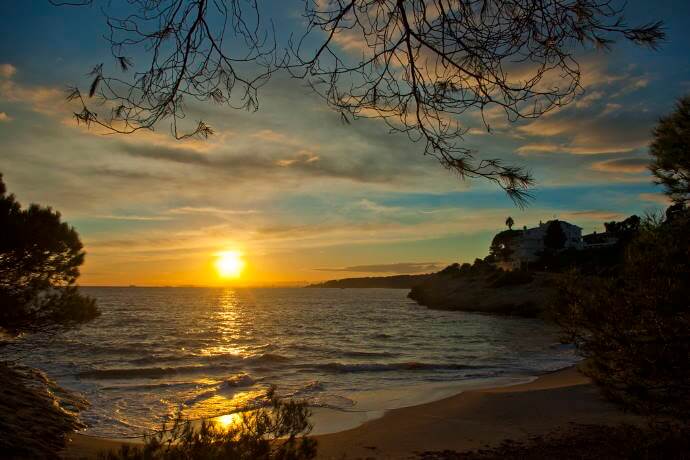 A small but wide cove, and a semi-urban and quiet beach. It has golden sand and calm waters, and is surrounded by a small forest.
Bolonia Beach in Tarifa – Costa de la Luz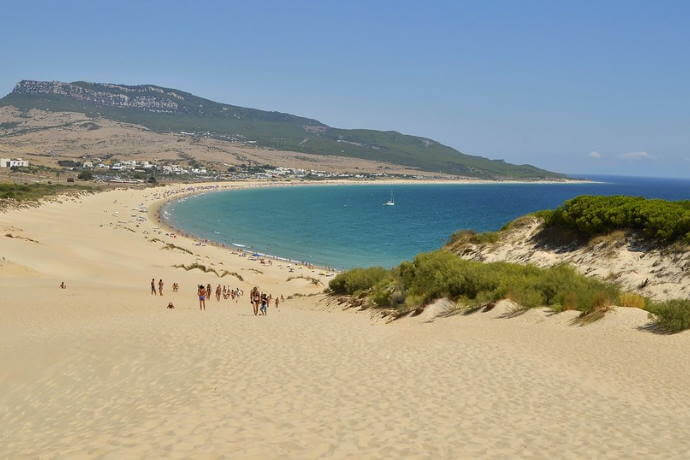 An unspoiled, semi-virgin beach and a must-visit in Tarifa. It is considered to be one of the best beaches in Cadiz. It has tranquil, crystal-clear waters and fine, white sand.
Victoria Beach in Cadiz – Costa de la Luz
This urban beach is a wide stretch of white sand. It has a wide promenade and there's a lot of restaurants nearby. It is the best known and busiest beach in the city.
---
We are a local tour operator specialized in custom Self-Guided Tours in Portugal & Spain

Our local team will craft a tailor-made trip plan with an itinerary and a selection of hotels, activities and transportation based on your interests and budget. We offer a turnkey package and take care of all the logistics. While you are travelling, our local team is available by phone 24/7, so that we make sure you have a hassle-free vacation.

We also want to guarantee you have all you need when you are on tour. You will get a personalized roadbook with your day-to-day planning designed especially for you and an exclusive guidebook written by our team on Portugal with additional information. To ease the driving, you will receive a pre-programmed GPS with preloaded coordinates for all of the above.

We know sometimes life gets in the way, so all our tours are fully-refundable until 5 working days prior to your arrival – money back guarantee, no questions asked.

After we receive your enquiry, we will send you a free proposal, that can be changed as many times as necessary until meeting your expectations. Start planning your trip today!