Road trips allow you to experience journeys in a totally different and exciting way. There is nothing quite like feeling the breeze as you admire the beautiful sights that keep you company while driving. Puglia and Basilicata are two areas that embody the true essence of Southern Italy, as they are filled with charming villages, stunning coastal towns, and beautiful settings, perfect for a scenic drive.
In this article we will cover the highlights that make Southern Italy such a lovely and fascinating place to explore, and with some of the tastiest traditional dishes as well. Ready to let your mind travel around the superb Italian landscapes?
Get carried away by the heavenly shore of Puglia and Basilicata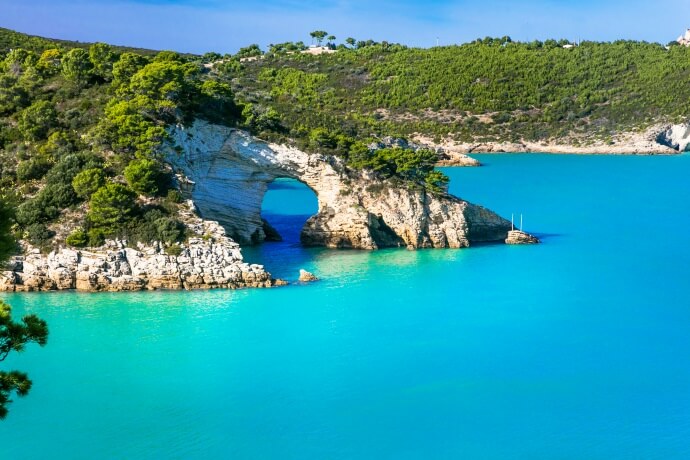 Offering stunning sea views, Puglia and Basilicata are definitely worth exploring for their heavenly shoreline. Polignano a Mare is a charming seaside town known for its dramatic cliffside views and crystal-clear waters. This pretty town in Puglia is perched on a rocky cliff overlooking the Adriatic Sea, and features a maze of narrow streets and alleys, as well as whitewashed houses, charming cafes, and shops selling local crafts. Polignano a Mare is renowned for its lovely beaches, such as Cala Paura, Lama Monachile, and Porto Cavallo, whose clear waters and rocky cliffs make it a popular destination for scuba diving and snorkeling.
Brindisi is a historic port town on the Adriatic Sea, famous for its Roman ruins and ancient history. Boasting a vibrant nightlife and stunning beaches, this city has a rich history, with evidence of human settlement dating back as early as the 8th century BC. Some of the city's most popular attractions include the Roman Column, the 15th-century Castello Svevo, and the inviting beaches of Torre Guaceto and Punta Penna Grossa.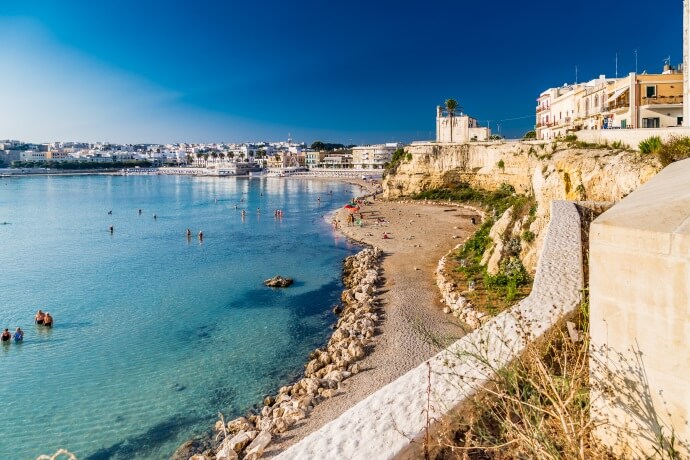 Another well-known coastal region is Otranto, a small town located at the southernmost point of the Puglia region. It is popular for its stunning beaches, crystal-clear waters, and impressive medieval architecture, and its Castello Aragonese offers you panoramic views over the sea and the town.
Other superb coastal towns that you can explore and enjoy include Gallipoli, a picturesque fishing town located on the Ionian Sea. It is famous for its charming historic center, beautiful beaches, and excellent seafood restaurants. Porto Cesareo, famous for its stunning natural beauty and clear waters, is a popular destination for those looking to relax on the beach and enjoy the Mediterranean sun. Finally, the charming town of Maratea boasts some of the most beautiful sea views in the region. It is a town charmingly perched on a hill overlooking the sea, and there are several viewpoints from which you can soak up this stunning scenery.
The exquisite Baroque influence of Southern Italy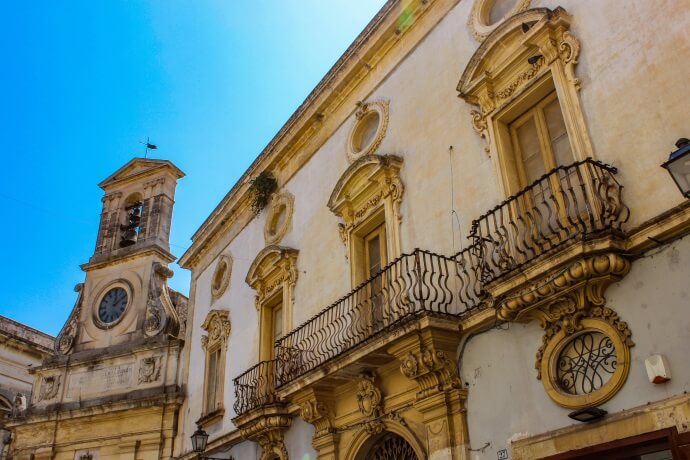 This region displays many traces of the Baroque influence. Known as the "Florence of the South", Lecce has a rich cultural heritage and Baroque architecture that flourished in Lecce in the 17th and 18th centuries. It is characterized by intricate ornamentation and a sense of drama, being particularly distinctive because of the usage of a local stone known as "pietra leccese". This limestone which has a pale gold color is particularly malleable, which allowed sculptors to create elaborate embellishments. Some of the most famous examples of Lecce's Baroque architecture include the Basilica di Santa Croce, which features a façade adorned with a rich decoration of cherubs, grotesque masks, and floral motifs, and the Piazza del Duomo, which is home to the Cathedral of Lecce and its stunning baroque bell tower. Other notable buildings include the Palazzo dei Celestini and the Church of San Matteo.
You can also find stunning Baroque architecture around Galatina, a small town located a short distance from Lecce. Some of the most significant examples of Baroque architecture in Galatina are the Basilica of Santa Caterina d'Alessandria, which was built in the 14th century and then extensively renovated in the 17th century in the Baroque style. This church is characterized by an ornate façade featuring intricate carvings and a splendid rose window; the Palazzo Orsini, which was built in the early 17th century for the Orsini family, one of the most powerful families in town at the time, features a stunning Baroque façade with a central portal surrounded by elaborate decorations; and the Church of San Paolo, the Church of San Pietro, and the Palazzo Gallone.
Explore the cities that made history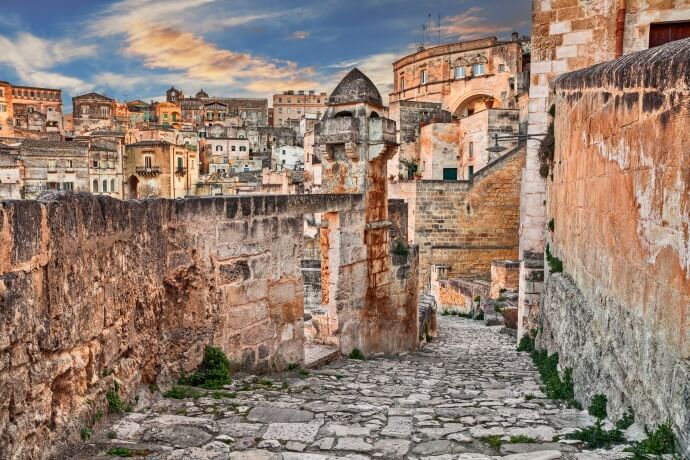 Want to know more about the history of the South? Then one of the places you must visit is Bari, the capital of the Apulia region, which is sited on the Adriatic coast. This city is known for its beautiful old town, Barivecchia, and it has a rich history that dates back to the Roman period, housing many important cultural and historical sites such as the Basilica di San Nicola and the Swabian Castle, which dates back to the 12th century. The city is also a bustling transportation hub, with a major airport and a seaport that connects it to other parts of Italy and Europe.
Matera is another significant city located in the Basilicata region, known for its unique Sassi di Matera, which are cave dwellings carved into the rock formations that have been inhabited continuously for over 9,000 years. The Sassi of Matera are a UNESCO World Heritage site and are considered one of the oldest human settlements in Italy. Its ancient rock dwellings have been used as settings for many renowned films, including Mel Gibson's "The Passion of the Christ" and the James Bond movie "No Time to Die." The city also boasts numerous historic churches, palaces, and museums, including the Cathedral of Matera and the Palazzo Lanfranchi, and it was named the European Capital of Culture in 2019, attesting to its historic relevance.
Stroll around the picturesque villages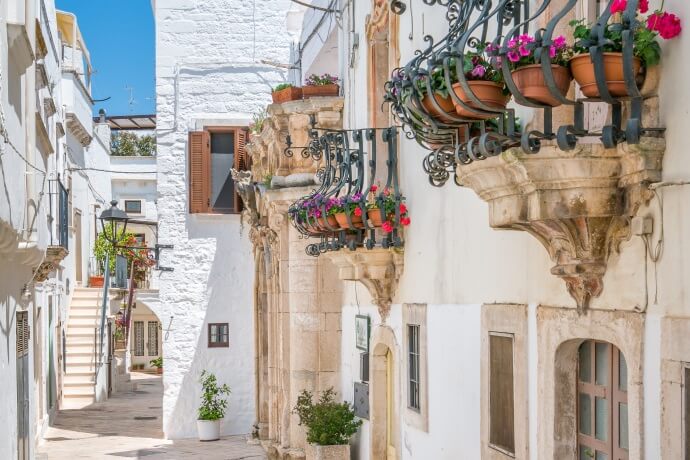 Wandering around Southern Italy is like visiting a fairytale realm. Dotted with many picturesque towns, you will want to take the time to explore these charming and colorful slow-paced villages.
Ostuni, located in the region of Apulia, is situated on a hilltop and is commonly referred to as the "White City" (La Città Bianca) due to its white-painted buildings. This city has a long history that dates to the Messapian civilization and has been inhabited by various societies throughout the centuries, including the Greeks, Romans, Byzantines, and Normans. Today, Ostuni is known for its lovely nearby beaches of the Adriatic Sea, including Torre Guaceto and Rosa Marina, as well as its churches and palaces, such as the 15th-century Cathedral and the Bishop's Palace.
Make sure to stroll around the flowery Locorotondo, a town located in the heart of the Itria Valley, which is known for its picturesque landscape of rolling hills, olive groves, and vineyards. The town is sited on a hilltop and is famous for its circular historical center, which is characterized by narrow white-washed streets, stone houses with sloping roofs, and lovely balconies decorated with colorful flowers. Known for its wine production, particularly its white wines made from the Verdeca grape variety, this town has lived to see a long history of rulers from many different civilizations, dating back to the 8th century BC. Some of the outstanding buildings in Locorotondo include the 16th-century Mother Church of St. George, the Church of the Madonna della Greca, and the Palazzo Morelli.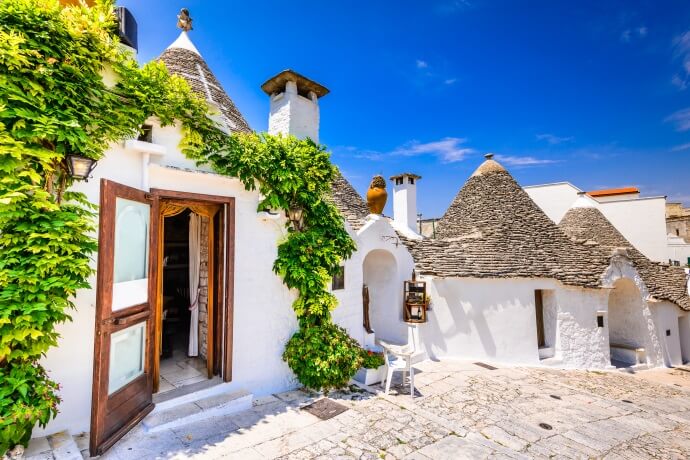 Its neighbors, historic Cisternino and Alberobello, are other gorgeous small towns that, just like Locorotondo, are well-known for their stunning architecture and beautiful flowers decorating the balconies. In Cisternino, you may visit the 14th-century Church of San Nicola, the 16th-century Church of San Quirico, and the 18th-century Palazzo del Governatore, which houses the Municipal Art Gallery. In Alberobello, a UNESCO World Heritage site, famous for its unique and traditional dry-stone huts with conical roofs called trulli houses, you can explore the town's historic center and visit landmarks such as the Trullo Sovrano and the Church of Saint Anthony, which features a beautiful baroque façade and a statue of the saint on its roof.
Close by is also Martina Franca, a baroque town with elegant palaces, churches, and monuments, popular for its annual opera festival, which takes place in the summer. Surrounded by a charming atmosphere, you can visit the 18th-century Palazzo Ducale, which houses the Municipal Museum and the Municipal Library, the 17th-century Church of San Domenico, and the baroque Church of San Martino, whith an incredible and intricate frescoed ceiling, and a collection of valuable liturgical objects.
Sample the mouth-watering Apulian cuisine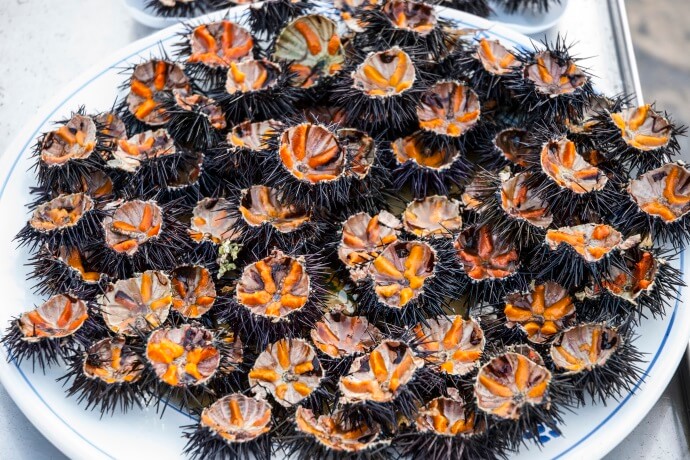 Southern Italy is one of the areas with the richest gastronomic tradition. The food in the regions of Puglia and Basilicata is influenced by the Mediterranean climate and the agricultural products that are abundant here, such as olives, tomatoes, and wheat. Being surrounded by the Mediterranean Sea, Southern Italy is also known for its fresh seafood dishes, such as fritto misto di mare (mixed fried seafood), pesce spada alla ghiotta (swordfish stew), sea urchins, mussels, and clams.
Popular dishes in Basilicata include orecchiette pasta with tomato sauce and ricotta cheese, grilled octopus, and panzerotti; tiella, a type of savory pie that is made with layers of potatoes, onions, and mussels, all seasoned with garlic, parsley, and olive oil; and capocollo, another renowned dish, which a type of cured meat, made from the pork neck or shoulder, and is cured with salt, pepper, and various other spices. The south of Italy is also known for its excellent cheeses, such as pecorino, caciocavallo, and mozzarella, a soft, fresh cheese used in many Italian dishes. If you are more of a sweet tooth, make sure to try the pasticciotto, a small, round pastry that is filled with a sweet, custard-like cream made from eggs, sugar, milk, and lemon zest.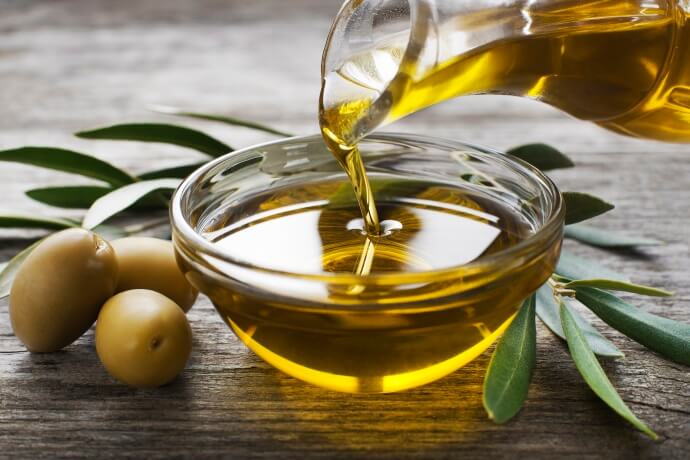 Both regions produce top-tier olive oil and wines. The olive trees in Puglia and Basilicata are well-suited to the hot, dry climate of the region, and the olives are harvested between October and December each year. The olives are then pressed to extract the oil, which is used in a variety of dishes. Some of the famous olive varieties include Ogliarola and Cellina di Nardò, which produce delicate and fruity oils, as well as Coratina, which produces a robust and bitter oil. For the wines, some of the best include Primitivo, Negroamaro, and Salice Salentino. Basilicata is also popular for its Aglianico wine, which is full-bodied and rich.
Home away from home
Southern Italy personifies what home away from home truly means. Exploring its streets, diving in the turquoise waters, tasting its home-cooked delicious meals, and having a chat with the warmhearted and friendly people that live here are sure to make you feel at home. Under the beaming Italian sunlight and at a slow pace, come and discover everything the South of Italy has to offer you with an open heart.
---