Welcome to the heart of Spain, where history, culture, and gastronomy intertwine to create a destination that is as fascinating as it is enchanting. Castilla y León, the largest region in the country, is the result of a union between the historic regions of Castilla la Vieja and León in 1983. Both have played a significant role in Spanish medieval history, and their legacy is still evident in the region's stunning cathedrals, monasteries, castles, and fortified towns, many of which are preserved in perfect state. In fact, Castilla y León is home to eight UNESCO World Heritage Sites, a testament to the region's rich cultural heritage. But it is also a region that offers diverse experiences, from breathtaking natural landscapes to rich wines and tasty cuisine.
Join us as we journey through some of the best reasons of Castilla Y Léon and find out why this destination will capture your heart and leave you wanting more.
Discover dreamy palaces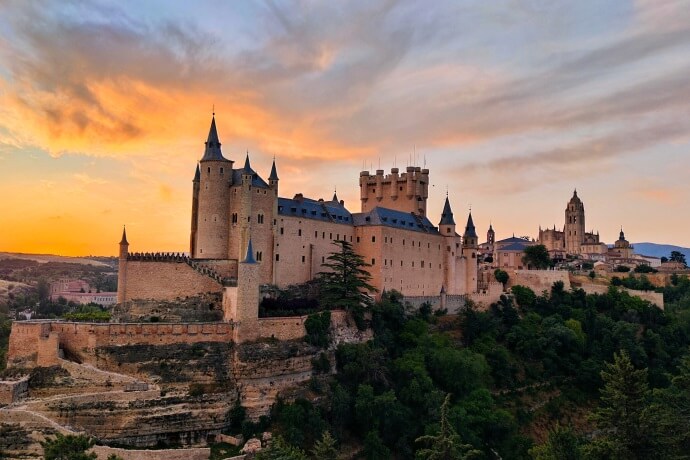 Legend has it that the Alcazar de Segóvia, perched atop a cliff in the westernmost part of the city, was one of the European castles that inspired Walt Disney. And it is true that the Alcazar stands as a majestic fortress that will transport you to a fairy tale realm. It is first mentioned in the 12th century and has undergone several architectural interventions. Within its walls, the lavishly decorated halls and rooms truly steal the show. A seamless blend of Christian and Mudéjar influences can be seen in the intricate tiles, carved arches, and awe-inspiring ceilings - the Hall of the Kings (Sala de los Reyes) is a particular highlight. It's easy to see why the Alcazar has been designated a UNESCO World Heritage Site and remains a beloved landmark of Segóvia.
As you approach the majestic structure of the Episcopal Palace of Astorga, you will be amazed by its impressive exterior. Designed by the legendary Antoni Gaudí, this Neo-Gothic modernist building is a set of a castle, temple, and palace. Made of Bierzo granite, the palace's towering spires and stone carvings are a testament to Gaudí's incredible attention to detail. Inside, Gaudí's influence is everywhere: from the intricate symmetrical designs to the stunning nature motifs that adorn the walls and ceilings. Be sure to take a guided tour to fully appreciate the complex details that make this building so special.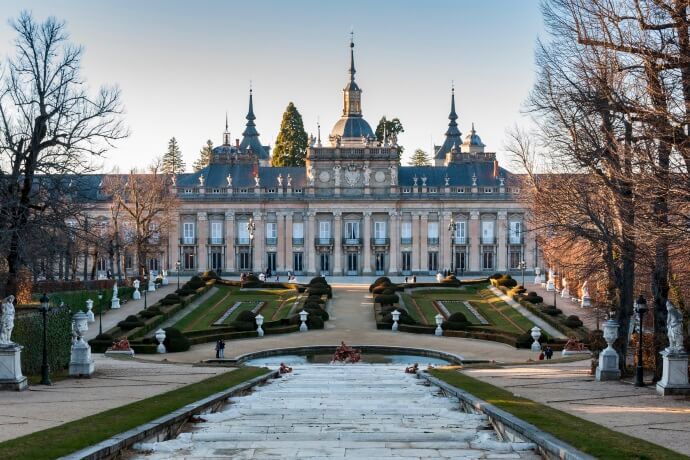 Located just 80 kilometers away from Madrid and a mere 10 kilometers from Segovia, Granja de San Ildefonso is a magnificent jewel in the crown of Spanish cultural heritage and one of the finest examples of monarchical splendor from the 18th century. This dreamy place dates to the acquisition of the site by King Philip V of Spain, who turned a modest farm belonging to the monks into his grand palace. Its sumptuousness, characteristic of the Baroque era, is a sight to behold, rich in ornamentation, fountains, sculptures, and gardens. The space includes more than 146 hectares of forests and landscaped areas, 26 monumental fountains, a labyrinth in the French style, and a huge lake, known as "El mar".
Travel in time in medieval towns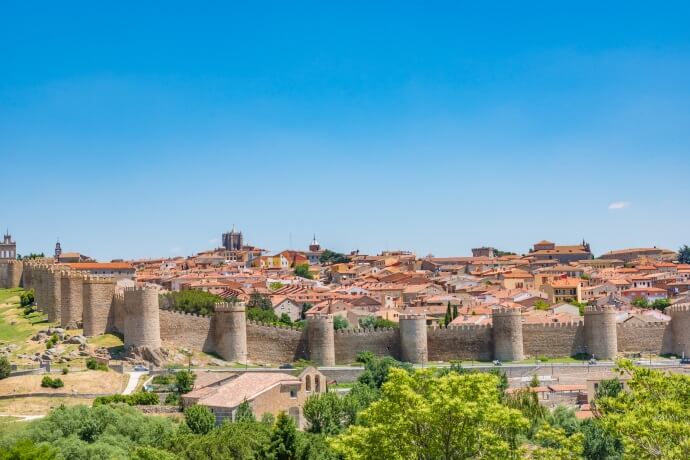 Visiting Ávila is discovering the essence of medieval Spain. It is a historic city surrounded by an atmosphere of solemnity and mysticism, with its majestic medieval walls. It's the highest city in Spain and is also known for being the birthplace of Santa Teresa de Ávila and the headquarters of the Great Inquisition. However, their spectacular walls are undoubtedly the city's most iconic and monumental attraction. Its construction started at the end of the 11th century, it has a perimeter of 2516 meters, is 12 meters high and 3 meters wide; it has 2500 battlements, 87 turrets, and 9 doors. For their irreproachable preservation and, together with the extramural churches, they guaranteed the Old Town of Ávila a place on the UNESCO World Heritage list. When we see the Ávila wall closely, we limit ourselves to contemplating its majesty with a respectful silence of veneration. Those walls hold a treasure of monuments and historical attractions: Romanesque churches, medieval convents, and Renaissance palaces, that deserves to be explored.
Nestled in a natural wonderland, where the Douro River majestically flows, lies the city of Soria. Its winding medieval streets are adorned with an impressive Romanesque ensemble of buildings, each telling a story of a past steeped in history. With a tumultuous past, Soria has managed to retain an impressive legacy of Romanesque architecture and there are still remains of its 13th-century fortified wall. In the heart of the historic center stands the magnificent Santo Domingo church, one of Soria's most important landmarks; to the east lies the impressive cathedral of San Pedro; and just beyond the city limits, along the banks of the Douro River, is the stunning San Juan de Duero monastery, a reflection of Muslim influence on Romanesque architecture.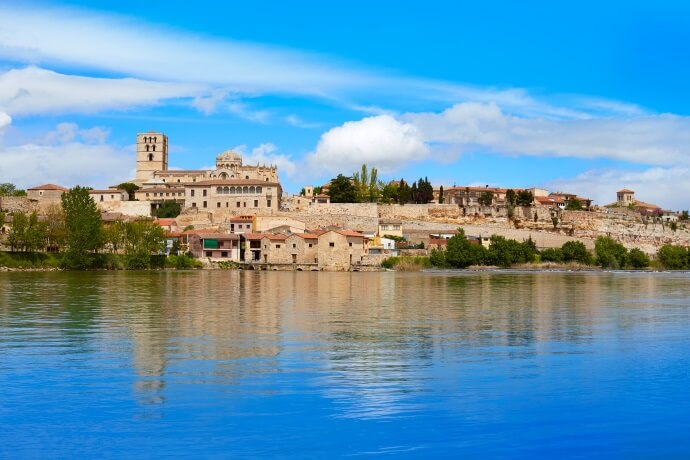 The charming city of Zamora is a hidden gem that is just waiting to be explored! A land with an ancient castle, a winding river, and a vibrant culture that is as lively as it is captivating. It reached its golden age in the 12th century, the height of the construction of its most representative monuments in Romanesque style, which earned it the deserved current fame of "City of the Romanesque". Towering over the city is the magnificent Zamora Cathedral, a Gothic masterpiece that has stood the test of time and remains a symbol of the city's rich history. It is a relatively small and compact city, therefore, walk at your leisure through the streets and squares, let yourself be enchanted by this beautiful medieval city, and savor every moment in slow motion. If you cross the majestic Puente de Piedra, with arches that have seen centuries of history, you have a breathtaking view of the city of Zamora reflected in the mirror of the water of Douro River. Do it at sunset: it's magical!
Ponferrada is a captivating city that has everything to conquer us. It holds symbolic importance as a stop on the Camino de Santiago, with a rich history closely tied to the era of the Knights Templar. The grandeur of this place is palpable, steeped in culture, heritage, and history. Its majestic castle was declared a National Historic-Artistic Monument in 1924 and it is impossible to ignore. At its foot lies the historic center of the city, accessed through Calle del Reloj - a must-see location, not only for its beauty but also because it connects two of the city's most important squares, Plaza Mayor and Plaza de la Encina. The Basilica of Encina is a mandatory stop for its beauty and history. Notice its tower, called the "Giralda del Bierzo."
Be impressed by Roman ruins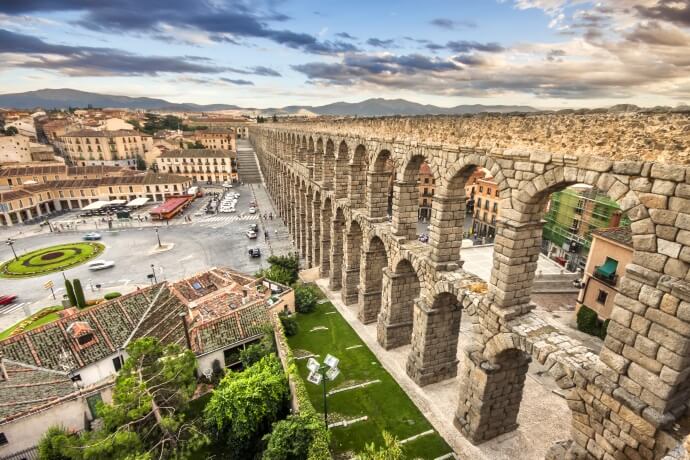 The awe-inspiring Aqueduct of Segovia is a remarkable feat of engineering that stands the test of time. Its construction dates to the Romans, with the purpose of transporting water from the river Acebeda to the city, and it continues to do so flawlessly. The pinnacle of the Aqueduct of Segovia is reached in the Plaza of Azoguejo, where it stands at an astonishing height of 28.10 meters, boasting a grand total of 167 arches. Even after more than 2,000 years, the aqueduct remains in impeccable condition, a testament to the ingenuity of the Roman engineers who built it. To truly appreciate the majesty of this ancient monument, with UNESCO World Heritage status, a visit to the Aqueduct Interpretation Center in Segovia is a must.
The discovery of the archaeological gem known as the Roman Villa La Olmeda was a stroke of serendipity, in 1968, when it was discovered during agricultural work. This would spark a remarkable archaeological investigation, unearthing one of the most significant sites in the Roman Hispanic world. The sprawling estate covers an impressive 4400 square meters, with 35 rooms that are distributed between the main house and the opulent baths. Amongst these rooms, 26 are bedecked with a resplendent array of mosaics, preserved in situ. The villa's palatial dimensions are a testament to the luxurious life enjoyed by its owner. It is a window into a bygone era, a glimpse into the opulent life of ancient Roman society.
Admire stunning Gothic cathedrals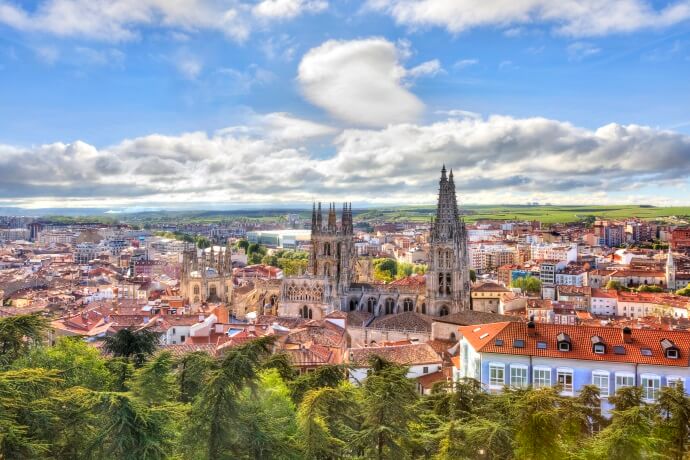 In Burgos, a city often viewed as merely a stopover on the El Camino to Santiago de Compostela, conceals one of Spain's most prized gems: the Burgos Cathedral. This awe-inspiring structure, declared a World Heritage Site by UNESCO showcases the creative brilliance of architects, sculptors, and craftsmen from various eras, providing a testament to their talent and skill. The exterior is astonishing, but wait until you get inside. It doesn't matter where you look, it keeps getting better and better! The central nave's dome, adorned with a magnificent Mudejar vault, holds the remains of El Cid Campeador, a legendary Spanish hero, and his wife. Nearby, the exquisite golden staircase, inspired by the Italian Renaissance and built in the 16th century, stands proud. The sides of the cathedral feature 19 open chapels, showcasing a unique collection of priceless artwork. This is undoubtedly one of the most magnificent structures in Spain.
From a Roman encampment to an ancient kingdom in the Middle Ages and a city on El Camino to Santiago de Compostela, the namesake capital of the Province of León preserves a great legacy. But if you needed just one reason to visit Léon it would be Léon's Cathedral! Located in a charming square that offers an unobstructed view of its breathtaking façade, one cannot help but feel a sense of awe upon witnessing its immediate grandeur. However, it is the interior that holds its most precious jewels. It boasts a collection of 130 church windows and three rose windows, totaling 1800 square meters of polychrome stained-glass windows with medieval origins. These masterpieces fill the interior with a sweet and colorful luminosity that inspires a feeling of wonder and admiration. On weekends and holidays, these stained-glass windows are illuminated from within, creating a truly magical atmosphere.
Astonish by the golden landscapes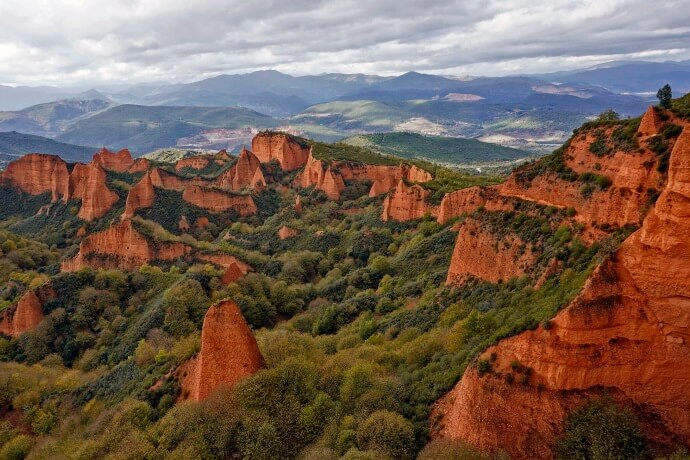 When one sees Las Médulas for the first time it feels like a landscape out of this world. Composed of jagged mountains, it has a golden color emerging among the greenery of the trees. What at a glance seems to be an action of nature is, on the contrary, the result of human intervention - the works of Roman gold mining over centuries. It is the set of one of the most beautiful and unknown trails in northern Spain and has been attracting the most curious nature lovers. For a greater view of this surreal land, go for the Orellan viewpoint; and if you want to witness a majestic spectacle, do it at sunset and be amazed by the golden tones that seem to set the surroundings on fire.
Famously known as the "Golden City," Salamanca is a true architectural wonder that leaves visitors spellbound with its resplendent beauty. Built with a rare type of blond sandstone, quarried from the depths of the region with hues that exquisitely glistens like gold in the radiant sunlight. With a rich cultural heritage and historical significance, Salamanca has been declared a World Heritage Site by UNESCO. The city's historic center boasts an impressive array of Romanesque, Gothic, Moorish, Renaissance, and Baroque monuments, all of which stand as testaments to the city's 2000-year-old history, but it is the University that truly sets Salamanca apart, with an exceptional group of buildings. For a great view of the stunning golden city, cross the Roman Bridge and walk along the Torme river banks to get the perfect photo setting. However, it is in the historic center that you can truly appreciate the staggering show of light and color of the sunset over the ancient buildings, turning the façades into a magical golden tone.
Taste the local wines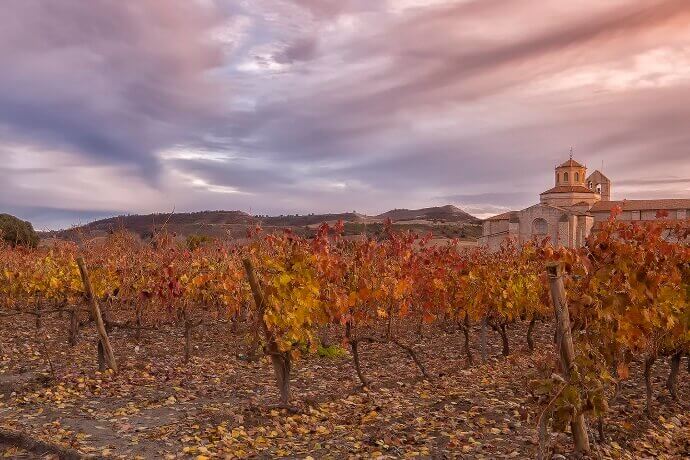 Ready to uncork the secrets of Spain's largest wine-producing area? From rocky high-altitude vineyards to arid plains with old bush vines, thanks to its complex geological formation, the Castilla y León región has it all, including several Denominación de Origens (DOs).
Ribera del Duero is the superstar, producing top-notch Tempranillo wines. The secret is the high altitudes, with some vineyards planted over 850 meters above sea level. The region's continental climate - think bitterly cold winters and scorching summers - is protected by the encircling mountains. This combination creates bold, powerful wines that will leave you craving for more.
Next up, we have Toro, home to a local strain of Tempranillo called Tinta de Toro. This region is famous for producing powerful red wines that will make your taste buds dance. Did you know that the vines here resisted the European phylloxera outbreak? Meaning some of the old, ungrafted vines still grow here today.
Moving on to Rueda, this region arguably makes the best white wines in Castilla y Léon. The dry, herbaceous wines are made primarily from Verdejo grapes and are known for their refreshing acidity and citrusy flavors. And let's not forget the high-altitude vineyards, which give these wines their cool, crisp edge. Rueda was the first DO to be classified in the region back in 1980, so you know they've been perfecting their craft for a while.
Last but not least, Bierzo is a small but mighty DO located in the northwestern corner of Castilla y Léon. This region borders Galicia and Asturias and has stronger Atlantic influences, creating a cooler and wetter climate than other parts of the area. The mountain slopes here are rich in slate and granite, giving their wines a unique edge. Bierzo is most famous for its white Godello and red or rosé Mencia wines, which are sure to impress even the most seasoned wine connoisseur.
Savor roasted delights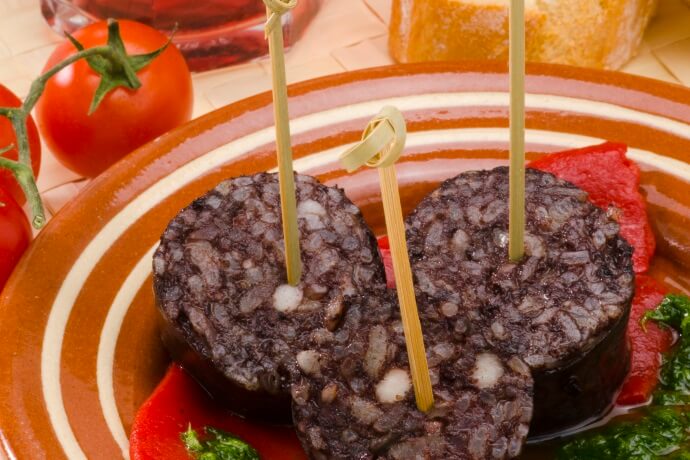 Good food is a great excuse to visit a place and the Castille y Leon región boasts an array of mouth-watering dishes, ranging from savory to sweet, and everything in between.
Cochinillo is the true star of Castille y Leon's cuisine. This succulent dish, made from roasted suckling pig, is a must-try for any foodie. The meat is tender and juicy, with crispy skin that melts in your mouth. It is usually served with potatoes, and a glass of the region's famous wine, Ribera del Duero.
Morcilla de Burgos is a delicious sausage made from pig's blood, rice, onions, and spices. The texture is slightly crumbly, and the taste is rich and savory. It is often served as a tapa or as part of a larger meal and pairs well with a glass of Rioja.
Olla podrida is a traditional stew that has been enjoyed in the region for centuries. It is made with a variety of meats, such as beef, pork, and chorizo, as well as vegetables like beans and cabbage. The dish is simmered for hours, allowing the flavors to blend together and create a hearty and flavorful meal.
Hornazo is a pastry stuffed with pork loin, chorizo, and hard-boiled eggs, and is often enjoyed during the region's annual Easter celebrations. It can be eaten as a snack or as a light lunch, and pairs well with a glass of the local white wine, Rueda.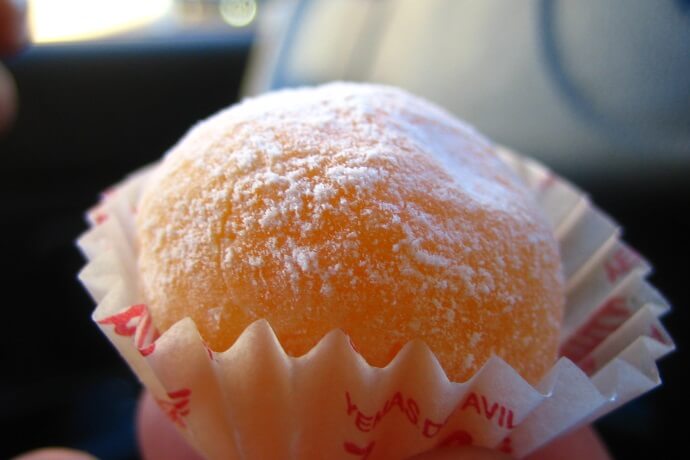 Yemas de Santa Teresa is a sweet treat that you cannot miss. These bite-sized confections are made from egg yolks, sugar, and almond paste, and are named after Saint Teresa of Ávila, a famous Spanish mystic who lived in the region. They are perfect for satisfying your sweet tooth and make a great souvenir to take home with you.
Need more reasons?
Did you know Castilla Y Léon was so rich and vibrant? We've explored this fascinating region through words, but nothing beats the sensation of being there, digging into places, and discovering its treasures in every corner. Come delve into this enchanting region for yourself!
---