If you are thinking on visiting Portugal, you are in for an avalanche of unique experiences. Landscapes with exceptional color palettes, incomparable flavors and scents that will certainly be imprinted on your memories of a fantastic time well spent. As much as photographs can evoke moments and settings, souvenirs are always a good way to bring a bit of a country home with you or even to share it with your loved ones and letting them be a part of your journey.

From the famous Port wine, cultivated, produced and bottled on the banks of the Douro River, to the popular Portuguese Ceramics in Alentejo and Algarve, or even Viana do Castelo's amazing jewelry or Alentejo's olive oil. There are many fantastic options to bring home with you, directly from the source and we hope the following list is a helpful inspiration.
WINE, SWEET WINE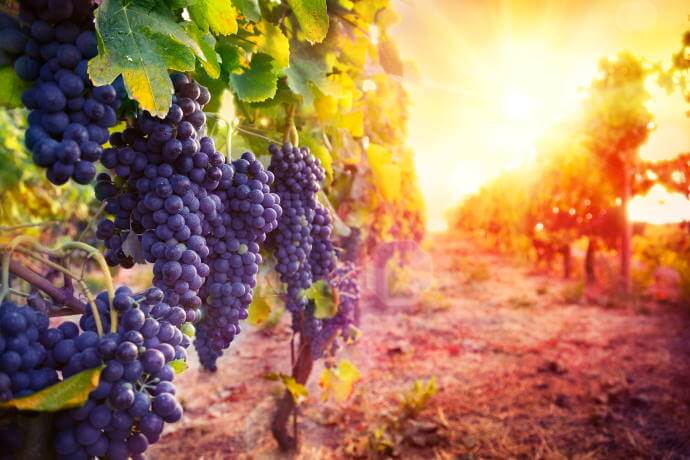 Portugal is well-known for its wine production, in which the most prominent is Port wine. A fortified liqueur wine, produced exclusively from grapes from the Douro Region, about 100 km from the city of Porto. Despite the first traces of vines in the region dating back 3,000 years, the first documented mention of Port wine dates back to 1675, when it was already sought after internationally.
In addition to the unique climate in which the grapes grow and develop, the fermentation of the grapes is not complete, being interrupted two or three days after the start, by the addition of neutral wine spirit with an alcohol content of around 77º. This combination makes Port wine very sweet, because the sugars of the grapes have not been completely transformed into alcohol, and stronger than a normal wine – around 20º of alcohol.
Port Wine, despite being produced with Douro grapes and stored in the immense cellars of Vila Nova de Gaia, owes its name to the city of Porto, from where it has been exported all over the world since the 17th century. In fact, nowadays, Pinhão and Régua are the areas with the highest production of Port Wine.
Another great experience would be visiting the Porto Wine Museum – World of Wine. This museum demonstrates all the influence that Port wine had on the city's history. It has archeological pieces, porcelain, furniture, textiles, glass and other objects on display such as paintings and engravings. Find all the explanations about the commercial activity related to this product, the wine region and even information on the evolution of the bottles.
On the other hand, if you ever visit the region of Alentejo, around the city of Évora, you will discover that wine production also extends to the south of Portugal. This family of wine differs from its northern counterpart, as it is owner of a more acidic palate, which turns it less sweet. Make sure to visit and to take a winery tour.
OLIVE OIL, THE BEST PARTNER FOR EVERY DISH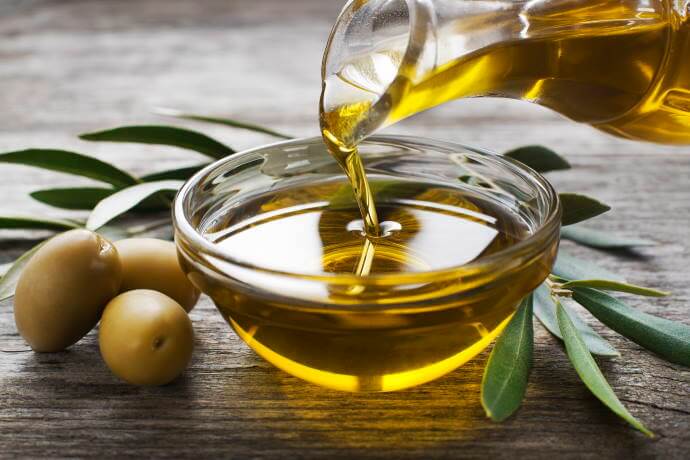 It is said that before the Roman and Visigoth times, olive oils from the North Alentejo would already be produced, remaining during the Arabic domination. In the Middle-Ages, olive oil occupied the first place in food seasoning.
The Portuguese word "azeite" comes from the Arabic word "az-zait" which means "olive juice". The Greeks, largely responsible for the spread of olive cultivation throughout Mediterranean Europe and the Romans, great enthusiasts and producers of olive oil, were prodigal in discovering its multiple uses. "Liquid gold", as it was called, became indispensable in the kitchen, as a lubricant for agricultural implements, fuel for lighting, medicine, ointment or balm, in perfumery, as a waterproofing agent for fabrics, etc.
In Alentejo, the cultivation of olive trees and the use of olive oil are also part of the region's history and economy. It soon began to be used as fuel for lighting, and as a "sacred oil" in convents, continuing also to be one of the main ingredients of Alentejo's cuisine.
If you ever visit Portugal, a good option for your travels would be visiting the villages of Monsaraz, Estremoz or Vila Viçosa in Alentejo. There you may be also in touch with the essence of olive oil and wine production. You can shop for olive oil and also visit wine cellars and, perhaps, enjoy a wine tasting session accompanied by local cheeses and smoked sausages.
The cultivation of olive trees and production of olive oil also takes place up north, in the Portuguese region of Trás-os-Montes. Different from Alentejo's olive oil, this a more balanced one, with the smell and taste of fresh fruit, sometimes almond-shaped, and with a remarkable sensation of sweet, green, bitter and spicy, some of the characteristics that make it different from other oils in the country.
When shopping for souvenirs in a liquid form, like the ones mentioned above, be aware that, when flying back, liquids carried in hand luggage (namely drinks) must be packed in individual containers with a maximum capacity of 100 ml and be transported inside a transparent plastic bag with a maximum capacity of 1 liter. Containers with liquids with a capacity of more than 100 ml must be carried in checked baggage. On the other hand, duty free liquids purchased at the airport or on board of the plane, can be carried in hand luggage. Make sure that the container is carried inside a tamper-proof bag (with red outline), together with the receipt. Passengers can only open the tamper-evident bag when they reach their final destination. However, this may have to be opened by security agents to be controlled. In this case, if you have a connecting flight at another airport, inform the security officer so that the liquids you are carrying can be placed back in a tamper-proof bag.
EATING ON A PAINTED PLATE TASTES HEALTHIER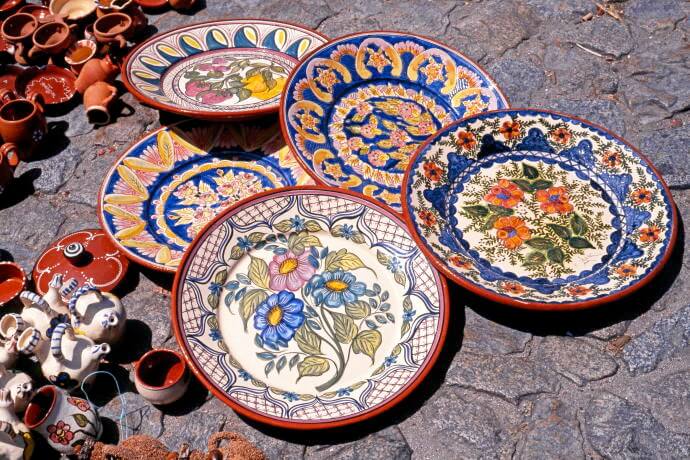 Since the Middle-Ages, Portuguese ceramics has been distinguished, but it was in the 18th century that the role of factories began to increase. These factories brought together masters capable of working and teaching the following generations, the arts of pottery, faience and tile, being able to produce larger quantities. From north to south of the country, ceramics gained proportional importance, being distinguished above all by the designs applied to it.
Two regions in Portugal are famous for the production of ceramics: Alentejo (São Pedro do Corval) and Algarve (Porches). The ceramics tradition in São Pedro do Corval dates back to prehistoric times, thanks to the existence of clay deposits with specific characteristics in this area of the Municipality of Reguengos de Monsaraz, which have always motivated this activity. Among pots, potters' wheels and ovens, unique traditional utilitarian pieces can be discovered, transporting us to ancient times when clay was shaped to the needs of the work fields and humble livings in Alentejo.
Currently, in São Pedro do Corval you are able to find true works of art, both in terms of form and decoration – ceramic painting – made with ancestral knowledge and an aesthetic typical of the region. Allied to the unique experience of being able to see the clay being shaped live, by the experienced hands of the master on his wheel and being able to share his knowledge and experiences. São Pedro do Corval is the largest pottery center in the country and one of the largest in the Iberian Peninsula.
Far to the south of Portugal, near the town of Lagoa, in Porches – Algarve, the Portuguese pottery industry also thrives with success. Porches Pottery proudly maintains this tradition, each item is hand crafted and hand painted, displaying intricate freehand patterns and floral designs. The pastel colors and subtle designs are inspired by farmhouse kitchens and Mediterranean gardens. Its plates and pots are decorated with revivalist designs of ancient Iberian forms and motifs. Here you will find tiles, crockery and other hand-painted decorative pieces that you can take home as a souvenir! Plus, on site, you can see how these potteries are made and painted.
WHAT A CORK?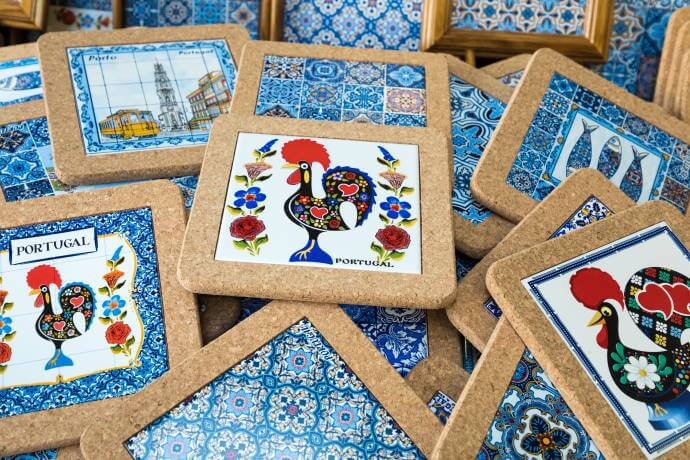 Derived from the cork oak and widely produced in the region of Algarve, the use of cork has been going on for thousands of years and, being a natural product, it has many applications in the modern world. It is the outermost layer of the bark of two different species of oak that grow in the Mediterranean and the Iberian region. The cork is extracted when the tree is 20 years old and then the material is extracted every 9 years. The average life span of an oak tree is 150 years.
The structure of cork has many empty cells, which makes it very light. Due to its low density, it floats on water and is an excellent material for damping and sound absorption. It is very resistant and flexible, so it is not easily affected by the external environment. Cork can be molded into any shape and is harvested in environmentally sustainable ways. All these features make it an incredible material.
This noble raw material is used for extended purposes such as floor coverings, thermal and acoustic insulation, the manufacture of musical instruments, as decorative items, footwear and so on.
Make sure you get to visit a cork factory in order to get to know more about the local handicraft tradition. The one in São Brás de Alportel, for instance, offers guided tours and creative workshops, where you can learn more about this emblematic industry and the importance of cork in the Portuguese market. You can follow the entire process of processing, from printing to the final product!
ROYAL VIBES OF PORTUGUESE FILIGREE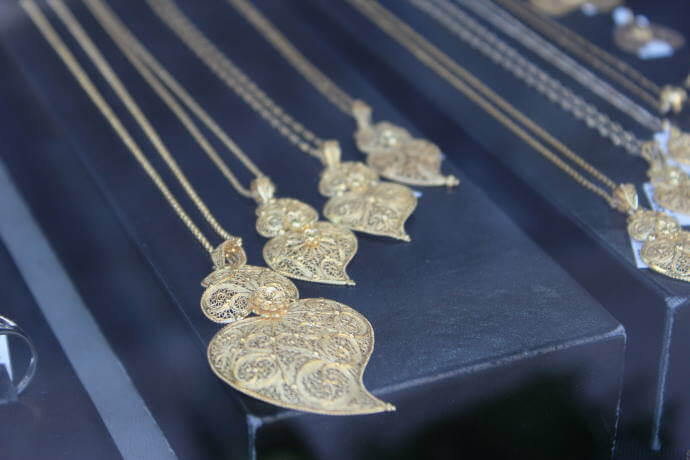 The way different thin threads draw patterns and are welded together to create a much larger piece, the unique art of filigree, with its distinct melting technique to join gold strands. Today - as thousands of years ago - the different threads that make up each piece are joined only by heat, without resorting to any other material or alloy.
Nowadays, in Portugal, filigree is mainly produced in the region of Viana do Castelo, but the oldest filigree pieces discovered in the Iberian Peninsula date back to 2000 - 2500 BC, with unclear origins. Only during the rule of the Romans, mining operations began to exist on the Peninsula - out of curiosity, it was during this period that mining began in the Pia and Banja mountains, in Gondomar.
It was only thousands of years later, in the 8th century AD that the filigree was being developed and produced in Portugal. It was with the arrival of Arab peoples that new patterns emerged and then, little by little, the filigree of the Peninsula began to differentiate itself from the filigree of other parts of the world.
The themes used to shape each piece of filigree jewelry have various meanings. The famous Heart of Viana, for example, it is known as a symbol of dedication and worship of the Sacred Heart of Jesus. It is also told that the Portuguese queen D. Maria I, who was grateful for being granted a male child, was the first to order a filigree piece shaped as a heart.
The filigree earrings became popular in the 19th century, as a symbol of wealth and status, after the queen D. Maria II wore a pair of these earrings on a visit to Viana do Castelo. It earned the name of "Queen Earrings". In other areas of Minho, it is still known as the "the queen's style earrings".
Once in Viana do Castelo, it's likely possible to find another famous industry, which is also responsible for maintaining Portuguese traditions alive - Viana's embroidery.
This fine craft's motifs are based on the flora and fauna of the region, as well as the daily life of the locals. Nowadays it's possible to find and afford, on site, towels, napkins, clothing, aprons, bread bags and so on. Some of these are made with "pearl" cotton and sometimes are sequined with beads.
If you ever visit Viana do Castelo, we recommend visiting the Municipal Museum, where you can learn more about the city's history. Be sure to buy something hand-made from a shop or market, perhaps an embroidered tablecloth or a piece of filigree jewelry.
REINVENTING SOAP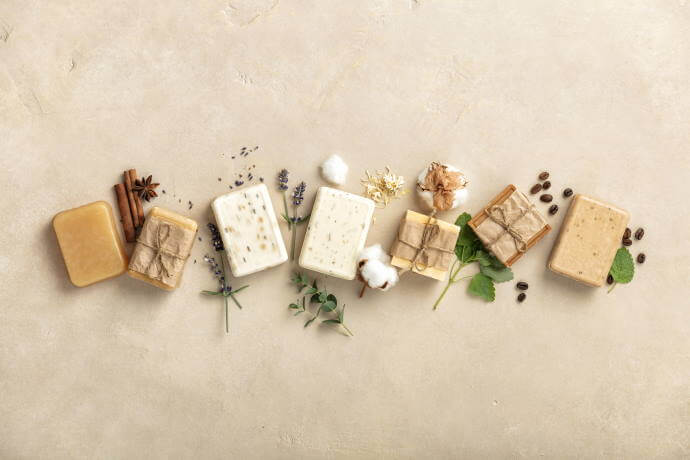 The handmade soap industry had a substantial development through the last years in Portugal, with small businesses starting all throughout the country. Some brands produce soaps, shampoos or toothpastes in solid versions and small batches, to maintain freshness, with organic ingredients in a zero-waste approach.
On the other hand, there are brands that use olive oil, punctuated with fragrant dried herbs such as lavender, rosemary or orange blossom. There are also brands that use 100% natural ingredients, with fully recyclable packaging and blends of essential oils, goat's milk or beeswax.
Soap businesses, especially handmade soap businesses are widespread from north to south of Portugal, for example: Porto (Castelbel), Braga (Confiança), Condeixa-a-Nova (Aromas da Villa) and also São João da Madeira (Alquimia da Pele).
This is just to name a few, since, as you notice on your visit to Portugal, there are plenty items that you can choose to take home with you. From different wine varieties, to strong beverages such as Ginjinha, mouth-watering cheeses and even the cherry of Fundão. All in all, be sure to take a little bit of Portugal with you on your return.
---