Spain, a country well-known for its rich culture, landscapes, and idyllic cities, is also a true paradise for food enthusiasts. Within this culinary wonderland, we chose three cities that stand out as the unrivaled culinary capitals of Spain: Madrid, Valencia, and Barcelona. Each of these grants unique gastronomic experiences, covered in tradition and a deep connection to the local customs.
Follow us on a savory adventure as we explore these cities and their respective typical delicacies. Join us through a variety of flavors, aromas, and traditional experiences that define these exceptional meals. This gastronomic expedition will leave you starving for more and forever enchanted by the delicious treasures of Spain.
Madrid. A Gastronomic Paradise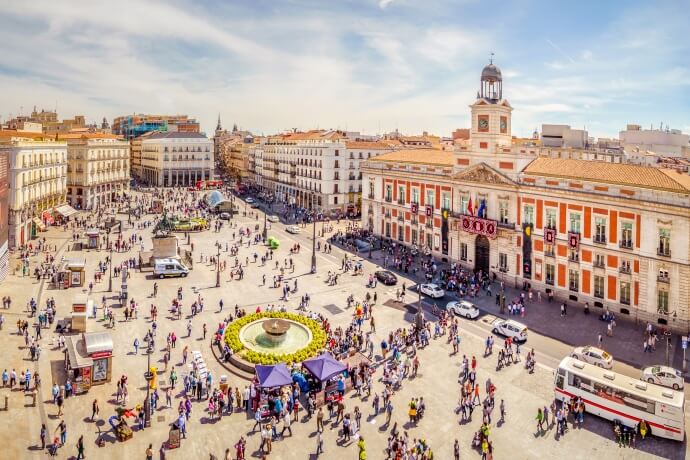 This fascinating city has firmly established itself as a gastronomic paradise, drawing food lovers from around the world to seek its diverse array of flavors. From traditional favorites to modern masterpieces, Madrid offers delightful travel for every palate.
A Sweet Indulgence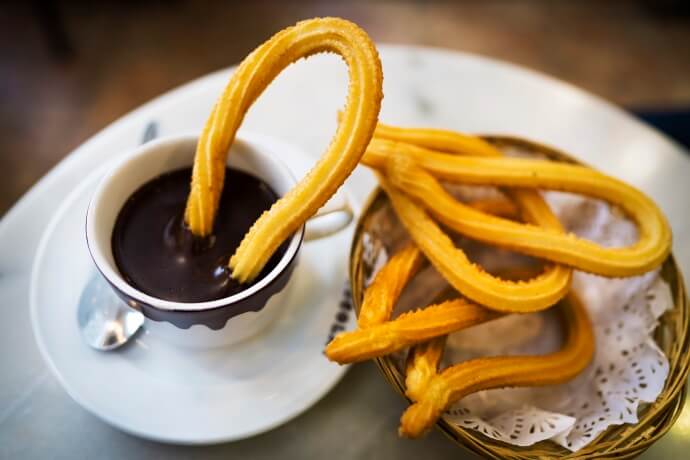 Let's start our appetizing exploration with a supreme treat, the Churros de Madrid. These golden, crispy pastries are deep-fried to perfection, creating a delightful contrast of textures. Served fresh and warm, they are often enjoyed for breakfast or as a mid-morning snack. Accompanied by a cup of thick, velvety hot chocolate, churros de Madrid offer a moment of pure indulgence. Whether enjoyed in the morning air or as a comforting treat, these churros have become an iconic symbol of the city, enticing locals and visitors alike with their irresistible allure.
A Hearty Delight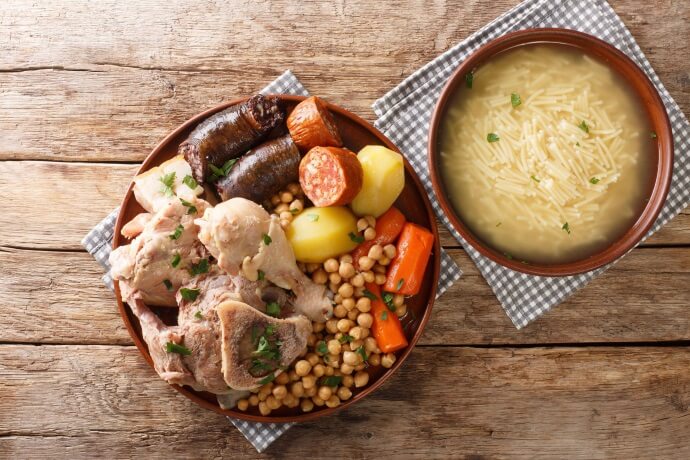 Cocido Madrileño, a traditional Spanish recipe hailing from the capital city of Madrid, is a nourishing and flavorful culinary masterpiece. Rooted in the region's rich gastronomic heritage, this comforting stew showcases the harmonious marriage of ingredients that have been simmered together for hours, resulting in a meal that warms both body and soul. At the heart of Cocido Madrileño is a medley of meats, including pork, beef, and cured sausages, such as chorizo and morcilla (blood sausage). These meats are simmered with an assortment of vegetables, such as potatoes, carrots, cabbage, and chickpeas, infusing the broth with their savory goodness. The slow cooking process allows the flavors to meld and intensify, creating a robust and satisfying dish.
Traditionally, Cocido Madrileño is provided in multiple courses. The broth, rich with the essence of the meats and vegetables, is enjoyed as a comforting soup to start. The meats and vegetables are then served as the main course, accompanied by crusty bread and a side of tangy "salsa verde" or spicy mustard for added zest.
A Bite-Sized Wonder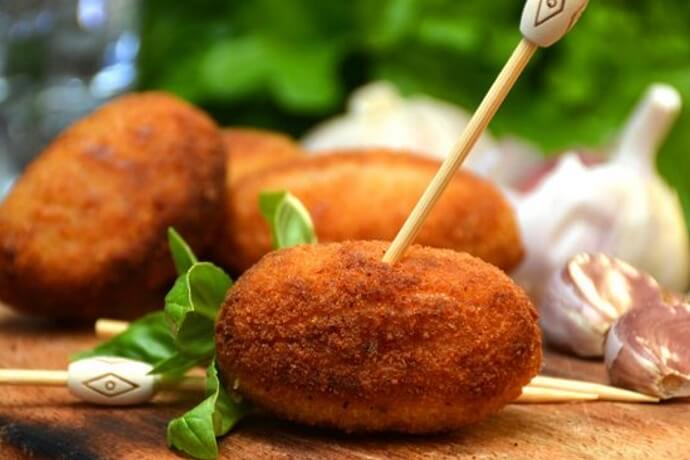 Croquetas de Madrid, or Madrid-style croquettes, are a delectable delight that has gained popularity not only in Madrid but also worldwide. These small, breaded, and deep-fried rolls are a staple in tapas bars and restaurants throughout the city.
Croquetas de Madrid are typically made with a creamy béchamel sauce that is mixed with various fillings. Some popular options include Serrano ham, chicken, codfish, or mushrooms, although countless other variations exist. The filling is then shaped into small cylindrical rolls, coated in breadcrumbs, and fried until golden and crispy.
What sets croquetas de Madrid apart is their incredibly smooth and velvety texture. The creamy béchamel filling melts in your mouth, while the crispy outer layer provides a delightful contrast. The flavors are rich and comforting, making them an irresistible treat for both locals and visitors.
The Perfect Tapas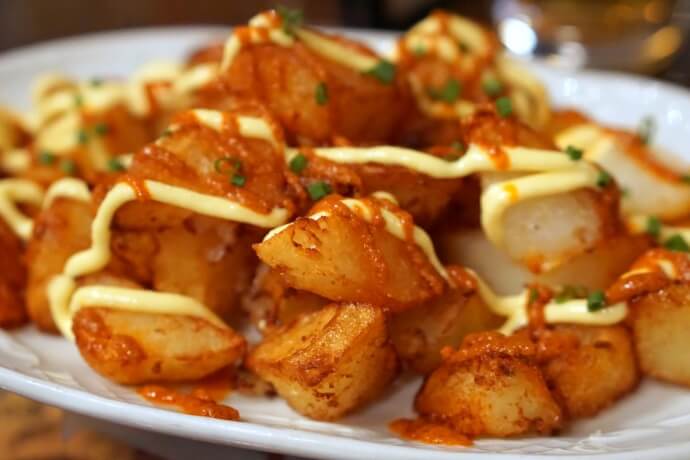 Now let's talk about the classical Patatas Bravas. This quintessential Spanish tapa combines perfectly fried pieces of potatoes with a tangy and spicy tomato-based sauce, known as "brava" sauce. The crunchy exterior of the potatoes gives way to a soft interior, while the sauce adds a punch of flavor that will awaken your senses. Often served with a side of aioli, Patatas Bravas are the ultimate crowd-pleaser.
After this, we can agree that Madrid truly offers a delicious adventure. Considering its traditional delicacies and innovative creations, the city is a gastronomic paradise that caters to every food lover's desires. Next up, our trip takes us to this gastronomic gem located along Spain's enchanting Mediterranean coast.
Valencia, Where Culinary Excellence Meets Mediterranean Magic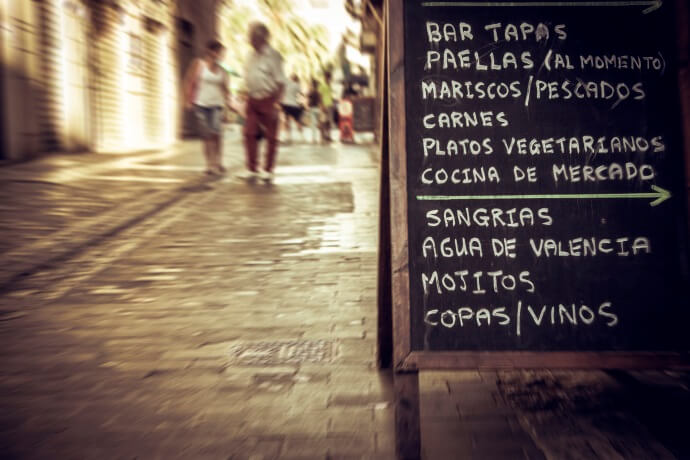 This spellbinding city is acclaimed for its stunning architecture and history but also for its culinary prowess. Valencia boasts a treasure trove of delicacies that will take you on a trip of pure bliss.
A Seafood Sensation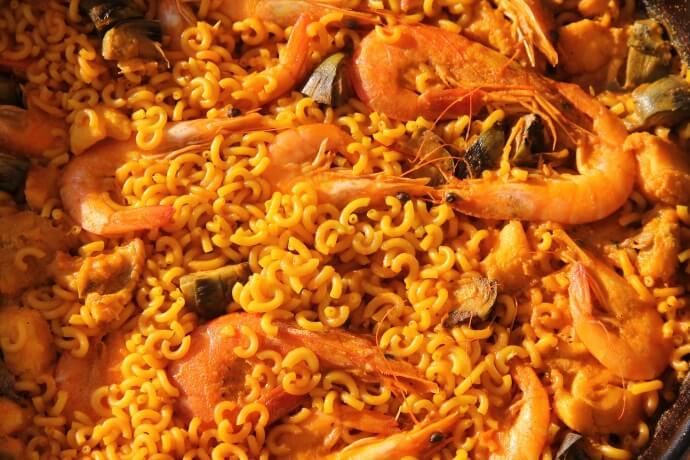 Fideuà, a recipe that originates from the coastal regions of Valencia and also Catalonia. It is often considered a variation of paella, using short noodles known as fideos, instead of rice. The recipe typically features a variety of seafood such as shrimp, mussels, clams, and squid, although some versions may include meat or vegetables. It is also made in a paella pan, allowing the noodles to evenly cook and absorb the flavors of the ingredients. The fideos are toasted in olive oil until they turn golden brown, then a flavorful broth, usually made from fish or shellfish, is added along with aromatic spices like saffron and paprika. The ingredients are simmered together until the noodles are tender and have absorbed the savory broth.
Usually, the finished fideuà is garnished with a squeeze of lemon juice and fresh parsley, enhancing its flavors. The noodles are typically crisp on the bottom, thanks to the toasting process while remaining soft and delicious throughout. The combination of the sea-scented broth, perfectly cooked noodles, and succulent seafood creates a truly satisfying meal.
A Time-Honored Classic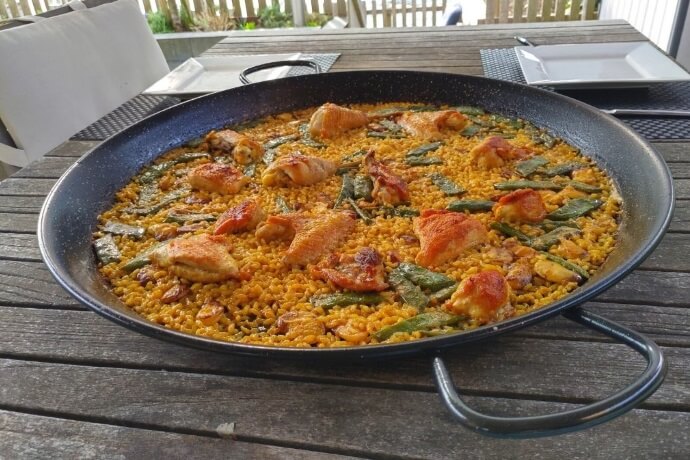 Paella is a renowned dish in Spain. In Valencia, differently from other Spanish regions, the paella often includes chicken, rabbit, green beans, white beans, tomatoes, and a variety of seasonings. Cooking a Paella Valenciana is an art that requires patience and precision. The rice is first sautéed with the meat and vegetables, allowing the flavors to meld together. Then, a flavorful broth, often made from simmering chicken and vegetables is added along with the saffron, which imparts a golden hue and distinct aroma. The dish is cooked slowly and steadily until the rice is tender and has absorbed all the flavors.
A paella is often enjoyed in large gatherings or family occasions, it is a communal meal that brings people together, as the pan is placed in the center of the table for everyone to share. The combination of tender meat, aromatic rice, and vegetables creates a harmonious blend of flavors that is both comforting and pleasant.
A Seafood Delicacy
Valencia's coastal location also offers an abundance of fresh seafood and one delicacy that stands out is the clóchinas. These petite mussels are harvested from the Mediterranean Sea and are served steamed or cooked in a variety of sauces, such as garlic, tomato, or white wine. Their tender texture and delicate briny flavor, paired with a glass of crisp local wine, is a combination that will transport you to Valencia's heavens.
The Culinary Wonderland of Barcelona



The gastronomic capital of Catalonia is intricately intertwined with the region's wealthy agriculture. Catalonia's fertile lands produce an abundance of high-quality ingredients, which form the foundation of the city's gastronomic treasures. From vineyards that yield exquisite wines to olive groves that bear golden fruit and farms that raise succulent meats and fresh produce, Barcelona's connection to big agriculture is the essence behind its dietary excellence.
A Sweet Symphony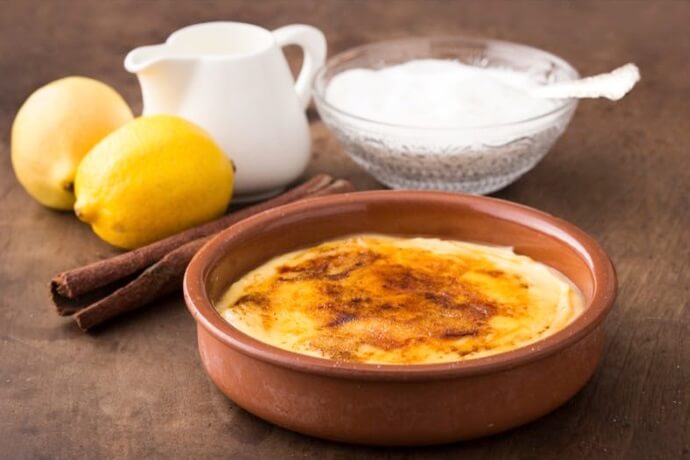 Crema Catalana is a deliciously creamy and indulgent dessert, with its smooth custard-like texture and caramelized sugar topping, it is a beloved treat that is often enjoyed after a hearty meal.
The base of the cream is a combination of milk, egg yolks, sugar and cornstarch, which are gently heated and continuously stirred until the mixture thickens to a custard consistency. The addition of lemon or orange zest adds a refreshing citrus note to the dessert, of course. Once the custard is prepared, it is poured into individual ceramic dishes and left to cool down.
The distinctive characteristic of Crema Catalana lies in its caramelized sugar crust. Just before serving, a generous layer of granulated sugar is sprinkled over the chilled custard. The sugar is then caramelized using a kitchen torch or placed under a broiler until it forms a delicate, crisp layer of golden caramel. The contrasting textures of the creamy custard and the brittle caramel create a delightful sensation on the palate. Crema Catalana is often served with a hint of cinnamon or a sprig of mint for garnish. It is a dessert that strikes the perfect balance between richness and lightness, making it a delightful finale to any meal.
A Rustic Pleasure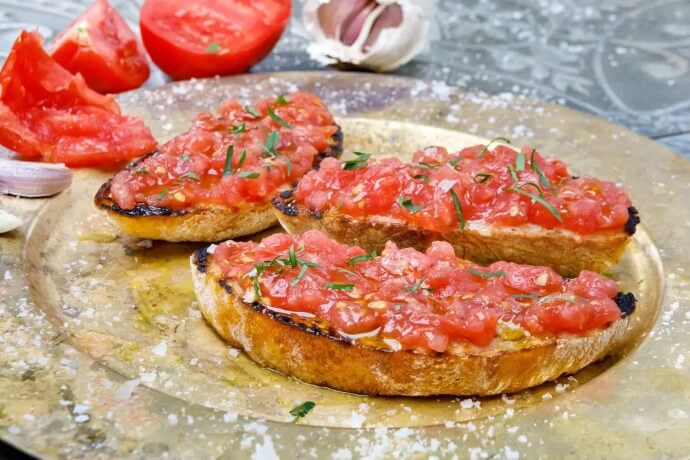 Pa amb tomaquet, also known as "pan con tomate" or tomato bread, is a traditional Catalan recipe that has become an integral part of Spanish cuisine. Simple yet full of flavor, pa amb tomaquet (as it is called in the Catalan language) consists of rustic bread, typically toasted or grilled, rubbed with ripe tomatoes, garlic, olive oil, and a sprinkle of salt. The process is straightforward but results in a deliciously aromatic and refreshing meal. The ripe tomatoes release their juices onto the bread, infusing it with their natural sweetness and a bit of acidity. The garlic adds a subtle pungency, while the olive oil enhances the richness and adds a silky texture.
This versatile recipe can be enjoyed in various ways. It can be served as a tapa, accompanied by cured meats, cheeses or marinated vegetables. Pa amb tomaquet can also be used as a base for sandwiches or as a side dish.
A Seafood Delight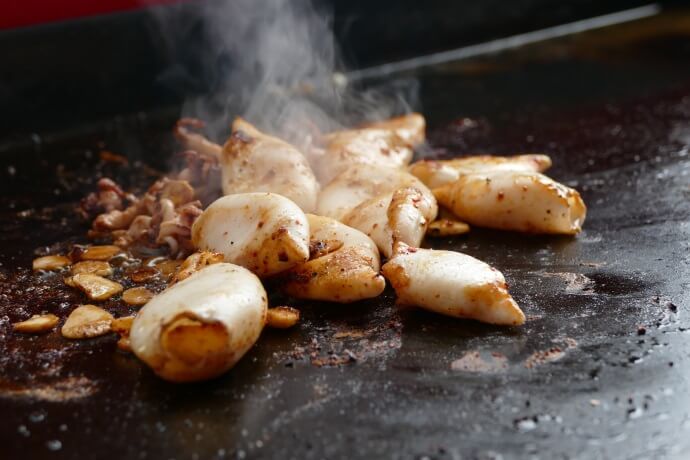 Barcelona's coastal location offers a treasure trove of delightful seafood and one delicacy that stands out is the Chipirones. These small and tender squid are a popular ingredient in Catalan cuisine. Often prepared by grilling or frying with a touch of garlic and parsley, Chipirones captivate with their delicate flavor and irresistible texture. Popularly served as a tapa or as part of a sumptuous seafood feast, these bite-sized wonders are really worth mentioning.
Barcelona beckons food enthusiasts with its array of delightfulness. From sweet to rustic, the city's distinctive offerings will catch your senses and leave an indelible mark on your palate.
Is your mouth watering?
Now that we find ourselves at the end of this adventure, we can surely see that these three cities offer a feast for the senses, each with its own unique gastronomic treasures and cultural experiences: Madrid, with its energy and rich history and the blend of old-world charm and modern innovation, create a melting pot of flavors. Barcelona captures the essence of Catalonia's agricultural heritage while embracing new edible frontiers. Valencia enchants its love affair with fresh seafood and a dedication to preserving traditions that have stood the test of time.
These culinary capitals beckon you to embark on an unforgettable journey. From bustling markets to intimate family-run restaurants, each city offers a remarkable variety of flavors, aromas, and appetizing experiences that will leave a life-changing mark on your soul.

---