If we were to put all the segments of the Spanish coastline together into one long stretch, it would come to a total of over 8,000Km (almost 5,000 miles) altogether! Spain boasts a breathtaking shoreline and stunning seascapes, with fresh fish and seafood, and colorful sceneries in every corner. Now that temperatures are rising and days are getting longer, spending a relaxing day at the beach is becoming more appealing. From urban settings to natural paradises featuring pristine beaches for you to chill and go for a refreshing swim or exciting places to do water sports – we will cover it all.
There is surely nothing like the European warm weather, so we listed 13 golden beaches across the Spanish coastline for you to start enjoying the sunny days the best way possible!



La Concha, San Sebastián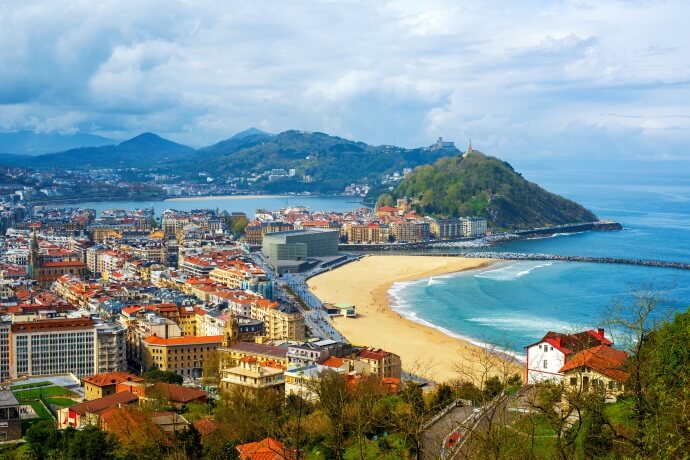 All your summer dreams come true at La Concha beach. Situated in San Sebastián and crowned by a beautiful cityscape, it is nothing short of magnificent. Ideal for a relaxing stroll along the coastline or even for a fun bicycle ride, it is sided by a stunning art déco railing from the beginning of the 20th century, and the promenade has become one of the landmarks of the city. This unspoiled piece of paradise on earth invites you to dive in with its refreshing salty water, with waves breaking gently against the shore and the sound of seagulls above your head. With arms wide open, this sun-kissed beach awaits your visit.
Tossa de Mar, Girona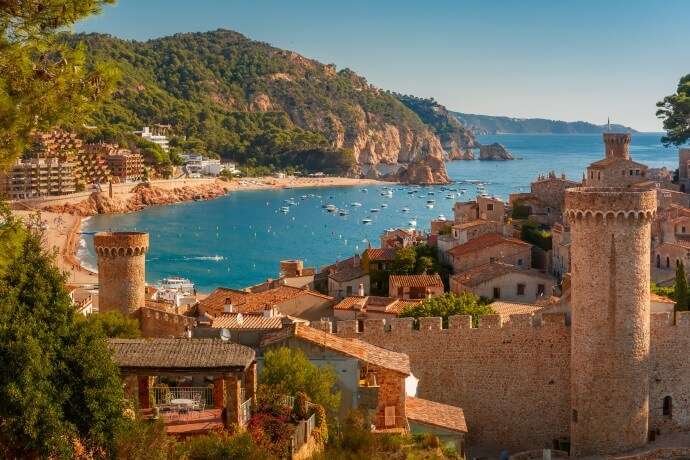 Tossa de Mar looks like a beach straight out of a fairytale. Its blue waters and atmosphere are utterly magical, but the city where it is sited, a picturesque medieval town with flowery streets and a castle overlooking the calm sea, makes it a total gem hidden in the Spanish coast of Costa Brava, in Girona. Perfect for sunbathing and relaxing by the invigorating sea, Tossa de Mar offers a stunning setting for you to enjoy the warm weather.
Burriana Beach, Nerja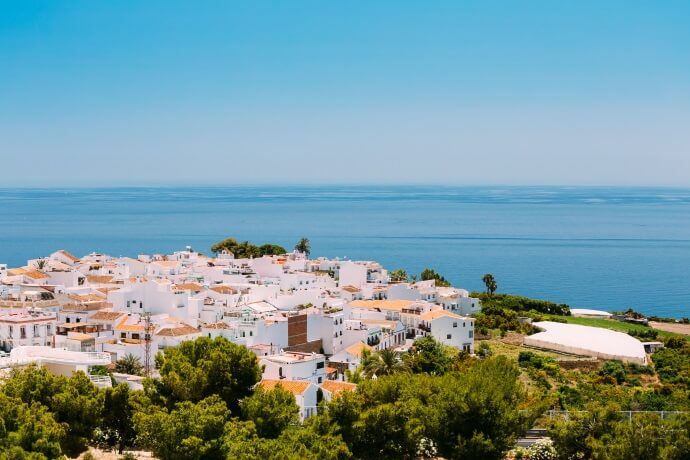 Nerja is a coastline Spanish town full of charm, picturesque architecture, a relaxing atmosphere, and amazing beaches, just like the Burriana beach. The little white houses, the fresh fish, and the vibrant culture make this a romantic setting where you can chill and simply enjoy the splendid rock formations ahead of you or, if you are feeling adventurous, you can go on boat trips across the turquoise blue waters.
Playa de Bolonia, Tarifa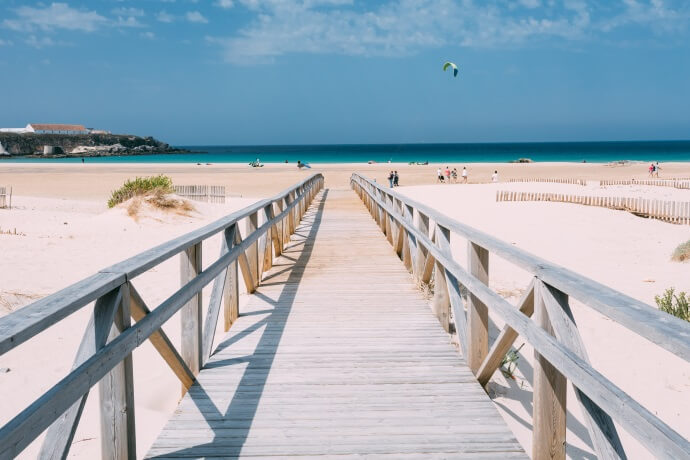 A stunning wild and unspoiled beach in Tarifa, the Playa de Bolonia is heaven on earth. It is considered to be one of the best beaches in Cadiz. It has calm and crystal-clear waters, great golden dunes, and fine white sand. Being a semi-virgin beach close to a rocky and green mountain, and some ancient Roman ruins, this beautiful beach is perfect to unwind away from the fuss of busy cities and villages, and simply enjoy the peace and silence around you, with the tranquil sound of waves crashing on the shore.
Playa de Rodas, Vigo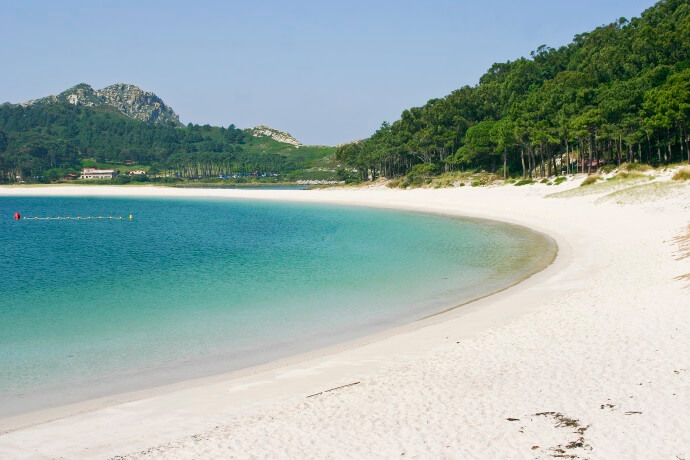 The Playa de Rodas, in Vigo, in Northern Spain, has got to be one of the most sublime places on earth. From its vast sands that look like golden seas to its sheer and untouched waters, this paradise has been awarded in the past as the best beach in the world by the British newspaper The Guardian, and it only takes you a quick visit there to see it was well-deserved. Fresh fish and seafood are top-notch here, which makes another good reason to visit this idyllic setting.
Playa de las Catedrales, Ribadeo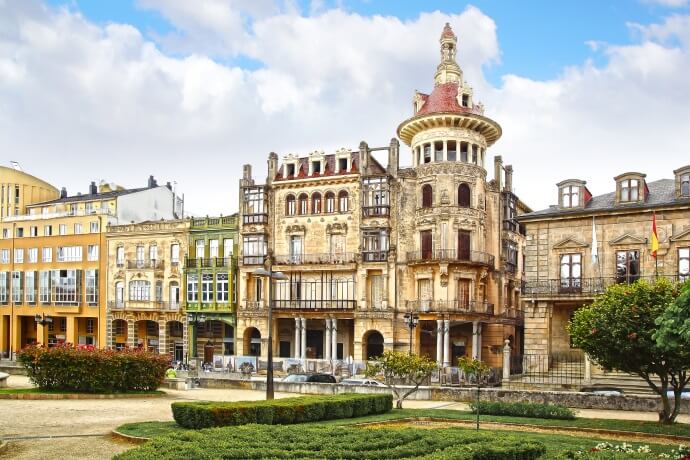 Ribadeo is a unique town with colorful and peculiar buildings inspired by the Indian style. But the postcard from Ribadeo is about its famous beach, the Playa de las Catedrales, a great example of the natural beauty of Spain. Here you can find rock formations carved by the waves and the wind, which resemble a cathedral – a complete masterpiece made by the sea. Permission is needed to visit the beach during the high season, so make sure to request it in advance. Also, check at what time the low tide is, so that you are able to see the incredible rock formations that make this beach so popular.
Playa del Silencio, Cudillero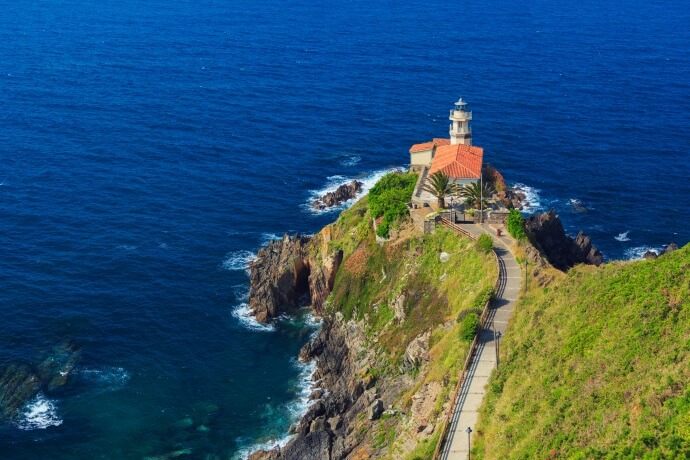 The Playa del Silencio, in Cudillero, is a wonderful cove backed by a natural, incredible rock amphitheater: all you have to do is spread out your towel and enjoy the Spanish sun. The golden virgin sand beaches, surrounded by green hills, the hidden caves, romantic bays, the many trails on top of the cliffs, and the paths that exist in the villages form an idyllic setting that attracts tourists from all over. An ideal destination for water sports enthusiasts. Further inland, a true natural paradise awaits you.
Playa de la Barrosa, Chiclana de la Frontera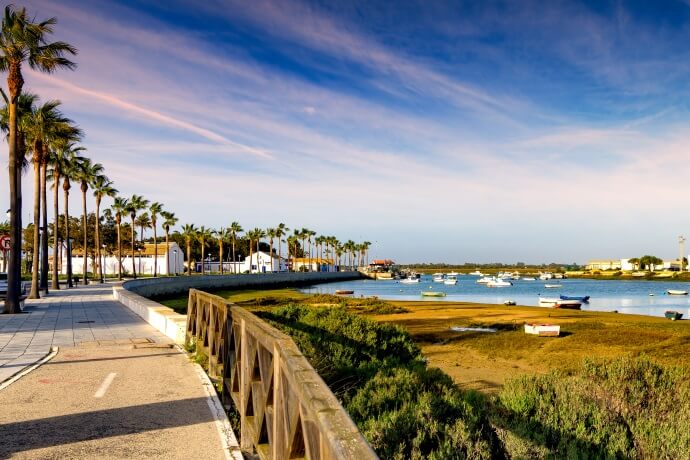 OLocated in Costa de la Luz and stretched for over 8 km is the lovely Playa de la Barrosa, where you can relax and sunbathe. The crystal-clear waters are perfect for swimming or doing other water sports, and there are bars and restaurants around where you can enjoy a refreshing drink or a delicious meal while taking soaking up the stunning views. To explore this splendid beach from a different perspective, you can visit the nearby 17th-century Sancti Petri Castle, which is located on a small island just off the coast, or go on boat tours and fishing trips.
Playa de la Magdalena, Santander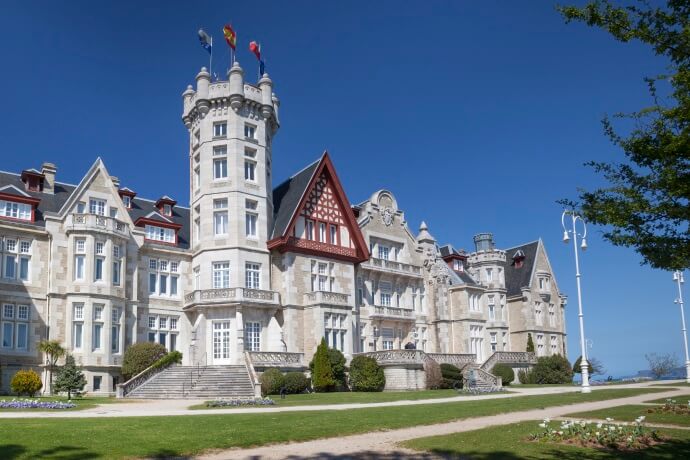 Located in Santander, Playa de la Magdalena is a popular tourist destination. With clear waters and golden sand, this beach is not only the perfect place to relax and soak up the sun, but it is also great for practicing water sports if you're feeling more adventurous. Home to the stunning Palacio de la Magdalena, a 20th-century royal palace, visitors may explore its beautiful gardens and lavish interior. There are also plenty of restaurants and cafes nearby which serve savory local cuisine, making this stunning beach the perfect spot for all tastes.
Playa de la Ballota, Llanes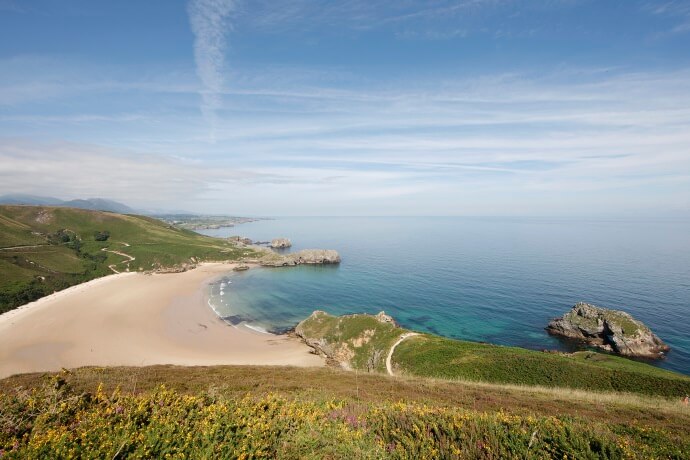 Located on the northern coast of Spain, Playa de la Ballota is a hidden gem waiting to be discovered. Boasting turquoise waters, soft golden sand, and beautiful green surroundings, this beach remains relatively unspoiled, making it an idyllic spot for those who seek a peaceful place to unwind. Here you can swim, sunbathe, and explore the nearby cliffs and rock formations, and you can walk through its one-of-a-kind natural rock arch when the tide is low. Passing through the arch as the waves crash against the rocks is just magical.
Puerto Banus, Marbella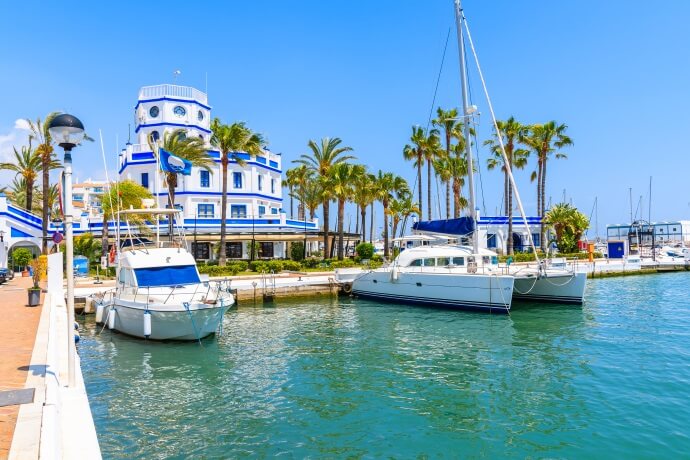 If you're looking for an glamorous getaway in Spain, then Puerto Banus in Marbella is your go-to. This glamorous port town, located on the Costa del Sol, is known for its high-end boutiques such as Versace and Gucci, top-tier restaurants serving everything from traditional Spanish cuisine to international dishes, and exclusive nightclubs. Puerto Banus' impressive marina hosts some of the most luxurious yachts in the world, which visitors can charter for a day trip to explore the Mediterranean Sea. Many of these establishments offer outdoor seating with beautiful views of the harbor, making it the perfect spot for a romantic dinner or a night out with friends.
Calella de Palafrugell, Palafrugell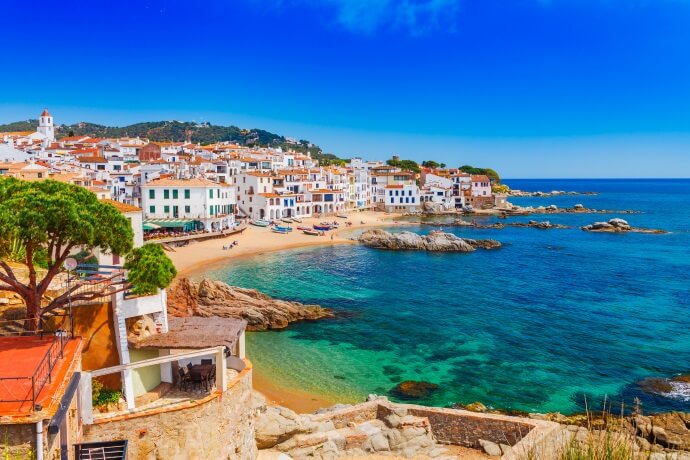 The charming Calella de Palafrugell is located in the picturesque village of Palafrugell, in the stretch of coastline in northeastern Spain known as the Costa Brava, exuding art and culture from every corner. Its whitewashed houses, narrow streets, and colorful fishing boats give it a rustic and authentic Mediterranean feel, and the village's tranquil atmosphere is just perfect if you are looking to escape the hustle and bustle of the city. You can also hike along the famous Camino de Ronda, a gorgeous coastal path that connects the town's different beaches and coves, offering stunning views over the Mediterranean Sea.
Cala del Pi, Platja d'Aro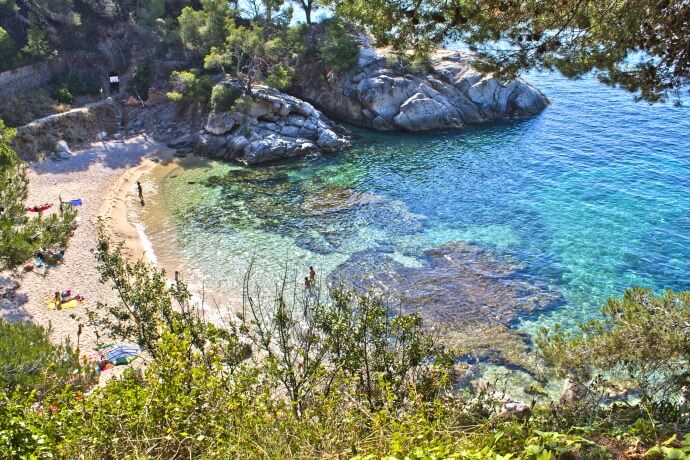 Cala del Pi is a lovely beach located in the coastal town of Platja d'Aro, and it is a true gem of the Costa Brava. Set in a small cove and surrounded by tall pine trees and lush vegetation, this peaceful spot featuring gentle clear waters and fine sand is the perfect place to both relax and soak up the sun or go adventurous if you feel like it, as there are plenty of water sports available. There are also many restaurants and bars close by, serving fresh seafood and refreshing drinks. Just a short walk from the town center, making it a popular spot for both tourists and locals alike.
Sun's out!
These 13 pieces of heaven on earth give you a glimpse into the magnificent and vibrant coastline of Spain. The variety of landscapes, the turquoise waters, and the warm sand blend perfectly, whether to a setting of a local picturesque town or to the wild beauty that characterizes some of the most well-hidden gems of the Spanish seashore. And the delicious seafood and fresh fish are just the cherry on top. Now that you know what paradises await you, what are you waiting for? Sun's out! Grab your towel and sunscreen and enjoy the Spanish sun-kissed beaches.
---