From North to South, Portugal is a country rich in vibrant and captivating locations waiting to be explored. These destinations are commonly off most tourists' radars. However, they are true Portuguese hidden gems that would make a perfect detour from the highlights, such as Lisbon, Porto and the Algarve.
Embark on a journey across Europe's westernmost country and its most underrated places that will amaze you with their beauty and make the perfect addition to your trip to Portugal!
Câmara de Lobos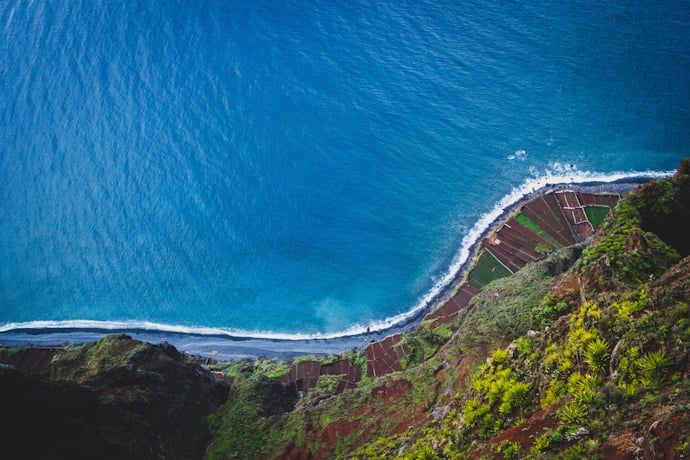 Concealed in the wonders of Madeira is a city and county called Câmara de Lobos. It is located on the island's southern coast, having been, according to History, the archipelago's first location to have been found in the Discoveries by João Gonçalves Zarco. Some of the sites to visit that date back to this period are the 15th-century Nossa Senhora da Conceição Chapel and the São Bernardino Convent.
This pearl of the Atlantic is mostly known for the iconic landmark Cabo Girão. With over 500 metres of altitude, this promontory (a point of high land) is one of the highest in Europe! As a visitor, you can experience its magnificence in the skywalk, a unique viewpoint that will grant you a scenery to remember.
To expand your palate on the mouth-watering foods of Madeira Island, you must try the bolo do caco. A famous type of bread that comes specifically from this region. You will find it to be a flat, circular bread with a particular taste that stems from its cooking process in a hot stone. Crispy on the outside and soft on the inside, bolo do caco is delicious on its own or accompanied by your favourite toppings, namely butter and, yes, meat!
Tavira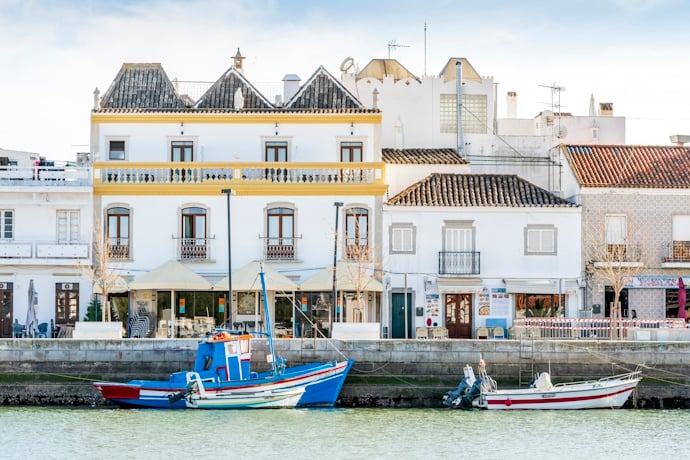 Now, let us travel all the way to Continental Portugal and its Mediterranean South. Tavira is a quaint, peaceful village hidden in the hustle and bustle of the summery Algarve. This town, about 60km from Albufeira, will seduce you with its charm and secrets to unveil.
Tavira's main feature, which immediately stands out, is its architecture, deeply rooted in an Arabic heritage. Most houses' roofs are hipped or "scissor" truss, giving the village's skyline a unique look. Adding to this charm is the Gilão River, splitting Tavira into two opposite banks. Walking along it is the ideal way to get to know this destination and take in its singular atmosphere. On your way, you will also find bridges, one of them dating back to the 17th century, with a walled parapet structure that allows you to overlook the city.
For a livelier setting, Jardim do Coreto is a charming location where you can observe the locals' lifestyle up close while savouring a delicious ice cream or sipping on a refreshing drink after dinner. Here you can find Mercado da Ribeira as well, a building that served as a market from the late 19th century to the late 1900s. Today, it functions as a cultural and commercial hub!
This Portuguese town is also known for the lace-making and pottery handcraft industry, which you can take with you as a souvenir. All you have to do is meander the village's streets and keep an eye out for the local shops!


Marvão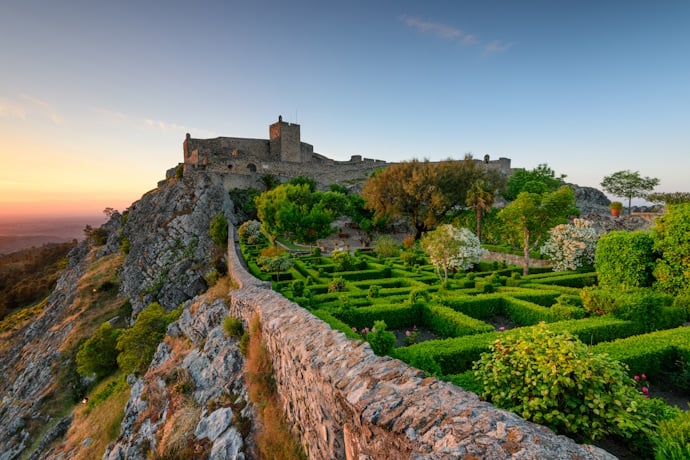 This historical village is located in the district of Portalegre, atop Serra do Sapoio in the beautiful Natural Park of Serra de S. Mamede. Standing in this Portuguese gem will give you the feeling that you are so high you can almost touch the clouds and observe the birds' most intricate details. Especially, if you are visiting the town's most popular attraction, Marvão Castle, a mesmerizing mediaeval construction that offers a memorable view.
Across the narrow streets and cobble-stoned pavement, you will find the true charm of Marvão. The Senhora da Estrela Convent and Santiago churches are an obligatory stop. Such sites allow you to take in the history and culture of this Portuguese village where the gothic windows and Manueline architecture heighten the town's charm.
If you are particularly interested in having a glimpse of both Portuguese and Spanish cultures, Marvão is the perfect detour from a trip to Spain too. Only a little over 100km from Cáceres, a city part of the "Silver Path" to Santiago de Compostela, Marvão is the perfect starting or ending point to an amazing holiday exploring the Iberian Peninsula.
Monsanto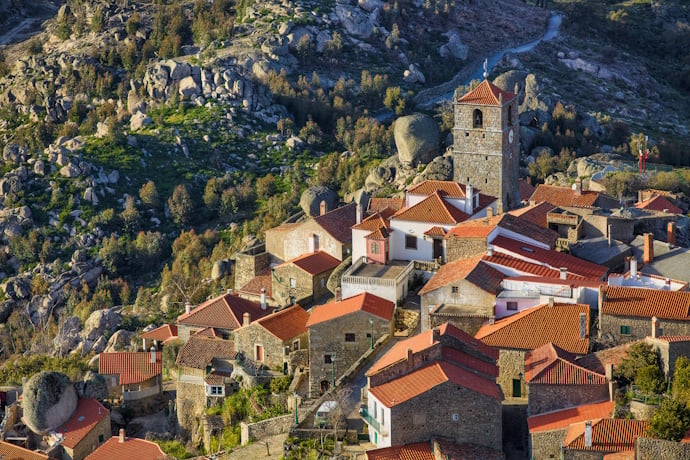 You might have watched it on "The House of the Dragon" or seen it in a documentary for its unique landscape. The truth is Monsanto is a wonder and an underrated place, all at the same time. In 1938, it received recognition as the most Portuguese village in Portugal. This is a peculiar destination, which grants a different perspective on the country's landscape.
Monsanto, located in the municipality of Idanha-a-Nova near Guarda, lies on a hilltop overlooking the Portuguese countryside. Its most striking features are the granite houses and large boulders scattered across town, conferring a unique landscape.
This destination is like living a mediaeval fantasy, per se, stepping into a place that has changed little to nothing to preserve its heritage, culture and history. To start your journey travelling back in time, you must visit Monsanto Castle. It was built in 1239 and belonged to the renowned Order of the Knights Templar.
To take in the singular atmosphere of Monsanto, you must take in the village's cobblestoned streets and observe the Portuguese countryside lifestyle up close. This way, you will be able to immerse yourself in the country's traditions and habits.


Amarante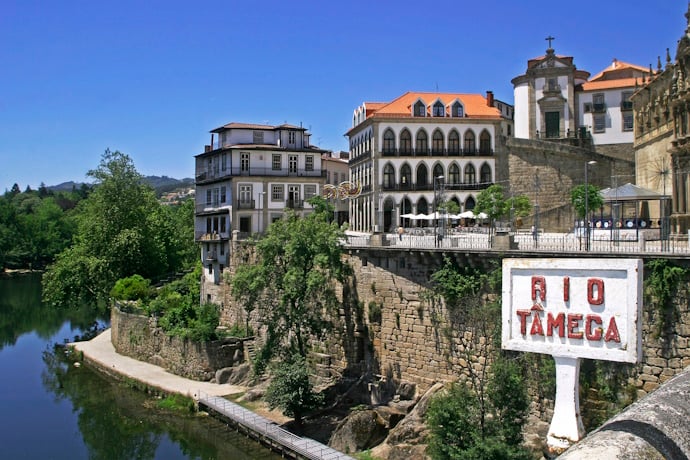 Less than one hour from Porto is Amarante, a small town in the north of Portugal. Graced by the beauty of Rio Tâmega, this town is adorned by century-old mansions and wooden balconies, which give it a romantic atmosphere.
According to historians, Amarante was probably founded during the Roman Empire under the name of Amarantus. In the 13th century, the town experienced the influence of a Benedictine monk, S. Gonçalo, who today is celebrated in the festivities in the first week of June.
To have a more concrete look at this location's history, the Amarante Bridge is a good starting point. This structure symbolizes this population's resistance to the Napoleonic forces during the French invasion at the beginning of the 1800s.
Amarante is also known for its natural beauty, which lies in the imperious Serra do Marão. This is the seventh highest elevation in Continental Portugal, with diverse fauna and flora to mesmerize any beholding eye. Take in the silence and let yourself be moved by a unique communion with nature, where silence and contemplation await you!


Braga
This next location is the ideal stop for a tour in the scenic Douro Valley Region. With over 2000 years of history, Braga is considered the oldest Portuguese city. In this region lived Celtic communities known as "Brácaros". Since then, this city in the north of Portugal has witnessed the ruling of Roman Emperors, Portuguese monarchs and a republic.
Braga's history is very much present in its architecture. Santuário do Bom Jesus do Monte is one of this destination's most iconic landmarks. Its construction started in 1882, authored by Carlos Amarante. This monument presents a neoclassical, Italian-inspired style that counts with 17 flights of stairs that lead to a sober temple with paintings by Pedro Alexandrino.
In the town's narrow streets and historical centre, you can find more religious monuments, such as Baroque churches, which make up Braga's charm. Along the way, you will find the Sé de Braga, one of Portugal's oldest cathedrals. It is believed to be at least 1000 years old.
For a lively atmosphere, Jardim de Santa Bárbara is great to enjoy an afternoon stroll. Combining the rules of geometry and colour with flowers and vegetation creates a beautifully harmonious environment! Fun fact, scattered around Jardim de Santa Bárbara are key landmark structures that once belonged to the former Convento dos Remédios, namely a 17th-century fountain.


Viana do Castelo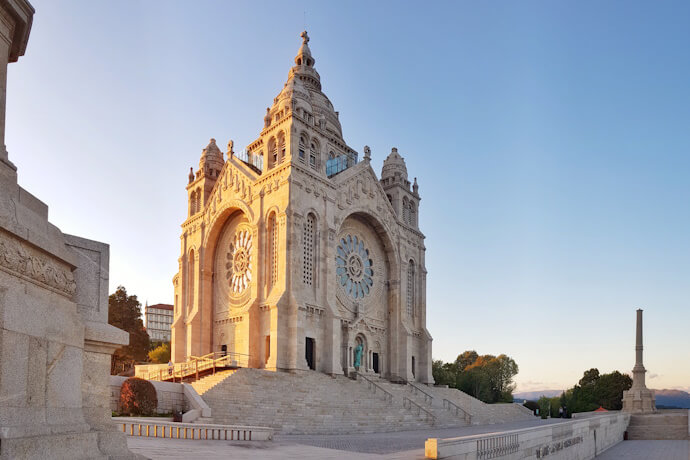 The Discoveries and the Sea are two words that summarize the last city in our journey through Portugal's most underrated places. Viana do Castelo is a town planted by the Atlantic Ocean, that is equally close to the North of Spain and Vigo.
For those who like to be out and about, this coastal city does not disappoint. The Praia do Norte and Praia Cabedelo have walking paths, perfect for a walk along the sea. These are easily accessible from Viana's historical centre.
Apart from its deep connection with the sea, Viana is also known for its iconic jewellery, the Coração de Viana. This is a heart-shaped, handmade piece of jewellery, which started in the 18th century as a cult of Jesus' Sacred Heart. Since then, it has become part of the town and country's emotional and cultural heritage.
The highlight of Viana do Castelo is the beautiful Sanctuary of Santa Luzia, located on the top of the hill of Santa Luzia, from where you can appreciate unique views, which reconcile the sea, the river Lima with its valley, and the entire surrounding mountain complex. Some other sites to see are the República Square in the historical centre, Paços do Concelho and the Sé, a religious monument from the 1400s. The best way to experience the splendour of Viana do Castelo's architecture is to stroll along the streets, taking in every bit of the Portuguese way of life!
---