December 31st – as the end of the night approaches, many preparations are being made around the world. It is a time to celebrate the beginning of the new year and the 365 days ahead filled with new opportunities. We all hope the new year brings the best, but we do not excuse to give a little help with some rituals and superstitions. Eating grapes, toast with sparkling wine or wearing new colourful underwear are some of the traditions shared both in Portugal and Spain, but they have many other traditions. Come along and discover with us how Portuguese and Spaniards celebrate New Year's Eve!
PORTUGAL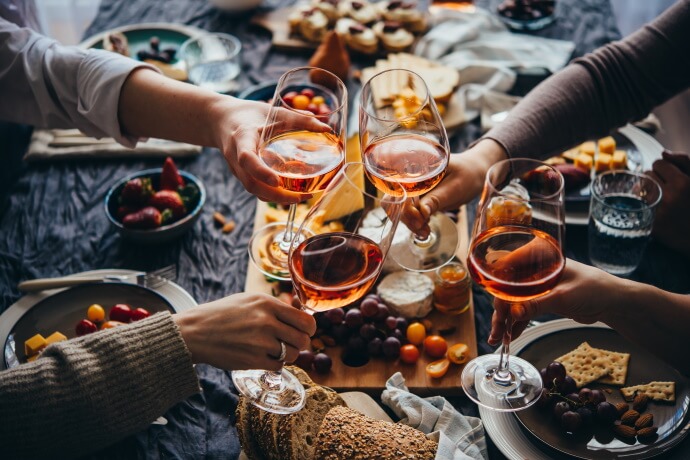 Portuguese people love to gather around a table with family and friends, for eating, drinking and to spend a good time together. All occasions are good excuses, and New Year's Eve is no exception. There are many parties everywhere, either at home or in restaurants, hotels, and nightclubs. People start booking these events at the beginning of December, to assure a place in the most popular ones. Even if the parties are at home, people will dress up, and have a table filled with good food and drinks. Also, many cities provide outdoor celebrations, with music concerts, culminating in a fireworks show. Besides the celebratory atmosphere, the moment the clocks strikes midnight, the tradition demands a bunch of several recommendations to assure the New Year will bring happiness and prosperity.
Make some noise
Dating back to ancient pagan rituals, it is believed that making too much noise purifies the atmosphere and chases away the evil spirits of the previous year. All over Portugal, people beat pots and pans to make as much noise as possible. There are also those who do it with drums, whistles, and horns. Associated with this tradition is also the act of throwing away old things kept at home. In the 50s and 60s, in Lisbon, people threw their old dishes and pots through the windows, which turned out to be prohibited, because of the chaos that was generated in the streets.
Fireworks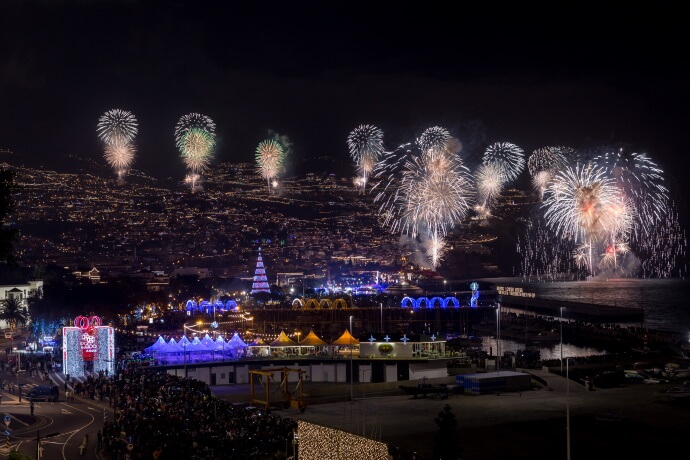 It's the most famous way to celebrate the New Year all over the world and Portugal is no exception, with shows happening in dozens of cities all over the country. The most famous one is in Funchal, on Madeira Island, recognized in 2006, by the Guinness World Records, as the biggest fireworks show in the world. This pyrotechnic show of about 8 minutes spreads along the natural amphitheatre that characterizes the landscape of Funchal, turning it into a magical and unforgettable moment.
Climb a chair with your right foot
GBe sure to not fall when doing this tradition: climbing a chair or something high with your right foot is associated with good luck. And as you enter the new year, jump off the chair also with the right foot - It's better to not drink too much alcohol before this.
Eat 12 raisins at midnight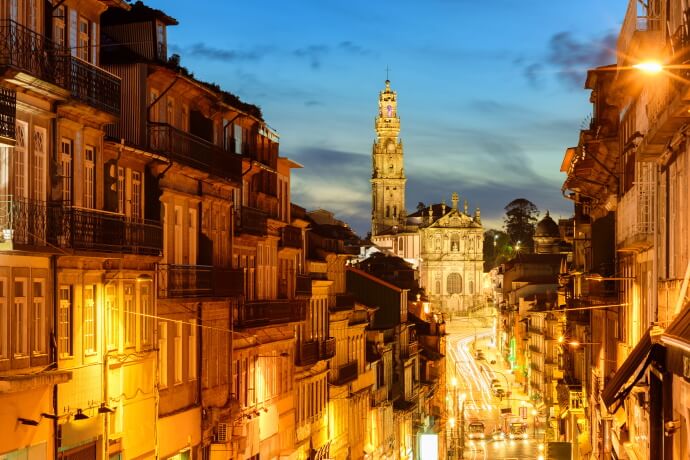 It is probably the most rooted New Year's Eve tradition in Portugal, although many people don't like raisins. The idea is to eat 12 raisins - a raisin at each stroke of the clock - while making 12 wishes for the year ahead. This ritual was imported from Spain, although the Spaniards eat fresh grapes. It's believed to be because at the time it was not possible to preserve Portuguese fresh grapes until the end of December.
Money inside the shoes
Superstition says if you want to have money all year, you should put some in your shoe on New Year's Eve. This idea arises from an eastern belief that energy enters the body through the feet. However, some people believe it's enough to hold it in your hand or have it in your pocket as midnight strikes – this tradition is also an adaptation from a 19th-century idea, according to which whoever saw a Cuckoo bird and found money in their pocket would have a year of wealth. Some also believe they should use that money to pay for the first shopping of the year.
Toast with sparkling wine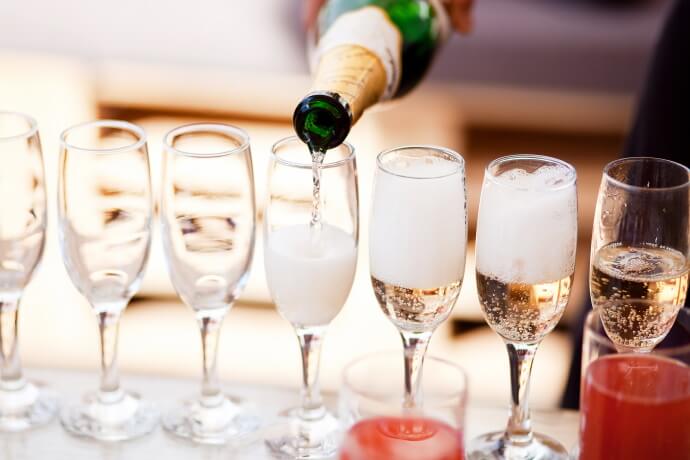 There is a belief that toasting with sparkling wine (or champagne) brings vitality and health. To keep the good energies along the new year, one should keep the bottle cork until the following year. So, don't forget the raisins on one hand and the flute with champagne on the other as you toast to a happy new year!
Blue underwear
It is believed that the colour blue is a synonym of luck and harmony and there is a tradition to wear blue panties on New Year's Eve. Just after Christmas, people will run into shops to buy them, because they must be blue, but also new! Nowadays, some Portuguese wear new underwear in different colours, according to the meaning of each: red for love, white for peace and tranquillity, yellow for wealth and green for hope.
A dip in the sea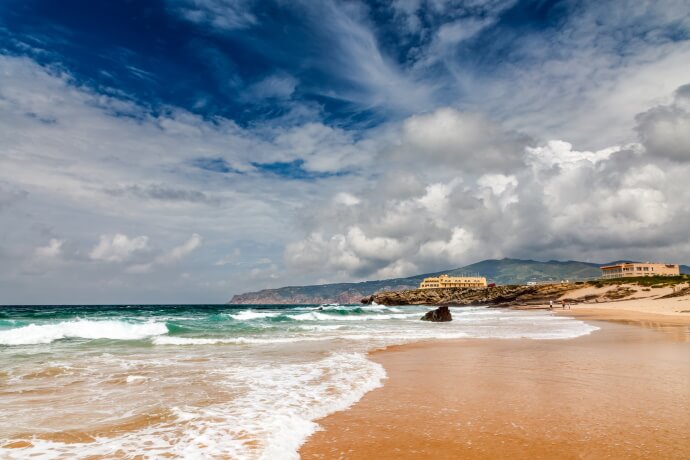 It may be winter in Portugal, but for many that is no excuse to dismiss a dip in the cold Atlantic on the morning of January 1st. It is believed to have purifying powers and to give health and a good mood. Groups of people join in beaches in Cascais, Porto and Faial, on the Azores, for this ritual.
Sing the Janeiras
The New Year's traditions continue at least until the Day of the Wise Men, on January 6th. The singing of the Janeiras consists of groups of people singing Christmas carols and wishing happy new year, from door to door. Inherited from pagan cults, this ritual is being lost in the big cities, but still happens in villages all over the country.
SPAIN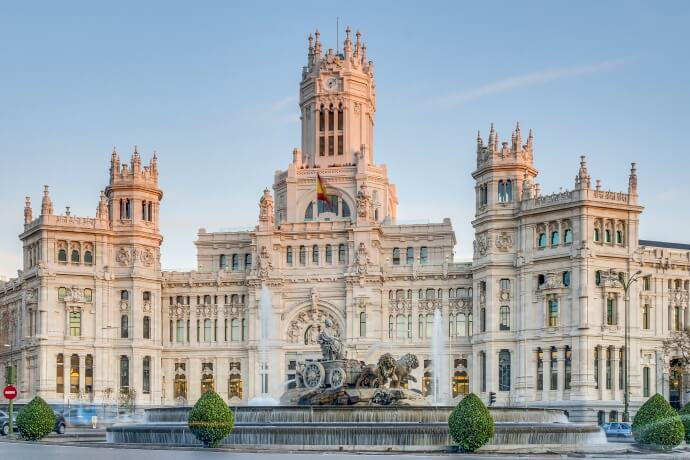 Known as joyful and fun people, Spaniards do not miss a good opportunity for a party. On New Year's Eve, or Nochevieja in Spanish, they meet with family and friends at parties at home or gather in the streets, in squares and emblematic places of the locality, to celebrate the passage of the year in the community. To keep up the spirit, people wear costumes, colourful masks, wigs, hats, and other fun accessories. The Puerta del Sol, in Madrid, is the main place to party and its clock marks the twelve chimes broadcasted on Tv for all the country. This is also accompanied by many superstitions to attract love and happiness for the year ahead.
Red underwear
Like in the Portuguese tradition, the Spaniards also have the superstition to wear underwear in a special colour for New Year's Eve: in this case it's red. Associated with passion and love, it's recommended in panties or bras, in order to attract true love and romance for the year. In some regions, this only works if the underwear was a gift.
It is believed that this tradition comes from the Middle Ages and was related to witchcraft. Its prohibition ended up encouraging its use and today is almost obligatory. However, nowadays, some people prefer to wear the red colour on a small bow on the wrist.
Open the windows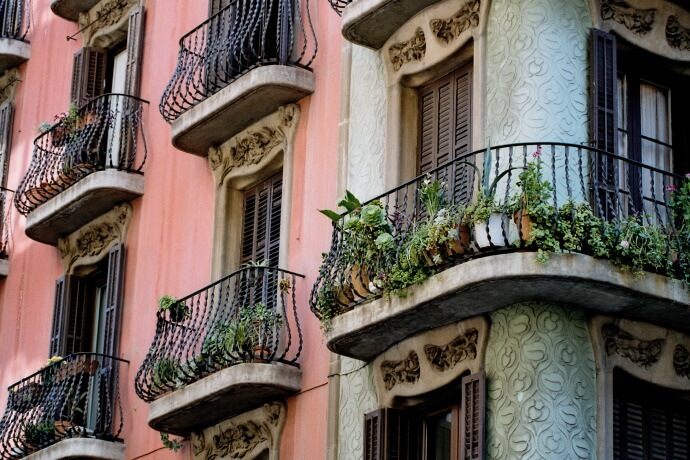 This ritual is more common in southern Spain, as the weather is not so cold. The opening of the house windows symbolizes the movement of energies, leaving the negative energies of the previous year out and letting in the positive energies of the coming year.
12 grapes
As the clock strikes midnight, Spaniards fill their mouths with 12 grapes, one for each campanada or bell ringing. This ritual began in 1880, when the upper classes started to imitate the French bourgeoisie. However, it was in 1909 that this tradition expanded to the people, due to a "marketing campaign" created by grape producers, who due to an excess of production, claimed that their consumption on New Year's Eve ensured good luck for the following 365 days.
Toast with Cava and gold
Cava is a sparkling wine produced in Catalunya and its present in every table on the Nochevieja for a toast at midnight - Even though the toasts start a lot early! Some people put the twelve grapes in a glass of cava or champagne before eating them; another tradition is to put a gold jewel inside the glass to attract wealth and prosperity. Among married couples, it is also a tradition to put the wedding rings inside the glass to assure love and stability for another year. Just be aware to not swallow the jewels when drinking the Cava!
Eat lentils
Lentils are believed to symbolize money, with each lentil representing a coin. In a ritual imported from Italy, the Spaniards believe that eating lentils after New Year's Eve will bring wealth for the year ahead. In some places, a plate of lentils is placed on the table after midnight, and each person should eat a spoonful. In other regions, lentil soup is a must for New Year's lunch.
Churros and chocolate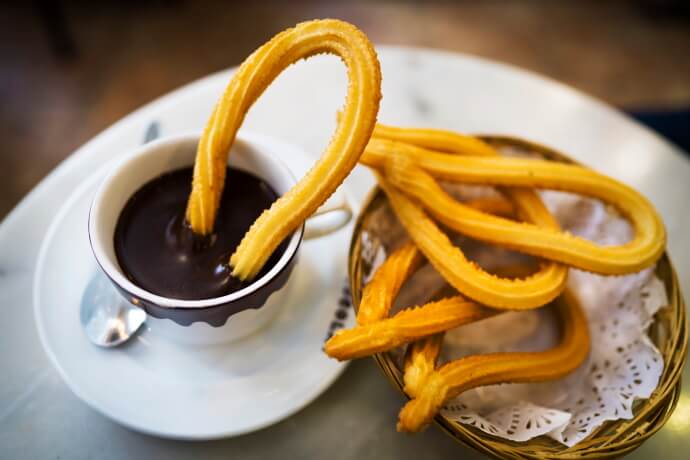 This is a tradition all over Spain: after partying all night long, the Spaniards love to eat a good and traditional Spanish breakfast: churros con chocolate. This classic Spanish sweet snack is made from a choux pastry style mix, piped with a star-shaped nozzle into long straight or curled fingers, fried in oil and coated in a mix of sugar and cinnamon. It is a good way to start the new year!
--
Whether you are in Portugal or Spain for New Year's Eve, keep in mind that some of these rituals and superstitions are a just way to make this special night even more magical and amazing. Deep down, the purpose is to have fun and hope that the new year will bring joy and happiness!
---