If you are a foodie and eating well is one of your top travel concerns, then your days of searching for the ideal destination are over. When travelling to Portugal, you will come across a unique food culture, world-famous for being pretty much beyond compare! You can either indulge in succulent meat dishes or go for a seafood feast. Either way, it is very clear that Portugal knows how to take advantage of its geographical location and climate. There is a wide range of recipes that usually include meats such as pork, beef or chicken, or fish and seafood such as octopus or prawns. Vegetables are also very common in many Portuguese dishes and the desserts are known to be extremely tasty. Many of the typical Portuguese dishes were even considered part of the 7 Wonders of Portuguese Gastronomy. There is nothing quite like accompanying a Portuguese meal with excellent Portuguese wines to wash it all down. Here we show you what you absolutely need to try when travelling to Portugal!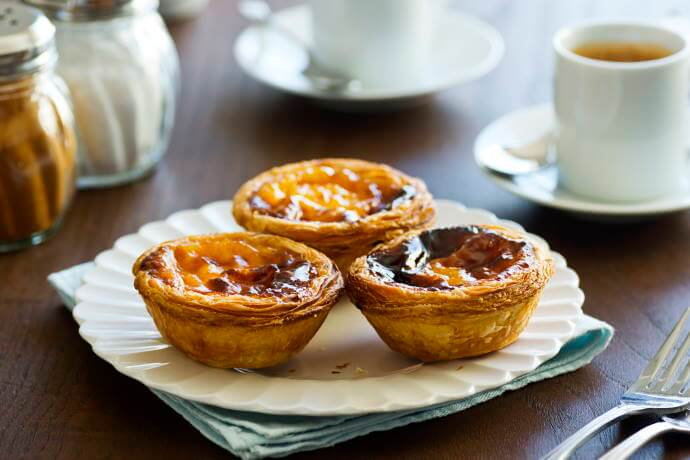 The truth is that the famous pastel de nata needs no introduction. It is probably the most popular pastry among Portuguese delicacies. The pastel de nata is a sweet and creamy egg custard tart, usually served warm and sprinkled with cinnamon and sugar. And the good news is you can find it in almost every Portuguese café. You can try the original pastel de nata in Belém, in Lisbon, as this sweet is also known as pastel de Belém. The original recipe is an exclusive secret of the Pastéis de Belém factory in Lisbon. In 1837, they started the production of Pastéis de Belém according to an old recipe from the Jerónimos Monastery. As a result of the Liberal revolution that took place in 1820, in 1834 all convents and monasteries in Portugal were closed. But in an attempt to survive, someone from the Monastery put some sweet pastries for sale, and these creamy egg custard tarts became quickly known as pastel de Belém. Accompany the custard tart with a bica (coffee) and you have the perfect combination for a delicious snack!
Bacalhau (codfish)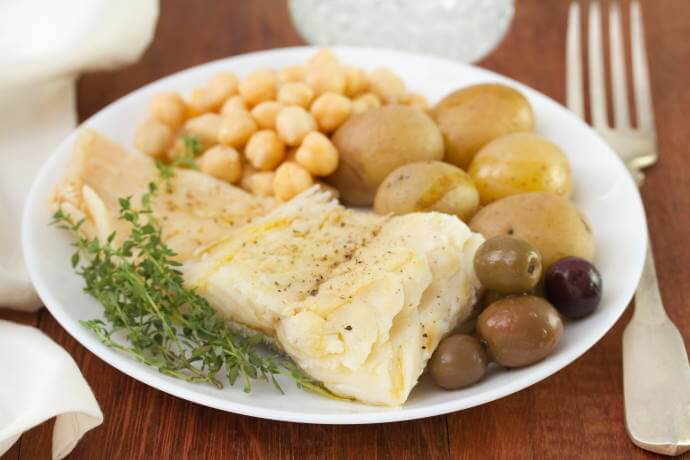 It is impossible to talk about Portuguese cuisine without mentioning the famous codfish. Portuguese cod is prepared in many different ways, and some say there are more ways to prepare bacalhau than days in a year (1001 ways, they say). This dried and salted cod is an ingredient in many Portuguese dishes. Favourites include bacalhau à brás (a mixture of shredded salted cod, straw potatoes and scrambled eggs, usually with olives and parsley on top), bacalhau com natas (codfish with onions, potatoes and cream) and bacalhau à lagareiro (codfish with lots of garlic and olive oil, ideal for the liquid gold fans). The bacalhau can be grilled, baked, canned or fried – either way, it will surprise you. And let us not forget about the snack pastel de bacalhau! It is made of a creamy mixture of bacalhau, potatoes, eggs and parsley. Ideal for a snack!
Sardinhas assadas (grilled sardines)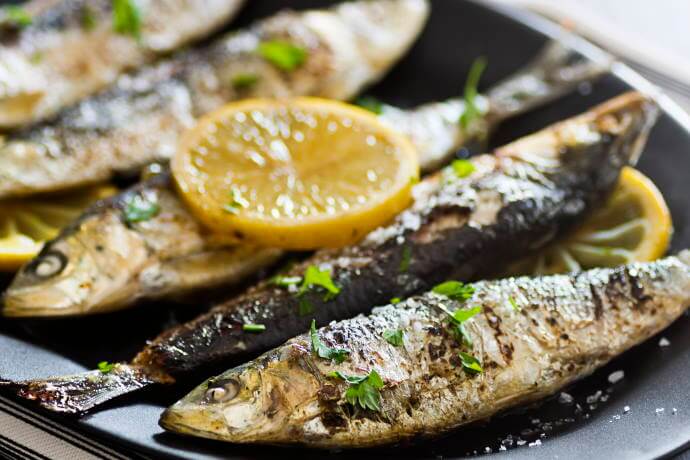 The sardine is a very popular fish in Portugal, especially around the summertime. Curiously, the sardinha assada (grilled sardine) is one of the main food attractions at the Santos Populares, a kind of summer festival that celebrates the birth of certain saints. Usually, the grilled sardines are marinated in olive oil and served with salad, rice or boiled potatoes. Traditionally, the sardines can also be placed on a slice of bread. It is the perfect meal for a hot summer day in Portugal!
Francesinha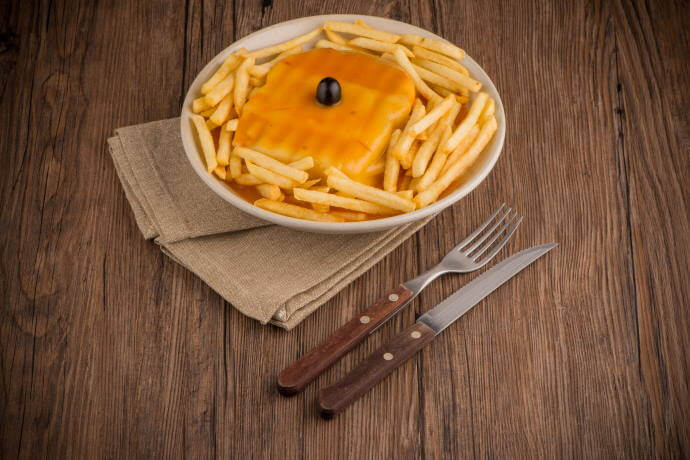 This is a traditional dish from Porto and some say it resembles the French croque-monsieur. It consists of two slices of bread, steak, ham and sausages, all wrapped up in a delicious sandwich, usually covered with melted cheese, topped with a fried egg and served on a plate with fries. But actually, the secret to this dish is the slightly spicy sauce, and every restaurant has their own way of making it. The gravy is based on beer and tomatoes and is usually very tasty. This can be a pretty heavy meal, but if you are a meat lover, you have just discovered your one true paradise. But since the secret relies on the sauce, there are several restaurants that make a vegetarian version of the francesinha, also delicious!
Frango assado (grilled chicken)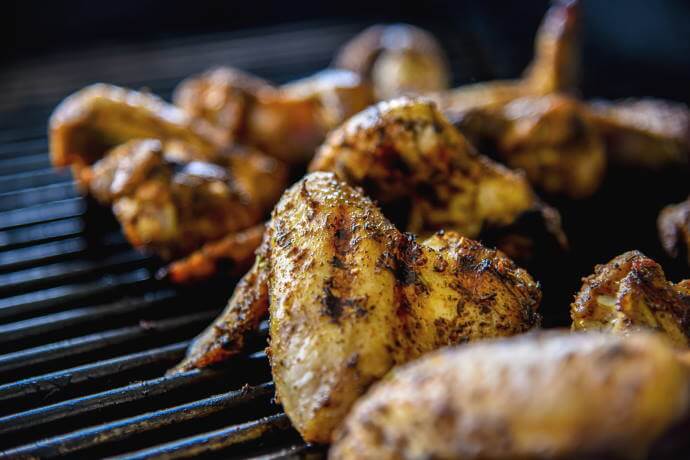 The well-known frango assado consists of a grilled butterflied chicken marinated in a combination of spices. It is usually prepared with olive oil, garlic, lemon juice, white wine, paprika, and sometimes piri-piri, a chili pepper (chicken piri-piri). It is typically served with fries or chips and perhaps a fresh salad. You will want to eat the crispy-skinned frango using your hands, as that is the way the locals do it! You can find this very famous dish pretty much anywhere, but you will want to get it at a churrasqueira, a restaurant or a takeout place that serves grilled food. It surely is a dish packed with striking flavors!
Polvo à lagareiro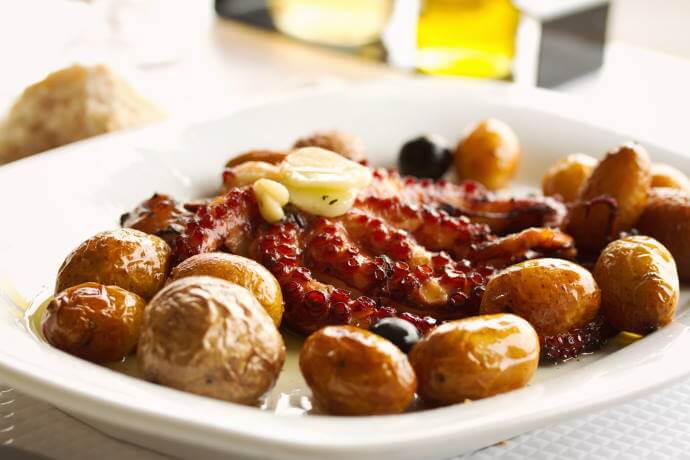 This is another Portuguese dish that everyone loves. Polvo means octopus and lagareiro is a way of cooking fish or seafood, that includes lots of virgin olive oil and garlic. This dish is typically served with smashed potatoes, but both the potatoes and the octopus (boiled first) are baked and roasted in the oven, with lots of liquid gold, onions and garlic on the mix! If you are a seafood lover, trying this very tasty dish is mandatory!
Bifana (pork sandwich)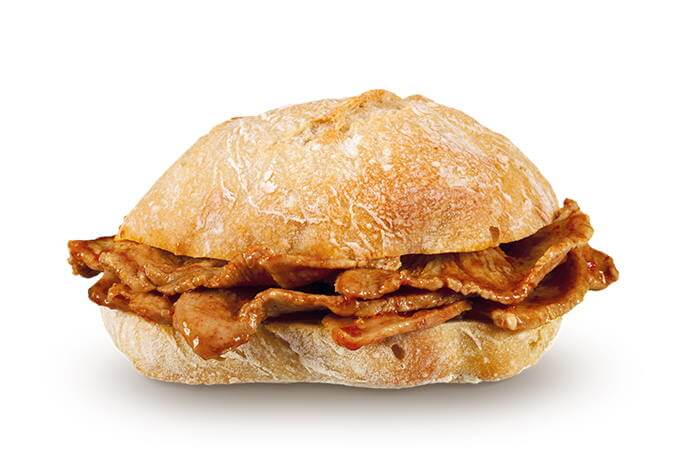 If you want to grab a quick lunch to go, we have the perfect suggestion for you. The bifana is a very traditional Portuguese sandwich made of succulent marinated pork served between two slices of white bread. The original recipe comes from Vendas Novas, in Alentejo, but there are several different versions, depending on the region and the cook. Some locals like to add mustard or piri-piri sauce over the meat. This sandwich, like the sardines, is typically served at the Santos Populares, a kind of summer festival that takes place throughout the country.
Cozido à Portuguesa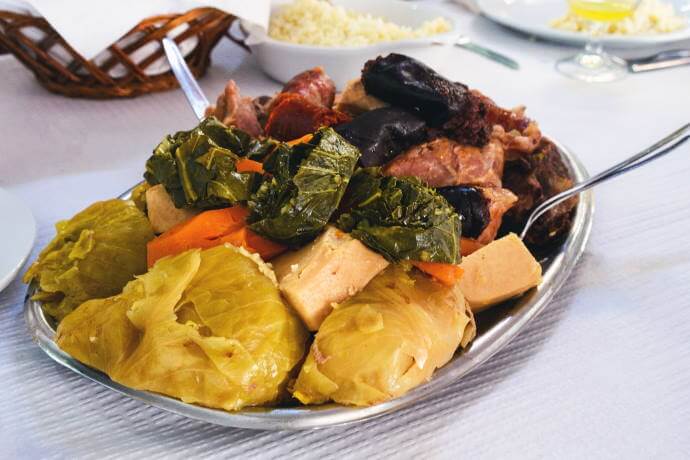 If you come to Portugal and leave without trying the cozido à portuguesa, you are making a big mistake! The cozido à portuguesa is a much-loved local dish that warms the soul of locals and visitors. It is a traditional Portuguese substantial meal, perfect for the meat lovers. The ingredients often change depending on the region, but usually this dish consists of slow-cooked meats, such as beef, pork and chicken, sausages, vegetables, beans, rice and potatoes. In some regions, especially in the North, the cozido also includes farinheira (breaded sausage) and morcela (black pudding). It is definitely a national treasure, usually served on a very large platter. If you want the real experience, try the cozido das furnas from S.Miguel, in the Azores. On this beautiful volcanic island, this dish is prepared in large pans placed in holes in the ground and slowly cooked by the heat of the earth, due to secondary volcanism phenomenon.
Feijoada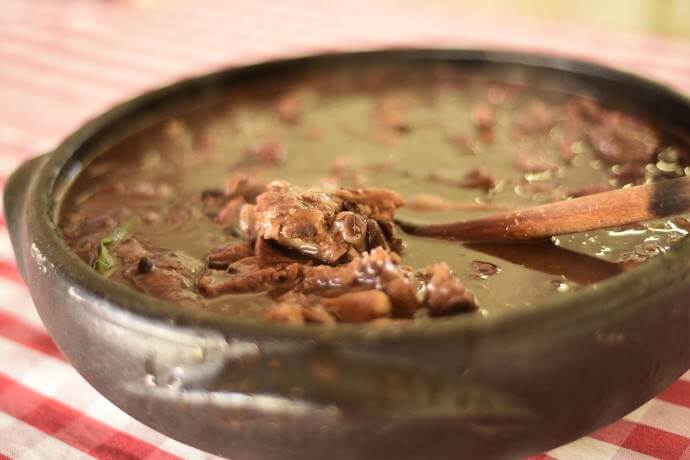 The word feijoada derives from the word feijão, which means bean. Basically, this is a bean stew with beef, pork, chorizo and vegetables, such as cabbage and carrots, all slow-cooked together in a pan. The feijoada, typically made with red beans, is something of a winter meal and it is considered a delicious comfort food. In certain regions, this dish includes hunks of pork, such as ears and snout. Accompany it with some red wine and you will have a delicious traditional Portuguese meal!
Caldo verde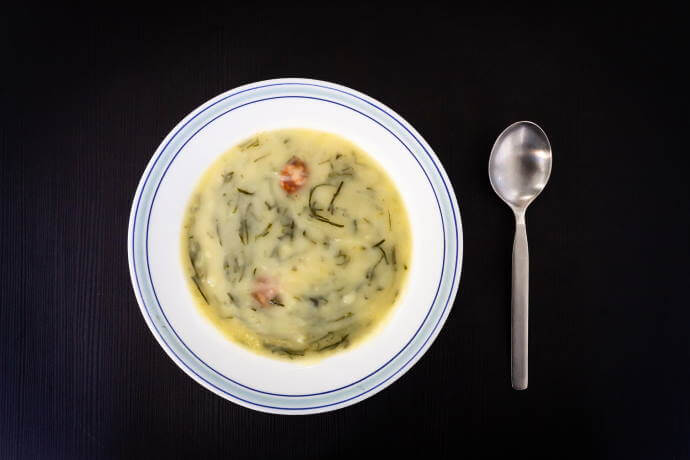 Caldo Verde is a very famous Portuguese soup. Yes, the soup is green, but do not let the color fool you! This heart-warming meal is made with mashed potatoes, thinly sliced cabbage (or kale, in some regions), olive oil and garlic, and is usually served with pieces of chorizo. It is a typical dish from the North of Portugal, but nowadays it is a traditional national favorite. This dish was even elected as one of the 20 best soups in the world by the CNN Travel! Put together some cheeses, cured meats, bread and wine, eat a delicious caldo verde and listen to Fado music. A true Portuguese experience!
Arroz de marisco (seafood rice) or Cataplana de marisco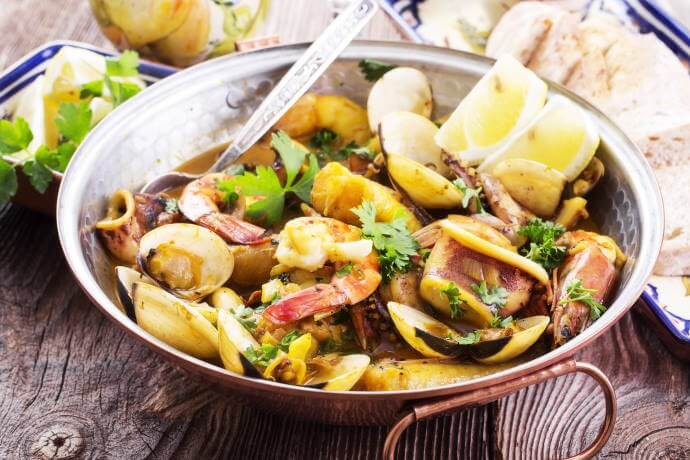 Arroz de marisco is a mouth-watering seafood and rice dish and a Portuguese favorite. Perfect for seafood lovers, this dish is also one of the 7 Wonders of Portuguese Gastronomy. In this beautifully prepared meal you will find prawns, mussels and clams, all cooked up in a plate of delicious rice. You can also try the cataplana de marisco, a dish prepared in a metal vessel (the cataplana). Originally from Algarve, this dish combines onions, tomatoes, peppers, olive oil and white wine, and of course seafood. These two dishes are typical of the coastal regions, as they both use fresh seafood, but you can also find them throughout the country. They will definitely surprise you!
Queijo da Serra da Estrela (Serra da Estrela cheese)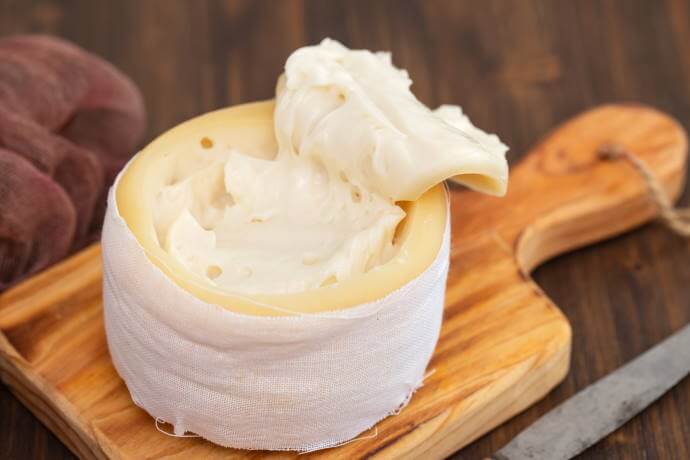 This cheese comes from Serra de Estrela, as the name reveals. The Serra da Estrela cheese was also named one of the 7 Wonders of Portuguese Gastronomy and it is a very well-known product among the Portuguese. Made entirely by hand, the cheese is usually served by opening the thin shell on top, which preserves the creamy interior. It is made from sheep's milk and is actually one of the most famous sheep's milk cheeses in the world. Try it with some bread or toast and be amazed by the distinctive flavors of a unique national treasure!
---