When going on a trip to Rome, it is easy to get caught up in the grandeur of the Eternal City with its bustling streets and iconic landmarks. However, after taking in everything Rome has to offer, there are new adventures awaiting you just around the corner – literally! With their idyllic settings and architectural uniqueness, these towns unveil another side of Italy, less busy but equally dazzling.
Listed below, we have gathered 10 detours from Rome for you to explore new corners and villages of Italy, just as romantic and magical.
Tivoli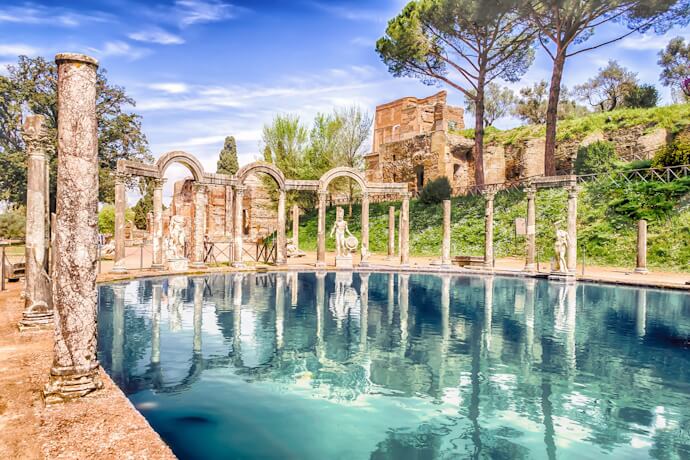 Perfect if you like: Renaissance art.
Located at around 30 kilometers northeast from Rome, you will encounter the charming town of Tivoli, where you can get a glimpse into the lavish lifestyle of the Italian nobility at one of the most famous attractions in Tivoli: Villa d'Este, a UNESCO World Heritage Site. Wander through this magnificent Renaissance villa's gardens adorned with beautiful sculptures, vibrant flowers, and water features, including the iconic Fountain of Neptune. Explore the ruins of Hadrian's Villa (Villa Adriana), an expansive archaeological complex that was once the grand residence of Emperor Hadrian. As you do so, imagine the grandeur and opulence that once characterized this imperial retreat, filled with stunning structures such as baths, temples, theatres, and residential buildings. Tivoli is also home to the Sanctuary of Hercules Victor, an ancient temple dedicated to the Roman god Hercules which offers panoramic views of the surrounding countryside. Even though a train ride would get you to Tivoli faster, having a private driver allows you to visit farther villages that are harder to reach without a car. Bear that in mind when deciding what means of transport you want to choose.
Castel Gandolfo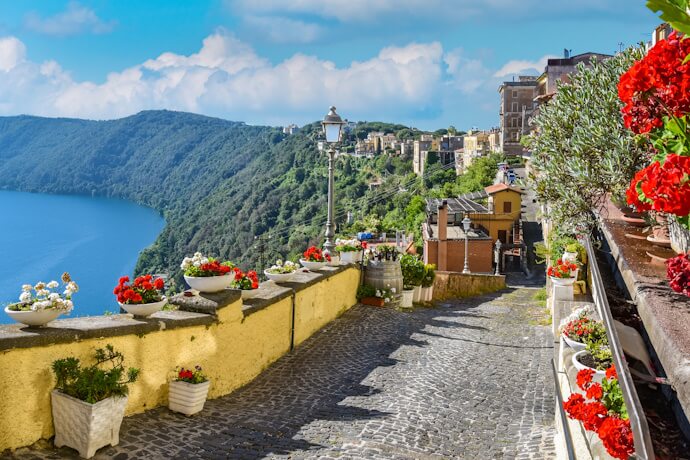 Perfect if you like: Flavoury wine-tastings.
Nestled in the Alban Hills is the picturesque town of Castel Gandolfo, approximately 25 kilometers southeast of Rome and less than an hour train ride away. The main attraction around is the Apostolic Palace, commonly known as the Papal Palace or the Pontifical Villas of Castel Gandolfo. This historic building has served as a papal retreat since the 17th century, boasting breathtaking views of Lake Albano and the surrounding countryside. Only the Barberini Gardens, part of the Papal Palace complex, are available for visitors to discover. Unveil their beautiful fountains and ancient ruins as you stroll through them. The town of Castel Gandolfo itself is a delight to explore, with its narrow winding streets, so take your time to stop and enjoy a coffee or sample the tasty local cuisine. Lake Albano, a volcanic crater lake, adds to the allure of this village, where you can go swimming or kayaking in the pristine waters or simply relax on the lakeshore and take snapshots of the scenic panoramic views. If you are a wine enthusiast, then make sure to visit the vineyards in the area surrounding Castel Gandolfo, which is known for its wine production. Stop at the local wineries and indulge in wine tastings, experiencing the rich flavours of the region.
Ostia Antica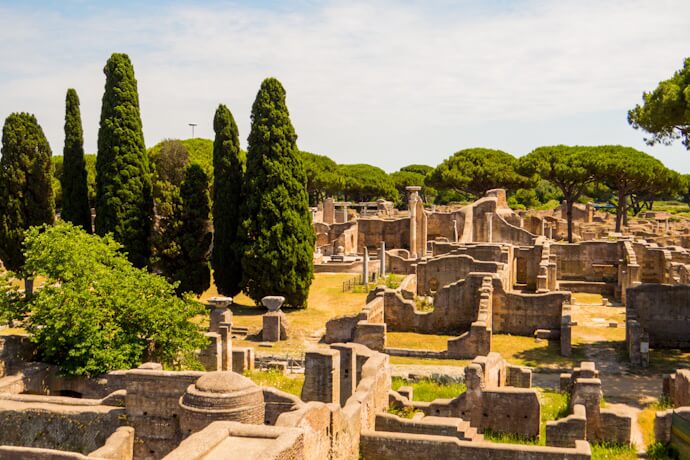 Perfect if you like: Archaeological treasures.
Once the bustling port city of ancient Rome, Ostia Antica is an extraordinarily well-preserved archaeological site located just outside of Rome. Gradually abandoned, this city eventually became covered by sediment, allowing the preservation of buildings, streets, and even ancient graffiti, which provides an intimate and authentic glimpse into the past. Wander through its main street, called Decumanus Maximus, and admire the remains of apartment complexes, known as insulae, which reveal the living conditions of Ostia's inhabitants. Take some time to take in the grand public buildings, such as the Forum and the Capitolium, which illustrate the city's political and religious importance. Make a stop at the Baths of Neptune, a complex of well-preserved public baths, with intricate mosaics, statues, and thermal rooms, and visit the impressive Theater of Ostia Antica, capable of accommodating thousands of spectators. The House of Diana, a domus that belonged to a wealthy Roman family, will give you insights into the daily life of the elite class in ancient Rome. We recommend you have a private driver taking you there and showing you around, as it is a lot faster and gives you the chance to visit both Ostia Antica's archaeological treasures and stunning pristine beaches.
Nemi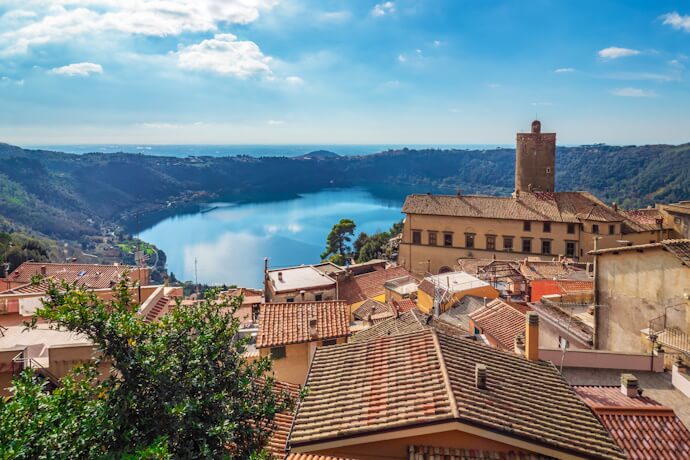 Perfect if you like: Retreats in nature.
Nemi is a picturesque town located in the Lazio region. Perched on the edge of Lake Nemi, the town offers a serene and scenic retreat away from the loud city. To be able to properly navigate this area, it would be best to have a private driver, as the town is also dotted with beautiful trails and striking viewpoints that are worth delving into. This village is best known for its gorgeous lake of volcanic origin nestled among opulent greenery, often referred to as "Mirror of Diana" due to its clear waters and tranquil surroundings. Here you can go on boat rides or simply relax and soak in the peaceful setting. Famous for its delicious strawberry productions, Nemi celebrates its strawberry harvest with the "Sagra delle Fragole" (Strawberry Festival) held in late spring, where attendants can indulge in a variety of strawberry-based treats, such as strawberry tarts, gelato and other delicacies.
Anzio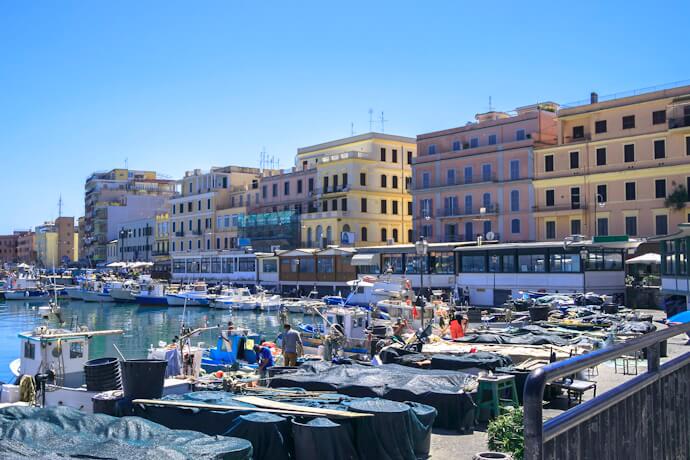 Perfect if you like: Sparkling port towns.
If you catch a train to the south of Rome, in less than one hour you will find yourself in Anzio, which was a significant port city known as Antium during ancient Roman times. The remains of the Roman Villa of Nero, located in this town, feature impressive architectural elements, like thermal baths, frescoes, and a large cryptoporticus that are a must-see for any history and architecture enthusiast. In 1944, during World War II, took place the Battle of Anzio with allied troops landing on the beaches in an effort to break through the German defences and advance towards Rome. You can visit the war cemeteries and memorials dedicated to the brave soldiers who lost their lives during the battle. Out of the many golden beaches with clear waters in Anzio, we would highlight Lido dei Pini, where you can sunbathe or go for a swim. It features beach clubs, restaurants and a lively atmosphere during the summer months. The harbour area is a hub of activity, with fishing boats and yachts lining the docks. From here, you can take boat trips to the nearby island of Ponza or explore the coastline. Anzio also has many culinary delights and offers numerous trattorias where you can taste fresh seafood dishes, traditional Italian cuisine, and local specialties.
Viterbo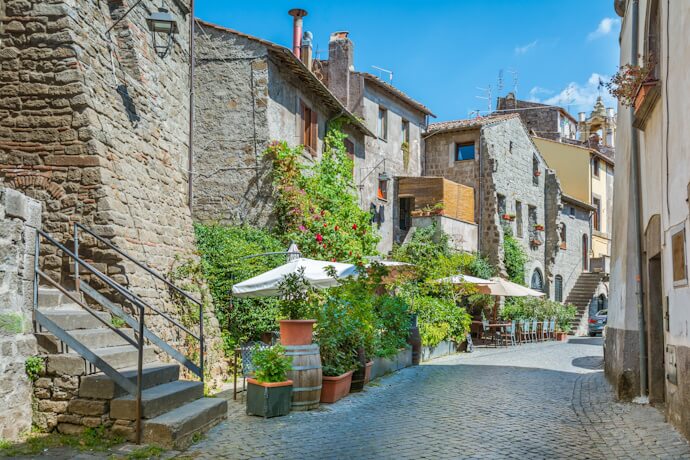 Perfect if you like: Rich religious heritage.
The heart of Viterbo is its mediaeval quarter, known as San Pellegrino. Discover it on foot, uncovering hidden corners, picturesque squares, and notable landmarks. The town's main square, Piazza del Plebiscito, offers a vibrant atmosphere with cafés, shops, and the impressive Palazzo dei Papi (Palace of the Popes), the residence of several popes during the 13th century. It has an imposing façade and elegant interior, and also houses the Museo Colle del Duomo, which displays religious art and artifacts from the region. Take some time to soak up its soothing thermal baths, known as Terme dei Papi (Baths of the Popes), renowned for their healing properties since ancient times. If you happen to be around Viterbo on September 3rd, then make sure to attend the annual "Macchina di Santa Rosa". During this event, a towering structure carrying the statue of Santa Rosa, the town's patron saint, is paraded through the streets, creating a spectacle of lights, music, and devotion, drawing crowds from near and far. Viterbo is renowned for its traditional dishes, such as "Acquacotta" (a vegetable soup) and "Torta Margherita" (a sponge cake), which you can taste at the authentic local Italian restaurants. It would be wise to have a driver getting you to Viterbo and showing you around town.
Sperlonga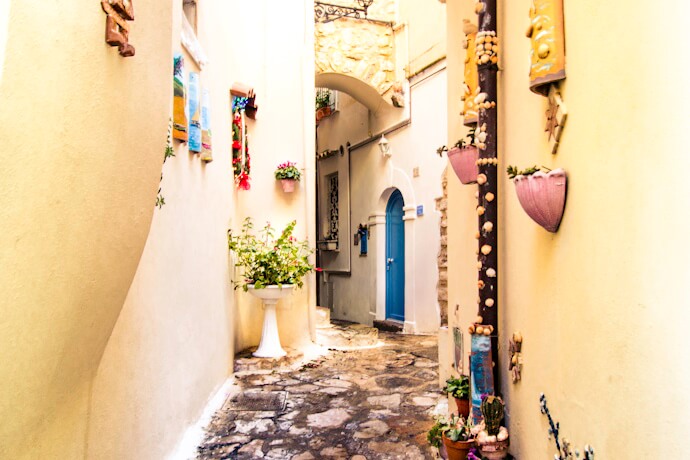 Perfect if you like: Turquoise waters and seafood.
Nestled between Rome and Naples, Sperlonga is a picturesque coastal town located approximately 120 kilometres southeast of Rome. Despite being a little further, which is why we would recommend you get a private driver, this hidden gem is well-worth the detour for its beauty. The historic center of Sperlonga is a lovely maze of narrow streets, whitewashed houses, and flower-filled balconies, where you may sample local cuisine and take in the lively atmosphere. The town's enchanting alleys lead to superb viewpoints, where you can admire the azure sea and the rugged coastline, as the town is perched atop a rocky cliff overlooking the Tyrrhenian Sea. This village is home to the Villa of Tiberius, a magnificent archaeological site that was once a grand summer retreat for the Roman Emperor Tiberius and which boasts impressive frescoes, marble statues, and intricate mosaics. Sperlonga has a wide range of delectable seafood specialties, such as spaghetti alle vongole (spaghetti with clams) and fritto misto di mare (mixed fried seafood), which you can savour while gazing at the vast blue ocean in front of you. To properly soak up the natural beauty that surrounds you, you can dive in the crystal-clear waters of the pristine sandy beaches and hike around the trails that wind through the nearby Monte Sant'Angelo Nature Reserve.
Tarquinia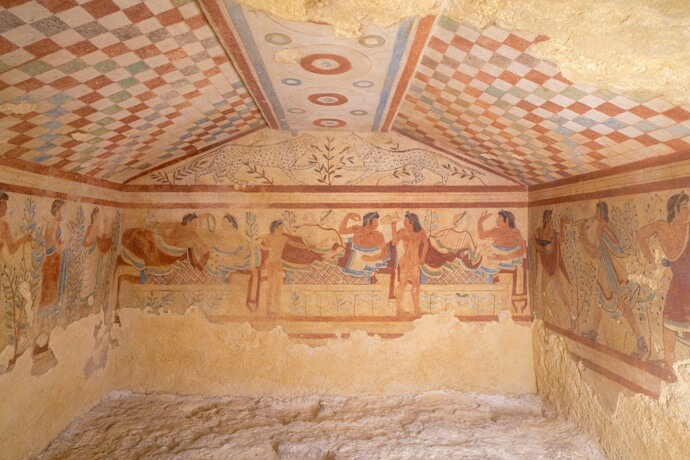 Perfect if you like: History, culture and beaches.
The history of Tarquinia dates back to the Etruscan civilization, one of the most influential cultures in ancient Italy. The Etruscans flourished here from the 9th century BC until the rise of the Roman Empire and Tarquinia was one of their most important cities, with the Necropolis of Monterozzi being the main attraction. It features over 6,000 tombs, some of which are adorned with intricate frescoes that depict scenes from Etruscan mythology, daily life, and funerary rituals. Therefore, this fascinating town offers an incredible glimpse into an ancient civilization and boasts impressive archaeological sites that have been recognized as UNESCO World Heritage sites. Since it is situated along the Tyrrhenian coast, Tarquinia has beautiful sandy beaches and crystal-clear waters, so after your enriching history lesson, head to the Lido di Tarquinia, the town's seaside district. For you to be able to do so, we recommend you get a driver. This way, you will have no problem ending your day relaxing on the golden shores and with a dip in the sea, as its coastline is known for its pristine beaches and dunes, providing a tranquil retreat.
Orvieto
Perfect if you like: Gothic churches and underground chambers.
If you take a train to the north, in about an hour and a half you will arrive at Orvieto, a captivating hilltop town located in the Umbria region of central Italy, perched high atop a volcanic rock cliff. Visiting the Orvieto Cathedral (or the Cathedral of Santa Maria Assunta) is a must in this picturesque mediaeval town, as this is a masterpiece of Italian Gothic architecture, adorned with intricate carvings, stunning mosaics, and a beautiful façade that depicts scenes from the Bible. The interior of the cathedral is equally impressive, housing chapels with frescoes and a magnificent golden altarpiece. Embark on a guided tour to explore the fascinating underground spaces of Orvieto. Built beneath the surface, this labyrinthine network of tunnels and chambers was initially created as a means of escape during times of war, and they include a subterranean chapel adorned with mediaeval frescoes. While enjoying the beautiful rolling hills and vineyards around, have a glass of Orvieto Classico, a white wine produced in the region that is highly regarded for its quality and flavour. Orvieto is also famous for its production of ceramics, and visitors can browse shops and galleries to admire and purchase unique pottery pieces
Palestrina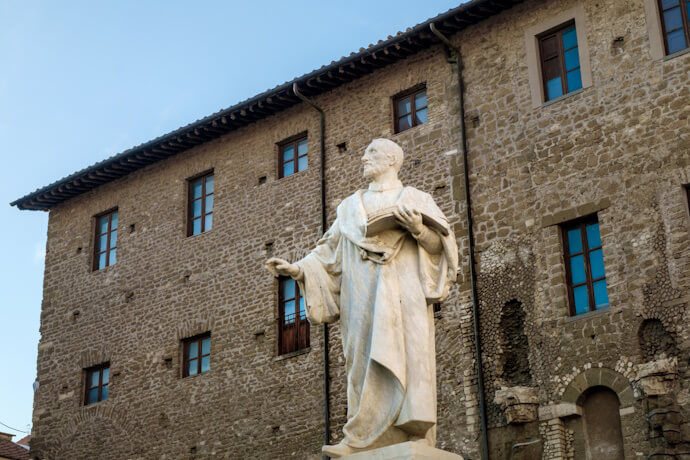 Perfect if you like: Scenic strolls.
Settled in the Alban Hills and the birthplace of the renowned Renaissance composer Giovanni Pierluigi da Palestrina, Palestrina has ancient origins and was once known as Praeneste during the Roman Empire. Start at the Sanctuary of Fortuna Primigenia, which was dedicated to the goddess Fortuna Primigenia and features a series of underground passages known as the "Great Excavation." It provides a fascinating glimpse into the engineering skills of the ancient Romans and boasts some splendid views. Make a stop at the impressive Barberini Palace, a Renaissance palace, which is a grand residence built by the influential Barberini family in the 16th century boasting magnificent frescoes, elegant courtyards, and a beautiful garden. Have a coffee at the bustling Piazza Regina Margherita, the main square, where you will find a relaxed and welcoming atmosphere which allows you to get immersed in the authentic Italian lifestyle. Surrounded by beautiful landscapes and lush greenery, hiking around here is an incredible experience, as the Alban Hills, with their volcanic lakes and forests, provide a tranquil escape from the city life. Mind that if you choose to go to Palestrina by public transportation, you will have to make a switch in between stops, but it will only take you around an hour to go from Rome to Palestrina. If you wish to arrive there a little faster or explore around by car, you can always have a private driver taking you there.
---