Barcelona is a vibrant cosmopolitan city in the autonomous region of Catalonia that, every year, attracts tourists from all over the world. However, only visiting this city means missing out on the natural beauty of Costa Brava, its enchanting coves and cliffs, the clear blue waters and the picturesque historical cities that have appeared in some of the most popular TV shows.
It is time to have a little detour! From Begur to Girona and Figueres, let's discover the hidden gems of Costa Brava.
Costa Brava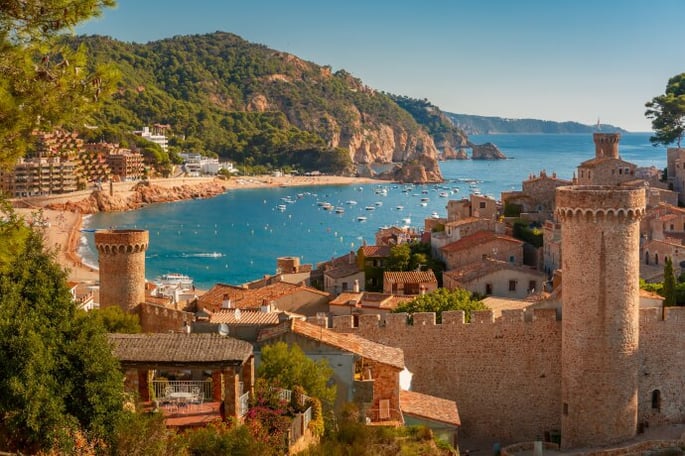 Costa Brava is a coastal region of Catalonia in the Province of Girona. It starts at La Tordera River along the Mediterranean Sea, ending in northern Catalonia. With over 200km of coastline, Costa Brava is known for its rough cliffs, small bays, expansive plains and idyllic beach areas that make it a peaceful escape from busy Barcelona. This is heightened by the Cap de Creus and La Garrotxa Nature Parks. In this part of Spain, you can equally find quaint fishing villages, resort towns and historical villages where the famous painter Salvador Dalí was born. In here, you can expect to encounter a typical Mediterranean climate with mild temperatures.
How to get to Costa Brava?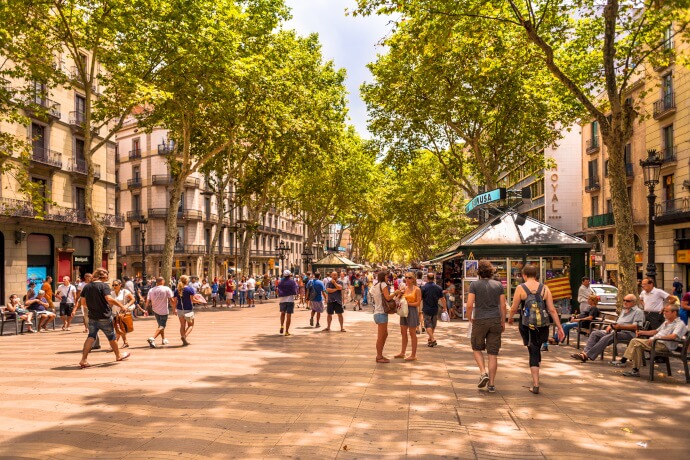 The best way to get to Costa Brava and visit its surrounding areas and nearby cities is to rent a car and drive along the coast. As this coastline is primarily made of remote beach areas and plains, it is easier to immerse yourself in its natural beauty travelling by car. It will allow you to make any stops you want along the way and discover Costa Brava at your own pace and liking without any time restrictions. Furthermore, you will have the once-in-a-lifetime opportunity to explore some of Catalonia's most hidden treasures!
There are different ways you can plan your road trip to this region of Catalonia. Your first stop can be in Barcelona! Arriving at the capital's airport, you can stay a couple of days in this city to discover some of its most important sites. These can include La Sagrada Familia, Las Ramblas and the mythic Gothic quarter. Once there, you can rent a car and start your journey upwards along the Mediterranean coast. Alternatively, you can enjoy a train ride to Girona, explore this province and begin your car journey across Costa Brava. Depending on your interests and needs, we can help you plan this trip to be as memorable and tailored to you as possible!
Best beach areas
Costa Brava is the perfect place to find some of the best beaches where you can relax and enjoy the natural beauty of Catalonia. Most beach areas have a blue flag and also count with enchanting tourist resorts, such as Lloret de Mar and the Bay of Roses. These locations are perfect for you to disconnect from the city and let yourself be in communion with nature.
Begur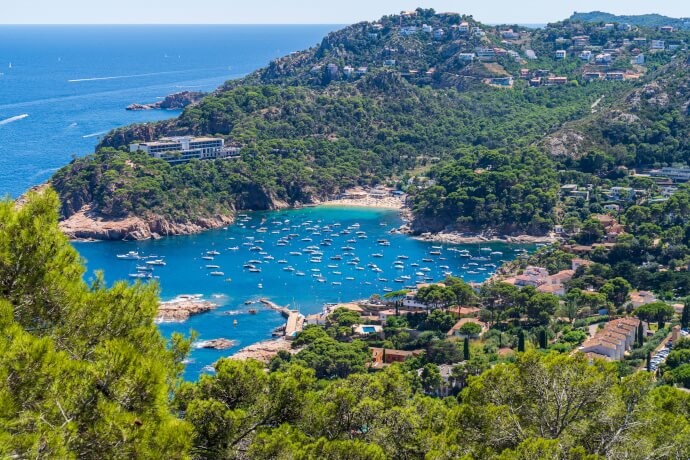 About 130km from Barcelona, Begur is in the northern region of Catalonia. This town is just a few kilometres from the sea, where the mountains dive into the shore forming small coves and sandy beaches surrounded by rocky formations and nature. You will find the town of Begur surrounded by pine forests, which heighten its natural beauty, complemented by historical sites worth visiting. The historic quarter is home to the ruins of a 15th-century castle. Begur is also known for its stone-based architecture and Nabob's Houses (these are stately estates built in colonial style).
In Begur, you will find Playa Sa Tuna, a small beach considered by many a small Positano, an Italian village on the famous Amalfi Coast. Sa Tuna is 80m long and 25m wide, that you can easily access by foot and public transportation. There is also a car park, where you can leave your car if you prefer this means of transportation. Standing on the shore, you can marvel at the surrounding areas where old fishermen's houses stand to this day.
Palafrugell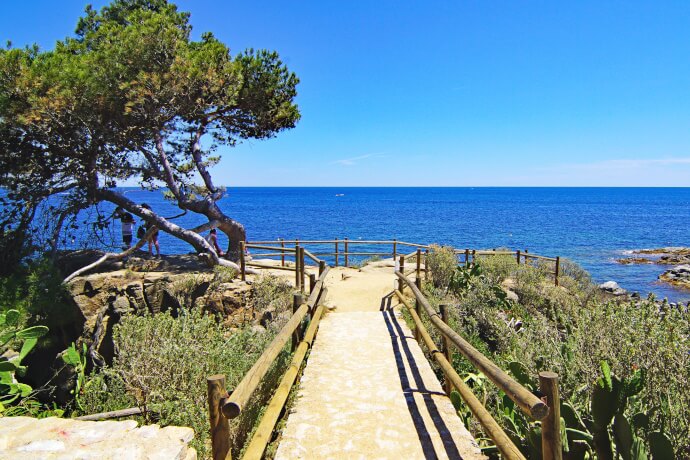 This town is located halfway on the coast of Girona, known for its cork-growing industry. Palafrugell is equally popular for its Route of the Watchtowers, constructions that date back to the 14th and 18th centuries. If you are looking for religious architecture, you must visit the church of Sant Marí, an 11th-century Gothic-style building. This part of the city is ideal for an afternoon stroll exploring the historic streets.
One of the strongest appeals of Palafrugell is its coast and the Formigues Islands, perfect for scuba diving! However, if you want to have an overview of the striking blue waters of Costa Brava, Camí de Ronda is an enjoyable route for you to walk alone or with your friends and family. Along the way, you will see the Llafranc Bay and the Calella de Palafrugell.
Platja D'Aro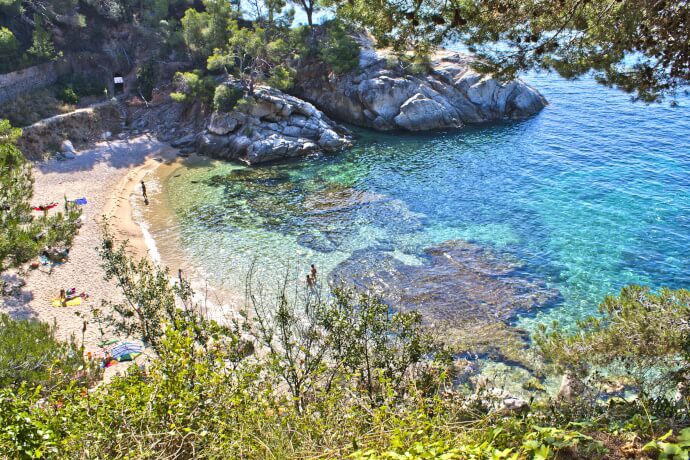 A village that once was an important settlement during ancient times. The Plá de Palol archaeological site further shows that Platja D'Aro used to be under Roman dominion. Some of the most remarkable sites to visit in this town are the Santa María Church, built in the Middle Ages. Even though practically diminished, you can still glimpse the old fortress of Benedormiens Castle. This construction was destroyed in the 19th century.
Platja D'Aro is a place to learn more about Spain's heritage and the perfect location to marvel at Costa Brava's striking blue waters. The Rocas Martinas is a viewpoint every visitor must include on their list! If you want to dip in the Mediterranean Sea and venture into water sports, there are a couple of beaches and small coves you can go to spend a relaxing day. Platja Gran is the main beach in this area and the most popular one too. With over 2km of stretch of sand, this beach will not make you feel crowded! Platja de Port d'Aro and Cala Rovira are also worth visiting if you prefer a site closer to nature.
Where the beach and art meet
Costa Brava is known for its improbable connections, where nature meets urban architecture, historical sites live in symbiosis with the sea, and, finally, where culture and art meet the beach. Figueres and Cadaqués are two popular beacons for tourist attractions and a symbol of the extravagance and heritage of famous surrealist painter Salvador Dalí.
Figueres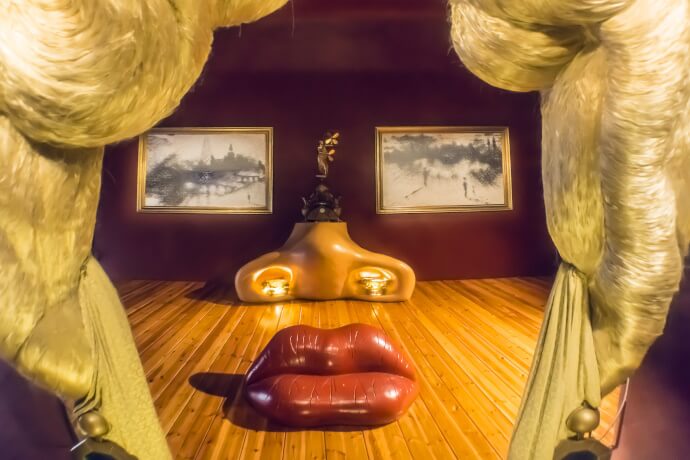 This town is the capital of Alt Empordà, the north-eastern corner of the Iberian Peninsula where the Costa Brava begins. Figueres is primarily known as the birthplace of Dalí. You can live and breathe the painter's influence on the Catalan art scenery and culture in the different tourist points of interest. Dalí's home is a stop most tourists make wandering around the streets of Figueres. The Salvador Dalí Foundation and the Dalí Theatre Museum are other attractions in this city. The first is a private organization the artist created with the ultimate goal to protect and promote his artistic and intellectual work.
Cadaqués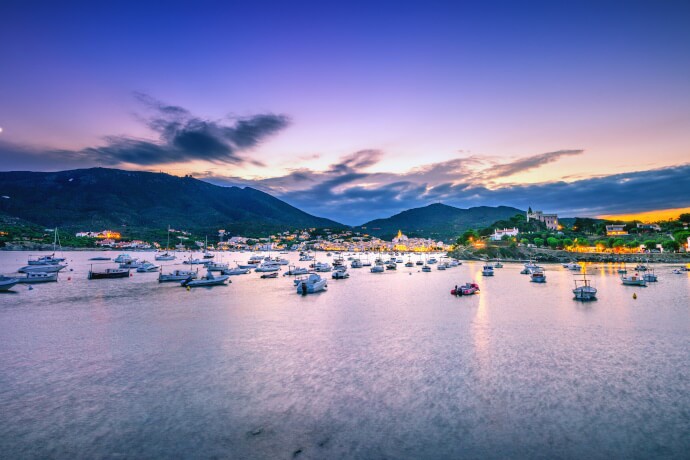 Hidden in the Cabo de Creus Peninsula, Cadaqués is not shy in being one of the most emblematic places in Costa Brava. This beach area, marked by a rocky coastline and photogenic beaches, has been an inspiring location for artists and painters from all corners of the world like Picasso, Chagall and Klein. For that, Cadaqués enjoys today an electrifying cultural life supported by the different museums and art galleries you can find in the area, namely the Dalí House Museum facing Port Lligat. Some other museums we recommend you visit are the Museum of Cadaqués and the Toy Museum.
Historic towns abound
Driving along the Costa Brava, you will stumble upon some of the most picturesque historic towns in Catalonia. Even though the Mediterranean Sea and the coastline are the main attractions, the old towns of Girona and Besalú deserve your visit.
Girona

Girona is one of the most prominent provinces in Catalonia. This region is a point of interest due to its places of cultural and historical interest. You will find these on a hill between L'Onyar and the Gironella Tower. Girona's historic centre is known to be one of the best-preserved sites in pure mediaeval architecture. To have an overlook of the old town from far, you can cross the 19th-century Pont de Pedra bridge.
The historical centre and its narrow streets will remind you of the Middle Ages. A curious fact: some of the scenes in Game of Thrones were shot in this location. In this part of town, we recommend you visit the Jewish Quarter, also known as Call, and the Museum of Jewish History. The latter reflects on the life of these communities in Catalonia, which in the Middle Ages influenced the country's history. Also here, you can see the Turkish Baths, a pristine Romanesque complex, and the Passeig Arqueològic, a promenade that leads you to the Sant Pere de Galligants Monastery, right next to the Church of Sant Nicolau. Both of these religious constructions date back to the 13th century.
Besalú

Similar to Girona, Besalú is a real-life representation of the Catalan Middle Ages and the architectural style of the time. This town is located in the region of La Garrotxa, within walking distance from the mesmerizing view of the La Garrotxa Nature Reserve and the Volcanic zone.
Walking along the streets of Besalú, you will find most pavements to be made of cobble stones, a distinguishable feature of this period. The overall scenery is complemented by the dated façades, a 12th-century Romanesque bridge that crosses the Fluvià River and the residence of Cornellà, a Romanesque gallery. If you have interest in religious constructions from this historical period, you must visit the churches of Sant Pere, Santa María and Sant Vicenç!
Visit the nature parks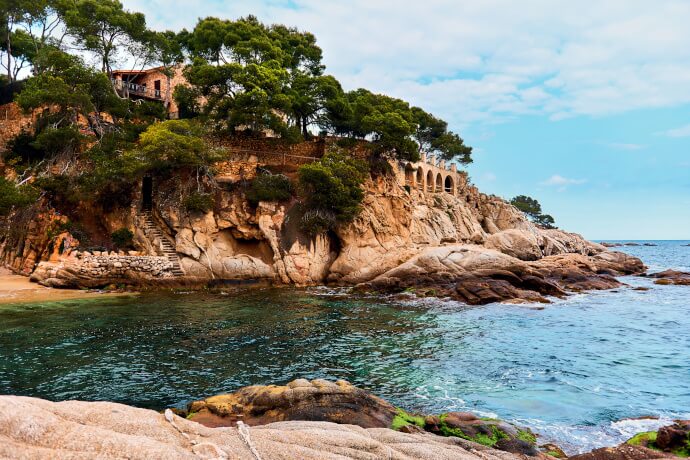 Finally, Costa Brava is known for its natural beauty, which can be admired in the region's different nature parks.
Cap de Creus
Also known as the northeast end of the Iberian Peninsula, Cap de Creus is part of a nature park with a display of diverse orography worth seeing. As a reserve park, this site is home to a vast range of species that make it rich in biodiversity, both on land and water. The highest point of Cap de Creus is located at an altitude of 670m on Sant Salvador Peak. Some of the species you can find in this reserve's fauna are the ocellated lizard and the Mediterranean tortoise. So, take your camera with you, and let yourself be moved by the natural beauty of the easternmost side of the Iberian Peninsula!
La Garrotxa
La Garrotxa is a volcanic area and nature reserve with rich and diversified vegetation with oaks, chestnut trees, poplars and alders. This park is particularly known for being one of the most important volcanic areas on the Iberian Peninsula. It counts 40 different volcanic cones and 20 lava outcrops. La Garrotxa's fauna is fundamentally composed of wildcats, short-toed eagles, peregrine falcons and woodpeckers. Cycling and Hiking are some of the most popular activities in this part of Costa Brava!
---