Spain has been the birthplace of some of the most illustrious painters in the world, namely Pablo Picasso, Francisco de Goya, and the eccentric Salvador Dalí. Diego Velázquez, in his turn, is another renowned artist whose masterpiece "Las Meninas" has been considered one of the most important paintings in the Kingdom's history. His new techniques and artistry marked a century and a movement, the Baroque, exercising a direct influence and inspiration to the artists and movements that were to come.
As an influential painter, Diego Velázquez has left his imprint scattered around Spain and even Italy in his travels toward finding inspiration. For art lovers and connoisseurs, this can be an immersive, memorable way to get to know a country's history and culture. So, let's hop on Velázquez's shoes and follow his steps from the vibrant city of Seville to ancient Rome and Venice!


Who was Diego Velázquez?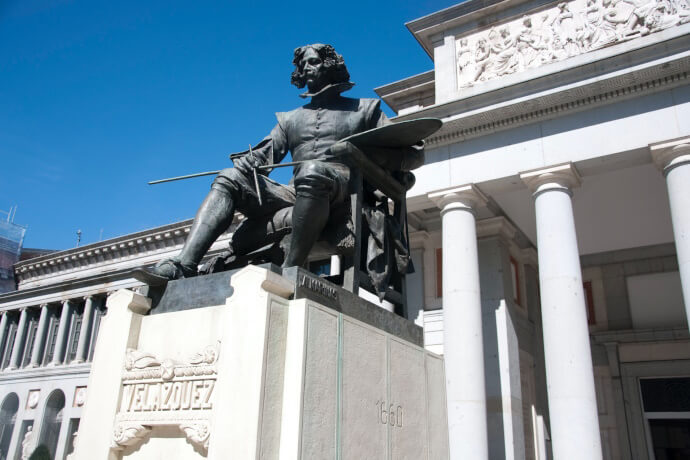 Diego Rodríguez de Silva y Velázquez was a Spanish painter and one of the leading artists of the 17th century, having worked closely with the court of King Philip IV of Spain and Portugal, contributing to the recognition of this period as Spain's Golden Age.
Velázquez was a singular artist who stood out in the Baroque period (a style and movement that flourished in Europe in the early 1600s). He became mostly known for his bolder brush technique combined with the use of subtle colour harmonies that achieved a level of light and atmosphere never seen before. Velázquez has equally gained recognition from his portrayals of the Spanish Royal Family, having been later featured in the royal collection. "Las Meninas" and the portrait of Pope Innocent X are some of his most important pieces.
Why is "Las Meninas" such an important work of art?
Enigmatic, mysterious, and compelling are some of the words to describe Velázquez's masterpiece, "Las Meninas". Painted in 1656, this work displays curious key elements that attract the onlooking eyes of academics and art lovers. Yet, the real question is why?
Being one of the painter's most complex artworks, "Las Meninas", translating into ladies-in-waiting, portrays a diverse group of female and male figures scattered in a famous room, Cuarto del Príncipe in the Alcazar. It is particularly enigmatic because it presents different dimensions of reflection (including a mirror in the background) and the possible idea that the forefront figures are themselves observing their reflection.
The Real Alcazar is quite a popular attraction in Seville, so we recommend you plan your visit in advance to guarantee entrance tickets on your preferred dates.
Another fascinating feature of this painting is Velázquez's self-portrayal in the figure wearing the Santiago Cross on the chest. This has led some to believe that this painting can reflect a scenario in which the artist is either painting the events unfolding in front of him or the figures reflected on the mirror in the back.
Lastly, "Las Meninas" deserves recognition as one of the most emblematic paintings of the period, for having inspired and been recognized by contemporary art enthusiasts and painters. A clear example of this is Luca Giordano's, Italian painter, consideration of this masterpiece as the "theology of painting."
Formative years in Seville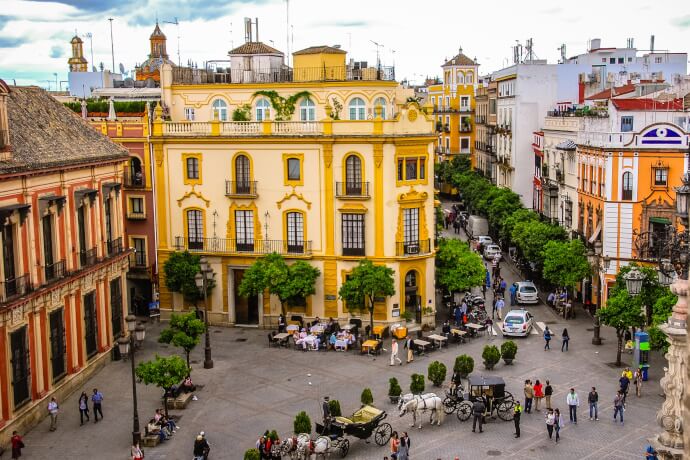 Padre Luís María Llop Street is the starting point in Velázquez's formative years in Seville. The painter was born in this city in 1566 to parents Rodríguez de Silva (of Portuguese origin) and Jerónima Velázquez. He spent his early years in Padre Luis María Llop Street, right in the heart of the old town and in close proximity to the Santa Catalina and Santa Cruz neighbourhoods. Also known as la Morería, this street was part of a Moorish neighbourhood in Seville, which put him in contact with different cultures at a very young age. When in Seville looking for Diego Velázquez's house, pay attention to the street signs, and keep an eye out for a 16th-century, yellow building.
About 190 meters from Padre Luis María Llop Street, near Setas de Sevilla, we have San Pedro Church, another important site in this journey across Seville. Even though there is no official record of Velázquez's date of birth, it is known that the painter was baptized in this very church on the 6th of June, 1566. La Iglesia de San Pedro is a 14th-century Catholic temple that displays architecture that follows the Gothic-Mudejar style.
At an early age, Diego Velázquez showcased a clear talent for the plastic arts. So, at the end of 1610, he began his apprenticeship as a painter in a house in Calle Trajano for Francisco Pacheco (renowned painter). In the 1600s, Seville was a place of great prosperity and cultural evolution that attracted and formed artists from all over the kingdom. If you stop in front of Hotel Venecia, look up to the façade to find a plaque indicating the exact place where Velázquez learned the rudiments of his craft.
Plaza del Duque is the perfect location to mark the final stop of this part of your journey following Velázquez's formative years in Seville. This square is on a site that once belonged to the Duke of Medina Sidonia. In 1892 the place was adorned with a statue of Velázquez, which embodies the artist's influence and importance in the region, but also the place where he grew up. A fun fact is that it is located near the Jewish College where the painter studied as a kid.
Becoming a court painter in Madrid
During the monarchical change that took place in 1621 with the death of King Philip III and the ascension to the throne of King Philip IV, many artists, including painter Velázquez advised by Francisco Pacheco, tried to find their place in busy Madrid. So, in 1622 Velázquez made his first trip to the city and started creating connections that earned him his occupation as a court painter between 1623 and 1628.
Royal Palace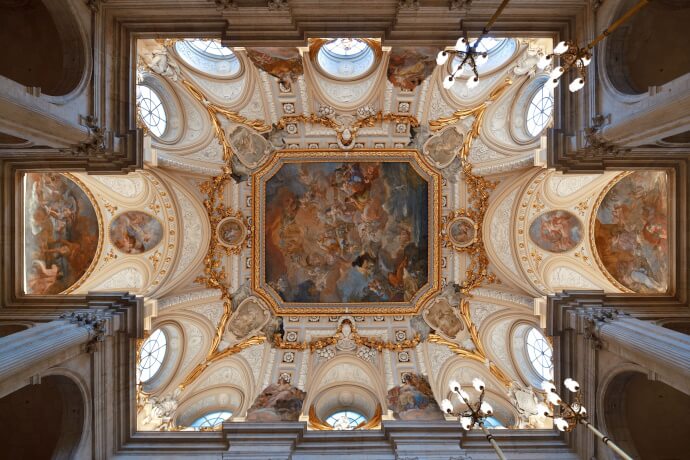 During this period, Velázquez spent most of his time in the Royal Palace where he painted the portraits of King Philip IV's closest circle, including the queen and the monarch themselves. The Palacio Real de Madrid is the perfect place to start your journey in this city. Considered one of the largest palaces in Western Europe and the world, this site is the perfect location to follow Velázquez's point of view and see first-hand some of the key elements that inspired the artist's royal portraits.
Prado Museum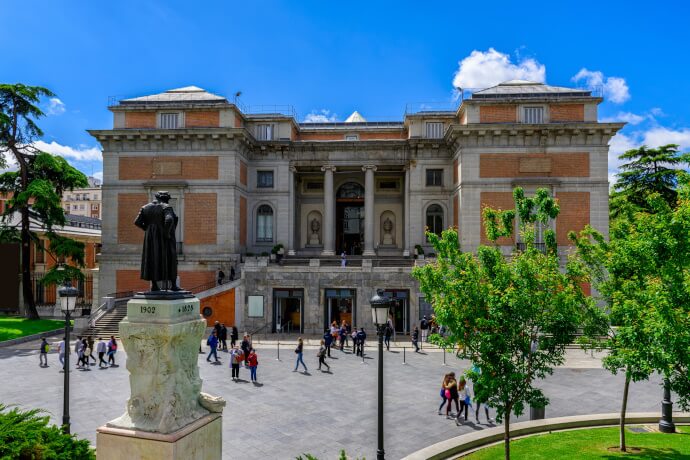 However, to see the palace is to miss out on a glimpse of Velázquez's work in the flesh. With that in mind, your next obligatory stop in Madrid is the Prado Museum, near the Royal Botanical Garden and the Parque del Retiro. Inside you can observe some of the most important paintings in Spanish history, including the enigmatic "Las Meninas" and the famous portrait of Philip IV from 1623, Velázquez's first artistic work for the royal family. While outside, in Paseo del Prado, observe in detail Velázquez's statue, head looking down with a pencil in his hand!
El Escorial
The Royal Site of San Lorenzo de El Escorial is your final stop in Madrid, a decisive place in Velázquez's career and evolution as a painter. This monument is a declared UNESCO Heritage Site, which today houses 15th and 17th-century paintings from Flemish, German, Italian and Spanish artists, including Velázquez himself. However, when he visited it, it was a Spanish Royal site built between 1563 and 1584 by order of King Philip II. On his visit, he was accompanied by Flemish painter Peter Paul Rubens, who became a great friend and source of inspiration for his adventures in Italy.
To find El Escorial, you might have to rent a car or take a mode of public transport, as it is about 45 kilometers away from Madrid.
On the search for inspiration... in Italy
It was in June 1629, upon socialization with Peter Rubens and motivated by the inspiration of 16th-century Venetian painter Tintoretto, that Velazquez left Spain behind in the pursuit to perfect his craft. Upon the King's approval, the artist obtained leave and two years' salary to sail away into his new adventure. The next stop in his journey was Genoa, Italy!
Diego Velázquez' trips to Europe's boot were fruitful and marked the preceding period of his most productive years. During this time, the painter soaked in the Italian style and techniques that characterized the work of some of his favourite artists. At the same time, he travelled across different cities, from Rome to Venice and Naples, to improve his skills and deepen his knowledge.
Venice
Veneto's capital was one of the most important stops in Velázquez's first and second trips to Italy. Here, he immersed himself in the works of Titian and Paolo Veronese and learned from Tintoretto's technique in Scuola di San Rocco by making drawings inspired by his work. This site is considered the Sistine Chapel of Venice and is where you can find one of Tintoretto's greatest masterpieces scattered around the fascinating interior decoration and design.
San Rocco is located in San Polo, right next to Leonardo da Vinci's Museum. This is an unmissable attraction that will put you right in Velázquez's shoes as he admired Tintoretto's work.
Rome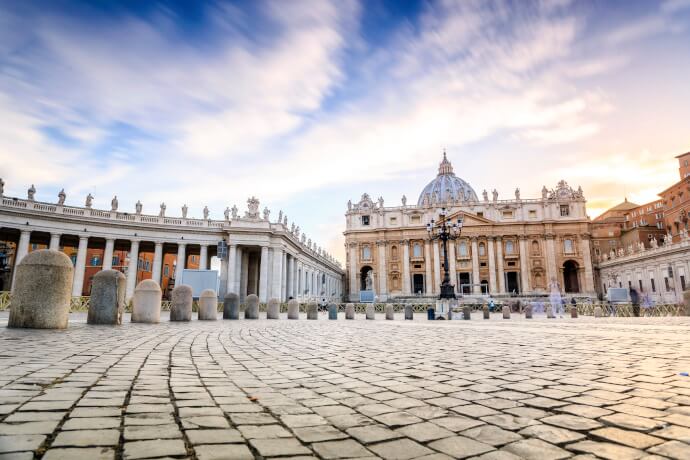 The Italian capital was Velázquez's third stop and the place where he, as well, stayed the longest, more specifically in the Vatican palace, due to his position in the Spanish court. Here, the painter had the unique opportunity to dwell on his love for Renaissance painting. While there, the artist created drawings inspired by Michelangelo's "Last Judgement" and several of Raphael's pieces.
The Vatican City epitomizes Renaissance architecture and art that so many artists took their inspiration from, including Velázquez. For that reason, you must include this destination in your itinerary. Here you will have the opportunity to see the Sistine Chapel and so many other awe-inspiring works of art that have inspired the genius of Diego Velázquez.
Bologna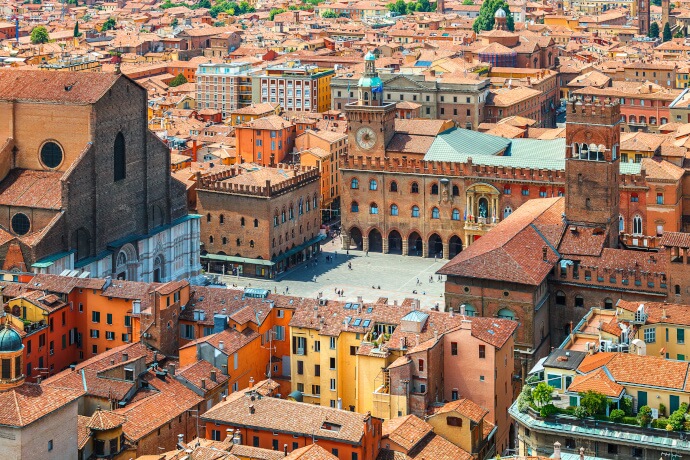 ThEven though Velázquez passed by cities like Naples and Modena in his journey through Italian Renaissance and artistry, we know little of his passing through these locations. However, Bologna, the capital of the Emilia-Romagna region, played a crucial role in his second trip to the country in 1649. Thus, constituting the perfect place to end your journey.
Bologna is not only the place where Velázquez went on an extensive search to contract fresco painters to join him in the Spanish court in Madrid, but also, alongside Ferrara (where you can have a little detour and learn more about the Renaissance period), the destination where the Papal Rule in the 16th-century strengthened this regions' artistic links with Rome and Venice. Here the mannerist and Baroque styles grew and thrived to become part of the city's artistic environment.
We recommend you visit the Basilica of San Domenico and pay attention to the candelabra-holding angel on the left side of the sumptuous Ark of San Domenico. You can also visit the Basilica of San Petronio, one of the most important Renaissance works in Bologna.


A journey for art lovers
To follow in Diego Velázquez's footsteps is to embark on a memorable journey through history, art, and mesmerizing Renaissance architecture, capable of leaving anyone in awe. The painter is the symbol of the Spanish Baroque movement but also a lover of the arts that made studying and travelling part of his career. Stepping into this painter's shoes will give you the unique opportunity to experience the magic of places like El Escorial and the Royal Palace in Madrid like never before!


---