These past few years, Portugal has been finally gaining well-deserved international recognition and has already been awarded with a few important titles, such as "World's Leading Destination" and "Europe's Leading Destination". Cities like Lisbon and Porto have also been recognized as leading city destinations in Europe by World Travel Awards. This goes to show that Portugal is a captivating and diverse country that offers a combination of natural beauty, rich history, vibrant culture and warm hospitality. Moreover, there are the 300 sunny days a year! This must sound good when you are on the hunt for the perfect place to spend your summer holidays.
The only slight downside to all of this success is that suddenly the beaches are busier than ever and it has been getting harder to find a peaceful environment to just relax and focus on the sound of waves lashing the shores.
This is what inspired us today to make a list of those "hidden" beaches only locals know about, to provide you with a more authentic experience and to make sure you can take advantage of some peace and quiet as well.
Guincho Beach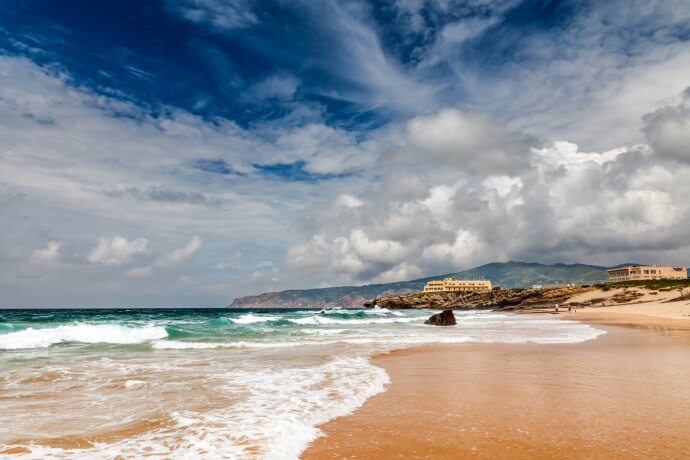 We are going to start off with the Guincho Beach, which is one of the largest beaches of the country and forms part of the Sintra-Cascais natural park. It is located between two rocky points, Ponta Alta and Ponta do Abano, and has a large expanse of sand, both in length and in width. The action of the wind provides a remarkable landscape of the Guincho-Cresmina dune system, of great geological dynamism. You will find dunes of various types here: embryonic mobile dunes, which represent the first states of dune vegetation; the white dunes, which constitute the sandy ridges closest to the sea; and even the grey dunes, which are fixed, very dense and have an abundance of carpets of lichens and mosses.
In addition to the marvellous dune views, this beach is also renowned as one of the best surfing spots in Portugal, all thanks to its naturally wild waves. The strong and consistent winds that sweep across the beach make it an excellent destination for windsurfing and kitesurfing as well! Numerous schools and rental shops are available nearby, making it accessible for beginners to learn and enjoy these activities.
As we mentioned above, since this beach is part of a natural park, you may encounter unique plant species and migratory birds. The surrounding landscape also provides excellent opportunities for hiking and birdwatching!
It is also mandatory to stay and watch the sunset. The west-facing orientation of the Guincho Beach provides visitors with splendorous views over the Atlantic Ocean. Watching the sun set below the horizon, painting the sky with vibrant shades of orange and pink, is a truly magical experience.
If you want to properly enjoy a full day at this beach, which we highly recommend you do, we suggest you spend the night in Cascais, a charming coastal town just a short drive away from Lisbon, as it is very easy to access the beach by bus. In Guincho you will have no problem finding parking, restaurants and beach bars, ensuring a comfortable and hassle-free visit. Be sure to try the amazing fresh fish available in any restaurant of Cascais!
Costa Nova Beach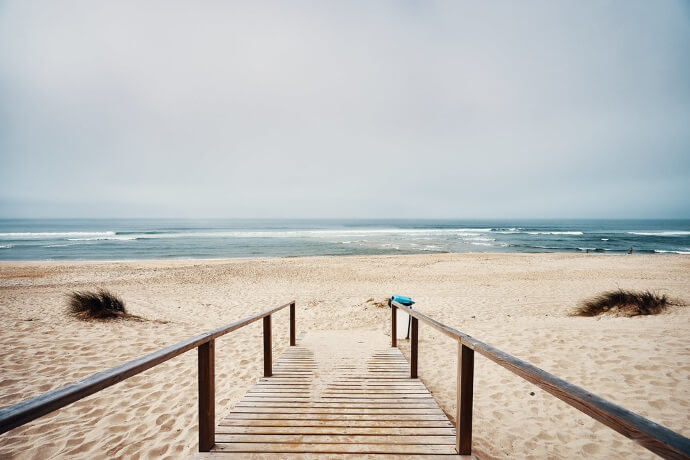 When tourists think of beaches in Portugal, they usually envision the central or southern part of the country. Nonetheless, it's worth mentioning that there are other great alternative possibilities! The country has lovely beaches in its northern areas as well, and the Costa Nova beach showcases its great potential to a tee.
Costa Nova is part of the Aveiro district and is mostly famous for its picturesque striped houses, all in a row and each painted with its own vibrant colour, making for a fun and postcard-worthy sight. They look like real-life doll houses and conquer the hearts of everyone who passes by them! These houses were once used as warehouses for fishing implements in this big fishing village, and legend has it that they were painted with different colours to help fishermen find their own in grey foggy days. Nowadays they are the best decoration this beach could have and really bring a cheerful and charming ambiance to the place.
Now onto the beach itself: it offers a long stretch of golden sandy shores that are just ideal to relax, sunbathe and take long walks along the ocean.
Similar to Guincho beach, Costa Nova is perfect for water sports. Its calm waters and consistent breezes are great for windsurfing, kitesurfing and sailing and there are rental shops and schools available in the area, allowing both beginners and experienced enthusiasts to enjoy these thrilling activities.
If you are more nature-oriented, you will be happy to know that this beach is surrounded by dazzling natural landscapes, including the Ria de Aveiro lagoon and the nearby pine forests, which provides a unique blend of coastal and natural environments - a true oasis.
Costa Nova Beach is also easily accessible, located just a short distance from the city of Aveiro. Here you will find ample parking facilities, as well as amenities such as showers, toilets, and lifeguard services. Nothing can go wrong here!
In terms of accommodation, you will easily find hotels and apartments nearby, either close to the beach or in the city of Aveiro, which is about 15 minutes away. If it is your first time in this region, you must try the traditional local pastry called Ovos Moles, meaning soft eggs, a pastry made with egg yolks and sugar to create a sweet and smooth custard-like mixture, which are then encased in a thin wafer shell made from starch. They are a local favourite!
Carvalhal Beach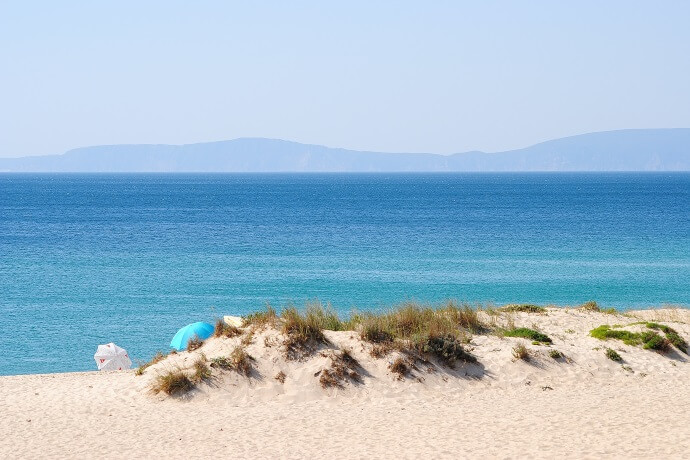 Near the town of Comporta, you can find this serene haven of untouched natural beauty. The beach stretches for kilometers, extending so far that it becomes difficult to discern its endpoint.
This beach will always save a place for you to lay out your towel, as it remains relatively uncrowded during the peak of Summer. Its secluded location and lack of major tourist developments contribute to its soothing atmosphere, which has turned the Carvalhal beach into a peaceful retreat to sunbathe and swim freely in crystal-clear lukewarm waters.
Here you can also count on admiring sand dunes, pine forests and birdwatchers, and also a few surfing, bodyboarding and kiteboarding beginners. There is more than enough space for everyone!
Carvalhal Beach is easily accessible by car from Lisbon, approximately an one-hour drive away, equipped with support infrastructures and a good parking lot, and convenient due to its proximity to the motorway that connects Lisbon to the Algarve.
While in Comporta, you will be in the renowned wine region of Setúbal, so take the opportunity to visit local wineries, participate in wine tastings, and learn about the winemaking process.
Have you started planning your ideal getaway yet?
Arda Beach

Arda Beach is another great beach located in the Northern region of the country, in the district of Viana do Castelo.
This is yet another great place to practice surfing and bodyboard, where you will see many young people trying to face (and hopefully succeed) the consistent Atlantic swells and powerful waves! If you are more into land activities, this beach is also part of the Coastal Path (Caminho da Costa) that stretches along the entire coast of Portugal. This makes it an excellent starting point for coastal walks and hikes. The rugged cliffs, scenic viewpoints and diverse fauna and flora are a truly rewarding adventure.
Something more unique about this beach is the fact that a portion of it is a nudist-friendly area. If you are comfortable with nudity and seeking a more liberated beach experience, you can find designated sections where nudity is permitted. However, it is important to note that the nudist area is separate from the main section of the beach.
Once the sun has set, you can head to Viana do Castelo for a generous dinner and, if you want to make your trip a little bit more cultural, you can stay for one or more days and visit its museums and historical center. More gorgeous views will find you on the way!
Marinha Beach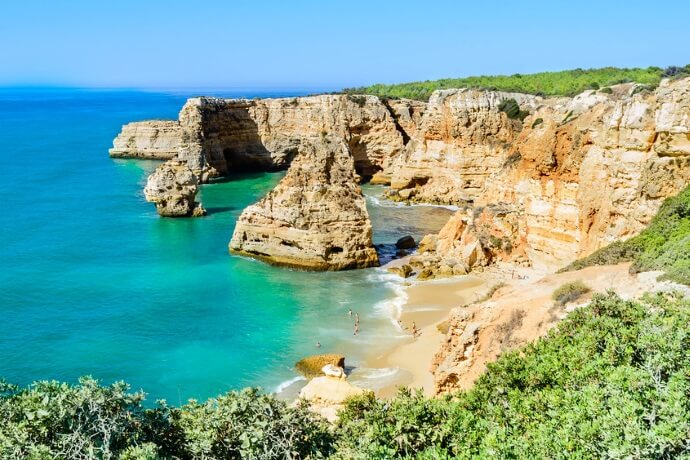 This is one of Portuguese people's favourite beaches to relax and stay away from the crowds. It can be considered a highly valuable hidden gem!
The Marinha beach is nestled between impressive limestone cliffs that form a dramatic backdrop, in the Algarve region. The cliffs are adorned with natural arches, caves, and striking rock formations, creating a picturesque and breathtaking coastal landscape.
All Portuguese beaches have pristine inviting waters, but the Marinha beach takes it to a whole other level. This beach has been awarded Blue Flag status, a symbol of its excellent water quality and environmental standards! This results in it being an ideal spot for swimming and snorkeling, as you are able to see the underwater world and discover a variety of marine life with your own eyes.
If you prefer to stay above water, you have at your disposal boat trips that take you to the nearby caves and grottoes, such as the spectacular Benagil Cave.
There are also plenty opportunities for coastal exploration that will allow you to admire the magnificent views of the ocean and cliffs from above. There are several viewpoints along the cliff tops that are perfect for photography and to take in the coastal scenery and the horizon.
Marinha Beach is located near the town of Lagoa and is easily accessible by car. There is a parking area available, restrooms and a small beachside café where you can grab refreshments.
In order to properly delve into this not-so-famous area of the Algarve, we highly recommend you to spend the night in Portimão or Carvoeiro. Both towns have a nice lighthouse you can visit, an abundance of traditional restaurants, a marina with fancy boats, and beautiful panoramic views. Everything you may need to have the best time ever!
No matter which one of these beaches you choose, you will always be surrounded by a beautiful scenery, natural landscapes, surf lovers and local families enjoying their day. Free your calendar and hop into this adventure!
---