A retirement plan is hardly only about saving money. Throughout our working life, whether we are absolutely passionate about what we do or we are a little less enthusiastic about it, should mean that in your later years, you would get to be rewarded by your own place in the sun. Many believe that their retirement years are their happiest years and, in the end, all things considered, there is one factor that will always be one of the most important: location, location, location!
Portugal has become in the past few decades a paradise for those who wish to retire in a safe, welcoming, and inexpensive destination. The country is known for its friendly people, delicious gastronomy and wines, and stunning landscapes with the added bonus of having the most convenient geographical situation, within easy reach from America, Africa, and the rest of Europe.
Although there is an infinite number of possibilities in terms of locations to spend your retirement years, some sites in Portugal are definitely special and those tend to be the most popular landing areas for the ones in search of their place in the sun. This may mean you! Sit back, relax, and enjoy our list of special relocating areas in Portugal. We promise to make you dream!
Cascais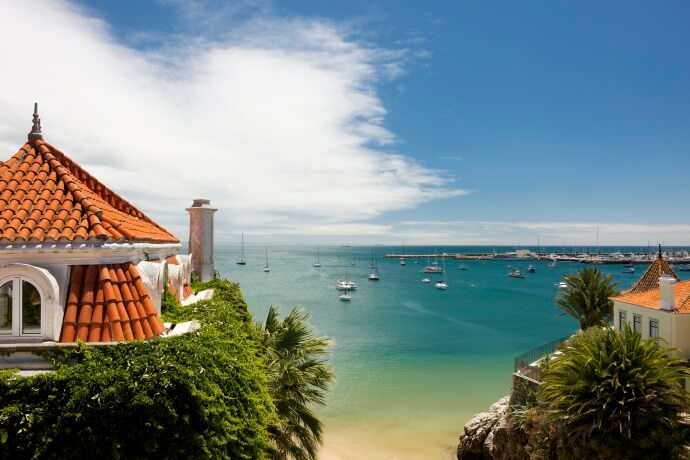 The preferred retirement destination in the region of Lisbon by expatriates from all over the world. Cascais is a former fishing town, famous for its rugged seascape and incredible seafood that became in the 19th century the official summer residence for Portuguese royalty. Cascais is just 35 minutes driving (or a little over 40 minutes on the train) from Lisbon or 15 minutes driving to Sintra, in the opposite direction.
The town has a privileged location between the ocean and the mountains and part of the municipality is occupied by the Nature Park Sintra Cascais, one of the most important Nature Reserves in the center of Portugal. It is also home to a charming marina where many sailing and yachting competitions depart from, and numerous golf courses, some of them considered to be the best in Europe.
It is amid this beautiful scenario that the town developed and has grown for the past 200 years with its population currently exceeding 200,000 inhabitants. Many of them are commuters but there are dozens of thousands who are expats and the international community of Cascais is one of the largest in the country. The reasons are obvious: stunning landscapes, good food and wine, easy access to Lisbon and to the airport, and of course, the still relatively affordable real estate. From the finest villas to the more modest apartments, it is still possible to find in Cascais good value for money when buying or renting a property.
The perks of living so close to Nature and to so much History, but also to one of the most modern and technological capitals of Europe has gained Cascais a huge popularity among expats. The town can be an excellent base to explore the rest of Portugal or quite simply a place to relax and finally get that feeling of being on a permanent holiday!
Comporta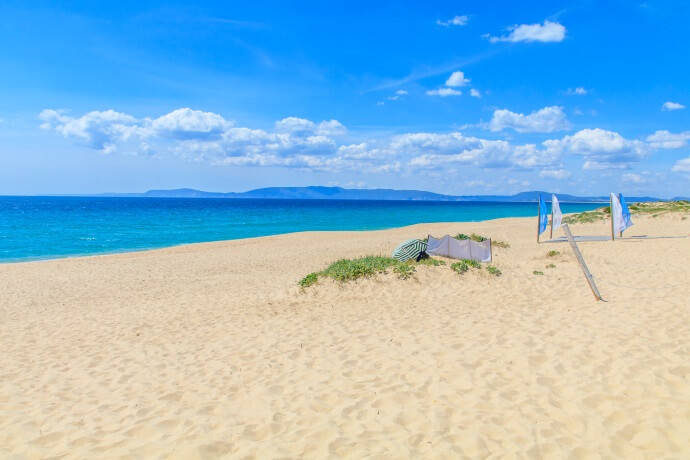 This wonderful small town and its beach are one of the gems at the heart of Portugal. The long stretch of sandy beach is located a little over 1-hour drive from Lisbon, surrounded by rice paddies and forests of pine trees enclosed by dunes. A car is essential to arrive at this small paradise as part of the drive to get here is done on a rural road with no public transport.
The detour to Comporta may fit perfectly in your first holiday in Portugal but also into a more long-term plan as it has become an extremely popular retirement destination. Partly because the area is easy to drive to from Lisbon and its hustle and bustle lifestyle, but at the same time feels very much like a retreat where it is so simple to become at one with nature.
The smell of the surrounding pine tree woods and of the ocean is the first thing you notice when you arrive at this beach, which sits right in the middle of one of the largest protected areas in Europe: the South West and Vicentina Coast Nature Park.
If you decide to stay for a longer period, you will find that Comporta has its own "tribe" with its own slow-pace philosophy and that the area presents a well-balanced mix of surf spots, authentic rural and fishing traditions and precious surroundings of forests of pine and cork oak trees. This is the kind of place where, once you arrive, you will immediately feel like you are home. In paradise!
Monte Alentejano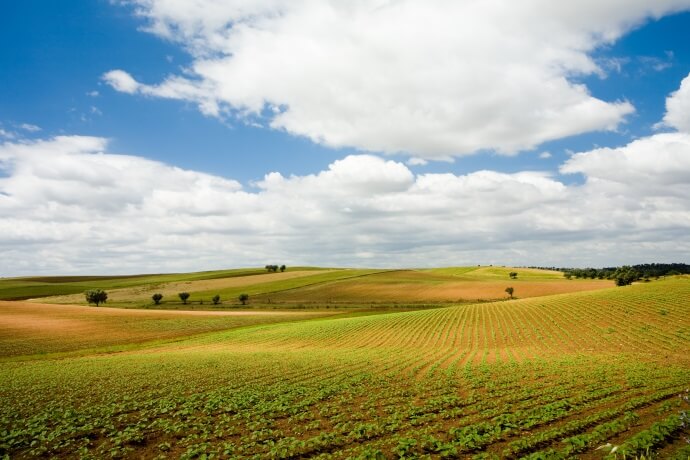 What is a Monte Alentejano? Well, first of all, these are two words in Portuguese that mean Mount Alentejano meaning from the Alentejo region, the largest in the country and also the least populated. The word "mount" has been used for centuries in the region from Évora to Beja, in inner Alentejo, but also in Alcácer and Odemira on the coast, to designate the moderately high hills on a landscape better known for its vast plains, where wealthy property owners built their mansions and manor houses overlooking the surrounding fields and crops.
For centuries, these Montes were the center of the economic life of the Alentejo, hiring people to work in the fields and producing much of the cereal, olive oil, and wine that was used throughout the country. However, these were also high maintenance and keeping them working implied very elevated costs. So, many property owners started selling their Montes or parts of them, or even converting them into a tourism business instead.
Nowadays, many of these houses work as tourist accommodations where you can take part in the traditional activities of the region. But many others have become the perfect place for a much-wanted retirement for so many expats from across the world. These Montes usually come with an incredible amount of land surrounding them and can be just the ideal opportunity to build or rebuild a home according to your preferences.
The Alentejo is known for its excellent food, exquisite wines, and the generosity of its people so most expats hardly face any difficulties when adapting to their new home and to their new neighbors.
Algarve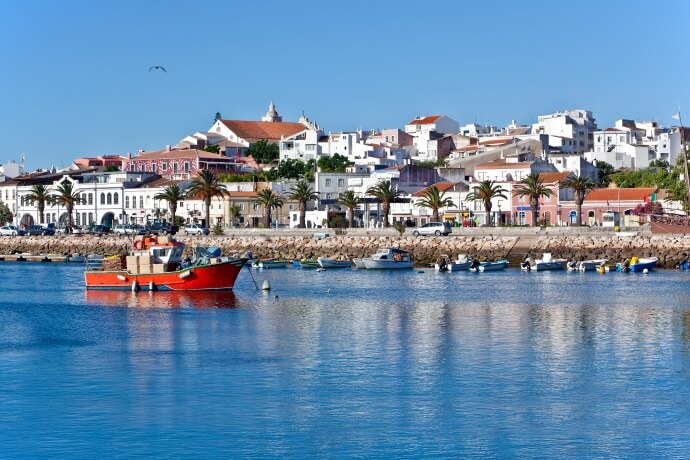 The Algarve has a long tradition of expats that goes back to the 60s when its main airport, Faro airport, was inaugurated and people from all over the world started to discover the wonders of this incredible region in the far south of Portugal.
Many people choose to live in the coastal towns with their incredible ridged landscapes, such as Lagos, Faro, Albufeira, or Tavira as they present all the conveniences of modern life, but others go for more rural retreats and get a better value for money in locations closer to Aljezur, Loulé or Alcoutim. Either way, they will always be within easy reach of the airport and even Lisbon, which is roughly 3 hours away or less on excellent highways.
From the authentic fishing villages to some of the most amazing beaches in Europe and an increasingly growing cultural scene, the Algarve has a bit of everything to turn one's retirement into a perfect voyage of discovery and fun, much longed for and deserved.
Portugal is popular!
It is a fact and we know about it. However, now more and more people from across the globe are knowing about it too and we are proud to say that Portugal is welcoming many expats willing to relocate and enjoy our culture and our traditions. Many of them, gave a new life to places that were either long forgotten or even derelict.
People who move to Portugal are in search of a quieter lifestyle, a place where they can spend their better years and build fond memories. A place that can be called home.
---
We are a local tour operator specialized in custom Self-Guided Tours in Portugal, Spain & Italy

Our local team will craft a tailor-made trip plan with an itinerary and a selection of hotels, activities and transportation based on your interests and budget. We offer a turnkey package and take care of all the logistics. While you are travelling, our local team is available by phone 24/7, so that we make sure you have a hassle-free vacation.

We also want to guarantee you have all you need when you are on tour. You will get a personalized roadbook with your day-to-day planning designed especially for you and an exclusive guidebook written by our team on Portugal with additional information. To ease the driving, you will receive a pre-programmed GPS with preloaded coordinates for all of the above.

We know sometimes life gets in the way, so all our tours are fully-refundable until 5 working days prior to your arrival – money back guarantee, no questions asked.

After we receive your enquiry, we will send you a free proposal, that can be changed as many times as necessary until meeting your expectations. Start planning your trip today!