Spain is a favoured place to visit by anyone nowadays, and rightfully so! The Mediterranean climate, the golden beaches, the laid-back atmosphere, the delectable gastronomy… It ticks every box!
Spain is quite a big country with a lot to offer, however, tourism has been leaving out of your radar many cities that boast diverse landscapes and unique charms that you should definitely consider getting to know. From North to South, we have collected a few hidden gems that would be amazing holiday destinations, since they do not get as crowded as the most known cities.
Go get your notebook and pen, it is time to travel to Spain!
Gijón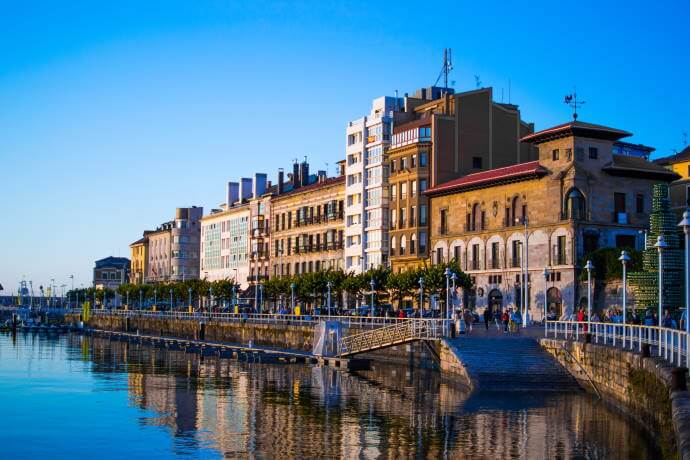 As usual, we will start up North. In Asturias, there is a captivating coastal city called Gijón with stunning beaches, rich history and a lively cultural scene. This town is blessed with a picturesque setting, where the Cantabrian Sea meets lush green hills, creating a breathtaking backdrop for exploration. Here you will find bustling streets, traditional squares and a myriad of shops, cafés and restaurants. Gijón is a hub for cultural events as well, featuring festivals, concerts and art exhibitions throughout the year.
One of the neighbourhoods most frequented by locals is Cimadevilla, where you can find some "secret spots", namely El Rinconín ("the little corner"), which really lives up to its name. It is a delightful fishing village with a small beach and a harbour where residents gather to enjoy fresh seafood and admire the fishing boats.
But there is more to Cimadevilla! This neighbourhood is also famous for having cider houses, or "sidrerías", scattered everywhere. You should definitely check out these establishments to savour the unique ciders that Asturias is famous for. Sharing a bottle of cider poured in the traditional "escanciado" style, along with delicious local dishes, is a must-do activity to properly immerse yourself in the authentic traditions of Gijón.
In terms of culture and art, you should head to El Biblio, a neighbourhood cherished by the Spanish for its cultural scene. Here you will be able to be part of numerous cultural events, such as concerts, theatre performances and art exhibitions. It is an excellent place to see new things and even discover emerging talent and engage with the creative community of Gijón.
If you are craving the beach, Gijón has them too! Even though the water might not be the warmest, on the San Lorenzo and the Poniente beaches, you will always have space to lay your towel surrounded by the rugged cliffs and gorgeous views.
A Coruña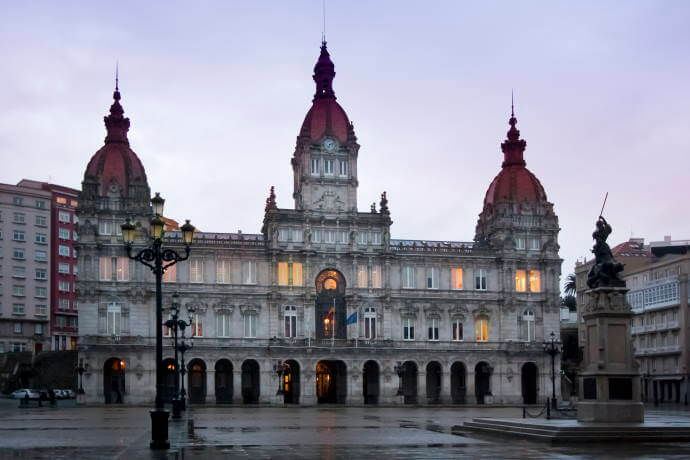 A Coruña, situated in Galicia, the northwesternmost region of Spain, is a destination defined by its coastal beauty, historic landmarks and maritime significance. The city's most iconic sight is the Tower of Hercules, a Roman lighthouse that has stood tall for over 2,000 years and that you can go up to! If you are not afraid of heights, you must go to the top of the San Pedro viewpoint through a huge spherical glass lift, that will provide you with unparalleled panoramic sights. It will also be the adventure of the day!
For more terrestrial activities, Parque de Santa Margarita features lush green spaces, ponds, walking paths and recreational areas. Locals come here all the time to exercise, have picnics, or simply enjoy the natural surroundings. You cannot miss the iconic Maria Pita Square and the San Carlos Gardens either.
If you prefer a more maritime setting, a leisurely walk is due in the waterfront promenade, known as the "Paseo Marítimo", with splendorous views of the Atlantic Ocean and leading to beautiful urban beaches like Riazor and Orzán.
In order to ease your exploration, you can rent a bike in Bicicoruña, a local bike rental shop, to cycle along the promenade or through the meanders and maybe discover off-the-beaten-path spots only residents know about.
With its blend of maritime heritage, scenic beauty and cultural landmarks, A Coruña is a fascinating city that showcases the appeal and character of Galicia.
Calella de Palafrugell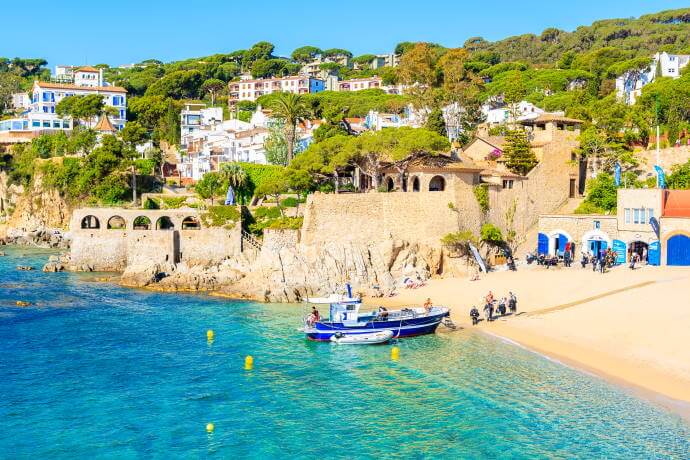 On the opposite end of Spain you can find Calella de Palafrugell, a quaint coastal village located in the Costa Brava region, with plenty of beaches famous for having just what you need - warm azure waters.
Calella de Palafrugell retains its authentic character with traditional fishing boats dotting the shoreline and local fishermen bringing in their daily catches. It is also home to a coastal promenade that is always full of life, thanks to all the shops, inviting cafes and delightful seafood restaurants. With its natural beauty, laid-back ambience and a rich tapestry of local traditions, Calella de Palafrugell will surely captivate you with its undeniable Mediterranean allure.
The most sought out beaches are Platja de Port Bo and Platja de Canadell, for their relaxing properties. If you prefer a quieter location to bask in the sun, you can explore the El Golfet beach, a secluded cove that offers a serene and tranquil atmosphere, shrouded by cliffs and vegetation.
If you wish to take a break from the beach, the Cap Roig Botanical Garden is a game-changer. This expansive garden is a truly lucky find, showcasing a diverse collection of Mediterranean flora and jaw-dropping sea views.
During the evening, we recommend you pay attention to the traditional whitewashed houses that adorn Calella de Palafrugell, because some of them hide secret rooftop terraces with majestic views. Imagine climbing up narrow staircases to find yourself surrounded by the greatness of the coastline and the shimmering Mediterranean Sea.
Tarragona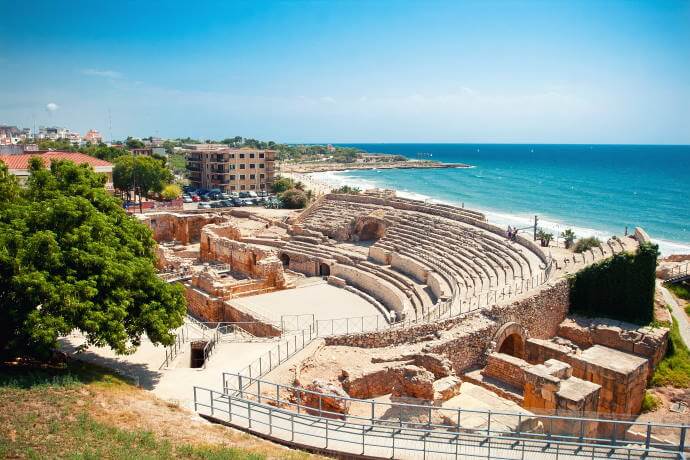 Tarragona, another city in Catalonia, is steeped in ancient history. The well-preserved Roman ruins, including the impressive Tarragona Amphitheatre and the Roman Circus, are able to transport you back to the glory days of the Roman Empire. The city's old town is a maze of winding streets and among them can be found the iconic Tarragona Cathedral, a symbol of mediaeval heritage. Tarragona's coastal setting is complemented by beautiful beaches and opportunities for tranquility and water activities.
For traditional seafood restaurants you should head to El Serrallo, the Fisherman's District, recognized for its maritime atmosphere, which results in rich fish markets, fresh fish everywhere and a glimpse into the local fishing culture.
After lunch, Plaça del Fòrum is a good starting point for an afternoon of exploring all the nooks and crannies of the city. This square is great to just sit, enjoy a coffee and soak in the historic surroundings at the end of the day.
For sunset, the special Mirador del Mediterrani awaits you to show off unrivalled views of the Mediterranean Sea.
Laguardia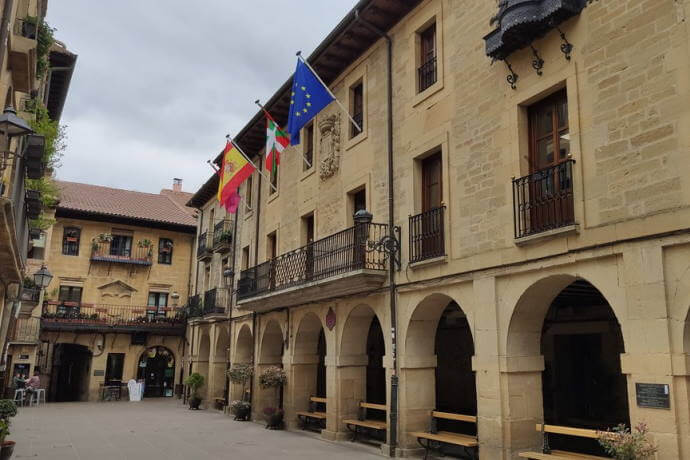 Your next potential destination is in the Basque Country in northern Spain, encircled by ancient walls and perched on a hilltop. Welcome to the town of Laguardia! Full of historic buildings adorned with balconies and colourful flowers, this town presents a postcard-worthy setting!
This town was founded in the 10th century and its mediaeval layout has remained almost intact. Its main highlights are the fortified churches of San Juan Bautista and Santa María de los Reyes.
When it was no longer needed for its strategic military position, it became one big wine factory and cellar. Laguardia is renowned for its deep-rooted wine tradition and is dotted with underground tunnels that work as cellars, where you can be immersed in the world of Rioja wine production. We also recommend you participate in tastings and tours to savour the exquisite wines and gain insight into the winemaking process!
If you are not a wine lover, do not worry, not everything is about it. There is an ancient site called Ruta de los Dolmenes, or the Dolmens Route, which is a trail that will take you through the countryside to discover dolmens, prehistoric megalithic tombs that date back thousands of years. The route offers a chance to connect with the region's ancient past. Be mesmerized by the natural beauty!
Once you want to come back to the present, Plaza de San Juan is a go-to for a traditional meal or a fresh drink amidst the town's narrow streets. This gem is very sought after for its cafes and restaurants with outdoor seating.
For wondrous panoramic views of Laguardia and its surrounding vineyards, head to the Mirador de San Bernabé. Located just outside the town walls, this viewpoint is the ideal place to admire the stunning landscape. It is beloved by locals because, if you go there often, you get to witness the changing colours of the vineyards throughout the seasons. You know what that means, you must go back in a different time of the year!
Segovia

Segovia is a spellbinding city located in the heart of Spain, only about an hour and 15 minutes north of Madrid. This UNESCO World Heritage site showcases a seamless fusion of Roman, Moorish and Gothic influences, being the Aqueduct of Segovia the main star. The construction is an ancient Roman marvel that stands as a testament to the city's architectural prowess. The enchantment continues with the fairytale-like Alcázar of Segovia, a magnificent castle perched on a hilltop. The city's historic centre is a treasure trove of winding medieval streets and impressive cathedrals, such as the Gothic Segovia Cathedral. And there is more!
Even though the Aqueduct steals the spotlight, locals also love the city walls, or "La Muralla". Walking along the ancient fortifications provides enchanting views of the cityscape and allows you to discover hidden corners and lesser-known sections of Segovia. It is a peaceful and scenic way to immerse yourself in the town's history.
Apart from the historical heritage and architecture, shopping is a crucial activity for the locals. There are plenty of streets you should check out, and Calle de Juan Bravo is one of the most authentic ones. It is lined with independent boutiques, artisan workshops and speciality stores. It is the perfect place to discover unique souvenirs, handcrafted items and local delicacies!
And since we mentioned delicacies… Segovia is renowned for its culinary delights, most notably the succulent roast suckling pig and tender Segovian-style lamb, which will taste heavenly after a long day of covering the city from one end to the other!
Cáceres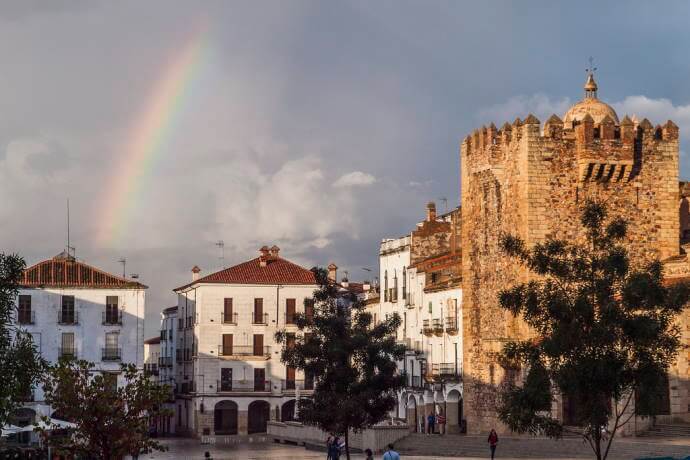 Cáceres, located in the western region of Extremadura, is a city that embodies a seamless fusion of mediaeval and Renaissance architecture. This Spanish destination is known for being "two cities in one", composed of the lower area where most people live in, modern and more similar to a big city, and the upper part, definitely more appealing to tourists. Here you will find the historic centre of Cáceres, a UNESCO World Heritage site, with its impressive Plaza Mayor, the grand Cáceres Cathedral and the iconic Bujaco Tower. Prepare to step back in time through these magnificent sites!
Since you are set in a bygone era, there is one more mediaeval structure you must see. Outside the city walls you will find Baluarte de los Pozos, another key-element in the defence of the city. This fortification is used as a peaceful retreat thanks to the sweeping scenery of the countryside.
If you want to come back to reality in a fresh and quiet location, the Jardín de los Obispos is an awesome choice! A lovely garden located near the Santa María Cathedral with plenty of shade to take a respite from the heat amidst nature.
This city also boasts a thriving gastronomic scene, with traditional taverns scattered around the city serving local delicacies. A perfect and healthy Summer snack are the Cerezas del Jerte, fresh high-quality cherries produced here that are only sold in July and August.
Another big production of Cáceres is cheese and you have different varieties to choose from, such as Queso Ibores and Torta del Casar. They will for sure help you recharge your batteries!
Murcia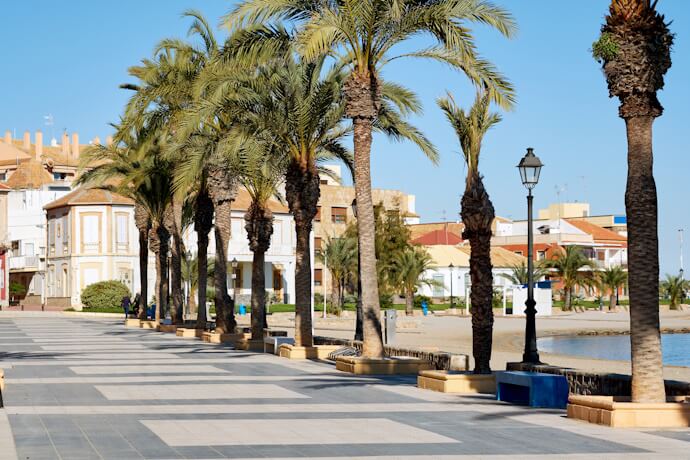 You are now on the eastern side of Spain again, in Murcia, known for its rich history, alluring old town and sunny Mediterranean climate. The city attracts visitors with its stunning architecture, including the grand Murcia Cathedral and the ornate Real Casino de Murcia. Murcia's buzzing streets are filled with markets, trendy shops and enticing cafes, where you can savour the local cuisine and absorb the warm ambiance. Surrounded by fertile countryside, Murcia is also renowned for its agricultural abundance, particularly its citrus orchards.
Your first visit can be to the Santa Clara Museum, an old fortress for Castilian monarchs and a royal monastery for the Clarisas nuns from 1365 to the present day. The building that houses the museum was also a palace for Muslim emirs in the 12th and 13th centuries, which makes it a legendary confluence of eras and cultures, such as Islamic, Gothic and Baroque.
Santa Clara has a large collection of Andalusian archaeology, with architectural remains that include carved and decorated wood, plinths with interesting ataurique work, carved and painted plasterwork, as well as the remains of a muqarnas cover.
Following this culturally rich visit, you can head to the Sanctuary of La Fuensanta, a pilgrimage site with prestigious panoramic views of the city.
Murcia has a riverside promenade as well, the Paseo del Malecón, a fan-favourite for long walks and outdoor activities, always along the glowing Segura River.
Setenil de las Bodegas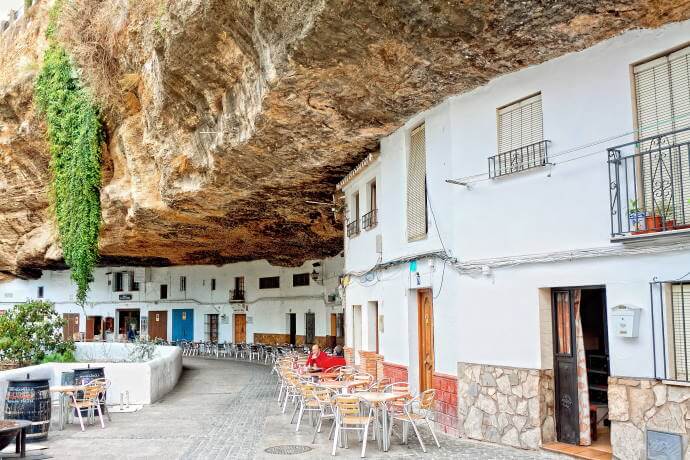 You have reached the long-awaited southern region of Andalusia! In the province of Cádiz there is a lesser-known village called Setenil de las Bodegas, truly remarkable for its architecture since many of its buildings are built directly into the rocky cliffs. Strolling through the village feels like stepping into a fairy tale, with houses and caves completely integrated into the natural landscape.
This phenomenon is even more visible in certain streets, such as Calle Cuevas del Sol and Calle Cuevas de la Sombra, which literally means "Caves of the Sun" and "Caves of the Shadow". Here you will encounter small rural houses below the enormous rocks that serve as the roof. It is a very unique aesthetic that gives you an insight into the town's fascinating history and architectural heritage.
Visiting at least one viewpoint is mandatory to grasp the enormity of a place, so this time it is Mirador del Carmen, to help you see this picturesque layout from above and practically the entire Andalusian countryside.
As expected from a village built on rocks, there are numerous hiking trails and pathways where you will be encircled by majestic natural landscapes, idyllic to connect with nature and enjoy the tranquillity and beauty of the area.
At the end of the day, locals love to get together in Plaza de Andalucía, a smaller square where you can rest and drink a cold, well-deserved beer.
Málaga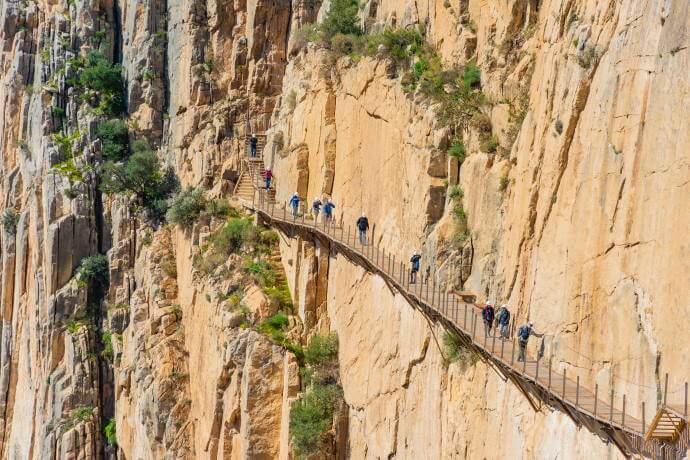 Málaga is part of the entrancing Costa del Sol in Andalusia, a coastal city like no other! It is famous for being the birthplace of renowned artist Pablo Picasso, so here you will find attractions like the Picasso Museum and the vibrant Soho district, adorned with street art to pay tribute to his life. The city has an enthralling historic centre with the iconic Alcazaba fortress, the Roman Theatre and the magnificent cathedral. Málaga's lively atmosphere extends to its palm-lined promenades, markets and a diverse culinary scene that highlights fresh seafood and traditional Andalusian cuisine. A good example is the Mercado de Salamanca, where you will always find fresh produce, local products and enjoy a casual meal or tapas at the market's eateries without spending hours in lines.
A good place to rest in-between attractions or to have a picnic is the Botanical Garden La Concepción, a park considered an oasis in the city, with well-manicured gardens and shaded pathways.
After getting your strength back, a good option for the afternoon (especially if it is a little too warm) is the Contemporary Art Center of Málaga, an art gallery that hosts exhibitions by both emerging and established artists. This cultural space is appreciated for its diverse art collection and thought-provoking exhibitions.
Speaking of thought-provoking, how about venturing into the "World's Once Most Hazardous" hiking trail? We are talking about Caminito del Rey, or "The King's Path", and yes, King Alfonso XIII crossed this walkway in 1021, and he was the only one. This pathway is 3 kilometres long (1.9 miles) and is hanging over 100 metres (328 feet) up on a sheer cliff. The pro is that the views are other-worldly, the con is that it is really scary.
But do not worry! You can still see unrivalled sunset views (and not 100 metres above the ground), from the Gibralfaro Castle, a mediaeval structure built to defend the Alcazaba from the enemies. This castle recently became a highly popular point of interest for its romantic scenery when the sky fills up with hues of orange and purple.
---