The sun, the warm weather and the gold pristine beaches are part of the Portuguese allure. Most tourists want to be a part of the Portuguese Mediterranean Summer, where food, culture and relaxation come together into what is the perfect holiday (whether with family or alone). However, in this country of clear blue skies and inviting weather, there are different activities to do and places to see, no matter the season!
Because we believe Portugal is the perfect destination all-year-around, we have carefully curated this blog post to tell you all the secrets to enjoy this destination's potential to the fullest. From January to December, be prepared to discover Portugal like no other!
Autumn

Pleasant weather and sunshine galore. The Autumn season in Portugal is a time of moderate temperatures, scentful smells and colourful trees. Despite the milder temperatures, in comparison to the Summer, this season is already attracting a sizeable number of international tourists. Even though it does not compare to the months of July and August, you still need to book your activities with the necessary time to guarantee entry.
Autumn is also part of the harvest season, the perfect time to visit a vineyard and get a taste of the new wines. Particularly because this is when the "vindimas" happen. This is the time wine estates start collecting the year's produce. This is a celebration that involves work but also food, music and dance! In the Alentejo and Douro regions, you can find small villages that take part in this tradition and make the perfect stop on your trip!
If you want to avoid the Algarve in the Summer, this destination can be an option in your Autumn tour of Portugal. During this time of the year, this region boasts the perfect Mediterranean weather that is just right to enjoy your holidays to the fullest. Far from the crowds, we recommend you take a boat trip along the gorgeous Ria Formosa, one of the country's seven wonders and a wetland of great importance for its fauna and flora. This idyllic, peaceful landscape will make you instantly fall in love.
As for food, Autumn is a season rich in tradition, starting with the delicious roasted chestnuts directly associated with the folklore around São Martinho's legend. In any corner, you will find a roaster selling this delicacy hidden in paper cones. For the chillier nights, where a coat is welcomed, a comforting "feijoada" is ideal. This is a traditional dish made with beans and meat that will warm your soul!
Winter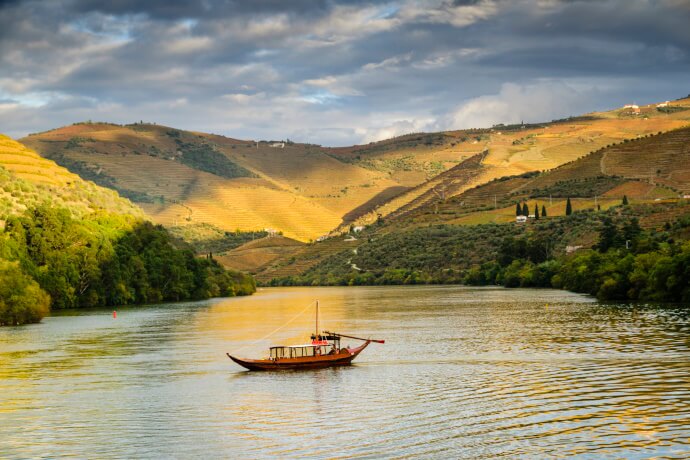 Starting in December 21st, Winter in Portugal is an enjoyable season with temperatures averaging 16ºC, rarely going under 10ºC, with the exception of specific locations like the Estrela Mountain, which are located at a specific altitude. Even though rain is expected during this time of year, between September and March you can still count on blue skies and sunny days. Fun fact, Portugal has an average of more than 300 days of sun per year!
Why should you visit Portugal in the Winter? The coldest season of the year presents a good number of advantages that we are sure are going to change your mind. First things first, this time of the year is considered the country's low season. Most tourists decide to travel in the warmer months, so between November and March, you will find this destination to present more competitive prices. Consequently, another advantage is that most top attractions are not going to be crowded. As a result, this is the perfect time to get to know the most popular sites and explore the charming streets of Lisbon and Porto!
Some of the places you must consider visiting in the Winter are the Pena Palace and Quinta da Regaleira in Sintra, one of the most sought-out locations to visit in the Lisbon region, and the Palácio da Bolsa in Porto. You should also take some time to explore a popular neighbourhood in the capital, Belém, where you can find the famous Pastéis de Belém and the fascinating Jerónimos Monastery. While in the Summer, the queues get quite long, in the Winter you can expect a smoother journey with little to no waiting time!
Not forgetting, of course, one of the world's favourite holidays, Christmas, the Estrela Mountains is the ideal site to enter the season's spirit and live the true magic of winter up in the mountains, surrounded by white fluffy snow! This gem of Portuguese natural wonders is located in the country's central region, about 200km away from Porto. As a location both favoured by locals and visitors during this time of year, you might find Estrela to be slightly busier than other Portuguese attractions.
Lastly, this is the perfect time of the year to try some of Portugal's warm mouth-watering traditional dishes, such as the Cozido à Portuguesa and the Bacalhau com todos, a typical Christmas dinner that includes boiled cod fish and egg, accompanied by steamed veggies (carrot, potatoes and green beans).
Spring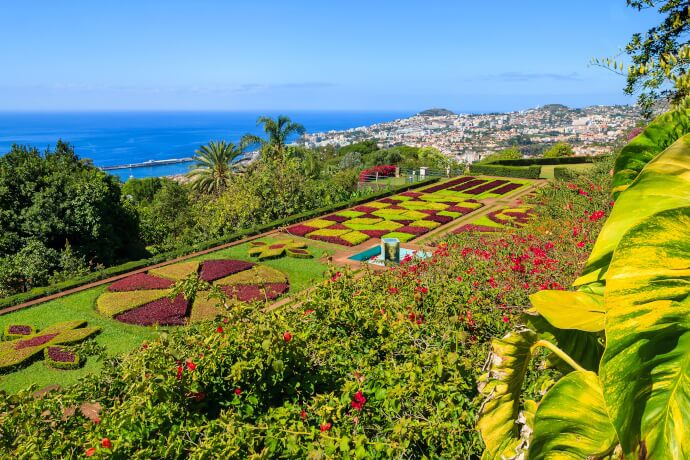 In April, the scenario starts to change, and instead of finding mostly locals in Portuguese streets, you will start seeing a growing crowd of tourists. Bringing the best of Mediterranean mild weather, longer days, sunny weeks and blooming flowers, Spring time is one of Portugal's busiest seasons. These months are characterized by a bigger demand for top attractions, such as the ones referenced before (Sintra and the Pena Palace, Lisbon and Porto). For that reason, to visit the country in the Spring, you must be prepared to book all your activities in advance.
Despite the crowds, Portugal's vibrant capital is at its finest between May and June. This is a time of traditional festivities, namely the Santos Populares. These celebrations in Lisbon are dedicated to Saint Anthony and are characterized by traditional songs, dances and delicious food that take over the city's main streets (including the iconic Avenida da Liberdade)! One of the top things to eat is the delectable charcoal grilled sardines. You will find them almost in every corner on the night of June 12th, Saint Anthony's Day Eve.
Another popular festivity is Festa das Flores on Madeira Island. Between late April and May, this annual event takes over the streets of Funchal to announce the arrival of Spring. This celebration is deeply rooted in the island's culture. One of its main features is the Flower Parade, which brings out different vibrant colours to the streets and is a real work of art. Festa das Flores, alike the Santos Populares, attracts a great number of tourists to Madeira. For that reason, it is vital you plan your trip with time!
With nature waking up after the colder months of winter, Spring is also the perfect time to explore the Portuguese green attractions with flowers in bloom. Viseu, also known as the Garden City, is a town in beautiful Central Portugal worth visiting. Here you will find beautiful gardens that will grant you the necessary respite from the capital's hustle and bustle of activity and people.
If you are a nature enthusiast, you can go a step further and uncover Portugal's stunning natural heritage. The country has over a handful of well-preserved nature reserves and parks that are worth exploring during this time of year! Combining this with hiking, the Parque Natural do Alvão in Vila Real (northern region) is home to varied fauna and flora. One of the park's features you will not want to miss is the Fisgas de Ermelo, one of the country's highest waterfalls with a height of circa 200 metres!
Summer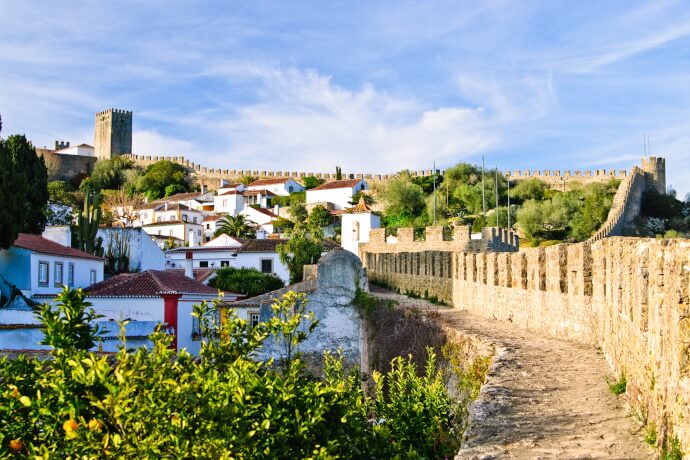 From late June to early September, the lovely Summer season starts bringing with it significantly hotter and drier weather, as well as longer days that invite people out of their houses. This is also the time of the year most Portuguese and international people do their family holidays. With places and activities to entertain people from all ages, the country is the ideal place to relax and embark on a unique adventure!
If you do not mind crowded beaches, then a week in the Algarve, exploring South Portugal's Coast is the perfect plan! Here the obligatory stops are Ponta da Piedade, Praia Dona Ana and Tavira island. For group activity or with your family and friends, we recommend a boat trip to the dazzling blue grottoes in Lagos.
Nonetheless, the Summer is the ideal time to explore other cities that lie around popular destinations. These locations usually are off most people's radars; however, they are fascinating sites to learn more about Portuguese culture and history. Also, we know that basking under the warm sun and perusing along the busy streets of the Algarve might not be the ideal holiday for everyone. As crowds gather South, this season is the ultimate time to explore Portugal's hidden gems.
For example, Óbidos is a small village north of Lisbon that will transport you back in time as soon as you step foot in it. Every narrow, cobblestone street appears to have come out of a television period drama. The whole town dotted by its characteristic red-roofed white houses is enclosed in a fortification of tall stone walls, which you can walk along to get a unique view. In between your adventure, you can make a quick stop to try the locally-made ginjinha.
In the Alentejo region, you can find the picturesque Estremoz, also known as the white city. This Portuguese town is one of the country's hidden gems for both its gastronomical and historical value. Some of this destination's top attractions are the 12th-century Estremoz Castle, Saint Anthony, Saint Catherine, Corrals, and Évora gates. Of course, we cannot forget the wines accompanied by a delectable lamb stew.
Your go-to any season
Either in the cold days of Winter or the basking warm months of Summer, Portugal is the perfect holiday destination all-year-around. With a diverse and dazzling natural landscape, a rich historical heritage and deeply-rooted cultural value, there is always something for you to do in this country whether you are alone, with friends or with your family! Plus, the food here will never cease to amaze you. So, the real question is, are you ready to plan your trip to Portugal?
---