If you are still navigating different options of where to travel to this summer and Portugal is one of them, drop your anchor! This is your best choice and we are going to tell you all the things you can experience in this Mediterranean land.
Portugal is a country with a lot of good things to offer, whether it be weather, food, wine, history, culture or landscapes. But today we want to focus more on the adventurous side of the country and spill some hidden gems!
When you think of Summer, you probably think of July and August, but that does not have to be the case when you are in a warm country with 300 sunny days a year. Portuguese Summer starts around May and lasts until the end of October. In fact, many locals actually prefer to take some time off during these off-season months to be able to properly relax and enjoy, since there are less people around, and therefore, it is easier to find accommodation, to visit monuments, and of utmost importance, it is easier to find a good spot to place your towel. The temperatures are also milder after August, which makes it more pleasant to walk around in the sun.
Nevertheless, it is always best to schedule everything in advance to avoid last-minute changes. So, now that you are aware of everything, let's hop into the adventure!
Discover the beautiful natural grottoes in the Algarve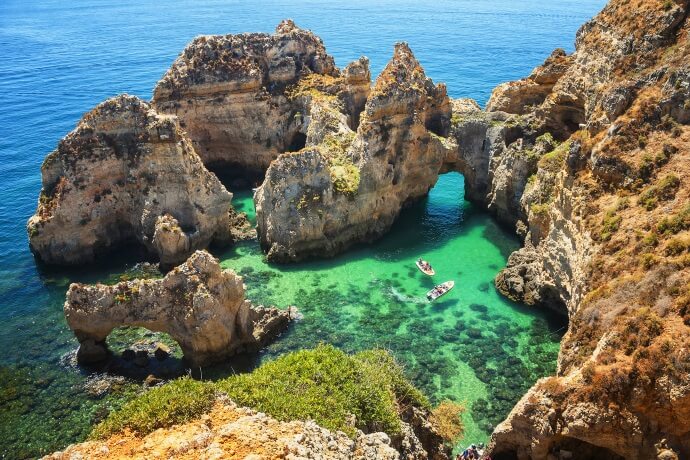 The South of Portugal is the obvious choice when it comes to summer holidays, and it is so for a reason (or many!).
Apart from its quaint fishing villages, imposing golden cliffs and of course, top-tier beaches, its stunning natural grottoes are definitely worth your visit. The most famous one is Algar de Benagil, a big secluded cave reachable by boat known for a distinctive "hole" in its roof, that lets only a few sunrays in, giving a unique lighting effect.
In the town of Lagos there are many other grottoes you can explore located along the coastline Ponta da Piedade. You can reach them by boat, with a guide to tell you all the secrets kept by these rock formations, while you focus on the breath-taking views and snapping some memorable pictures, or you can choose a more challenging option and go kayaking or on foot, by hiking along the coastal cliffs. Some of these most popular hiking trails include the Ponta da Piedade Trail and the Dona Ana Trail.
Whichever option you choose, do not forget to have fun and fully appreciate the moment!
Indulge in fresh fish and seafood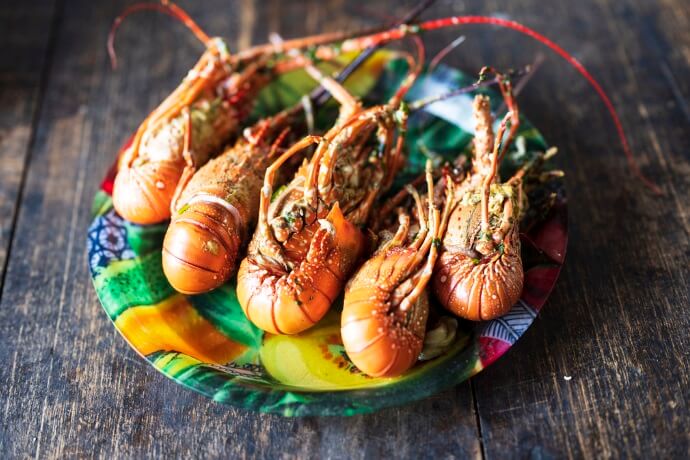 Our Mediterranean and Atlantic influenced gastronomy is just other-worldly and always needs to be mentioned, as it is important to have good food to recharge your batteries!
We believe Portuguese people speak in unison when they say that fresh fish and seafood are the best they have to offer.
Most traditional restaurants in the country offer grilled fish and seafood dishes, but needless to say that the coastal regions are the ones you should look for to properly delve in the best sea flavours. Some of these regions are the Algarve, Sesimbra, Nazaré, Ericeira and Cascais.
And we have come up with a list of the main dishes you cannot miss!
Goose Barnacles: It does not look like the best tasting food ever, we admit, it looks more like wrinkled fingers, but you must give it a chance. This is the seafood that tastes the most like the sea.
Slipper Lobster: These are a smaller version of the normal lobsters, equally tasty and slightly sweeter. Do not leave the head on the edge of the plate, it is an authentic delicacy!
Stuffed stone crab: A seafood feast isn't really a seafood feast without this staple. This one is not a main dish, but a great appetizer and one of the most traditional and authentic Portuguese seafood spread, ideal with crackers or toasted bread. The meat of the shell is the starting point for preparing a wonderful stuffing, to which pickles, boiled eggs, parsley and mayonnaise are added and then served in the shell itself. The legs, arranged next to it, are fleshy and, although they are cooked, they also require the typical seafood hammer so that every little piece can be properly savoured.
Bulhão Pato Clams: This one is a fan favourite! A quite simple dish that combines clams with a delicious sauce made with olive oil, lemon juice, garlic, and coriander. It is usually served as an appetizer, but we do know many people eat this as a main dish, as it is so flavoury it is hard to stop eating. Curious fact, it was named after the 19th-century poet Raimundo António de Bulhão Pato, but unfortunately for him, most people immediately associate this name with seafood.
Prawn ao alhinho: Last but not least, prawns are a must when it comes to seafood. Sautéed prawns in a sea of sublime Portuguese olive oil, with salt and lots of fried garlic. What could be better? For those who love a touch of spice, add chilli or piri-piri and the prawns just burst with a whole new flavour. Any of these mouth-watering dishes should be accompanied by some Portuguese green wine and a bread basket to enjoy the olive oil!
Go on a hike in a Natural Park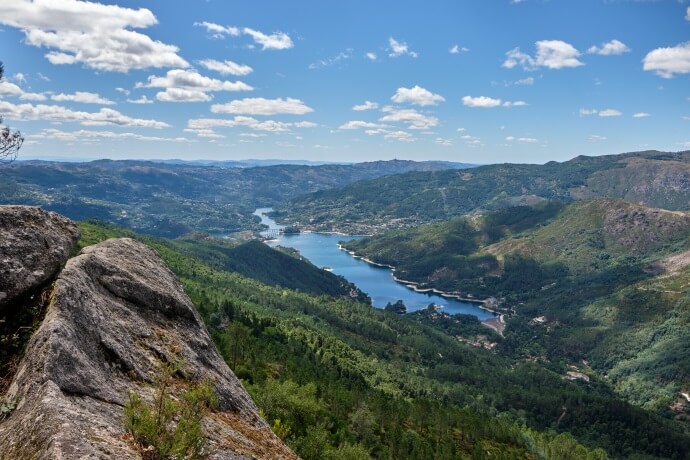 Portugal's landscapes are incredibly diverse and offer a wide range of stunning scenery, from rugged mountains to rolling hills, from dramatic cliffs to sandy beaches, and from lush forests to arid plains. A crucial element of this landscape is the quantity of natural parks, that offer some of the best hiking trails in Europe. We want to give you another useful list, now with the best parks to consider for hiking in Portugal!
Peneda - Gerês National Park: Located in the northern part of Portugal, this is one of the best places for hiking. The landscape is characterized by its mountainous terrain, with the highest peak at the Pico da Nevosa, reaching an elevation of 1,560 meters. Do not fear though, there is a variety of trails that range from easy to difficult and the spectacular views of the park's waterfalls, mountains and forests ease the journey.
Serra da Estrela Natural Park: In central Portugal you will find the Serra da Estrela Natural Park, the largest one in the country. It is known for its stunning mountains and valleys and has an array of pedestrian trails that take visitors through its rugged terrain, always accompanied with a remarkable landscape.
Sintra-Cascais Natural Park: Near Lisbon, the Sintra-Cascais Natural Park is a unique and picturesque park, a fusion between the royal village of Sintra and the coastline of Cascais. One of the most popular hiking trails is the Serra de Sintra Trail for its phenomenal views of the park's castles and palaces, including the Pena Palace and the Moorish Castle.
Arrábida Natural Park: Located on the southern coast of Portugal, Arrábida Natural Park is famous for its beautiful beaches with crystal-clear waters and rocky cliffs. In addition to hiking through lush forests, you can also enjoy other activities, such as rock climbing, kayaking and even swimming.
Ria Formosa Natural Park: This park is situated in the Algarve region and it is one of the most important wetlands in Europe due to its ecological diversity, as it is home to a variety of rare and endangered plant and animal species. Birds are the main attraction, so prepare to be surrounded by flamingos, spoonbills and herons as well as beautiful lagoons.
Overall, Portugal has numerous natural parks that are perfect for hiking and each one offers its own unique set of attractions and scenery. Whether you are looking for coastal views or mountain landscapes, you can be certain to find a natural park that fits your personal preferences.
Have a Picnic in the Vineyards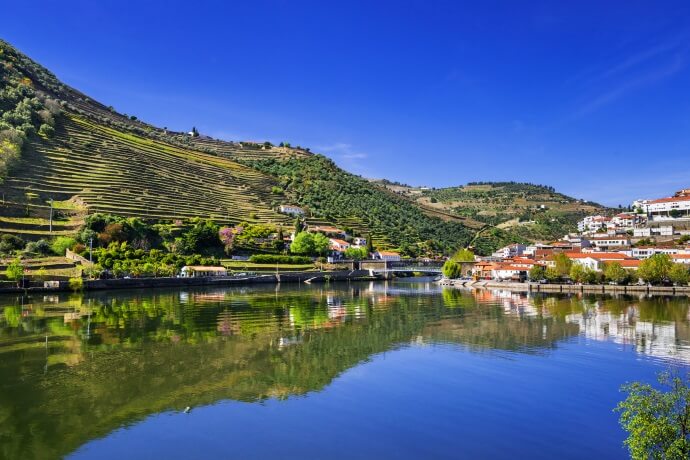 Having a picnic in the vineyards of Portugal will always be a fond memory. You will be surrounded by two of the best things we have to offer: endless green views and wine!
You spread out a picnic blanket and open up a basket filled with delicious traditional treats, such as bread, cheese, olives, and cured meats. As a finishing touch, pour yourself a glass of fresh green wine. Can't you already feel the sun rays warming your skin and a gentle breeze blowing through the vines? As you eat and drink, you can take in the stunning scenery around you. The vineyards stretch out in every direction, their neat rows of grapevines marching up and down the hillsides.
Depending on where you go, you might see a boat sailing along the Douro River below, or animals having a nap in the shade of cork oaks in Alentejo. You have many options of vineyards to choose from!
After your meal, you can take a stroll through the vineyards to explore all the nooks and crannies and you may come across a hidden waterfall or stumble upon a quaint little village nestled among the hills. It is also highly recommended to participate in a guided tour of one of the local wineries, where you will learn about the history and techniques of winemaking in the region.
As the sun begins to set, it is guaranteed that you will go back to your hotel feeling relaxed and rejuvenated. Whether you are a wine enthusiast or a nature lover, a picnic in the vineyards is the getaway you need.
Relax at the Beach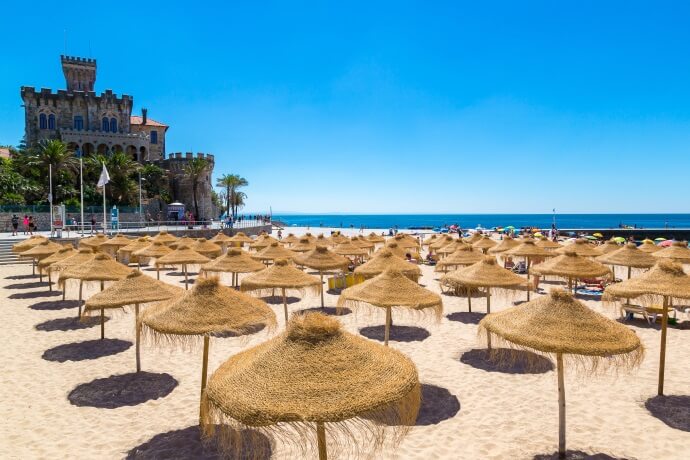 After the adventure, some peace and quiet is needed, and what better way to fully disconnect than to just appreciate the beauty of big waves lashing the shore and feeling that distinctive beach smell?
Here comes one final list that encompasses the best beach areas to sunbathe in Portugal!
Lisbon Coast: The Lisbon Coast stretches from Cascais to Setúbal and offers miles and miles of sandy beaches to choose from. From the popular beaches of Cascais and Estoril to the quieter coves of Arrábida, there is space for everyone on this stretch of coastline. Praia da Comporta is also a must!
Vicentina Coast: If you prefer a more rugged and wild experience, head to the Vicentina Coast! It is located in the Alentejo region and is a timeless hidden gem. Praia do Amado and Praia do Castelejo are two of the most popular beaches in this area, with their dramatic cliffs and excellent surf conditions.
Silver Coast: The Silver Coast, or Costa de Prata, is located in the central part of Portugal and is perfect for those who want to combine beach time with cultural activities, as there are many historic towns and villages to explore nearby. Some of the most popular beaches in this area include Praia do Norte, Praia da Nazaré, and Praia da Foz do Arelho.
Madeira: When we think of beaches, we usually assume Portugal's mainland, but that is not at all true. The island of Madeira is home to some of the most picturesque beaches in the country with a subtropical climate and lush vegetation. Praia Formosa is one of the most popular beaches, with its black sand and lively blue waters, but there are many more. In Madeira you can expect a unique beach experience.
We saved the next topic for last as we are sure you knew it was coming!
Algarve: The Algarve region in southern Portugal is known for its rugged coastline, golden beaches, and stunning cliffs. This region boasts some of the most beautiful beaches in Portugal, including Praia da Rocha, Praia do Vau, and Praia do Camilo. Whether you're looking for a quiet beach to relax on or a livelier atmosphere with water sports and activities, the Algarve has it all!
No matter what beach you go to, there is something they all have in common: the tradition of eating our famous beach pastry called Bola de Berlim! This pastry has almost become a national symbol of Summer. This so-called "Berlin Ball" is essentially a doughnut-like pastry filled with a sweet egg cream. It was originally a German recipe brought by families who exiled in Portugal during the World War II. Long story short, the original version was similar but with a wild berry filling and was adapted to our own baking techniques (which means eggs are now the key-ingredient, our favourite!). The most old-school way of buying your own is to run towards a vendor at the beach when you hear them scream "Bola de Berliiiiiim!" Over the years people got creative and you can now find these pastries with many different flavours.


To sum up what you read above, Portugal has stunning natural beauty, a mild climate, great food and wines and most importantly, an array of new experiences at your disposal. Whether you are looking for a relaxing getaway or an adventure-filled vacation, Portugal has what you have been dreaming of!
---