Antoni Gaudí was an extraordinary artist who left an indelible mark on the world of architecture with his visionary creations. Throughout his life, this Spanish architect designed a plethora of awe-inspiring structures, each showcasing his unique blend of nature-inspired designs, bold experimentation and profound spirituality, making him an iconic figure of Catalan Modernism.
From the iconic Sagrada Família to the whimsical Park Güell and the enchanting Casa Batlló, Gaudí's masterpieces continue to captivate and inspire millions, immortalizing his legacy as a true pioneer of artistic expression in architecture. Let us delve into the life's work of this exceptional artist and discover the enduring beauty and brilliance that define Antoni Gaudí's remarkable footsteps in Barcelona and beyond!
Who was Antoni Gaudí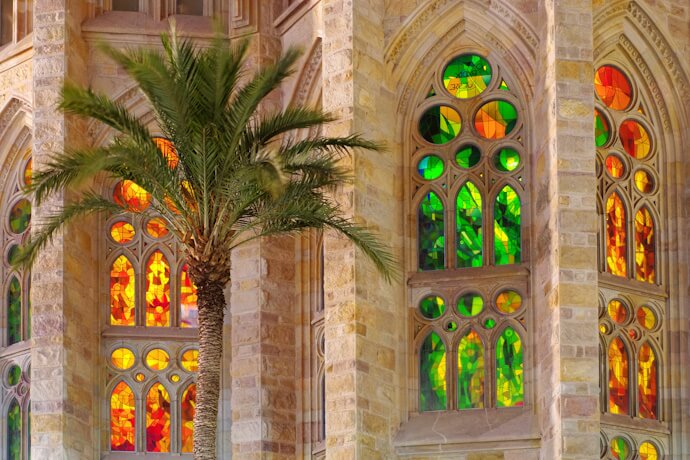 Born in 1852, in Reus, in the Catalonia region, Antoni Gaudí is best known for his work in Barcelona, where he became the driving force behind Catalan Modernism. His groundbreaking structures have not only become icons of Spanish architecture but have also earned him international acclaim as one of the most creative minds in the field.
Gaudí's passion for architecture became evident early on and he eventually enrolled at the Barcelona Higher School of Architecture, where he demonstrated a unique blend of traditional and innovative approaches to design, drawing inspiration from nature, geometry and religious themes. When he graduated, Elies Rogent, the school's director at the time, declared: "We have given the title to a genius or a madman, time will tell".
Gaudí's designs were, in fact, far ahead of his time, reflecting an unparalleled imagination that left a permanent imprint on the landscape of Barcelona and the world!
Gaudí and the Modernism in Barcelona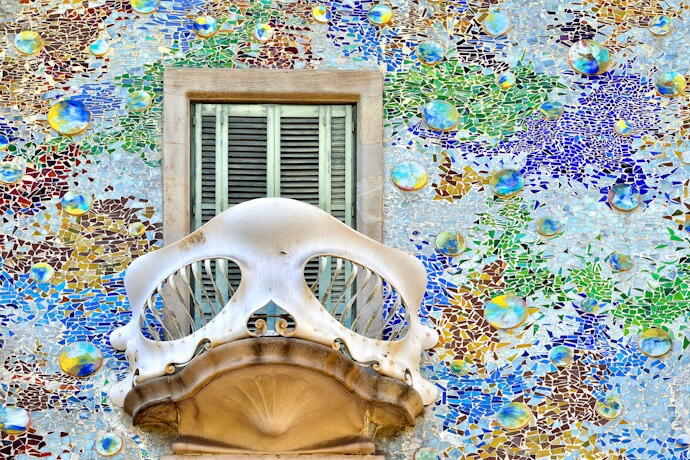 Modernism, often referred to as "Art Nouveau" in other parts of Europe, emerged in the late 19th and early 20th centuries as a response to the rapid industrialization and urbanization that characterized the era. Modernist artists and architects aimed to create a new aesthetic that reflected contemporary life and celebrated individuality, often drawing inspiration from nature and organic forms.
In the Catalonia region, namely in Barcelona, Antoni Gaudí's work in architecture epitomized the essence of Modernism while incorporating his own distinct vision. He approached each project as a canvas for artistic expression, combining aesthetics, functionality and symbolism in flawless harmony.
He believed that nature held the purest forms of beauty and efficiency, and thus, his buildings often featured elements that seamlessly merged with the environment, blurring the lines between man-made and natural spaces. His deep Catholic faith and devotion to his Catalan roots have also influenced his designs with religious symbolism and spiritual elements, most notably in the Sagrada Família.
Continually pushing the boundaries of available materials and construction techniques, Gaudí was also an experimental architect, creating structures with unparalleled stability and aesthetic appeal.
Antoni Gaudí's Modernism created an architectural legacy that defines Barcelona's identity and his unique and visionary approach to design has had a profound impact on the city. Come with us on this journey following Gaudí's footsteps!
Palau Güell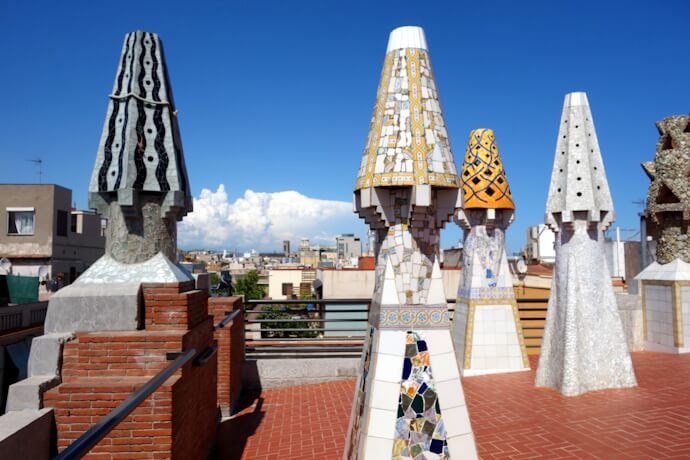 A UNESCO World Heritage site, Palau Güell is a remarkable architectural masterpiece! Commissioned by Eusebi Güell, a prominent industrialist and Gaudí's patron, the palace was constructed between 1886 and 1890, as the private residence for the Güell family in Barcelona.
Palau Güell showcases Gaudí's ingenuity and vision and his ability to blend artistic expression with functional design smoothly. The building's façade features an intriguing combination of mediaeval and Eastern influences, characterized by its wrought ironwork, parabolic arches and vibrant ceramic mosaics. Inside, the palatial interiors boast a breathtaking array of design elements, including intricate ceilings, fascinating skylights and opulent stonework.
The building's crowning jewel is the rooftop, featuring vividly coloured chimneys and ventilation towers known as "espantabruixes" (scarecrows). These elements not only serve functional purposes but also contribute to the overall artistic and whimsical charm of the Palau Güell.
Casa Batlò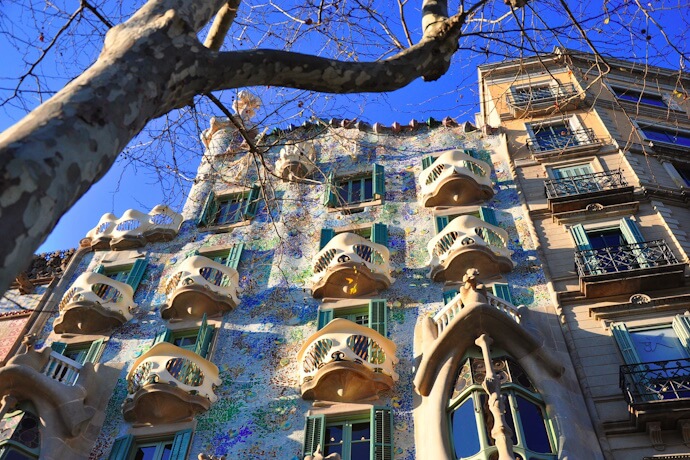 This iconic building stands as a testament to Gaudí's boundless creativity and his ability to transform ordinary structures into works of art. Besides being a UNESCO World Heritage site, Casa Batlló is a shining example of Catalonia's Modernism. Built between 1904 and 1906, was commissioned by Josep Batlló, a wealthy businessman who sought Gaudí's expertise to renovate the existing building. Gaudí's imaginative approach to design and his desire to incorporate nature's organic forms led to the creation of a structure that resembles a living and breathing work of art.
The building's façade is a symphony of colours and textures, adorned with a vibrant mosaic of ceramic tiles and fragments of glass. Its undulating shapes and curvilinear balconies resemble the mythical dragon slain by St. George. The upper floors boast large windows with ornamental ironwork, allowing an abundance of natural light to flood the interior spaces.
Upon entering Casa Batlló, visitors are immediately transported into a world of fantasy and wonder. The central lightwell, known as the "patio of lights," is one of the highlights, with walls adorned with shimmering blue and green tiles, and the skylight illuminating the interior with a magical glow. And, again, the rooftop terrace is a whimsical wonderland with distinctive chimneys, often likened to mediaeval knights.
Casa Milà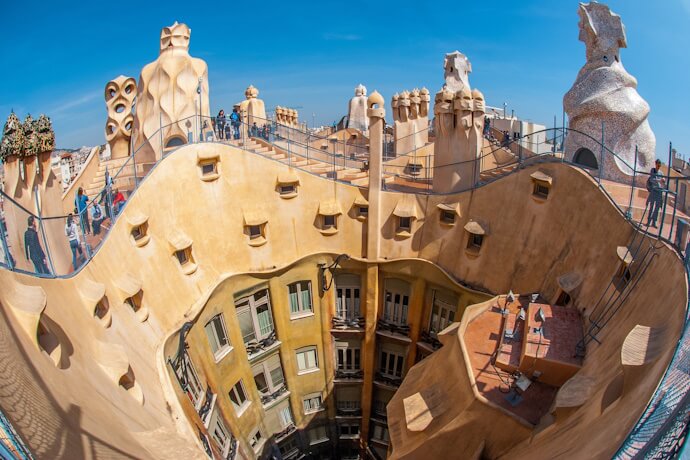 Popularly known as La Pedrera, Casa Milà stands as a masterpiece of Modernism. Built between 1906 and 1912 for the wealthy Milà family, the building's construction was revolutionary for its time. The façade is a stunning display of undulating stone that seems to flow like waves and the balconies feature wrought iron railings with fluid, plant-like patterns. Gaudí's intention was to create a building that resembled a natural rock formation, hence its nickname, "La Pedrera," which means "the quarry".
The central courtyard of Casa Milà, called the "patio de luces" (courtyard of lights), is an awe-inspiring space and it serves as a lightwell that illuminates the building's core. On the rooftop terrace, Gaudí's imaginative chimneys and ventilation towers seem to take the shape of mystical creatures, creating an almost surreal environment.
Another highlight of Casa Milà is the apartment that serves as a museum dedicated to Gaudí's life and work. Visitors can explore the recreated living spaces, gaining insight into the lifestyle of the early 20th-century bourgeoisie and witnessing firsthand the architect's attention to detail in every aspect of the building's design.
Parc Guëll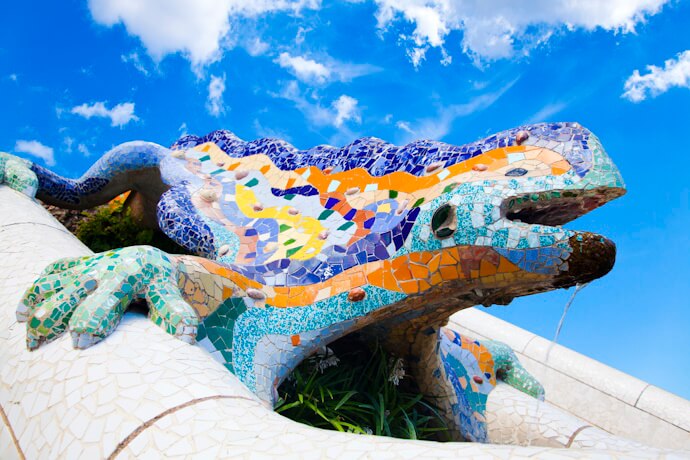 This public park in Barcelona is one of the most renowned works of the brilliant architect Antoni Gaudí. Also commissioned by the wealthy entrepreneur Eusebi Güell, was constructed between 1900 and 1914. The park was intended to be a garden city project, envisioned as a harmonious living space that combined urban infrastructure with the serenity of nature.
Upon entering Parc Güell, you will be greeted by the iconic dragon fountain and the grand staircase adorned with a colourful mosaic serpent, known as "El Drac." The dragon, made of trencadís (ceramic shards), is a symbol of Catalan nationalism and has become one of the park's most iconic images. Additionally, the "Mosaic Bench" is a serpentine bench covered in colourful ceramic pieces that offers panoramic views of the city and the park's unique architectural elements. The bench meanders like a sea serpent, allowing visitors to relax and appreciate the beauty of the surroundings.
While the original idea of creating a private residential community was not fully realized, Parc Güell remains a popular public space and a significant cultural landmark in Barcelona, offering a tranquil escape from the bustling city and providing a glimpse into Gaudi's exceptional creativity and architectural brilliance.
Casa Vicens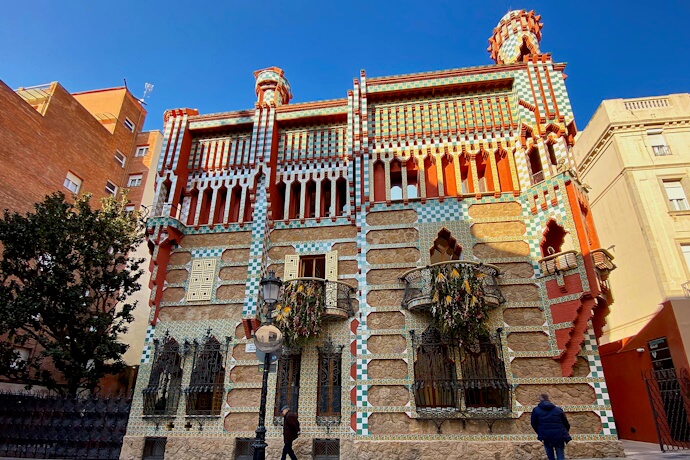 Casa Vicens is a dazzling residential building located in the Gràcia district of Barcelona and is one of the earliest and lesser-known works of Gaudí, yet it holds immense historical and artistic significance as a pioneer of Catalan Modernism.
Constructed between 1883 and 1885 as a summer residence for the Vicens family, it was Gaudí's first major independent project and it marked the beginning of his extraordinary architectural career. The exterior exhibits a harmonious fusion of Moorish and Oriental elements, showcasing Gaudí's creative exploration during this early phase of his career.
The vibrant and colourful ceramic façade is adorned with delicate floral motifs and geometric patterns - the use of ceramics was revolutionary and became a recurring theme in Gaudí's later works. The interior reflects the influence of nature, with flowing lines, arches and columns reminiscent of organic forms. The thoughtful incorporation of natural elements extends the beauty of the building into the garden, creating a harmonious relationship between the architecture and the surrounding environment.
For many years, Casa Vicens remained a private residence and underwent several renovations and modifications. But in 2005, it was declared a UNESCO World Heritage site, recognizing its immense cultural and architectural value and is open to the public, allowing visitors to explore the early masterwork of Gaudí.
Sagrada Família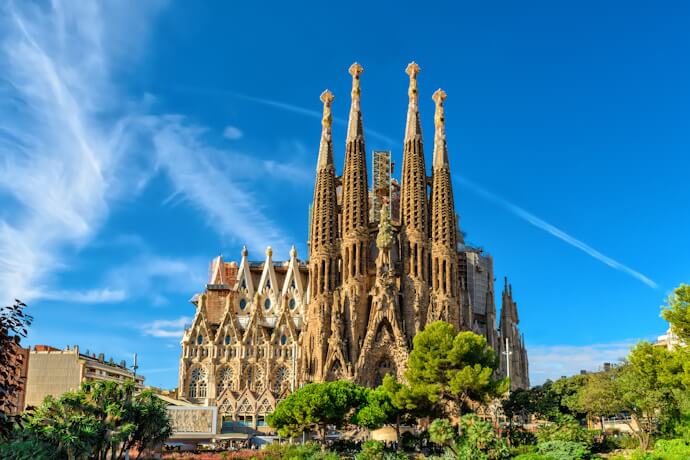 La Sagrada Família, the awe-inspiring basilica located in the heart of Barcelona, is arguably the most iconic and enduring symbol of Antoni Gaudí's architectural genius. This magnificent church is an ambitious work that remains unfinished to this day, yet its sheer grandeur and artistic complexity have captivated millions of visitors.
The construction of La Sagrada Família began in 1882 under the direction of the architect Francisco de Paula del Villar. However, Gaudí took over the project a year later and devoted the rest of his life to its design and construction. Gaudí's unique vision sought to create a place of worship that harmoniously blended religious symbolism with the awe-inspiring beauty of nature, which he referred to as "architecture drawn from the great book of nature."
The exterior of La Sagrada Família is a breathtaking display of intricate façades, each dedicated to different aspects of the Christian faith. Inside there is a symphony of light and colour, with towering columns branching out like trees and supporting a majestic vaulted ceiling. The stained-glass windows, carefully positioned to capture natural light, bathe the interior in a kaleidoscope of colours, creating a transcendent and spiritual atmosphere.
One of the most extraordinary aspects of La Sagrada Família is the unfinished nature of the basilica. Gaudí knew that the construction would extend far beyond his lifetime, and he once famously said, "My client is not in a hurry." After Gaudí's death in 1926, various architects continued his work, respecting his original designs and ideas, and its construction remains ongoing.
La Sagrada Família holds profound significance not only as a remarkable feat of architecture but also as a testament to the enduring dedication and collaboration of generations of architects, builders and artisans. It has been recognized as a UNESCO World Heritage site and stands as a lasting tribute to Gaudí's artistic vision.
Gaudí's works outside of Catalonia
The renowned Catalan artist made significant contributions to the field of architecture not only within Catalonia but also in other regions of Spain. Three notable examples of these works outside Catalonia are the Palacio Episcopal de Astorga, Casa Botines and El Capricho.


Palacio Episcopal de Astorga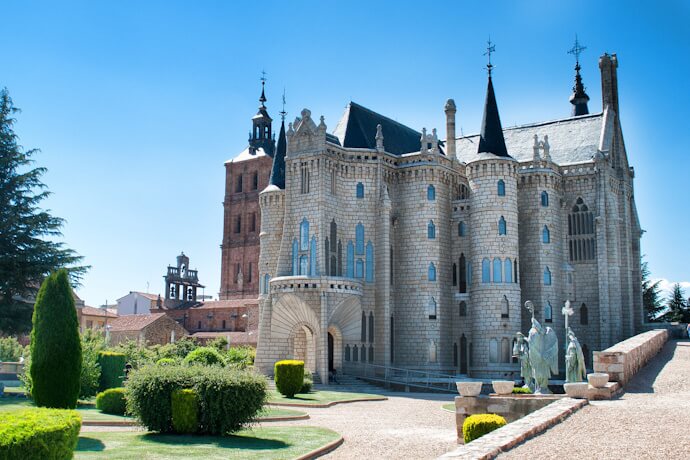 Located in Astorga, a town in the province of León, the Palacio Episcopal de Astorga is a stunning episcopal palace built between 1889 and 1915. The palace was commissioned by the Bishop of Astorga, Joan Baptista Grau, who was impressed by Gaudí's work in Catalonia.
This palace exhibits Gaudí's distinctive architectural style, with a harmonious blend of Gothic and Art Nouveau elements. The building's façade features ornate details and delicate sculptural work, showcasing Gaudí's mastery of integrating religious symbolism with artistic expression.
The most remarkable aspect of the palace is its iconic "Bishop's Garden," a lush green space that creates a serene atmosphere within the bustling town. Gaudí's attention to detail is evident in the garden's layout, which complements the palace's architectural elements.
Casa Botines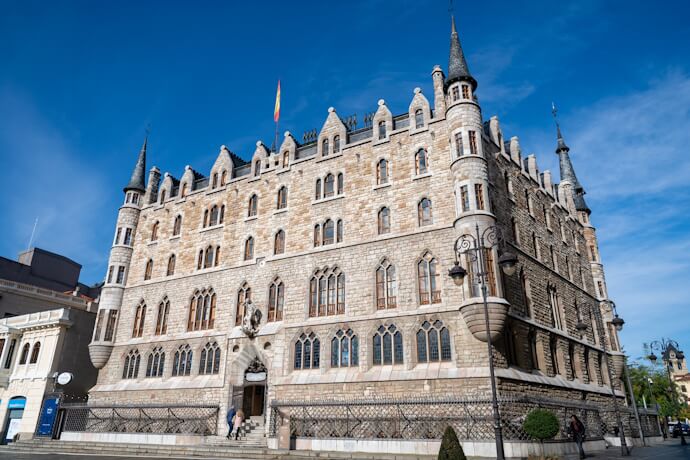 Also known as Casa Fernández y Andrés, Casa Botines is an architectural gem located in the city of León as well and is labelled as a Neo-Gothic building. Created between 1891 and 1892, its façade is a striking combination of brick and stone, featuring pointed arches and intricate decorative elements. Gaudí's design incorporated functional elements for commercial use on the ground floor and residential spaces on the upper levels.
The rooftop of Casa Botines stands out with its fantastical chimneys and turrets, displaying Gaudí's penchant for creating whimsical and imaginative features. While Casa Botines is smaller in scale compared to some of Gaudí's other works, it remains a captivating example of his ability to blend historical styles with innovative ideas.
El Capricho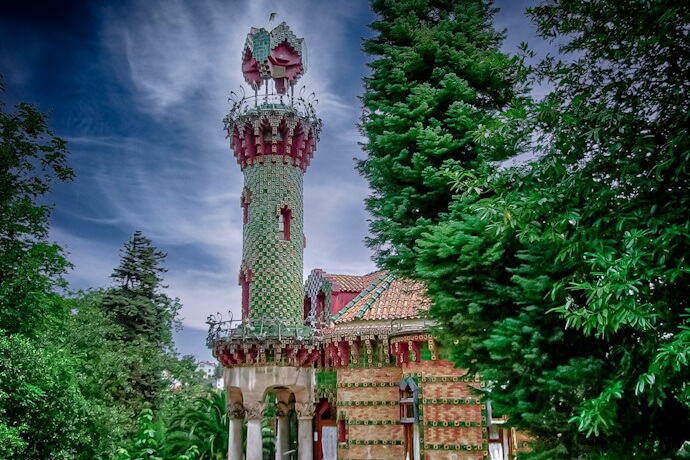 El Capricho is a charming villa located in the town of Comillas, in Cantabria. Designed and built between 1883 and 1885, is an early work by Gaudí and exhibits a more traditional architectural style with elements of Moorish and Oriental influence. The villa's design includes vibrant ceramic details and whimsical ironwork that add a touch of playfulness to the overall composition.
One of the highlights is the picturesque garden, featuring a variety of plant species and a pergola with colourful tiles. Gaudí's close attention to integrating nature into his designs is evident in the seamless relationship between the villa and its surrounding landscape.


Let's go to Spain and follow Gaudí's whimsical footsteps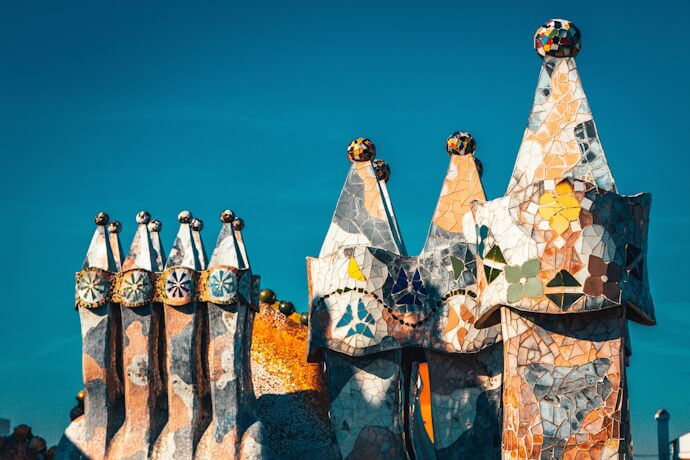 Antoni Gaudí's untimely death marked the end of an era for Catalan Modernism. Despite the fact that many of his projects were left unfinished, his architectural genius continues to inspire architects and artists to this day, making him a true visionary whose legacy will remain forever.
His architectural masterpieces have become part of Spain's identity, but especially of Barcelona. This vibrant city merges with the creative and innovative spirit of the master and attracts visitors from all over the world with its cheerful, colourful and whimsical personality. Let's follow Gaudi's footsteps and trail our journey through Spain!
---