Ever imagined what is like to have a life filled with luxurious experiences? That special feeling of having the best, tailored to your needs and wishes, is exactly what a luxury experience is all about. It is defined by attention to detail, personalized service, and a sense of exclusivity and refinement, ensuring that every moment is memorable. And, let us tell you, there are plenty of reasons why you should indulge in the finer things in life: they leave you feeling like a million bucks!
So, whether you are seeking a romantic getaway, an adventurous tour, an incredibly delicious meal, or simply a pampering escape, choosing a luxury option will, for sure, make a difference. And Portugal is the ideal destination to have it!
With over 300 days of sunshine in a year, Portugal has an incredible landscape that goes from some of the most beautiful beaches in the world, with crystal-clear waters and soft golden sand, to rolling hills covered in vibrant green vines that stretch as far as the eye can see. So outdoor adventures are a must!
However, if you are more into indulging in tasty meals and exquisite flavors, you should know that Portugal has one of the most delicious foods in the world, made with fresh and tasty regional products. It also produces awarded wines, and has plenty of restaurants with Michelin stars. But the best thing about Portugal might be its people - warm and welcoming, the Portuguese are known for their hospitality and love to receive and show all the best things the country has to offer.
So, yes, Portugal is a great destination for all kinds of travelers, but if you are looking for the best of the best, Portugal has exactly what you need to create memories that will last a lifetime. You might just have dreamed about it, but maybe it is your time to live it. So let us show you the 5 luxury experiences Portugal has to offer.
Take a private boat trip along Algarve's coastline

Are you ready for an adventure? A private boat trip along the stunning coastline of the Algarve is the perfect way to explore this breathtaking region and soak up some sun and fun. Imagine yourself on board, with your better half, cruising the crystal-clear waters, feeling the fresh breeze on your face and the warm sun on your skin. As you glide past towering cliffs and hidden coves, you will feel like a true explorer, discovering the secret corners of a scenic coastline.
Algarve, the southern region of Portugal, is known for having a beautiful seashore, filled with picturesque fishing villages, stunning golden cliffs, pristine beaches, coastal rock formations, and mysterious secluded grottoes. Benagil, a location between Portimão and Carvoeiro cities, has one of the most known caves of the Algarve, named Algar de Benagil. This enormous cave is illuminated by an impressive natural opening at the top and as the sun filters through this natural skylight, the waters below take on a mesmerizing shade of blue.
Lagos, on the western side of Algarve, is also another inviting destination, with wonderful small beaches placed among golden rocks and an enchanting historic center. But it is on a boat tour that you can really explore Lagos hidden wonders. With magnific grottoes and caves carved on the shore, artistically designed by wind and sea, its coast is a natural masterpiece that creates picture-perfect scenery. It is a paradise for photography lovers!
Onboard your private vessel, you and your companion may enjoy the intimacy of sipping a drink on the deck, soaking up some sun, or diving in the refreshing blue waters of a sheltered bay. And with your private captain, you can be at ease – just relax and appreciate the views!
Have a degustation meal at a winery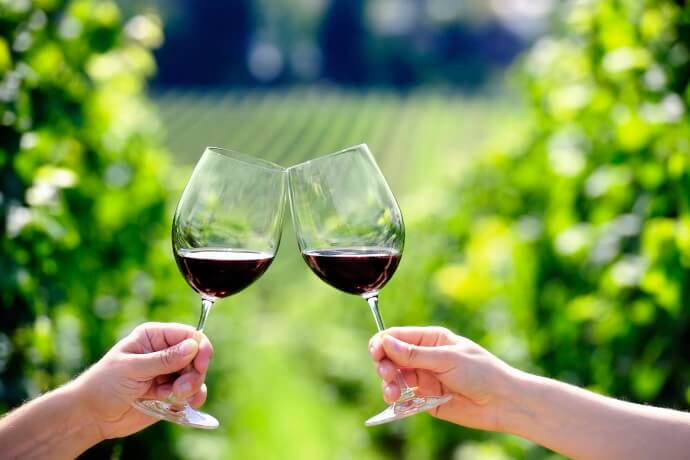 Steeped in a rich and legendary history, Portugal's wine heritage is a testament to the country's deep connection to the land and its people. Its wine tradition dates to Roman times and the Portuguese have developed their own styles of wine over the centuries. From the lush green valleys of the Douro to the sunny plains of the Alentejo, the diversity of the Portuguese terroir is reflected in the distinctive character of its wines, resulting in fortified Porto wine or refreshing Vinho Verde, or even the aromatic whites of Setúbal. This is the result of the commitment of winemakers, who have dedicated their lives to perfecting wines that are a true reflection of their region and their passion.
What better way to taste the exquisite flavors of these wines than to complement them with a wonderful meal at the place where they are produced? After exploring the natural beauty of the vineyards and learning a little about the ancient wisdom of wine production, let yourself be delighted with a multi-course meal in the charming old cellar. Each dish is carefully prepared with fresh local products and perfectly harmonized with the most suitable wine for it, in order to improve its flavors. So, close your eyes and let the aromas dance on your palate, while savoring the taste of Portugal!
However, this is more than just the meal or the wine that goes with it - it is a whole experience of warm hospitality, charming atmosphere, and the spirit of tradition and history that makes it a truly special moment of celebration of life.
Visit cities like a local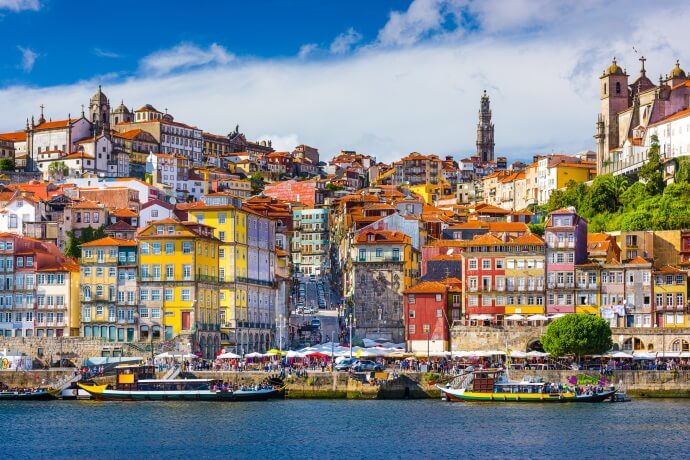 Wandering through a new city is an experience filled with excitement that comes from exploring uncharted territory and finding hidden gems. By having the help of a local, experienced, and friendly guide, this adventure takes a whole new level. Yes, you will go to most tourist places, but you will also discover the city's unique character in a way only a local knows how. Portuguese hosts love to share their culture and traditions with visitors and will often go out of their way to make sure you feel at home.
Having a local Portuguese guide is like visiting a city with a friend who has a genuine enthusiasm for sharing their city with you. From the moment you arrive, you will be greeted with a smile and a hearty "bem-vindo!" (welcome!). And having a private walking tour will allow your guide to take the time to know you, understand your preferences, and tailor the experience to your specific interests.
Whether you are wandering through colorful markets, sampling local delicacies, exploring historic neighborhoods, or just strolling in parks or the waterfront, you will mingle with the locals, taking in the sights, sounds, and smells of a new place. By pointing out some gems that you might otherwise miss, your guide will allow you to immerse in the bustling energy of the city and understand its culture and history. Maybe even sharing stories and local anecdotes that will make you feel like a true insider!
The best part is the personal connection you will develop with your guide, who shared his own favorite spots with you and even introduced you to friends and colleagues along the way. Do you know how Portuguese people are renowned for their friendliness and love of welcoming tourists to their country? Maybe you will make new friends! One thing is for sure: you will have a new appraisal of the beauty and diversity of Portugal and will keep lovely memories for a lifetime.
Have a Michelin Star experience at a chef's restaurant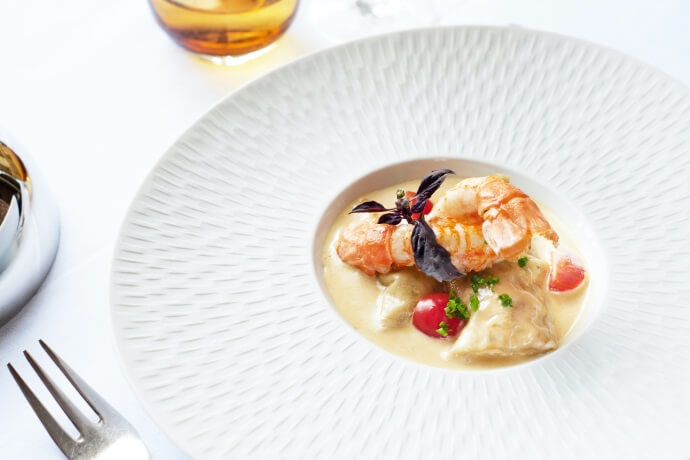 From the simple fresh fish and seafood to elaborate dishes or amazing sweets (blink to the custard tart), the Portuguese people swear by their lives that their cuisine is the best in the world and we completely agree! Maybe it is the freshness of its ingredients, the special seasonings, or even the love the cook translates into the food, the truth is Portugal is a place of foodies and we love to show our best cuisine creations.
At the moment, there are 33 restaurants in Portugal with Michelin stars! From north to south and even in Madeira Island, these places combine the knowledge of Portuguese gastronomy with artistry and innovation, which make them the best of the best, and represent the ultimate Portuguese culinary experience. It starts with the restaurant's stylish décor and elegant atmosphere, with impeccable service, but it's the food that steals the show! Each dish is a masterpiece created by a passionate chef and presented with precision and incredible detail. When you taste it, a train of flavors takes you on a culinary journey that will leave you in awe.
Visiting a Michelin-starred restaurant is a sensory experience that will give you a newfound appreciation for the art of cooking. It's a true celebration of what makes Portuguese cuisine so special. So come and indulge in the finest food, drink, and service!
Sleep in a haven of peace and relaxation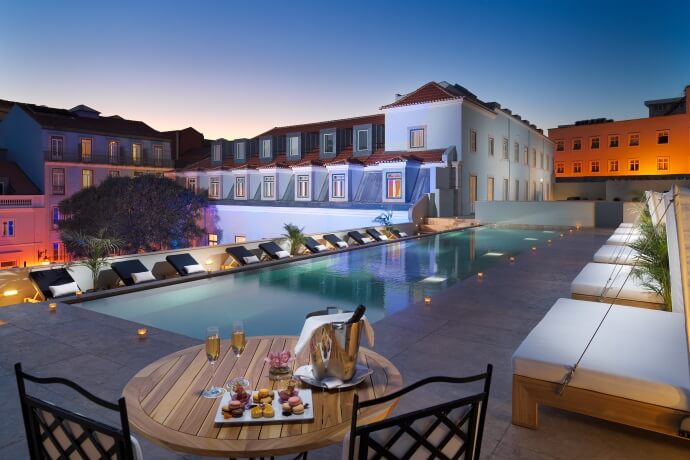 A good night's sleep is the cornerstone of a life well-lived, and nowhere is this more apparent than in a luxurious hotel. From the moment you sink into the sumptuous bedding to the moment you wake up feeling refreshed and revitalized, every detail has been carefully crafted to ensure that you experience the most restful sleep possible. But in high-end hotels, it is more than just about the sleep; it is about the service.
In Portugal, worldwide famous for its upscale hospitality, you find top-notch hotels located in elegantly restored palaces, that will make your accommodation dreams come to life. From the moment you step into the foyer and feel surrounded by its elegant refinement, it is like traveling to a time when royalty lived there. Whether it's in the ornate ceilings or the sumptuous staircases, everything evokes a heritage of luxurious history, with timeless sophistication.
What if, on top of that, you wake up to stunning views? Either facing the enchanting atmosphere of a lively historic city, or taking in romantic vineyards, or even immersing in the bluest sea views, these are the ultimate escape and for sure will make you feel inspired.
And yet, despite the grandeur of its buildings, or the breathtaking views of its surroundings, these luxurious hotels go over and beyond to make you feel like a VIP. From indulging in spa treatments to savoring a gourmet meal or just lounging by the pool, you will find that every aspect of your stay has been carefully thought out to ensure your contentment and relaxation.
The combination of ancient elegance, luxury service, and stunning surroundings might be the supreme luxury experience. You will feel pampered and taken care of from the moment you arrive and you probably will never want to leave!
So, why should you have a luxury experience?
Think about it: you deserve to treat yourself to something extra special. And let's face it: sometimes a small luxury is just a little step forward. Whether savoring the best meal of your life cooked by a renowned chef or tasting wines made over centuries of history and wisdom; whether is having fun exploring a new city or diving from a boat to the bluest of the seas; or just relaxing in an amazing hotel with astonishing views - these Portuguese experiences will elevate your senses and transport you to a dream life. So, why settle for the ordinary when you can have the extraordinary? Life is short! We can help you to come to Portugal, treat yourself to something luxurious, and bask in the glory of being pampered.
---