Today we invite our dear readers to join us in a top-to-south quest, in search of the most tempting fish and seafood dishes through Portugal's coastal wonders and beyond the honorable codfish. Our journey starts at the northern city of Viana do Castelo and only ends when we reach the Madeira Archipelago. So, take a deep breath and dive with us into an Atlantic paradise of gastronomic deliciousness. Enjoy the picks, carefully chosen for you.
Aquatic Delights of the North
While speaking about the unparalleled realm of Portuguese cuisine, Viana do Castelo and Matosinhos hold a peculiar similarity - both are revered grandmasters of cephalopod cuisine, the majestic octopus being their pièce de résistance. Viana do Castelo, nestled in the Minho region in the north of Portugal, is a city characterized by a harmonious blend between the past and the present. A picturesque setting, it is renowned for its cultural history, stunning architecture, and soulful views of the Lima River. However, it's the city's maritime folklore and seafood that truly capture the hearts and palates of its visitors.
A dish that stands out from the crowd in Viana do Castelo is their unique preparation of octopus. A rich source from the surrounding Atlantic waters, octopus plays a starring role in local gastronomy. Whether it's delicately grilled or stewed to create a comforting course, the culinary versatility of this particular specie is fantastic.
A must-try is the popular "Polvo à Lagareiro", where the octopus is tenderly boiled and then roasted alongside potatoes, generously drizzled with olive oil and garlic. This recipe, in its simplicity, enhances the flavor of the octopus and celebrates the essence of Portuguese cuisine.
Heading south from Viana do Castelo, we arrive at Matosinhos, a bustling city located next to Porto. Known for its expansive beach, Matosinhos is bathed with fresh seafood, thanks to its port—one of the largest in Portugal. Walking around, you can feel the city's deep connection with the sea, from its lively fish market to its seafood restaurants serving everything fresh from the day's catch.
In Matosinhos, the octopus is as cherished as it is in Viana do Castelo. Cooked in myriad ways, each recipe is a tribute to the city's gastronomic finesse. However, what sets Matosinhos apart is its equally famous culinary offering—anchovies. These are small, silvery fish that add a distinctive salty punch to various dishes. They're often preserved in salt and oil, served as a simple snack, tossed in salads, or used as a seasoning. Fresh anchovies are traditionally seared and served with a squeeze of lemon, similar to sardines.
Western Coastal Culinary Adventure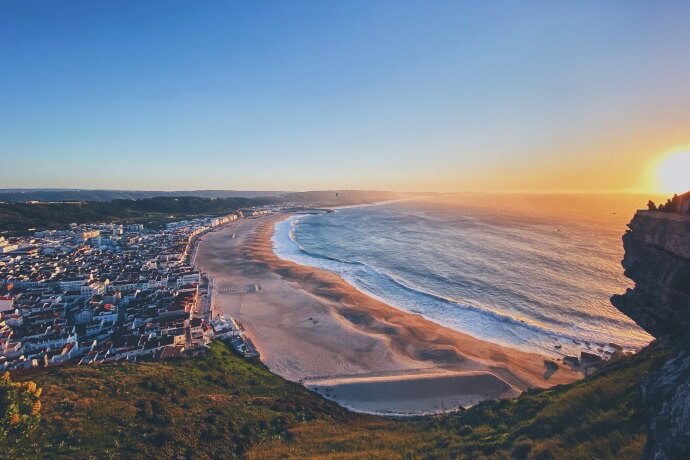 Following our descent through the Atlantic coast of the country, the road takes us first to the famous city of Nazaré. Situated in the Leiria District, the city is a seaside resort known for its expansive beach and huge Atlantic waves, attracting surfers from around the world. Nazaré's cuisine is characterized by its fresh seafood, with cockles being a local favorite. They're typically harvested in the coastal and estuarine waters near the town.
These small, edible, saltwater clams find their way into various traditional dishes, from hearty stews and soups to simple yet flavorsome sautés with garlic and white wine. The Nazaré-style cockle dishes, with their briny flavor and subtle sweetness, truly mirror the town's intimate connection with the sea.
Further south lies Peniche, another noteworthy seaside town in the Leiria District. Unlike Nazaré, however, Peniche's claim to culinary fame is the nutritious and undeniably tasty sardine. A heritage that dates back many centuries. These petite oily fish are a Portuguese staple and particularly celebrated in Peniche. During the sardine season (typically from June to October), fresh sardines are grilled on charcoal, served with boiled potatoes and salad, or sometimes just a piece of crusty bread. Peniche also hosts annual sardine festivals that attract locals and tourists alike.
As we arrive in the Lisbon District, we find a delightful fishing village named Ericeira. Famous for its surf breaks and fresh seafood, including the Sole fish. Sole is a type of flatfish known for its delicate flavor and light, flaky consistency. In Ericeira, it is frequently pan-fried or baked and served with fresh vegetables or a lemon-butter sauce. The presence of this fish in local menus speaks to the village's rich maritime folklore and the abundance of the Atlantic Ocean.
A Dive into Setubal's Culinary Love for Cuttlefish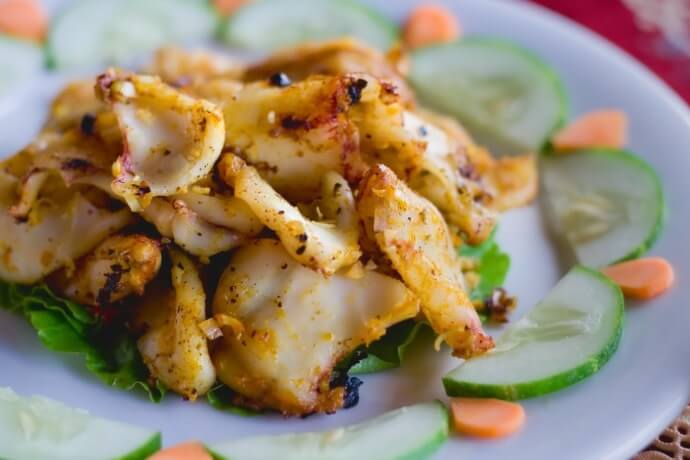 Now we take a jump to the maritime city of Setubal. If you have studied the map of Portugal well enough, then you might just have noticed that we missed our dear city of Lisbon. If you stay with us till the end of this post, we will reveal why we did so.
Located on the northern bank of the Sado River estuary and right on the edge of the Tróia Peninsula, Setubal is a city that breathes the sea. The vivid fishing harbor, where colorfully painted boats come and go, is a testament to the city's long-standing maritime inheritance. It's this connection with the ocean that flavors the local cuisine, with seafood taking center stage in Setubal's gastronomic offerings.
Among the various seafood found in Setubal's bustling markets and eateries, cuttlefish holds a position of prominence. These relatives of squid and octopus, known for their unique bone (cuttlebone) and ink, are gratifying to the palate, thanks to their tender meat and subtle sweetness.
In Setubal, the passion for cuttlefish has translated into culinary folklore that spans generations. Local chefs and home cooks alike have mastered the art of preparing cuttlefish in a multitude of ways. You'll find it grilled with a squeeze of fresh lemon, stewed with tomatoes and herbs, or fried to a golden crisp. However, the city's signature dish is "choco frito" or fried cuttlefish, often served with a side of golden fries or a fresh salad.
Choco Frito is more than just a recipe. It's a demonstration of how a simple ingredient can be transformed into a masterpiece that defines a city's food culture. Crunchy on the outside, tender on the inside, and full of flavor! As you bite into a piece of perfectly cooked cuttlefish, take a moment to appreciate its aftertaste, which can be quite similar to the taste of a delicious octopus.
Exploring Sines's Affinity with Grouper Fish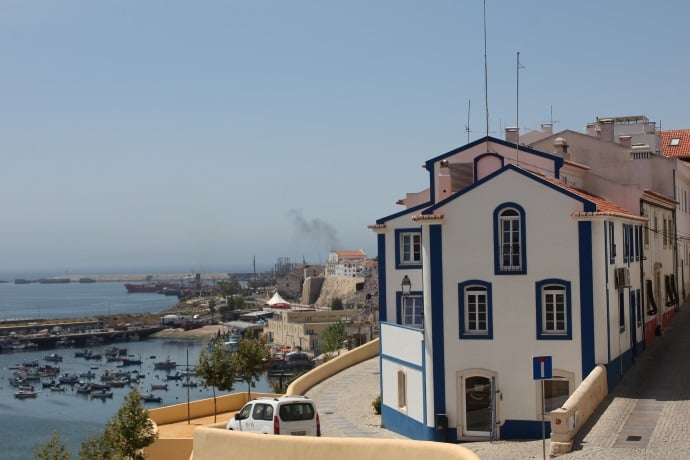 Perched on the western coast of the Alentejo region in Portugal, the town of Sines captivates its visitors with a mix of stunning ocean views, historic charm, and, of course, a rich culinary landscape. As the birthplace of the renowned explorer Vasco da Gama, Sines has a maritime history that's deeply ingrained in its identity. Overlooking the Atlantic Ocean, Sines boasts a port that plays a significant role in the town's economy and lifestyle. This relationship with the sea is beautifully reflected in Sines' culinary habits, which celebrate an array of seafood caught in the surrounding waters.
Sines' love for seafood is evident in its local cuisine and one species that holds a special place in the town's heart (and palate) is the grouper fish. In the heart of Sines' culinary culture lies this beautiful fish, a large and flavorful species that also thrives in the Atlantic Ocean. Known for its firm texture and mild, yet distinct flavor, grouper is a versatile element that can be prepared in a myriad of ways.
From simple seared preparations to comforting stews, grouper dishes in Sines are as diverse as they are appetizing. One local favorite is "Caldeirada de Garoupa", a classical Portuguese stew that combines grouper with potatoes, onions, tomatoes, and a medley of aromatic herbs. Another beloved dish is the "Garoupa na Cataplana", where the fish is cooked in the famous clam-shaped cookware with wine, garlic, and a mix of vegetables.
Exploring Sines is as much about tasting its cuisine as it is about visiting its historic sites and scenic spots. As you wander around the town, make sure to stop by a local "tasca" or seafood restaurant to savor a dish or two. Whether you prefer it roasted with a squeeze of lemon or enjoy it in a flavorful stew, each bite of Sines' fish dishes is sure to be a delightful culinary experience.
Unveiling the Seafood Wonders of the South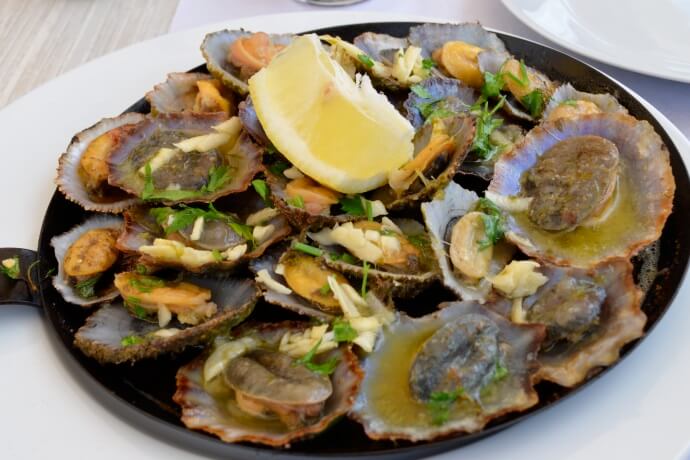 As we venture to the sunny Algarve region in southern Portugal, we will discover charming coastal towns, a stunning natural park, and a seafood cuisine that is absolutely unmatched.
Perched on the eastern side of the Algarve, the city of Tavira captivates visitors with its historic charm, beautiful beaches, and an impressive culinary scene. Ria Formosa, a nearby natural park, is a lagoon system renowned for its rich biodiversity, making it a significant seafood source for Tavira and surrounding regions. Among the various seafood harvested from Ria Formosa's fertile waters, clams and oysters stand out.
These bivalves, celebrated for their briny flavor and succulent composition, are key in Tavira's cuisine. You'll find them steamed and served with a drizzle of lemon, incorporated into pastas, or even enjoyed raw as a true delicacy. Ria Formosa is known for its oyster farms, providing some of the best oysters in the region. Freshly shucked and served with a tangy mignonette sauce or a simple squeeze of lemon, the oysters offer a taste of the sea in their purest form.
Heading west from Tavira, we arrive in Olhão, a historical fishing town known for its cubist-style houses, bustling markets and, most importantly, its love for sea bass. The town, with its proximity to the Atlantic and a robust fishing custom, offers some of the freshest and most flavorful sea bass dishes in the region.
Here sea bass is revered for its firm, white flesh, and mild flavor, making it a flexible ingredient that's perfect for grilling, roasting, or steaming. "Robalo grelhado" or grilled sea bass, is a local favorite, where the fish is simply seasoned, commonly grilled, and served with a side of boiled potatoes and, of course, a drizzle of olive oil.
Culinary Treasures of the Islands
Set against the stunning backdrop of rolling hills and the sparkling Atlantic Ocean, Funchal offers a culinary scene that translates into a sensory pleasure, especially for seafood aficionados. Funchal's location, surrounded by the sea and blessed with a mild climate, influences its food culture heavily, with local cuisine showcasing a variety of seafood caught in the Atlantic waters.
One seafood species that is deeply embedded in Funchal's food culture is the tuna fish. Known for its robust flavor and meaty nature, tuna thrives in the waters surrounding Madeira and forms the backbone of numerous local dishes. The dish that has earned distinction is "atum fresco com milho frito" or fresh tuna with fried cornmeal. This classic recipe features fresh tuna steaks marinated with garlic and oregano, pan-seared and served with cubes of crispy fried cornmeal.
Alongside tuna, limpets – small sea snails known for their distinctive conical shells – also star in Funchal's gastronomy. Harvested from the rocky coastline of Madeira, limpets are cherished for their unique taste, somewhat similar to clams, but with a texture that's firmer.
"Lapas grelhadas", or roasted limpets, is a prominent dish in Funchal that features these marine creatures. Served in their shell, the limpets are roasted with a splash of lemon juice and a dollop of garlic butter, turning them into a mouth-watering delicacy that is both simple and satisfying. Sampling well-seared limpets is an experience that reflects the simplicity and authenticity of Madeiran cuisine.
We have reached the final words of our pescatarian endeavor! The strong association of these specific ingredients with their respective locations has to do with the local fishing customs, the availability of the seafood, and the culinary heritage of each region. Seafood recipes are a key part of Portuguese cuisine and are revered for their freshness, simplicity, and delicious flavors. In Lisbon, being the capital and the most metropolitan city of Portugal, we can honestly tell that it's possible to find a culinary blend of all the regions mentioned above. But as you should know, if we really want to sample a location's specialty, it's much better to be at the exact spot for an authentically fresh degustation.
---